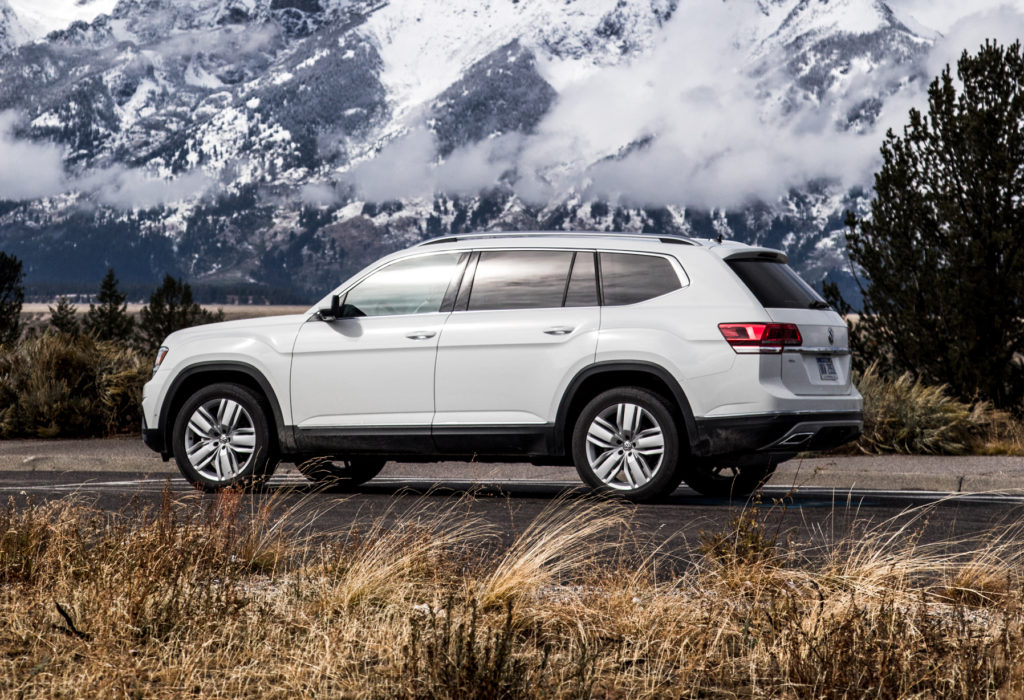 They always say better late than never, but in my opinion if you are late you'd better make a big entrance……so enter stage center the all new 2018 VW Atlas. It's largest vehicle that VW has ever built in America, it's big and blocky and most importantly has a 3rd row of seats, which actual humans will fit into. With room for 7 and still able to fit luggage, this is the replacement for the Touareg, which will be discontinued in the US for 2018. What's most amazing is you can get all of this car starting at a litle over $31,000.
My tester was a fully equipped SEL with a sticker price of $43,775, which is way cheaper than a comparably equipped Touareg. The Atlas looks good, with a hint of Jeep in the rear fenders and a satisfyingly large grille. It certainly has presence on the road especially as my car had the R-Line package, which includes a set of badges indicating such, a nice set of 20-inch alloys, R-Line  bumpers and stainless steel pedals.
Two engines are available for the Atlas. The base engine is  a turbocharged 2.0-liter 4-cylinder engine with 235-hp and 258-lb-ft, our tester had the optional 3.6-liter V6 engine which makes 276 hp at 6,200 rpm and 266 lb.-ft. of torque at 2,750 rpm. An 8-speed automatic transmission powers the front or all four wheels, you can order 4-Motion but I think the extra weight would blunt performance somewhat considering the V6 has to lug around 4,800 lb. I stayed in Sport mode mostly, I found it firms up response and avoids the transmissions occasional hunting in normal mode.  We strapped on our test gear and with traction control off, and some wheel-spin, we got to sixty in 7.9 seconds, a perfectly adequate result given the type of buyer it is aimed at and we all know pure numbers don't always tell the real story.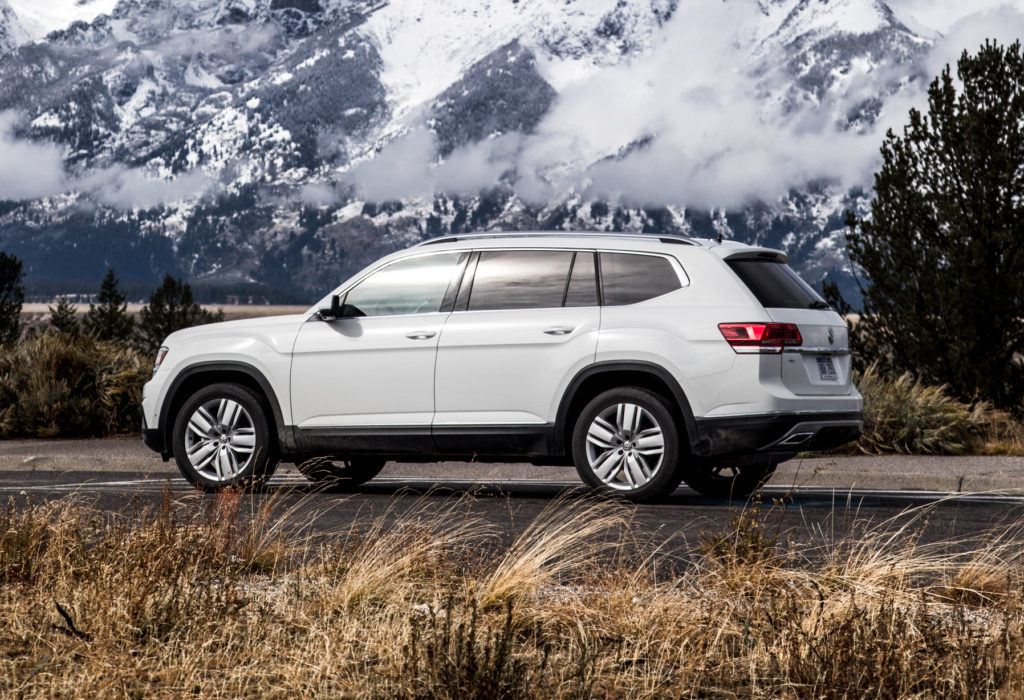 Handling and Ride
As a matter of course we always drive into the mountains East of San Diego, and so that's where we took the Atlas. The car feels much smaller on the move and ride quality is very very good, ironing out San Diego's uneven pavement. The suspension – struts up front, multi-link in the rear, offers a soft and supple ride but doesn't feel nervous or twitchy at speed. Throw it into a tight corner and it will get upset but in most turns the big VW stays the course, staying pretty flat even when pressed hard. Steering is light and reasonably communicative (In Sport mode) and overall there's a very tight and sold feel to the Atlas. Cruising on the highway, the engine is quiet and unobtrusive and will happily rev to it's red line. Brakes are strong and progressive and were fade free after multiple stops from 70 mph during testing.
The SEL Premium trim offers a very impressive suite of safety applications including forward collision warning, pedestrian warning, autonomous emergency braking, lane departure warning and blind spot monitoring.
Inside
Inside the Atlas all is very Germanic, our tester having a mostly black interior and good quality plastics, however, it can't quite match the Mazda Cx9 for luxury feel. The design is uncomplicated and all controls are within easy reach, the touchscreen infotainment system is easy to operate, and the driving position easy to adjust with the optional power seats. We were thankful for the memory seats after an exceptionally tall valet messed with the seat controls. Americans like a beverage when they travel so Volkswagen has fitted 17 beverage holders into the cabin. Seat comfort is good if a little hard, however, they do provide impressive thigh support and side bolstering.
There's plenty of room for second and third -row passengers and entry and exit is relatively simple. The 60/40-split folding second-row seats simply slide forward and back on tracks.  If you leave all seats up there is 20.6 cu.-ft. of usable space, if you fold the third row this grows to a very generous 55.5 cu.-ft. and all seats down add up to an enormous 96.8 cu ft of space. That's Yukon territory.
To the right of the driver is an eight-inch touchscreen (6.5 inc on base models) controlling the entertainment, phone, vehicle and navigation functions, as well as giving access to a number of apps including Apple CarPlay and Android Auto. The touchscreen is easy to use and I liked the way the menu pops up when your finger nears the screen……it's the little things.
Verdict
VW enters the full size SUV segment with an uncomplicated and well thought out offering. It's priced aggressively against its competitors, which include the Mazda CX9, the Dodge Durango,  GMC Acadia and Honda Pilot…….all except the Acadia offer less cargo space. Also add a best available 6-year/72,000-mile bumper-to-bumper SUV warranty, and you have a very good reason to head on down to your local VW dealer.
2018 Volkswagen Atlas V6 SEL 

BASE PRICE
$40,890
PRICE AS TESTED
$43,775
VEHICLE LAYOUT
Front-engine, FWD, 7-pass, 4-door SUV
ENGINE
3.6L DOHC 24-valve V-6
POWER
276-hp @ 6,200 rpm
TORQUE
266-lb-ft @ 2,750 rpm
TRANSMISSION
8-speed automatic
CURB WEIGHT (F/R DIST)
4,800 lb 
CARGO CAPACITY
Seats up: 20.6 cu ft, 1st row down: 55.5 cu ft, 2nd row down: 96.8 cu ft 
0-60 MPH
7.9 sec
EPA CITY/HWY/COMBINED
18/25/20 mpg
OUR OBSERVED FUEL ECONOMY
18.3 mpg
PROS
 Huge inside, competent handling
CONS
 Needs a tad more power