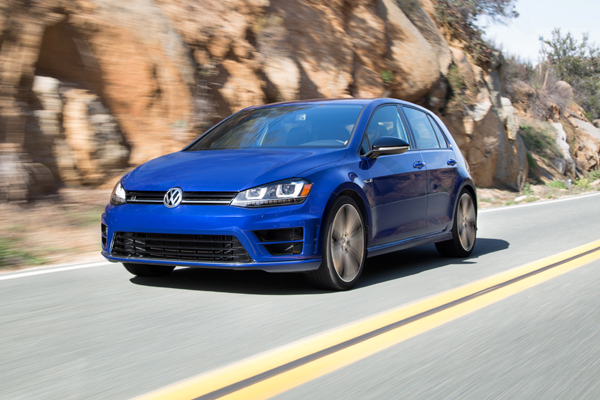 After finally getting our hands on a U.S.-spec Lapiz Blue 2015 Golf R for a week,  we decided to drive it really carefully, to never exceed 3,000 rpm, take it on the occasional shopping runs, and make sure we never put any strain on the engine………WAIT…..no we didn't, we drove it flat out for 800+ miles, with silly grins on our faces and the R never skipped a beat. How fast is it…..more on that later.
Firstly, this isn't a Golf GTI with a bit more power, instead it's the ultimate VW Wunderwagon. True the GTI is spectacularly good with it's massively competent trick front differential that virtually eliminates under steer; its gem of a 2.o turbo 4 and sublime handling. So what have they done to create the uberGolf? Take one GTI and add more power, 292 hp and 280 lb-ft to be precise, then modify the cylinder head, pistons and direct-injection system and a give it a bigger turbo. Drop it by 0.2 inch over the GTI, and send power to all four wheels through a Haldex all-wheel-drive system and Bob's Your Uncle.
Performance and Handling
Our car was DSG equipped as the manuals are only available in Europe until the 2016 model is launched here. Its no bad thing, the DSG is terrific in the R, just as it is in any VW vehicle.
The R was pretty easy to launch for our acceleration tests with 60 coming up in a quick 4.67 secs and the all important 50-70 mph in a scant 2.50 seconds, making passing very easy to accomplish when short sections of broken lines presented themselves. We stayed in Race (Sport) for most of the time, where the transmission is mapped to give you the optimum gear required for very spirited driving. One thing to note is how very refined and  this engine feels, never strained and providing usable power all the way to the red-line.
San Diego's mountains to the East provide some excellent twisty and winding roads to properly evaluate the R. Attacking these roads, the R is sensational, biting hard into very tight bends, you can get back on the power early on exit and surge on to the next one. Confident handling is what sets this car apart, it has even less desire to under- steer than its little brother GTI.  Pushing really hard into a corner we simply couldn't get the tires to lose traction. Just stay on the throttle through tight corners without fear of plunging into a ditch. We didn't.
The R certainly sounds better than the GTI, thanks to an enhanced engine noise system called 'soundaktor'. Its very bassy and sounds good but eventually can become tiresome so you can turn it off. The sound is generated by the device that sits under the middle of the dash.
The ride is pretty good except on typically rough San Diego pavement where some jarring is present, but for the most part rides better than a Subaru STi.
Interior
Inside is much the same as the GTI, super supportive and bolstered front chairs hold you in place when you are doing mach 1 with your hair in fire. The screen is a little small but the touchscreen controls are easy to use and pairing a phone is a bit less fiddly than the Audi system. One small gripe is the lack of a USB port, instead you get an Iphone connector, which in our case was only good for an Iphone 4, tsk tsk.  Fit and finish are impeccable, this is a real grown up car for those with sporty intentions who don't want to look like a street racer.
Verdict
We loved this car but the only drawback is the sticker price of $38k, which is a lot. Its main rival has got to be the S3 which is even more expensive. It also competes with the Mercedes CLA 45 AMG, which is a total boy racer when compared to the subtle R. If you want a practical hatchback in a demure package that will devour twisty roads and out drag a Mustang, then this is for you. If you can't find the extra dough then buy a GTI, either way you can't go wrong…..and yes in our humble opinion this car is better than a Subaru STI.
[Best_Wordpress_Gallery id="76″ gal_title="2015 Golf R"]
2015 Golf R Numbers
| | |
| --- | --- |
| VEHICLE TYPE: | Front-engine, 4-wheel-drive, 5-passenger, 4-door hatchback |
| PRICE AS TESTED: | $37,415 (base price: $36,595) |
| ENGINE TYPE: | 2.0 turbocharged and intercooled DOHC 16-valve inline-4, direct fuel injection |
| POWER: | 292 hp @ 5400 rpm |
| TORQUE: | 280 lb-ft @ 1800 rpm |
| TRANSMISSION: | 6-speed dual-clutch automatic with manual shifting mode |
| CURB WEIGHT | 3,325 lb |
| ZERO to 60 mph: | 4.67 sec |
| 50 to 70 mph | 2.5 sec |
| 30-70 mph | 4.28 sec |
| STANDING ¼-mile: | 13.31 sec @ 106 mph |
| TOP SPEED (governor limited): | 153 mph |
| EPA city/highway driving: | 23/30 mpg |
2021 Corvette Convertible Review
2021 Subaru WRX Series White