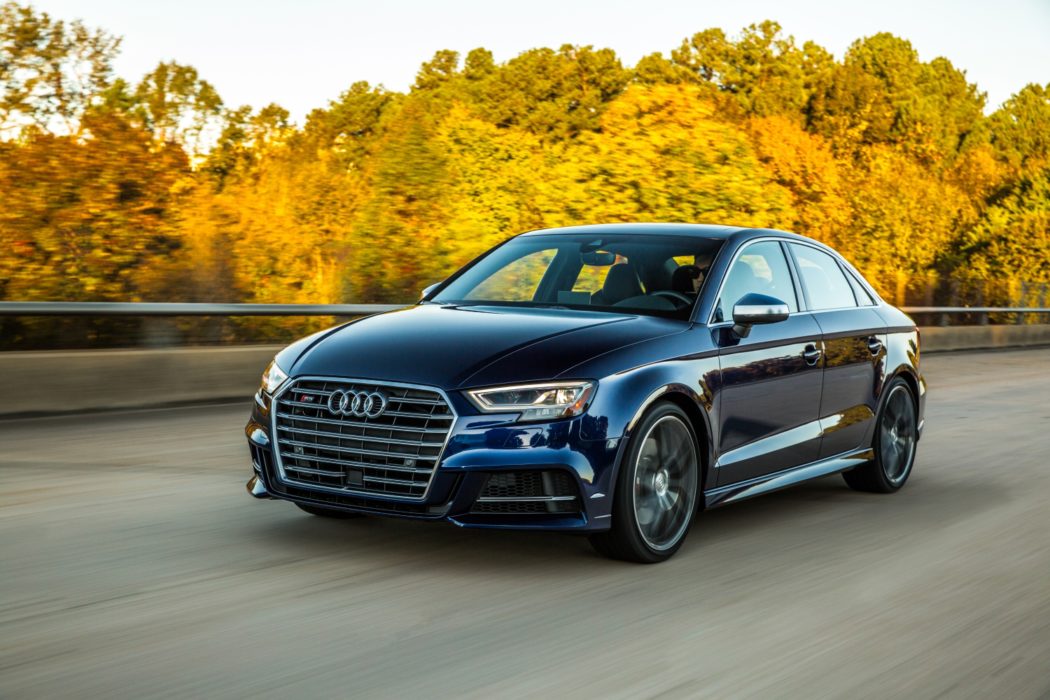 Rewind back 39 years to 1978 and  you could buy a Porsche 911 Turbo (0-60 in 4.9 seconds) for $34,150 or equivalent of $122,350 in today's money. Fast forward to today and you can buy a sub compact 4 door with a base price of $43,500 that is faster than the Porsche……….
Our 2017 Audi S3 sedan showed up in a not so subtle Vegas Yellow, not a color I would choose but it certainly got noticed, which was the point.
So what's new for 2017. Well some fairly subtle styling adjustments, a new looking grille, reworked front and rear fascias and aluminum caps for the side mirrors. Inside, an updated infotainment system can now record lap times. The standard audio kicks our 180 watts through 10 speakers and a sub, our tester had tho optional B & O system. 2017 adds the very good Audi Virtual Cockpit with its high-res video display in place of conventional gauges. Our Prestige model came with Active Lane Assist and Active Cruise Control.
The S3's Quattro all-wheel drive, which has been updated for 2017 with the same system found in the TT and TTS. We found it almost completely mitigated under-steer in most situations unless you have a complete disregard for the laws of physics.
Sadly the US market S3 doesn't get the boost in power its Euro counterpart gets, 11 more hp to give it 306 and another 15 lb-ft of torque to deliver 295 lb-ft. We're not convinced that this would make much difference but we are nevertheless still jealous.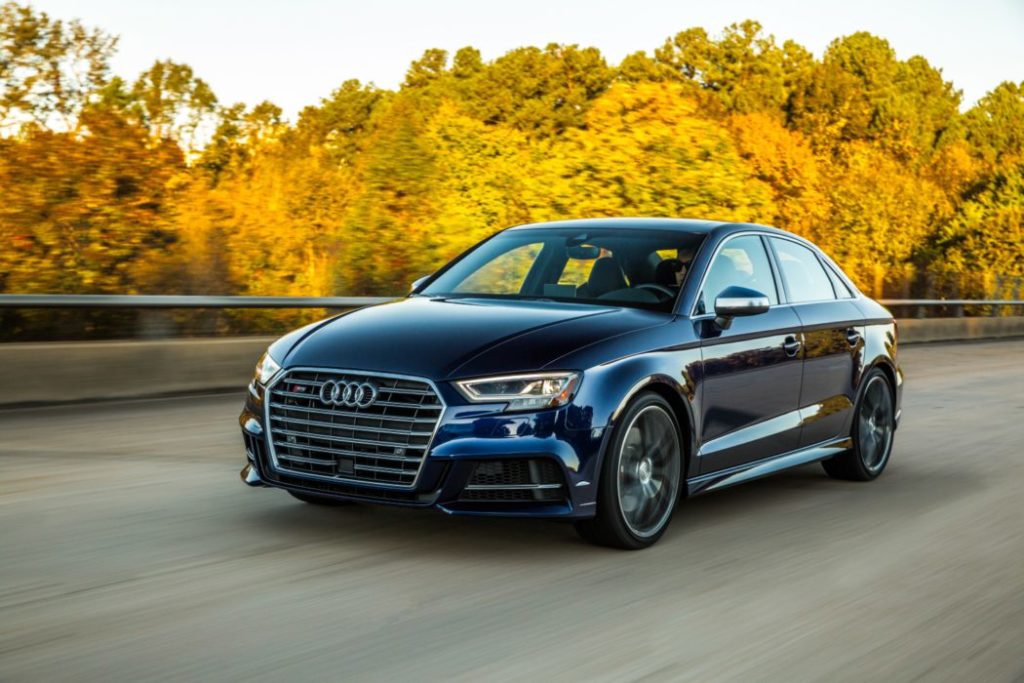 Magnetic Ride, what is it?
Out tester came with Magnetic ride and even at it's firmest, it's not nearly as spine-punishing as, a Subaru WRX….but what is it exactly?
Using magnetic fields, Audi magnetic ride adjusts the firmness of the dampers to the current driving situation within a fraction of a second. The liquid contained in the dampers has magneto-rheological properties. Tiny magnetic particles are bound inside the basic oil which is used to fill the dampers. When a magnetic field is applied, the magnetic particles are aligned against the direction of movement of the damper. As a result, the damping force of the damper is increased depending on the strength of the magnetic field. Short answer it corners flatter and somewhat faster.
How Does it Go?
The S3 has 4 Drive Select modes to choose from, Dynamic, Auto, Individual and Comfort. We kept it in Dynamic for most of the time with an occasional foray into Comfort. We found Dynamic to be perfect except for really uneven pavement. Performance is sensational in Audi's little sedan with 0-60 coming up in 4.65 seconds using Launch Control, a tad faster than the 2015 model we tested.
The S3 is even better once on the move…..from standstill there is some delay/lag on take off, but then this car grips like no other. Shod with summer tires on 19 inch rims it will enter a corner at life threatening speeds and  still have you come out breathing. The new suspension and all wheel drive system is now controlled by one brain, so decisions are quicker and the torque gets shuffled around in milliseconds, it's brilliant.  This is an Audi that will finally eat up the corners and not under-steer you into a ditch. It feels quicker for it.
Our route took us from San Diego to the mountains in the East, on some fairly technical roads, with tight 90 degree turns and fast sweepers.  A couple of times we came across some slower traffic, so we hung back and stabbed at the throttle occasionally just for fun. The car simply surges forward and unless you are going at 15 mph or slower there is always instant pick up.
Having driven hard for a week we averaged 18 mpg, which is pretty good considering most people won't drive as hard all the time. Cruising on the highway you should expect 31 mpg.
Interior
The first thing you notice when you step inside the S3, is the lack of fuss and by that I mean a lack of switchgear. This is a good thing and not a measure of the quality of the interior. There are plenty of controls to play with and our car, a Prestige model had the MMI Navigation Plus with voice control. Interior quality is what you would expect….brilliant….and still shows everyone else how it should be done.
Our car had the optional sports seats with the Nappa upgrade. These seats are pretty good and its important to note, have manual adjustment, which I like, less to go wrong and less electric motor weight. Complaints are few, mostly the fact the cup holders are too close to the HVAC controls and the cup will obscure them. Don't let that stop you from buying one, just buy a smaller cup.
Should I get One?
If you want a very good sub compact sports sedan then there are a few other options, however the S3 really doesn't have any direct competitors. Some options include MercedesBenz CLA 45 AMG which is faster and more money.  You could get the insane and more powerful Ford Focus RS, however, subtlety is not it's forte. Strangely the biggest challenger here is the Volkswagen Golf R, which is a few thousand less than a base S3 and is a hatchback.
Last time we tested the S3 we asked Audi to bring us the RS3 and they have finally obliged…….it's coming very soon. In the meantime the S3 is a true joy to drive and it has  plenty in reserve to produce serotonin induced grins……..
2017 Audi S3 Sedan Numbers
| | |
| --- | --- |
| VEHICLE TYPE: | Front-engine, 4-wheel-drive, 5-passenger, 4-door sedan |
| BASE PRICE: | $43,500 (Our Tester – $52,600) |
| ENGINE TYPE: | 2.0 L turbocharged and intercooled DOHC 16-valve inline-4 |
| POWER: | 292 hp @ 6500 rpm |
| TORQUE | 280 lb-ft @ 2000 rpm |
| TRANSMISSION: | 6-speed dual-clutch automatic with manual shifting mode |
| CURB WEIGHT: | 3,400 lb |
| ZERO to 60 mph: | 4.65 sec |
| STANDING ¼-mile: | 13.1 sec |
| TOP SPEED: | 155 mph |
| EPA City/Hwy/Combined | 21/28/24 mpg |
| OUR OBSERVED FUEL ECONOMY: | 18 mpg |
| PROS | Point and squirt agility, superbly fun on the twisty bits |
| CONS | Pesky turbo lag off the line, cup holders hide HVAC controls |