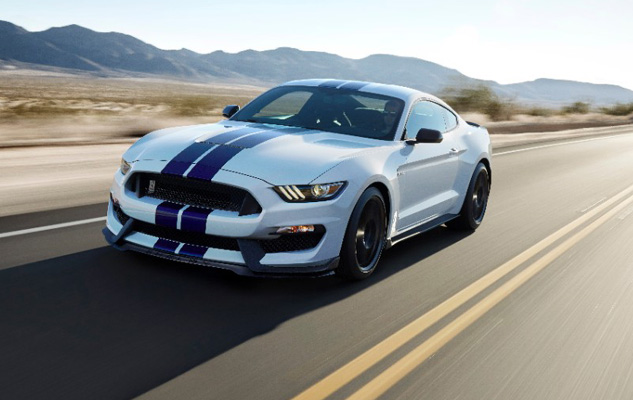 Over the past few years import car brands have suffered unprecedented recalls and huge PR headaches, while American cars have, for the most part, cars improved in leaps and bounds.
So we took a look at some of the standout American cars available for sale in 2016. Yes they have some flaws but if you have the need for speed and don't want to spend a fortune, then these are 6 of the best American cars that should be on your shopping list.
Ford Shelby GT350
Ford's new the flat-plane-crank V-8 delivers 8000 revelations per minute, and musters up 526 hp @ 7500 rpm and 429 lb-ft @ 4750 rpm from its 5.1 liters.
o-60 comes up in 4.3 seconds
 and 100 in less than 10. Yours for under under $50K.
Dodge Challenger Hellcat
The Dodge Challenger Hellcat features a 6.1 liter supercharged and intercooled pushrod 16-valve V-8, and weighs in at a hefty 4,500 lbs. No matter because that engine puts out a tire melting 707 horsepower and 650 pound-feet of arse clenching torque. 0 – 60, using care, is dispatched in 3.5 seconds and 100 in less than 10.
Tesla P85D
With two motors, one in the front and one in the rear, Model S digitally and independently controls torque to the front and rear wheels. The result is unparalleled traction control in all conditions. Unlike conventional all-wheel drive vehicles that sacrifice fuel efficiency for increased traction, Tesla's Electric All Wheel Drive system increases efficiency.
| | |
| --- | --- |
| Range | 270 miles (EPA) |
| Acceleration | 2.8 seconds 0-60 mph  |
| Torque | 713 lb-ft |
| Top Speed | 155 mph |
| Motor Power | 503 hp rear, 259 hp front |
Ford Focus RS
With a base price starting at $36,605, the new RS will be something of a performance bargain on this list. With a 2.2 liter turbocharged and intercooled DOHC 16-valve inline-4 producing 350 hp @ 6000 rpm and 350 lb-ft @ 3200 rpm, it's gonna be quick. With a 6-speed manual a the only transmission available the hot RS scorches to 60 mph in 4.6 seconds and on to a limited top speed of 165 mph.
Corvette Z06
Powered by a supercharged and intercooled pushrod 16-valve V-8, with aluminum block and heads, direct fuel injection, the 650-hp, 2016 Chevrolet Corvette Z06 is one of the fastest and most capable vehicles on the market. Capable of accelerating from 0 to 60 mph in only 2.95 seconds, achieving 1.2 g in cornering acceleration, and braking from 60-0 mph in just 99.6 feet.
Ford GT
Highlights of the new Ford GT include a mid-engine twin-turbo 3.5-liter V-6 making more than 600 hp, carbon-fiber construction and body panels, active aerodynamics, and a seven-speed dual-clutch automatic. Sadly no manual will be offered. Projected availability starts this summer and only 1000 cars total will be sold. Prices will likely start in the mid-$400,000 range.