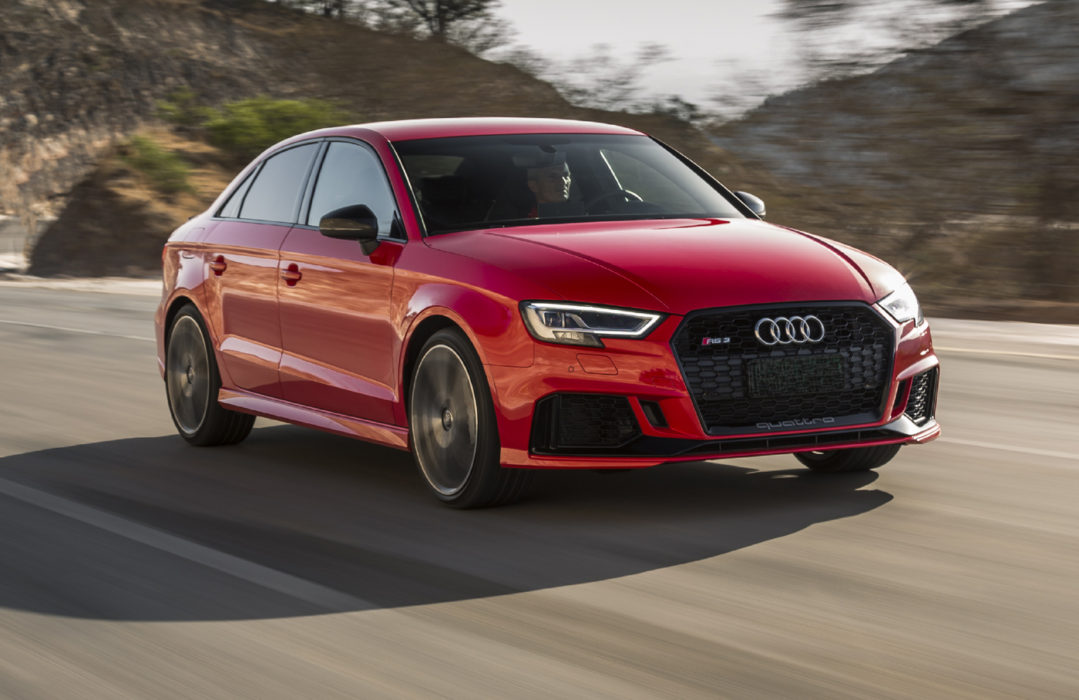 After a week with the amazing Audi TT RS I was hoping the 2017 Audi RS 3 sedan I had coming would be a nice subtle color, something subdued that wouldn't attract attention……..unfortunately it wasn't. Our tester arrived in Catalunya Red, a really bright red, which could be seen from space and also by the Highway Patrol. Time to deploy the radar detector. Much like the TT RS, my tester came with the Dynamic Plus package (a cool $4,800) which ditches the magnetic suspension set up and replaces it with a static race suspension. As expected the RS 3 rides a little better than its TT RS sibling, even in Dynamic Mode, probably due to the longer wheelbase and slightly more compliant suspension.
Under the hood it's the same magnificent story, a 2.5-liter turbocharged inline five-cylinder with 400 horsepower and 354 lb – ft of torque…..it's an absolute gem.. Power is delivered to all four wheels, wrapped in Pirelli P Zero's and Audi uses a staggered wheel configuration, putting the widest rubber, 255/30R-19 's up front, and 235/35's on the rear. This gives more bite in the turns and completely eliminates under steer. Power is delivered via a seven-speed S-Tronic dual-clutch automatic transmission and the quattro system can deliver all 400 horses to the rear wheels if needed. I expected the 3,575 lb RS 3 to be slower than the TT RS since it's some 300 lb lighter, but using Audi's sophisticated launch control system and a turbo dialed up to 19.6 psi, the car sprints to 60 mph in just 3.6 seconds, only a tenth slower. Since we had the Dynamic Plus package this car will top out at 174 mph.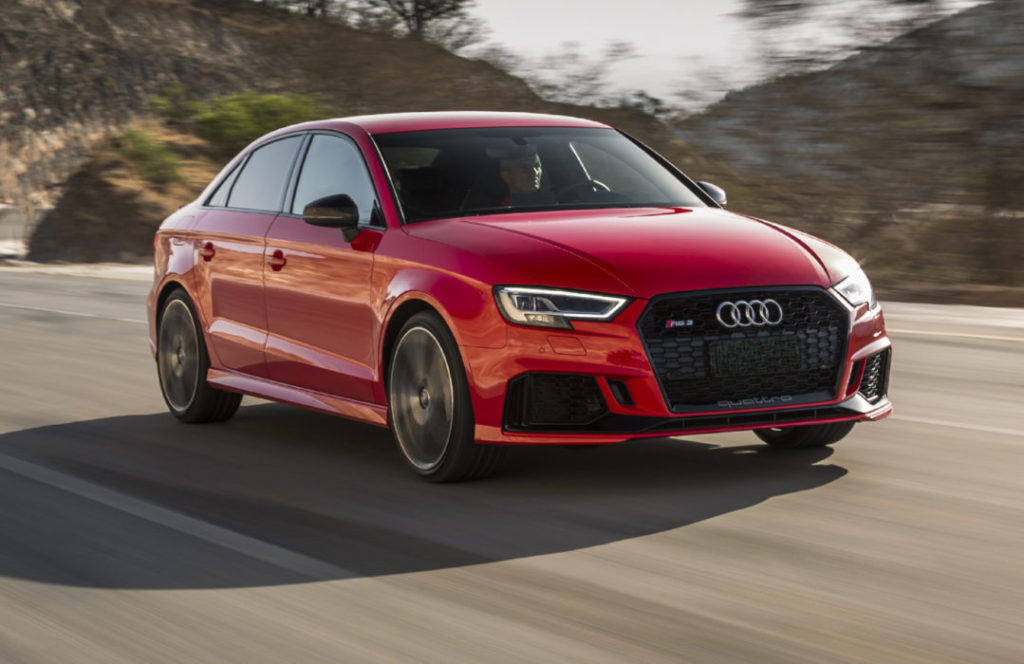 Driving Impressions
While most Californians don't seem to use their rear view mirror very much I was surprised to find that most drivers pulled over to let the menacing looking RS 3 go by. Of course a quick prod on the gas and they were left in the dust. As is typical with any car with sporting pretensions we headed for the mountains and over the course of the week I drove on every twisty road I could find with the same expression on my face…a stupid grin. Turn after turn the RS 3 stays flat and neutral, and you can easily adjust the car in mid corner, a dab on the brakes and back on the throttle, its a hoot. Steering is light but direct, turn the wheel and the car goes where you point it, enhancing the overall driving experience. Our tester was fitted with Carbon Ceramic brakes and boy are they good, fade free and despite some very hard treatment never emitted that "I'm about to catch fire smell" of normal brakes. We didn't get to drive the car in the wet since it doesn't rain here in Southern California but cornering grip in the dry is sensational. We found a particularly twisty and very technical road and the Audi attacked it with vigor, the crests and dips in mid corner neither upsetting the car's balance nor my brave passenger.
Around town the RS 3's softer suspension and taller ride height makes for a smoother ride but not enough to negate some of San Diego's worst potholes. Trickling along on partial throttle the RS 3 is easy to drive, has good visibility, four doors and is utterly civilized, which make it very practical as a daily driver. One complaint the B pillar does obscure the view somewhat, especially when parking. Other than that it's perfect.
What does a turbocharged in line 5 sound like?
Inside
Once again Audi delivers a cracking interior with beautiful attention to detail. Deluxe touches abound: Optional carbon fiber inlays; aluminum door sills with illuminated RS3 logos; a three-spoke, flat-bottomed steering wheel; and of course, the Virtual Cockpit driver's display, part of a $4,800 Technology Package that includes the MMI navigation system, a touchpad, and a Bang & Olufsen sound system. The front seats, which in our car were lacking power (an option I would check), are very comfortable and wrapped in the finest quilted Nappa leather. The RS 3 gains the center screen missing from the TT RS, which folds nicely into the dash when not needed. The rear seat is tight but actual humans can fit, 2 small adults for a longer trip would work.
Conclusion
1,2,4,5,3 is the firing order of this brilliant engine, and packaged in the RS 3 it's simply one of of the most entertaining cars on the road today. An M2 won't keep up with it, even an M3 would have problems. It gets from 0-60 faster than a Corvette Grand Sport and it's wrapped in a pretty subtle package, it's a true sleeper and I love it. Since I don't have a local track I would ditch the Dynamic package and get power seats, simply because I'm lazy and a more subtle color because I don't want a speeding ticket……… As a sports sedan this is a good as it gets.
2017 Audi RS 3 Sedan Numbers – Dynamic Plus Package
| | |
| --- | --- |
| VEHICLE TYPE: | Front-engine, all-wheel-drive, 4-passenger, 5 door sedan |
| BASE PRICE: | $54,500 |
| PRICE AS TESTED: | $66,775 |
| ENGINE TYPE: | Turbocharged and inter-cooled DOHC 20-valve inline-5 |
| POWER: | 400 hp @ 7000 rpm |
| TORQUE: | 354 lb-ft @ 1700 rpm |
| TRANSMISSION: | 7-speed dual-clutch automatic with manual shifting mode |
| CARGO VOLUME: | 12 cu ft |
| CURB WEIGHT: | 3,575 lb |
| Zero to 60 mph: | 3.6 sec |
| Zero to 100 mph: | 8.8 sec |
| TOP SPEED: | 155 mph (174 mph with Dynamic Plus Package) |
| EPA FUEL ECONOMY: Combined/City/hwy | 22/19/28 |
| OUR OBSERVED: | 18.5 mpg  |
| CONS | Scorchingly fast, great handling, fantastic sound track  |
| PROS | Some turbo lag, no hatchback |