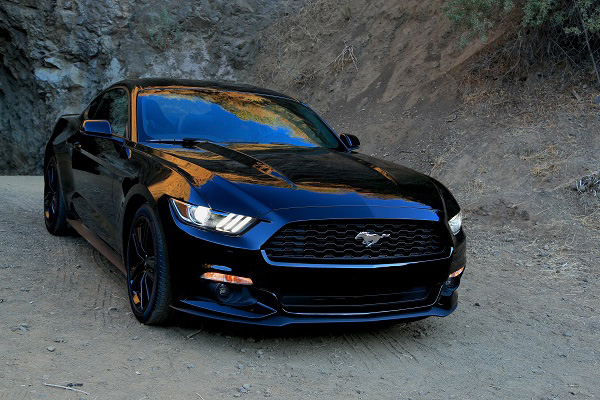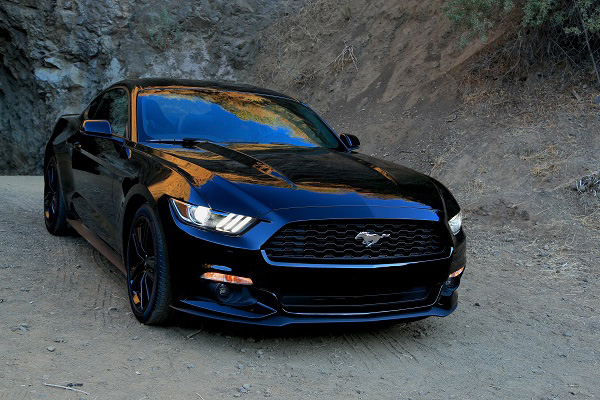 Our first drive with the 2015 Ford Mustang GT was a manual transmission version, black on black with black wheels. It certainly looked the part. We like the overall look too, it's more aggressive and modern, despite weighing a little bit more than the outgoing model. Also worth noting is its new independent rear suspension, instead of the cart suspension it has been using for the last 50 years. The new HID headlamps are finely designed, although some have complained they aren't Mustang enough, whatever that mean. We think it looks menacing. The fastback rear  slopes more steeply forward.  It all looks much more fluid.
Engine and Transmission
Even though it makes 435 hp and 400 lb-ft of torque from the 5.0-liter V-8, a 15-hp and 10 lb.-ft. increase over the previous generation 5.0-liter engine. It doesn't quite go as fast as the old model. though. Why? Well, the GT weighs in at 3814 pounds, 196-pounds more. Not to worry, we ripped to 60 in 4.5 seconds in the manual equipped car after a couple of attempts. The gear shifts are very precise but the clutch bites hard, it's either in or out with no middle ground. It's  worth noting that around town you can stick it in 3rd gear and potter around on the V8's gobs of torque down to very low speeds without a hint of a stall.

Ride and Handling
Once going the Mustang rides very well, the suspension being very forgiving except on really rough pavement where it can get juddery. Turn in is sharp and the steering provides excellent feedback once you throw it into some corners. Huge power is available at all times and we like the V8s willingness to rev, making that exhaust bellow.
The new Mustang also comes packed with plenty of technology to keep you safe as well as busy. Features like front collision warning and blind-spot monitoring are a couple of the new safety features found in this latest Mustang. You also get  selectable drive modes, Comfort, Sport, and Track. These allow you to optimize the performance of the car to the appropriate conditions. It's not new tech but it is fun.
If you who like to light up the rear tires, the Track apps allow you to monitor G-forces, and also record your 0-60 mph times. Launch control, previously found in the Boss 302 and Shelby GT500, is now available in the base Mustang.
Interior
We love the new interior. The interior ergonomics have been greatly improved, with more knee room and an easier to use shifter. The layout is logical and the infotainment touch screen is very pleasing. We also like the rocker switches and the 2 analogue dials for vacuum and oil pressure. A bit of retro thrown here and there that works. Front seats are excellent, very supportive if maybe a little tight for larger occupants. Rear seats are pretty much token and although legroom is adequate headroom is bent neck only.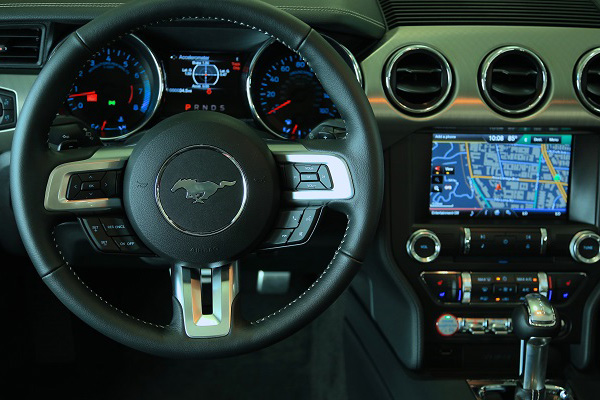 This is a massive improvement over the old model. Who cares that it's not faster and weighs more. We really like this car and we are not even muscle car fans. Well done Ford.

If you do decide to buy a GT, make sure to budget a large amount for gas. If you want to save money on gas we suggest the EcoBoost 4-cylinder…
2015 Ford Mustang GT Specifications

BASE PRICE
$32,925
PRICE AS TESTED
$46,380
VEHICLE LAYOUT
Front-engine, RWD, 4-pass, 2-door coupe
ENGINE
5.0L/435-hp/400-lb-ft DOHC 32-valve V-8
TRANSMISSION
6-speed manual
CURB WEIGHT
3814 lb
0-60 MPH
4.5 sec
QUARTER MILE
12.7 sec @ 113 mph
EPA CITY/HWY/COMB FUEL ECON
15/25/19 mpg
2022 CT5 V BLACKWING – TESTED
2022 Lexus NX 450h+ – First Drive
2022 Audi A4 45 TFSI Review