W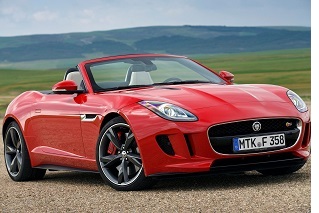 hat's Good
Savage performance
Raucous exhaust note
Old school charm
What's Not Good
Video game gear shifter
Heavy for being all aluminum
Over priced
2014 Jaguar F-type V8  S – 8.5 out of 10
When we tested the V6 S model a few weeks ago we said it had claws…..the 2014 Jaguar F-type V8 S on the other hand, will probably use them to rip your throat out.  It's not the acceleration so much as the acceleration and the deep throated growl  that comes from the massive exhausts sitting a few feet behind you.
In Dynamic mode you get the full beans and it is so loud that after a few minutes our ears were bleeding.  That said it is an impressive sound and I question how legal it actually is.
It crackles, burbles and pops and sounds quite threatening. Those explosions actually come from  fuel burning, not some lame sound symposer that are all  the rage these days.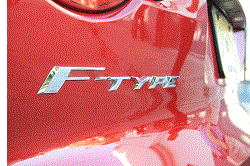 In the V8 S you get 495 hp @ 6500 rpm and 460 lb-ft @ 2500 rpm, enough to propel the Jag to 60 in 3.7 seconds and the ¼-mile in  11.9 sec @ 120 mph. So not slow then. Being a convertible it is drag limited to 171 mph, however, unless you are on you way to the funny farm this is not advisable, especially if you just got a new hairdo.
Thanks to launch control and an active electronic differential that can fully lock the rear end to aid hookup, the V8 S is very, very quick. Push down on the throttle in mid bend and you can feel the electronics trying to rein in the power. It doesn't throttle back though, it just gives its hips a little wiggle and powers on. With the traction control off this car would definitely try to kill you .
It is heavy though, despite its all aluminum body. Why? Well  are electric motors in the seats, on the dashboard (motorized vents) on the rear decklid (active spoiler) and even in the retractable door handles. This cat's too fat.
Imagine if they did a stripped down version like Ferrari does…that would lose a few pounds………..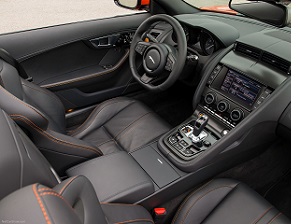 The interior is very driver-focused, with the minimal controls all within easy reach. A passenger "oh shit" handle doubles as a reminder for your companion to keep their hands off. Seats are great and hold you in nicely although if you are tall your head is going to stick out over the windshield 'Magnum style.'
I really don't care for the video console style shifter. Give me a conventional one any day so I can shift quickly from regular mode to sport mode. Why make things so over complicated?
The V8 S F-type is a hairy chested, testosterone induced, fire breathing, balls out roadster and we love it. Nothing road legal I have ever driven sounds this good. It's absolutely intoxicating. Sure bits will fall off, the interior is not that great but sometimes you buy a car for just one very important reason…..it puts a huge smile on your face…….and I am still grinning.
What would we do?
We just want the roadster with 550 hp on tap.  We're easy to please. Oh and a price reduction to around $75k ….thanks
2014 Jaguar V8 S Specifications
BASE PRICE $92,895
ENGINE 5.0L/488-hp/461-lb-ft supercharged DOHC 32-valve V-8
TRANSMISSION 8-speed automatic
CURB WEIGHT (F/R DIST) 3965 lb (52/48%)
ACCELERATION-60 MPH 3.7 sec
QUARTER MILE 11.9 sec @ 120mph
EPA CITY/HWY FUEL ECON 16/23 mpg