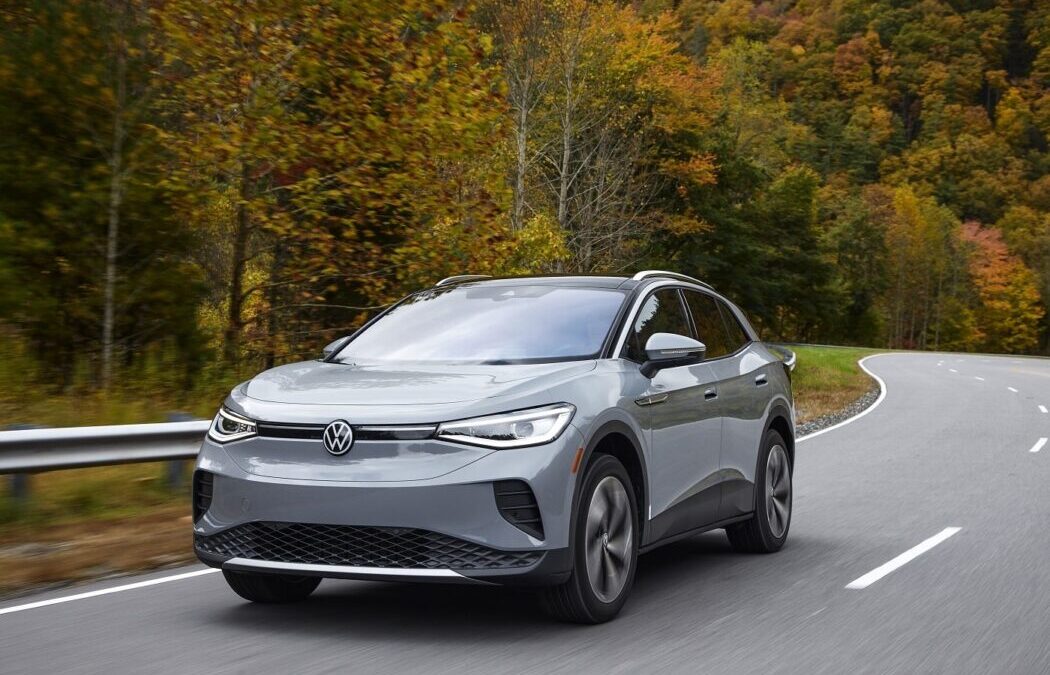 So what's the difference between the RWD and AWD ID.4?
The VW ID.4's biggest problem was its lack of power and in the world of Electric Vehicles, that's a relatively easy problem to fix. For round one VW used a single motor driving the rear wheels only and it was lacking in a certain something – EXCITEMENT. Adding a second front motor changes it for the better.
What makes it go?
Adding 107 hp by way of a front-mounted motor solves the problem of a distinct lack of go in the lesser-powered model. The additional 107 hp and 119 lb-ft net you a combined 295 hp and 339 lb-ft, which gives it a respectable 0-60 time of 5.6 seconds, two seconds quicker than the RWD version. It won't win too many drag races, but the additional electric shove is well received, that is until the speed limiter kicks in at 99mph.
Unlike conventional internal combustion-engined vehicles with all-wheel-drive, there's no mechanical connection between the front and rear axle. Instead, the computers responsible for managing the ID.4s powertrain and vehicle dynamics decide when to send power to each motor.
Does it offroad?
Even though it has all-wheel drive the ground clearance is only 6.7 inches, however, since it has a flat bottom with nothing to catch on it should be able to cope with not too technical truck trails, while keeping the wilderness serene as it glides along in almost silence. We didn't get a chance to do so but would be confident in its abilities in that scenario.
In certain circumstances when the ID.4 AWD system starts to lose traction, it has a Traction mode, which engages both motors together at speeds of up to 12 mph.  Since it rarely rains here in Southern California this was another feature we couldn't test.
Battery and Range
Since the ID.4 AWD has a dedicated platform means Volkswagen is able to achieve 82 kilowatt-hours of battery life although only 77 kWh of those are actually usable.  Potential owners need not worry since the battery is covered by an eight-year, 100,000-mile warranty. In the AWD version, you only lose 10 miles of range so expect 240-249 miles as per the EPA and a real-world range of 200 if you charge to 80%, which is recommended.
The only slight disappointment is there isn't a true one-pedal mode, you get a normal Drive mode and then a B mode which gives you some regen but not really enough to bring you to a halt.  Since over-the-air software updates are becoming available I hope VW does a software update in the future to rectify this.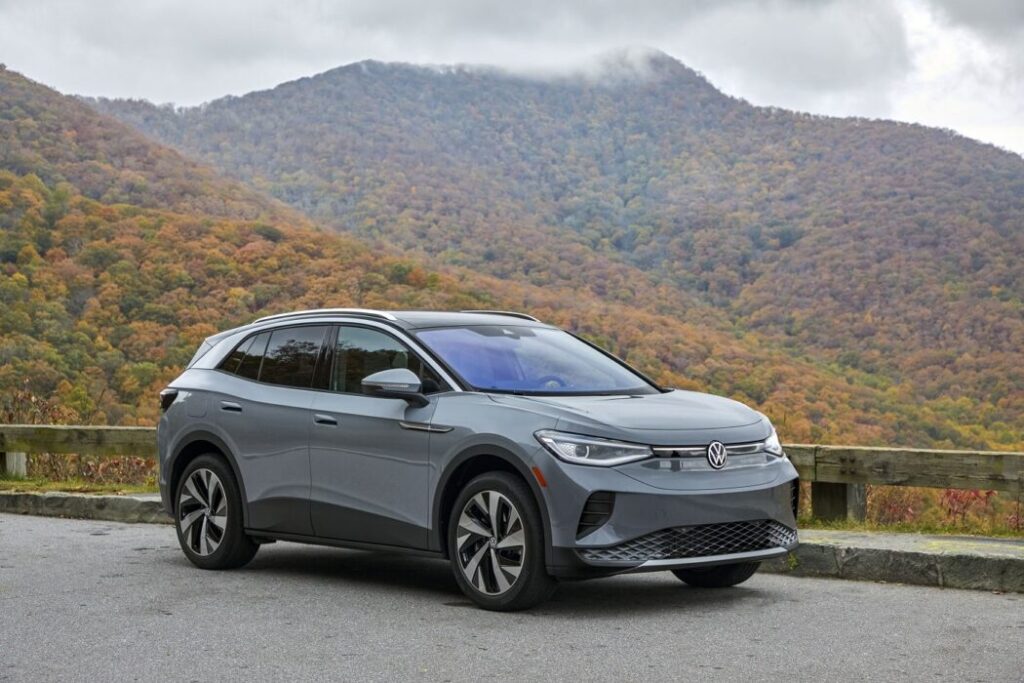 Extra Shove
Show the ID.4 some back roads and the extra motor is a huge bonus when you stomp on the accelerator. Whereas the RWD version took its time to get up to speed and the chance of passing other vehicles on 2 lane highways was virtually nonexistent, the AWD one has some pep in its step and whooshes along at a fair rate.
It's no Tesla Model Y though since the power is delivered in a more restrained fashion instead of a punch in the back, which I'm ok with, it has more than enough power to pass other vehicles on a two-lane back road.
To maximize range, all four wheels are only driven when they need to be. Most of the time, the ID4 will be a two-wheel-drive vehicle, which you probably won't even notice.
In the turns, the ID.4 is pretty well sorted, the body roll is minimal thanks to anti-roll bars on both axles, struts up front, and a multilink setup at the rear. It makes for poised progress and you can attack corners with verve, however, press on too hard, and the eco-style tires give up into safe understeer. If you are looking for a sports car then this is not it.
The steering doesn't feel as good as in the RWD version but that happens when you make the steered wheels driven. That said it is easy to place the ID.4 precisely during cornering and it follows its course to the letter. The turning circle came as somewhat of a surprise when I had to do an impromptu U-turn, it's incredible (36.4-feet) and would put a London Cab to shame.
Unfortunately, I can't wax lyrical about the brakes which work great, but the pedal feel is akin to sticking your foot in a bowl of trifle, they just feel weird. Of course, you'll eventually get used to them since it's well known that strange feeling brakes are par for the course in the EV world of regen.
Inside
My ID 4's base Pro trim had a very nice 10-inch touchscreen running the latest version of Volkswagen's infotainment system, with clear and crisp graphics. It's not my favorite system and functionality could be improved. It lags at times and basic functionality like heated seats require you to click into a second screen to turn them on.
A physical volume button would be welcomed since I'm not a huge fan of the capacitive buttons, they are difficult to use while you're driving and at times, I made incorrect selections when my hand brushed a different function.
Embedded navigation is standard, as are wireless Apple CarPlay and Android Auto which I would encourage you to use since it's much easier and faster. The wireless charger is perfectly placed in the center console and is large enough for all phones and even charged my phone through its case. If you prefer to be tethered to cables then there are our USB-C ports dotted about the cabin, two in each row.
The center console also offers plenty of cup holders and in the forward one which holds two cups, you can remove the tray and use it as an additional storage space. Behind that is an additional space with removable inserts if you don't like a beverage while driving. A neat sliding door closes this space to provide privacy for your stuff.
Ahead of the driver is a small gauge cluster that handily moves up and down with the steering wheel, so your view isn't obscured. It has fairly basic information, speed, range, lane-keep assist and turn-by-turn directions.
Oddly there are only two window switches, to activate the rear you touch a button marked Rear, and the same switches now open and close the rear window. Rear seat passengers still get physical switches of course.
Cargo Space – What No Frunk?
Unlike the Model Y, there is no frunk, that space is taken up by the stuff that makes it go, however, you do get a very usable 30.3 cubic feet behind the rear seat and 64.2 ft cubic feet when they are folded flat, except they don't fold completely flat so you have to navigate your items over a small hump.
Safety
The ID.4 utilizes a front radar, front camera, two rear radars, and eight ultrasound sensors to collect data from the surrounding area, enabling Travel Assist (semi-automated driving assistance); Front Assist (Forward Collision Warning and Autonomous Emergency Braking with Pedestrian Monitoring); Active Side Assist (Blind Spot Monitor); Rear Traffic Alert; Adaptive Cruise Control (ACC) with Stop and Go; Lane Assist (Lane Keeping System); and Emergency Assist (semi-automated vehicle assistance in a medical emergency).
Really Efficient
After a week of driving, I managed to average 3.1 miles/kWh which is better than the EPA numbers, thanks mostly to my deft use of the accelerator pedal. My routes included driving up to the local mountains, which did delete the range substantially but what comes up must come down, so the trip back meant I was able to add power to the battery. The round trip is 90 miles and I started out with an indicated 233 miles of range and returned with an indicated 175 so I managed to regen 32 miles.
Price
My 2022 VW ID.4 AWD was $44,440 and when you subtract the $7,500 federal tax credit (if available) you have a very affordable car. My tester had some very nice 20 ich rims, heated front seats with partial power adjustment, and 3 years of Electrify America fast charging.
Verdict
Since the VW ID.4 AWD compares directly with the Model Y in size it's fair to make the comparison, however, with this dual-motor offering, VW has raised the stakes. It offers decently quick acceleration, in fact, more than most buyers would need, it's cheaper, offers better real-world range, and in my opinion, is of a higher quality. The only negative is really the infotainment system which is difficult to use, and the lack of full regen.
The Volkswagen ID.4 AWD is not just a good EV, it's a great car period, and now makes a compelling case for you to buy one. You won't be disappointed.
VIDEO REVIEW
2021 VW ID.4 PRO AWD Numbers
BASE PRICE: $44,440
PRICE AS TESTED: $44,440
VEHICLE LAYOUT: Front-engine, all-wheel-drive, 5-passenger, 4-door wagon
POWERTRAIN: 2 permanent-magnet synchronous AC motors
BATTERY: liquid-cooled lithium-ion, 77.0 kWh
COMBINED POWER: 295 hp
TORQUE: 339 lb-ft
BATTERY PACK: liquid-cooled lithium-ion, 77.0 kWh
TRANSMISSION: 1-speed direct-drive
CURB WEIGHT: 4,900 lb
0-60 MPH: 5.6 seconds
EPA CITY/HWY/COMB FUEL ECON: 96/103/88 MPGe
RANGE: 240-249 miles
CARGO SPACE: 30.3 ft³, 64.2 ft³ with seat area
PROS: Much quicker with dual motors, quiet cabin, zippy handling
CONS: No one pedal mode, quirky infotainment, no frunk

2022 CT5 V BLACKWING – TESTED
2022 Lexus NX 450h+ – First Drive
2022 Audi A4 45 TFSI Review