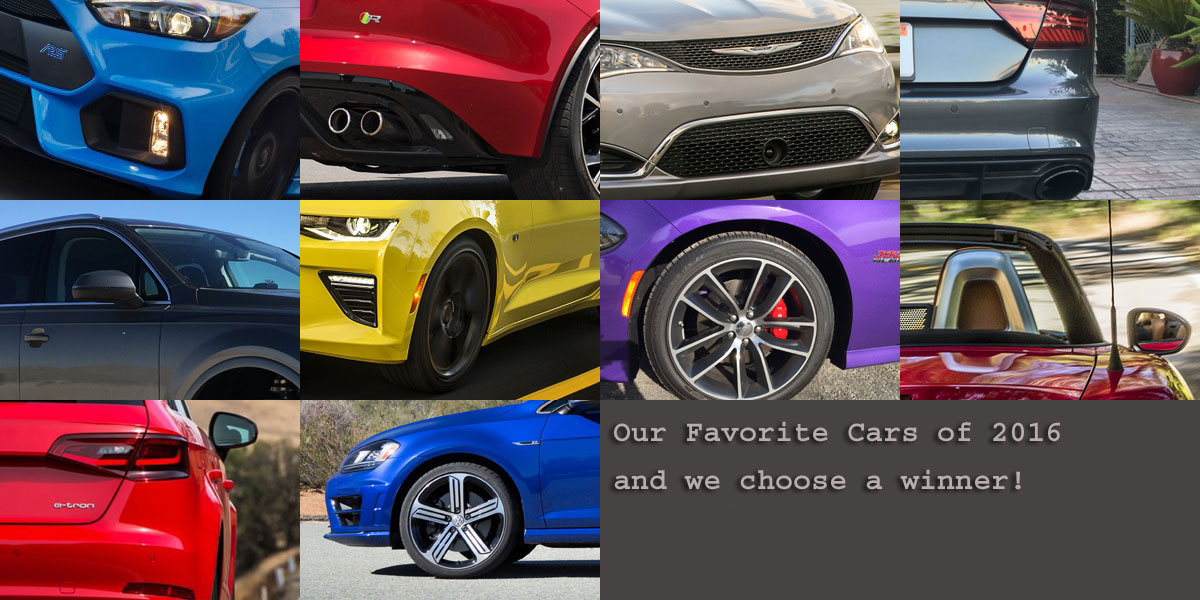 2016 has been a bumper year for cars and we have driven a number of them. But which have been our favorites?……..Not necessarily the fastest or the coolest looking made the list. The ones that stood out for doing something better than most of their competition were the ones we chose. There were a few surprises, who would have thought a minivan would have made the list, but it did. Here in no particular order, except for the overall winner are our top ten cars driven in 2016.
2016 Ford Focus RS – Best Hot Hatch (Manual Transmission)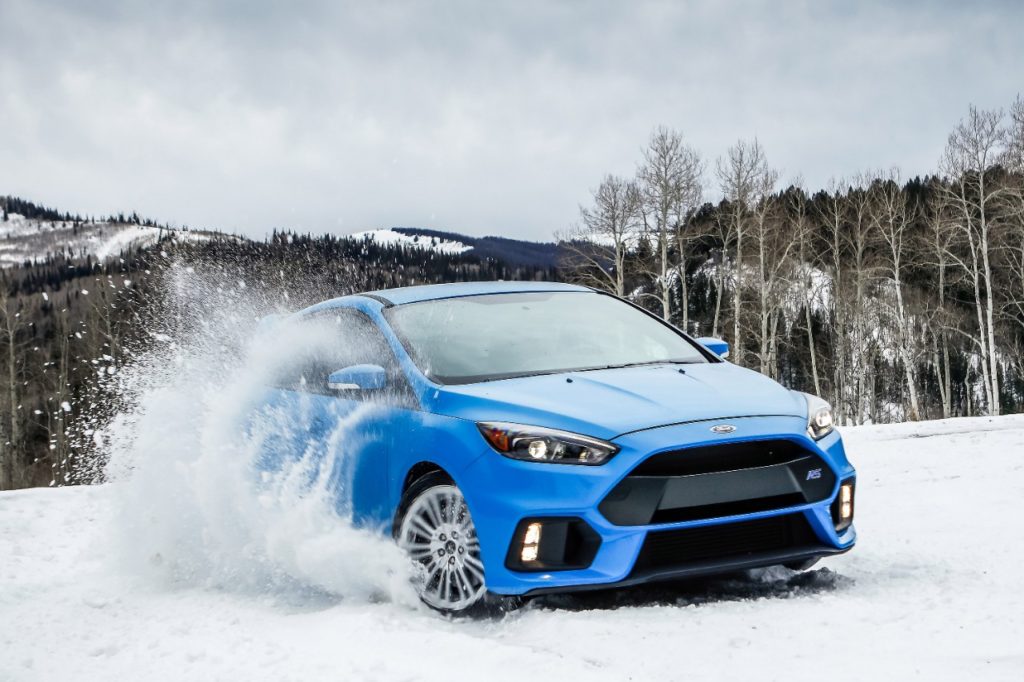 The Focus RS packs 350 hp @ 6,000 and 350 lb-ft @ 3200 rpm, which enough to launch the RS from zero to sixty in 4.6 seconds, if you get the changes right. Yes you read correctly, this car is ONLY offered with a manual transmission! The Focus RS is the best Ford product I've driven. It's the best hot hatch I've ever driven, and has to be one the most entertaining cars to drive and engage with. It's also manual only, which we like, however, I can imagine if Ford fitted a great twin clutch gearbox it would be astounding. I'd take this little beast over the STI, Evo or Golf R. It's a game changer for sure.
POWER: 350 hp @ 6000 rpm
TORQUE: 350 lb-ft @ 3200 rpm
CURB WEIGHT: 3459 lb
ZERO to 60 mph: 4.6 sec
TOP SPEED (governor limited): 165 mph
2016 Jaguar F-Type R (Best Exhaust Sound)
The direct-injected and supercharged 5.0-liter V-8 has 55 more horsepower than the V-8 S roadster, upping the total to a healthy 550 hp @ 6500 rpm and 502 lb-ft @ 2500 rpm. Let's face it Jaguar built this car to go after the Porsche 911 and in some ways cases it does a better job. The exhaust in Dynamic mode seems almost illegal and sustained driving with the windows down will make your ears bleed. We love it. Your heart tells you to buy this car, your head says 911, we say get the Jag.
POWER: 550 hp @ 6500 rpm
TORQUE: 502 lb-ft @ 2500 rpm
CURB WEIGHT: 3,900 lb (est)
ZERO to 60 mph: 3.9 sec (est)
TOP SPEED: 186 mph
2017 Chrysler Pacifica (Best Minivan)
The 2017 Chrysler Pacifica replaces both the Town & Country and, ultimately, the Dodge Grand Caravan. I've always cursed minivans just like everyone else has at some time, but this car grew on me for the week I had it. Not only was it super easy to drive but it was also fun in a way no minivan has ever been. You have to take a step back and consider it for what it is and judge it on how well it performs the functions for which it was designed.  This is the best multi-purpose people mover in the world, the Swiss Army knife of vehicles……………that way I don't have to say minivan.
POWER: 287-hp @ 6,400 rpm
TORQUE: 262-lb-ft @ 4,000 rpm
CURB WEIGHT: 4,330 lb (mfr)
ZERO  to 60 MPH: 7.5 sec
CARGO VOLUME: 32.3 ft³, 140.5 ft³ with seat area
2016 Audi RS 7 Performance (Fastest Sedan)
The 2016 Audi RS 7 Performance uses a twin turbo V8 pumping out 605 hp and 516 lb-ft @ 5,500 rpm – 553 lb-ft on overboost. It's not just fast, it's supercare fast, and to prove it, as if we hadn't already convinced ourselves, we strapped on the test gear, turned off the traction control and scorched this thing from 0-60 in 3.15 seconds! Forget the Aston Martin Vanquish V12, forget the 2016 Porsche 911 Carrera GTS and you can forget the Dodge Charger Hellcat, all are slower to 60 than the RS 7 Performance. It's bonkers acceleration will have you a nervous wreck looking for the po po in your rear view mirror. I suggest a good radar detector.Is it worth the extra cash over the extremely good S7…..hell yes it is. So go sell your house and buy one of these.
POWER: 605 hp @ 5,800 rpm
TORQUE: 516 lb-ft @ 5,500 rpm – 553 lb-ft on overboost
CURB WEIGHT: 4,497 lb
ZERO-60 MPH: 3.15 sec
2016 Chevrolet Camaro RS 2LT (Best V6 Muscle Car)
The 2016 Chevrolet Camaro RS uses the V6 engine from General Motors' newest family of dual-overhead cam power plants as seen in the Cadillac CTS and ATS. It is no bigger than the old V6 but it carries a bigger stick. It now produces 335 horsepower and 284 pound-feet of torque. On full throttle straights the car pulls strongly and the engine never feels strained as it changes gear at just short of 7,000 rpm. The 8 speed auto does a good job in most cases and always selects the right gear and holds on as long as it can before changing up. It seemed to know when we wanted to drive like complete hooligans but on occasion seemed to stick and not want to change up. Despite this it's definitely better then the Mustang Ecoboost.
POWER: 335 hp @ 6,800 rpm
TORQUE: 284 lb-ft @ 5,300 rpm
CURB WEIGHT: 3,435 lbs
0-60 MPH: 5.1 Secs
QUARTER MILE: 13.5 sec
2016 Dodge Charger Scat Pack (Best V8 Muscle Car)
The Scat Pack Charger follows the same recipe as the Challenger Scat Pack we tested last year, except with 2 more doors and a longer wheelbase. It shares its naturally aspirated, 392-cubic-inch  V-8 (6.4 liter) with the more high tech and more expensive SRT 392 model. The V8 makes 485 hp and 475 lb-ft of torque and drives through the excellent 8 speed auto we have raved about before. In a power per dollar sense, this Scat Pack is a bargain, our tester coming in at $41,385 and with four doors you won't have to grease up granny to get her in the back seat, like you would with a Mustang or Camaro…….and of course, neither of them comes in plum crazy purple.
POWER: 485 hp @ 6000 rpm
TORQUE: 475 lb-ft @ 4200 rpm
CURB WEIGHT: 4,400 lb
0-60 mph: 4.6 sec
2017 Audi Q7 3.0T Quattro (Best Premium SUV)
The 2017 Q7 has a newer version of Audi's trusty 3.0-liter supercharged V6. It makes  333 hp at 5,500-6,000 rpm and 325 lb-ft @ 2,900.  Mated to a super smooth eight-speed Tiptronic transmission, which sends power through Audi's Quattro all-wheel drive system to whichever wheel needs it. It all works seamlessly. The 2017 Audi Q7 is certainly more fun to drive than he Mercedes-Benz GLE and Acura MDX. I can't believe the amount technology available in the Q7, it's truly staggering. Starting at $54,800 and as long as you don't go crazy with the options list it's brilliant and an engineering marvel.
POWER: 333 hp @ 5,500 – 6,500 rpm
TORQUE: 325 lb-ft @ 2,900 rpm
CURB WEIGHT: 4,936 lb
ZERO to 60 mph: 5.98 secs
TOP SPEED (Electronically Limited): 130 mph
2016 Audi A3 e-tron (Best Hybrid)
The A3 E-Tron is powered by a 1.4-liter TFSI gasoline engine, coupled with a 75-kilowatt electric motor and an 8.8-kWh lithium ion battery pack. The gas engine is good for 150 hp and 184 lb ft if left in battery Charge Battery Mode. Combined both motors make 204 hp and 258 lb ft. The Audi A3 e-tron's electric motor allows for near silent cruising through towns, and gives this A3 decent punch on winding country lanes, it lacks for nothing except maybe a little more EV only range. I am nitpicking here because Audi has removed most of the reasons that would keep most people from buying an electric car………and it's a hatchback!!
POWER: Gas 150 hp, Electric 102 hp, 204 hp combined
TORQUE: Gas 184 lb-ft, Electric 243 lb-ft, 258 lb-ft combined
CURB WEIGHT: 3,620 lb (mfr)
MAX SPEED W/BATTERY ONLY: 80 mph
MAX SPEED COMBINED: 130 mph
0-60 MPH: 7.5 secs
2017 Golf R (Best Hot Hatch Auto)
No changes to the engine for 2017, although with the GTI getting a power hike, I would expect VW to add more go to the next model R.  The Golf R has a turbocharged 2.0-liter four-cylinder engine which develops 296 horsepower and 280 pound-feet of torque.If you need a practical hatchback in a demure package that will devour twisty roads and out drag a Mustang, then this is for you. If you can't find the extra dough then buy a GTI, either way you can't go wrong…..and yes in our humble opinion this car is better than a Subaru STI.
POWER: 292 hp @ 5400 rpm
TORQUE: 280 lb-ft @ 1800 rpm
CURB WEIGHT: 3,325 lb
ZERO to 60 mph: 4.58sec
TOP SPEED (governor limited): 153 mph
2017 Fiat 124 (Best Overall)
Complain all you like, this was the car that was simply the most fun on an everyday basis. The 2017 Fiat 124 gets a turbocharged 1.4-liter MultiAir four-pot, the same one they use in the Fiat 500 Abarth, only with 4 psi of additional turbo boost. The 124 delivers 160 @ 5500 rpm and 184 lb-ft @ 2500 rpm. It's nothing short of a grin fest at any speed. I spent the whole week with the top down, even on colder San Diego mornings, and the very good heated seats kept me nice and toasty. I ran more errands in the week I had the Fiat than in any other car. Forgot something at the grocery store, "I'll go" and I did. Any excuse it didn't matter I just wanted to be driving the Fiat.
Power: 160 hp @ 5500 rpm
Torque: 184 lb-ft @ 2500 rpm
Curb weight: 2,436 lb
Zero to 60 mph: 6.35 sec
Top speed: 130 mph