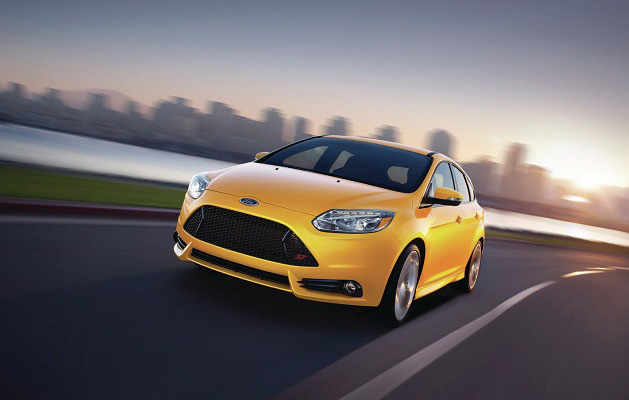 There's no shortage of great cars if you have $50,000 to spend, but if your right foot is bigger than your wallet and you enjoy speed, what do you do?  Don't worry automakers are catering more and more to young buyers who are looking for a vehicle that's cheap to own and maintain, but doesn't necessarily sacrifice its fun factor. We put this list together based on price, performance and fun factor and our humble opinion. If we omitted any then it's because we are not fans. Here are our favorite Quickest Cars For Under $25K.
Ford Fiesta ST – Starting at $20,970
The Ford Fiesta ST is nothing short of sensational. Ford has worked some magic with the suspension and the dynamics of this car. Under the hood is the now familiar 1.6 Turbo making 197 horsepower at 6000 rpm and 214 lb-ft of torque at 3500 rpm. Peak power is made in "overboost" mode, when the turbo is squeezing in 21 psi. The computer cuts pressure after 20 seconds at wide-open throttle, so if you are fleeing the cops back off for a second and it resets.
One transmission is available and it's manual and is one of the  nicest shifters around. Two gear changes will take you to 60 in around 6.9 seconds……
Fiat 500 Abarth – Starting at $22,495
The Fiat 500 Abarth has 160hp and 170 lb-ft torque and gets from 0-60 in 7 seconds flat. It can' t keep up with the Fiesta ST but it does have a smile button…………a Sport button ups the torque from 150 to 170 and supposedly tightens the suspension and steering. What is great though is the engine note and the exhaust is addictive! The little car farts and parps along and if you change down emits a crackle on the overrun that is intoxicating. It's like driving around in a large bowl of Rice Krispies, snap, crackle and pop.
Honda Civic Si – Starting at $23,090
The Honda Civic Si has the trusty DOHC 16-valve inline-4 with a manual transmission, which pleases us,  a lot. Power is 205 hp @ 7000 rpm and 174 lb-ft @ 4400 rpm.   The Si has sweetest manual shifters available. It's crisp, precise and a joy to row through gears. A very satisfying experience. 
Acceleration to 60 happens in 6.5 seconds and the 1/4 mile in 15.
VW Golf GTi – $24,995
The 2016 Golf GTi just makes the 25k cut off, however this would be for a 2 door with manual transmission, which is no bad thing. The 2.0 T engine delivers 210 hp and 258 lb-ft of torque. There is a Performance Pack, at an additional $1495 as a stand-alone option available on all trim levels and with both transmissions, which an additional 10 hp, for 220 hp total, plus bigger brakes and an electronically controlled, hydraulically actuated, torque-sensing, limited-slip front differential. Even with the manual transmission 0-60 is dispatched in 6.0 seconds. It's also one of the best handling front drivers available.
Ford Focus RS – Starting at $24,425
Ford Focus ST uses a tuned version of Ford's 2.0-liter turbocharged EcoBoost inline four-cylinder rated at 252 @ 5,500 rpm and 270 lb-ft @ 2,500 rpm. 0 – 60 is taken care of in 6.2 seconds, a little slower than its nemisis the Golf GTI. As log as you can tolerate a purposely stiff ride, this is a car with a grippy front end thanks to some clever torque vectoring which goads you into going faster and faster at each corner. This is one fine hot hatch.
Mini Cooper S – Starting at $24,100
The Cooper S  offers up a 2.0 4 cylinder turbo with 189 hp, 207 lb-ft and 221hp on over-boost. It certainly does feel fast once underway. We preferred the car in Sport Mode (who wouldn't) but the auto box doesn't suite this car well. It's soul cries out for a manual as the auto isn't quite as good as the VW Twin Clutch DSG. Acceleration is pretty brisk with 60 coming up in 6.4 seconds and onto a top speed of 146.