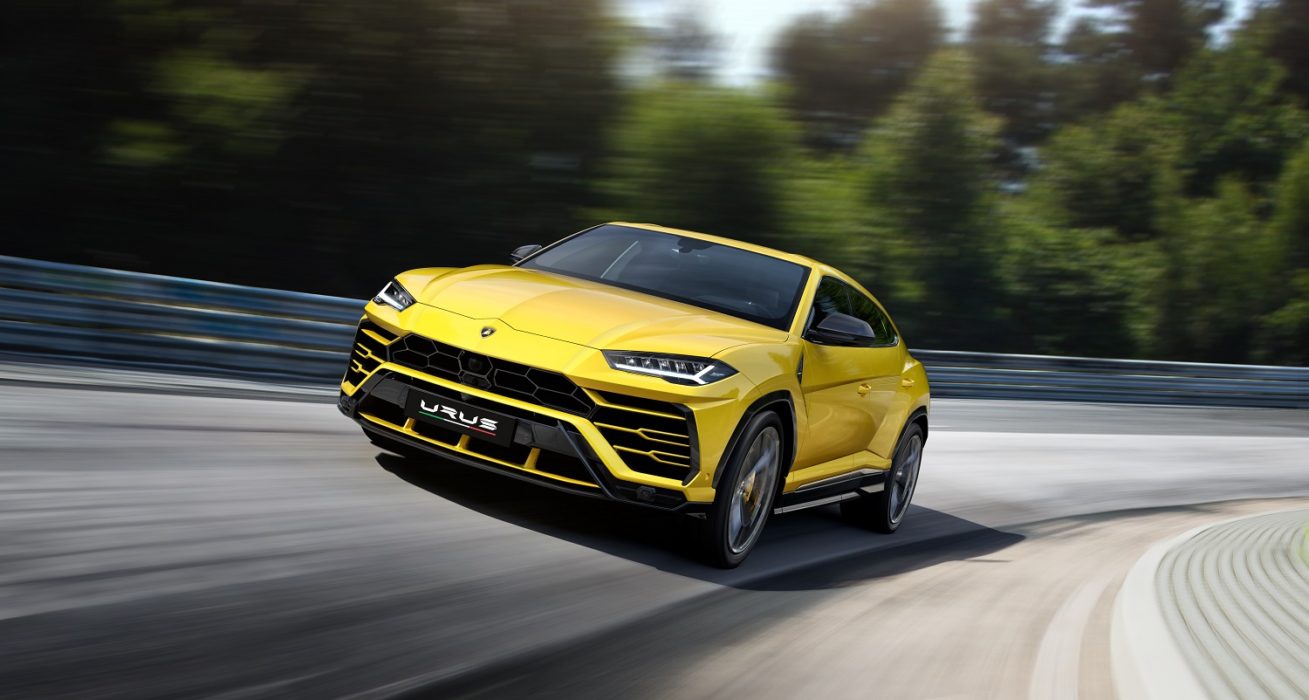 Lamborghini has launched its third model the Lamborghini Urus, the first Super Sport Utility Vehicle, into a world where the SUV has become somewhat ubiquitous. VW already has the Bentayga so why not a Lamborghini SUV?
The Urus features a 4.0 liter V8 twin-turbo engine delivering 650 hp at 6,000 rpm, with a maximum of 6,800 rpm, and 626 lb ft at 2,250 rpm. Claimed acceleration is quite rapid with the benchmark 0-60 time coming up in 3.48 secs and onto 124 mph in 12.8 making it one of the fastest SUVs on the planet. Top speed is a claimed 190 mph.
This engine is very compact and is mounted low to maximize the car's center of gravity. The turbos are mounted close to the combustion chambers, providing better responsiveness and reducing turbo lag. Cylinder deactivation reduces fuel consumption although I image the typical buyer has this fairly low down on their priority list.
The four-wheel drive on the Lamborghini Urus features a Torsen self-locking differential, with torque split 40:60 to the independent front and rear axles, respectively. The front axle can receive up to a maximum power of 70% while the rear can hold 87% depending on condition or driving mode.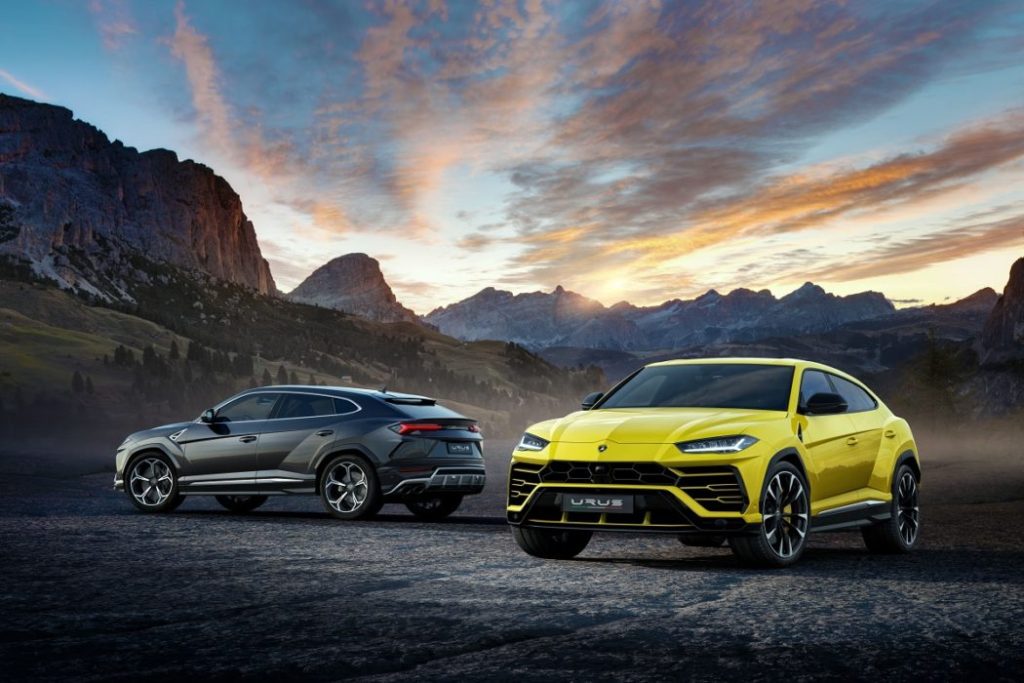 Not the first Lambo SUV
The Lamborghini LM002 was an off-road sport utility vehicle, built between 1986 and 1993. It was powered by a DOHC 48-valve V-12 with aluminum block and heads, which generated 444 hp @ 6800 rpm and 368 lb-ft @ 4500 rpm. It was obviously somewhat slower than the Urus with a time of 7.7 seconds to 60, mostly due to its 6780-pound  curb weight. The only transmission available was a 5 speed manual outputting to a four-wheel-drive system with a center-mounted two-speed transfer case, allowing 4wd operation in low and high ranges, or conventional rear-wheel drive.
Urus Design
As is typical in this segment the Urus has coupe styling with the higher ground clearance that is demanded, matched with a luxurious interior space loaded with tech goodies. The Lamborghini Urus looks pretty rakish and sharp all around with the headlamp and tail lights matching those on the Huracan. As is the norm for Lamborghini the Urus name is derived from the world of bulls. The Urus, also known as Aurochs, is one of the large, wild ancestors of domestic cattle. The Spanish fighting bull, as bred for the past 500 years, is still very close to the Urus in its appearance.
Lamborghini four-wheel drive and torque vectoring
The Lamborghini Urus' four-wheel drive system uses an active torque vectoring via a rear differential, enabling power to be instantly distributed to each individual wheel for enhanced traction, depending on the driving mode, driving style and the road grip.  In the driving modes STRADA, TERRA (off-road) and NEVE (snow) torque vectoring reduces under-steer for safe and simple driving. In SPORT and CORSA torque vectoring allows the Urus to create over-steer for a more fun drive. In SABBIA (sand) mode, the system is calibrated to guarantee traction  on terrain with reduced grip such as on gravel or sand dunes………hmm, which market are they marketing to here?
Urus interior
The driver and passengers are all afforded a low but extremely comfortable super sports car seat position, firmly integrated within the cabin and for the driver, every cockpit control within easy reach. Oriented around the driver, the slim Y design of the dashboard, like double silver wings and connected to the climbing center console, is inspired by the LM002 as well as by current Lamborghini super sports cars. A fully-digital TFT display shows the Urus' main information in an animated 3D representation and is customizable by the driver.
The standard front memory sport seats are fully electric, heated and 12-way adjustable. More luxurious, 18-way fully-electric front seats are available as an option, including features such as ventilation and massage. nd increased luggage capacity for daily use. The rear bench seat can be lowered to substantially extend the trunk space from 616 liters to 1.596 liters. As an option in conjunction with the fully-electric front seats, a more exclusive two-seat rear layout can be specified providing exceptional rear passenger comfort while reflecting the Urus' sporty character.
How much and when can I get one?
The first customers will take delivery of the new Lamborghini Urus in Spring 2018 at a suggested retail price of  $200,000
| | |
| --- | --- |
| Vehicle type  | Front-engine, 4WD wheel-drive, 5-passenger, 4 door SUV |
| Suspension | Adaptive air suspension with electro-mechanical active roll stabilization |
| Engine | 3.9 Liter, bi-Turbo, V8 |
| Maximum power | 650 hp at 6,000 rpm |
| Maximum torque | 626 lb-ft@ 2,250-4,500 rpm |
| Transmission  | 8-speed automatic  |
| Top speed | 190 mph |
| 0-60 mph  | 3.48 sec |
| 0-124 mph | 12.8 sec |
| Curb weight | 4,850 lb |