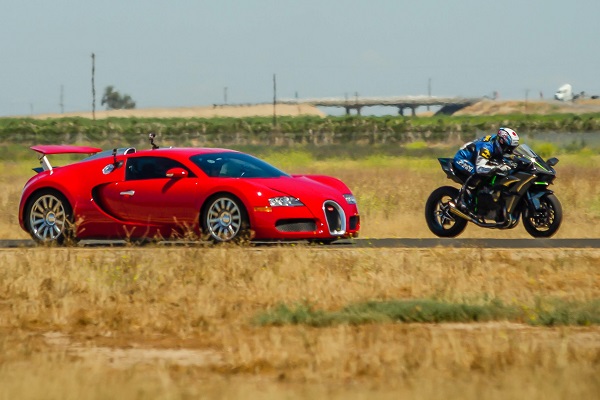 The Bike
We don't normally feature bikes because we are more into 4 wheels, but in this case we made an exception after we saw that Superstreetonline had raced some of our favorite cars against the supercharged 2015 Kawasaki H2R.  This bike is a very special machine and also very expensive at $50,000. Built in very small numbers , it is powered by a  998cc, liquid-cooled supercharged inline-four engine, with a claimed 300hp, and weighs in at a featherweight 476 lb. It is supposedly the fastest hyperbike on the planet.
The three runs were conducted on an airfield in California, and were a half-mile rolling start race between the hyperbike and three different supercars. Each car got three chances to take on the bike, and each of the runs started with a 50 mph rolling start. The trap speed of each vehicle was measured at the end of each run.
The Cars
In the blue corner we have the four wheel contenders starting with the 2014 McLaren MP4-12C. The British Mclaren was stock, producing 593 hp from the 3.8-liter, twin-turbo V-8 engine. The second contender, flying the flag for Germany is the the 16-cylinder, quad-turbo Bugatti Veyron Super Sport, pumping out 1183 bhp @ 6400 rpm and 1110 lb-ft @ 3000 rpm…….There is no way the bike can beat this monster…… Finally, contender number three form Japan, Godzilla himself, a Nissan GT-R tuned by SP Engineering to make a massive 1,350 hp from the  3.8-liter, twin-turbo V-6 engine.
Based on power to weight ratios bikes should always be faster in a straight line but show them a turn and they are considerably slower. This is a drag race so let's have the Kawasaki H2R, Bugatti Veyron, 1350hp GT-R & McLaren 12C speak for themselves.
Bike V Mclaren
Race 1: McLaren MP4-12C vs. H2R
Trap Speed: 192mph H2R | 162mph 12C
This was pretty much a forgone conclusion, the Mclaren never really stood a chance and the bike ends up with a 30mph faster trap speed. The bike might have been faster if it could have kept both wheels on the ground.
Bike V Veyron
Race 2: Bugatti Veyron 16.4 vs. H2R
Trap Speed: 194.5mph H2R | 180mph Veyron
The bike got a late start but caught up mid way, the Veyron was close but no cigar.
Bike V GTR
Race 2: 1350hp SPE GT-R vs. H2R
Trap Speed: 208mph GT-R | 204mph H2R
Godzilla wins this one but it takes an incredible amount of power and tuning to get the GTR to top the hyper bike. It also take cojones to get on that bike…….