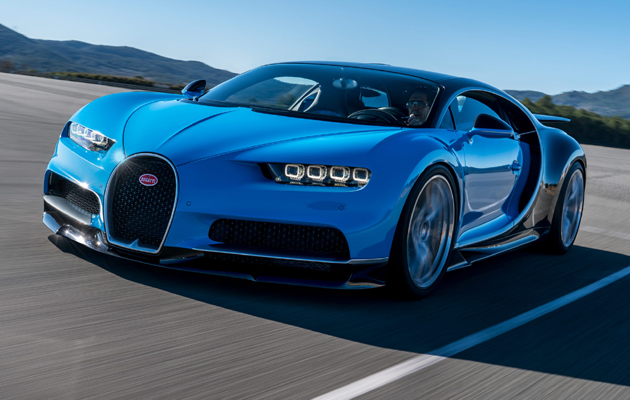 The Bugatti Veyron had 1,000 horsepower when Bugatti launched it in 2005. The follow up is finally here, the Bugatti Chiron and it will have almost 500 more than that.
The Chiron is the world's most powerful, fastest, most luxurious and most exclusive production super sports car
The Chiron is the world's first production sports car with 1,478 hp
Eight-litre W16
Torque of 1,180 lb-ft between 2,000 and 6,000 rpm, the Chiron offers maximum performance with outstanding control in all speed ranges
Maximum speed: 261 mph, limited for road travel
Acceleration: from 0 to 60 mph in less than 2.5 seconds
0-124 mph in less than 6.5 seconds
0-186 mph in 13.5 seconds
Market launch in autumn 2016
Basic price: €2.4 million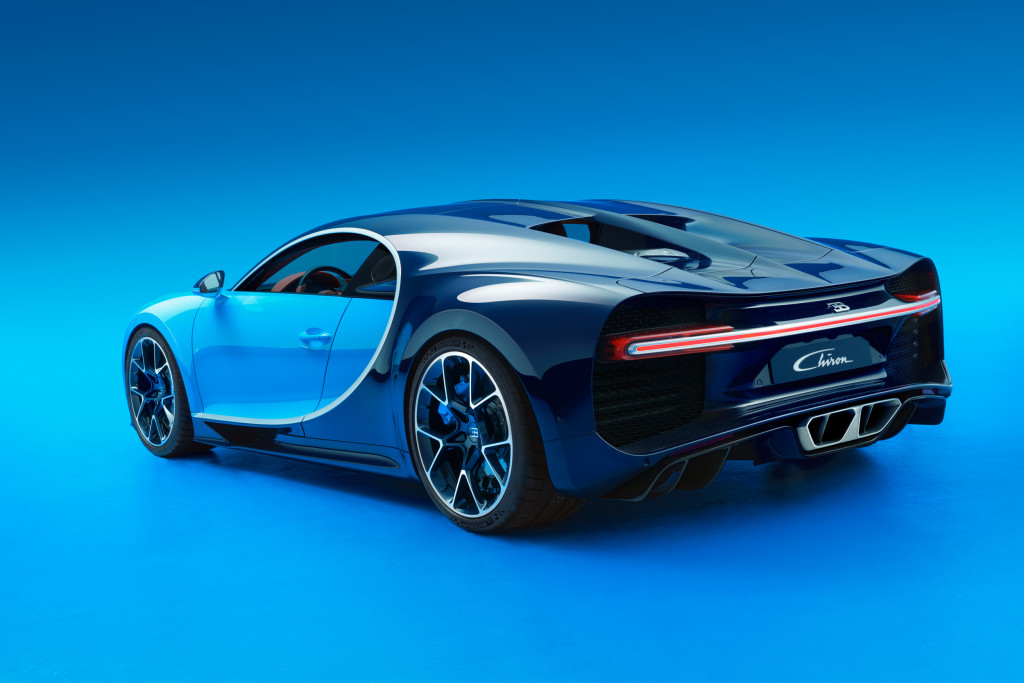 Bugatti is celebrating a world premiere at the Geneva International Motor Show: the French luxury brand is unveiling the Bugatti Chiron, the most powerful, fastest, most luxurious and most exclusive production super sports car in the world. The Chiron is to be built at the company's headquarters in Molsheim.
Sadly only 500 will be built of these exceptional cars are to be produced. The base price is €2.4 million net. Currently, advance orders have been received for one third of the total production run. The first vehicle is due to be delivered to a customer this autumn.
In its Top Speed mode, the car reaches the maximum speed of 261 mph, limited for road use – however, this is by no it's maximum for the Bugatti Chiron, meaning it will go faster………
With a brand new carbon fiber monocoque, and newly designed adaptive chassis, as well as tires developed especially for Bugatti makes this the ultimate in supercars.
"The Chiron is the quintessential ultimate super sports car: ultra-modern, incredibly fast, agile and powerful with a stylistically demanding design and the highest possible levels of comfort," says Wolfgang Dürheimer. "This combination is not offered by any other market player and gives Bugatti its unique market position."
Engine
The engine is a newly developed version of the W16 engine with a two-stage turbocharging system and a new titanium exhaust system with two catalytic converters that are about six times as large as ones fitted to a typical medium-sized car. 1,500 hp was the power target for the Chiron. To achieve this objective, the eight-litre W16 engine was completely redesigned. To achieve a power boost of 25 percent compared with the predecessor, almost every component of the engine was redesigned. To compensate for the weight increase caused by the higher power output, greater use is made of lightweight materials such as titanium and carbon fiber.
Chassis
For the first time, Bugatti has developed an adaptive chassis – for significantly greater agility and driving comfort
New high-performance tiresd tested at aerospace facilities
Newly developed high-performance brakes with Formula One technical modules
New adaptive chassis with five driving programs