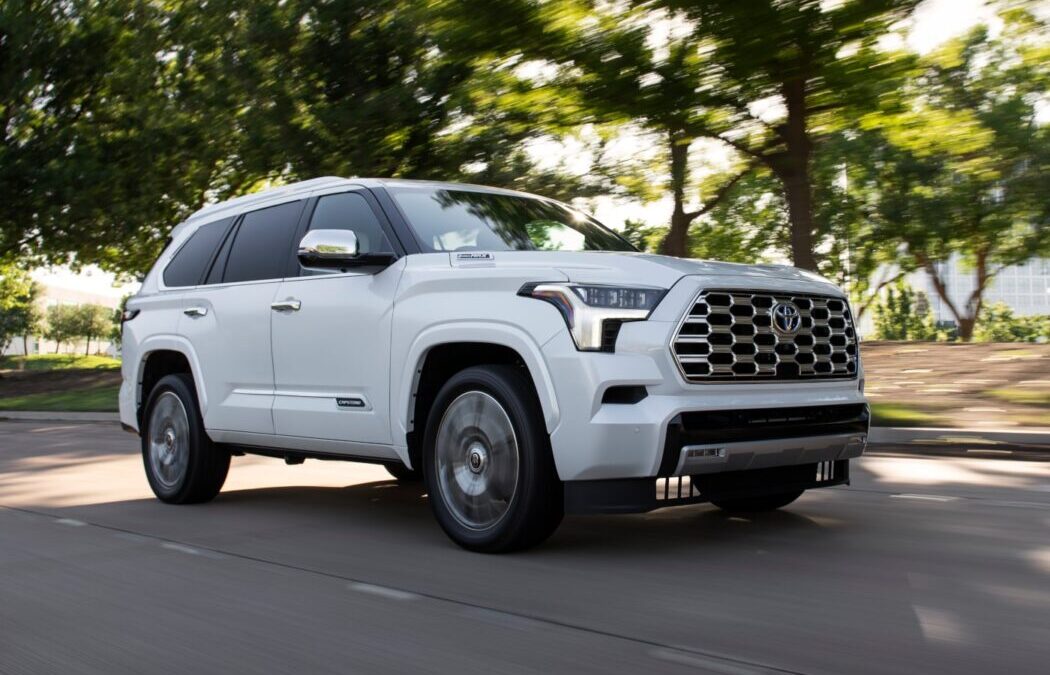 This is the 2023 Toyota Sequoia and it's taken almost 13 years to give us a new one which is not surprising since Toyota holds on to its models longer than most. Its modern and blocky styling reminds us of the Land Cruiser we can no longer get here in the US so it's fair to say that this Sequoia will be the closest thing we get to that car. 
It's not surprising that it's greatly improved over the outgoing model in almost every way, including engine efficiency, interior quality, and technology. The design is certainly more modern, too, and if you like to go off-road there's a TRD Pro model for you.
One issue for me is the switch to an old-school solid rear axle versus its predecessors' independent rear and also the position of the battery under the 3rd row which causes all sorts of problems. 
Chunky Exterior
It's full of interesting angles and curves, big indentations at the fenders, cool new headlights, it has a real presence and I like that the new styling makes it look so much more substantial than its bland predecessor. Weirdly it's a bit smaller on the outside, compromising some aspects of the interior though and the cargo area. At the front the Sequoia gets the Tundra's face, it's big and bold and although conservative is more modern looking at the rear; it's not a huge leap in design but it is a solid improvement.
Powertrain and Transmission
Only one engine is available and the good news is it's the most powerful one available. It's a twin-turbocharged and inter-cooled 24-valve 3.4-liter V-6 with 389 hp and 479 lb-ft and an AC motor which has a healthy 48 hp and, 184 lb-ft. That makes for a combined output of 437 hp and 583 lb-ft. Cog swapping is provided by an excellent and smooth 10-speed automatic transmission. 
From a standstill, it takes 5.6 seconds to get to sixty and offers much better fuel economy than the outgoing model, with an EPA highway rating of 22 mpg.
Driving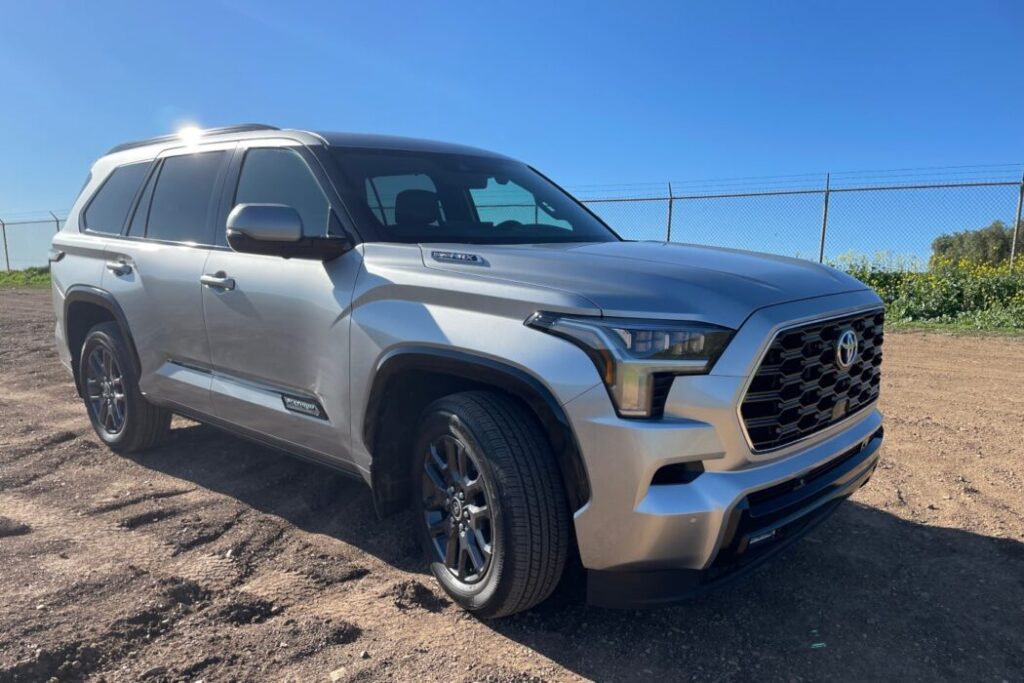 On the road, those suspension downgrades make for a teeth-chattering ride and it rolls more than a ship in a storm, with the only saving grace being the massive power from the twin-turbo V6. Press the throttle and the electric motor and turbo engine provide turbine-smooth, effortless torque, which doesn't seem to stop, it keeps coming all through the rev range. At the back, it delivers a satisfying throaty growl.
It certainly feels large and wide on the road and together with light steering you have to make constant corrections to keep it in your lane. Turning the drive mode to Sport S or Sport S+ firms everything up but doesn't help the ride any.
Press into a turn and the cornering grip is relatively high but I would suggest avoiding those kinds of shenanigans in this 6,000 lb vehicle. The brakes are a tad squishy but provide good stopping overall but there's a lot of squat and dive from a less-than-sorted suspension.
Interior upgrades
Big wide seats greet you once you jump in aided by a large motorized retractable step. The dash is dominated by a 14-inch central touchscreen infotainment system.  It's not too big though and is oriented in landscape mode which I prefer. The layout is immediately logical with menu icons closest to the driver which operate maps, music, phone, vehicle, and settings.
Ahead of the driver is a 12.3-inch reconfigurable gauge cluster, which can be adjusted using steering wheel-mounted controls. Here you can access, safety systems, music navigation, etc.
I do like the fact that Toyota has retained physical buttons, they are so much easier when on the move. A volume button is retained, however, tuning is now in the center touchscreen and is easily accessible via a Tune sub-menu under Music,
The HVAC controls are laid out below the display and are super easy to use and have a premium feel to them. On the whole, it's not as posh as a Ram but the plastics are of good quality and the design is functional and tasteful.
On the negative side for a car priced at $78k are the areas of scratchy hard plastic that don't befit a trim of this level. The soft feel of most of the plastics and copious amounts of leather do help offset this but it's still rather annoying,
Storage
The big center stack offers plenty of useful space, a sliding tray, and a small cubby with a lid and then underneath a large storage space with power in the form of two USBs. The two front cupholders are decent-sized and have a touch lid to cover them when not in use.
Cargo Area and 3rd Row
The biggest letdown is the rear cargo space and 3rd row, it's extremely compromised by the battery which has been placed underneath so there isn't space for the third row to fold flat into the floor and it also can't be removed. This produces a huge step that Toyota has tried to fix by offering a multi-level cargo floor using what amounts to some shelves. These can be placed at different levels much like oven racks but it just doesn't work.
For those unlucky enough to travel in the 3rd row the battery has pushed the seats close enough to the ceiling where adults' heads will constantly graze the headliner. The good news is that egress is easy thanks to a simple level that pushes the 2nd-row seats up and forward in one seamless motion. 
Safety
Every 2023 Sequoia includes has standard forward collision warning with pedestrian detection, lane-keeping assist, blind-spot and rear cross-traffic warning, and adaptive cruise control with stop-and-go functionality and lane-centering steering assist. Also standard are front and rear parking sensors, and Safety Connect emergency communications services. 
Pricing + Options 
My tester was a Platinum trim with a base price of $73,900 but it did have some options. Power Running Boards for $1,005 and Load Leveling air suspension for $1,045 taking the price to $78,590 including destination.  
Verdict
The new Sequoia is kind of two steps forward and one step back. It's a solid effort and will no doubt sell to eager buyers but I feel its on-road driving ability falls short of its competitors and that cargo area is just a mess.
The redesign was definitely much needed, but some parts were not thought out well, something Toyota's designers should take note of. Pricing is another issue because the Sequoia is smaller, less functional, and generally less competitive than its competition yet it is more expensive. On the plus side, you do get Toyota's famed reliability for your money.
Video Review
2023 Toyota Sequoia Platinum Numbers
BASE PRICE:  $73,900
PRICE AS TESTED:  $78,590
VEHICLE LAYOUT: Front engine, all-wheel-drive, 7-passenger, 4-door SUV
ENGINE: 3.4L Twin-turbo DOHC 24-valve V-6, plus front electric motor
POWER: 389 hp @ 5,200 rpm (gas), 48 hp (elec); 437 hp (comb)
TORQUE: 479 lb-ft @ 2,400 rpm (gas), 184 lb-ft (elec); 583 lb-ft (comb)
TRANSMISSION: 10-speed auto
0-60 MPH:  5.6 seconds
CURB WEIGHT:  6,100 lb
CARGO VOLUME: 22.3 ft³ behind 3rd row, 49.0 ft³ behind 2nd row, 86.9 ft³ all seats folded
FUEL ECONOMY Combined/city/highway: 20/19/22 mpg 
OUR OBSERVED: 14.5 mpg
PROS: Great looking, more modern interior, more efficient, surprisingly quick
CONS: Teeth chattering ride, expensive upper trims, compromised cargo space