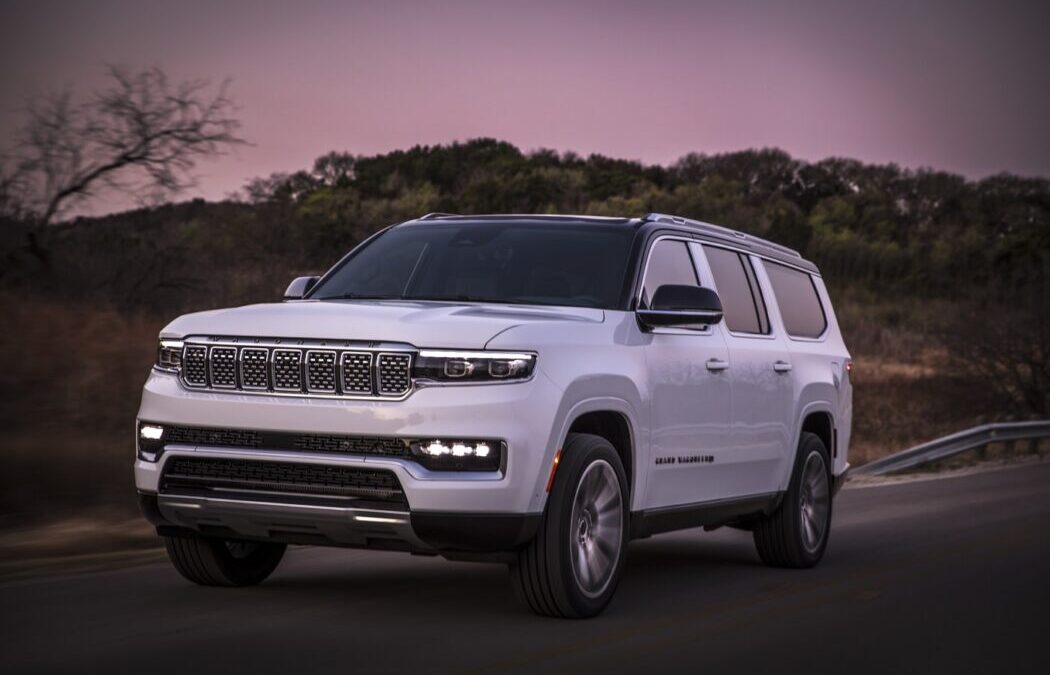 The 2023 Grand Wagoneer L is proof that people still want to buy enormous gas-powered vehicles despite the rush toward electrification. It goes head-to-head with the likes of the Cadilac Escalade ESV and the Lincoln Navigator. Step across the pond and the BMW X7  and Range Rover come into play. 
Since I already reviewed this car it seems odd that I would review it again less than 8 months later, but there is a reason for this and it's what sits under the hood of my 2023 Grand Wagoneer Obsidian trim tester. 
More go less noise
Instead of the 471-hp 6.4-liter V-8­ with 455 lb-ft of torque, you get the new Hurricane engine which is a 3.0-liter inline six with 510 hp @ 5,700 rpm and 500 ft-lbs @ 3,500 rpm, that's more horsepower than the Ford Expedition Limited Stealth and is only beaten in the big SUV class by the Cadillac Escalade V.
The Inline six in the GW L is the high Output version if you opt for the Wagoneer you can choose from a 5.7 liter V8 or this inline 6 with a standard output version has 420 hp and 468 lb-ft of torque.
Being an L, of course, it weighs more, in fact, it tips the scales at a shade over 6,800 lbs, but that doesn't prevent it from making the dash to sixty in 4.7 seconds.  
What you do miss is the noise that the V8 makes, it bellows and rumbles something you don't get with the Hurricane engine, in fact, it's remarkably quiet and really never lets itself be heard.
Not only is it faster it's slightly more fuel efficient as well, with EPA numbers one or two mpg better than the 6.4 litersV8. I averaged 13.9 for the week I had it.
All Grand Wagoneers are AWD and the engines are mated to a very smooth shifting 8-speed automatic which is mapped to various drive modes including Sport, Auto, Snow, Rock, and Sand/Mud. Given that the stock tires are all seasons we didn't really go off-road except for some easy dirt trails. There's no doubt though that since it has Jeep off-road DNA it would tackle some fairly technical trails if needed.
The Wagoneer L is essentially a Ram 1500 underneath and the air suspension can raise the Grand Wagoneer L up to provide 10 inches of ground clearance when in Rock Mode. Of course, the sheer bulk, width, and a large rear overhang means caution must be exercised.
Shaped to maximize space
It's a brick because it has to maximize cargo space, however, the front-end styling is a success and I got many thumbs up at the gas station.  This tester's white paint works well since it's broken up by a black roof, black grille, black door mirrors, and black accents which help to reduce the heaviness overall. 
Pricing + Options
The Obsidian trim starts at $98,090, my tester had some options including the Obsidian Appearance Package ($5,495), which gives you Ventilated Rear Seats, Premium Color-Tinted Glass, Piano-Black Exterior Accents, Adjustable Roof-Rail Crossbars, the excellent McIntosh Entertainment System with 23 Speakers, Front Passenger Interactive Display, 22-in. Tinted Polished Wheels with Black Inserts, Front Passenger Interactive Display, Front Console Cooler, Black Interior Accents, and Gloss-Black Day Light Opening Moldings.
Since the Grand Wagoneer L with the Hurricane engine will tow 9,450 lbs it had the Heavy-Duty Trailer Tow Package ($995) which includes Trailer-Brake Control, Chrome Tow-Hooks, Trailer-Hitch Line-Up Assist, Trailer-Hitch Zoom, Removable Rear Tow-Hook, and Heavy-Duty Engine Cooling.
It also had the Rear Seat Entertainment Package ($2,195),  Amazon Fire TV Built-In, and 10.1-Inch Rear Entertainment Screens plus a Power Liftgate ($195) taking the price including destination to $108,580
Driving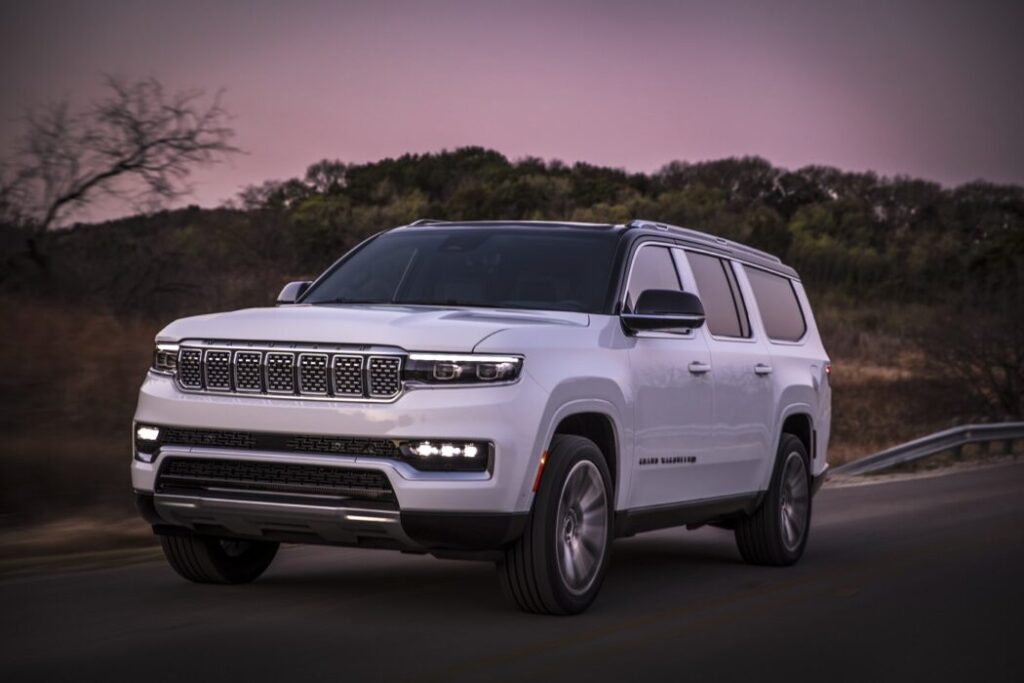 Make no mistake the Grand Wagoner is large so parking is not the easiest task despite having an array of sensors and cameras at your disposal. It's an inch longer than a Suburban to put it into perspective.
Once on the move, the driving experience is very serene, it moves with considerable grace and you can immediately feel the extra torque from the inline six. Pick up from a stop and mashing the pedal out of a turn can induce some turbo lag which is slightly annoying. Folks that don't too drive aggressively will be fine but the V8 certainly delivers its power in a much more linear manner, such is the nature of a naturally aspirated engine.
In the corners, the Grand Wagoneer is not as poised as a Cadillac Escalade but the tires didn't make any noise when we got on it. The steering weighs up in Sports mode but has no feel, it's impossible to tell what the front wheels are doing, and for this type of vehicle that's ok.
Once you get past 3,000 rpm, the engine's response is linear all the way to the  6,000 rpm redline, and it gains speed and is punchier than the V8. Thankfully the brakes are good, and progressive, and will haul the almost 7,000 lb beast to a stop with no fade or complaints.
It doesn't beg you to mash the throttle as the V8 does and that is probably good for your wallet, but I can't help feeling that it has lost a little soul. That said people looking for a big, powerful, and spacious SUV will probably love this car.
Interior
The interior is where they have made this car stand out, it's spectacular in its design elements with a flying buttress piece of aluminum across the dash at center level with the words Grand Wagoneer embossed on the passenger side. It certainly makes a big statement.
The front seats have 24-way power including massage functionality for both driver and passenger but the most incredible thing though is the amount of real estate taken up by the multitude of infotainment screens, two in the center console and one for the passenger, which the driver can't see so as not to be distracted by the latest episode of the Real Housewives of Fresno.
Those seats also allow for bolster adjustment, something you would get in a sports car to hold you in better, but these serve to accommodate all sizes of people and I think there are great.
Ahead of the driver is the digital gauge cluster, there are two screens in the center console the main one has a 12.0-inch center touchscreen that sits above a 10.3-inch touchscreen with controls for the HVAC system, and massage functions. Ahead of the passenger is another screen (not visible to the driver's eyes thanks to a special screen coating), which they can use to display music and push content to the rear 10.1-inch touchscreens that each captain's chair passenger has.
Cargo Space
The powered tailgate lifts to reveal masses of space, 44 cubic feet behind the third row, 71 behind the second row, and a gargantuan 113 cubic feet with all seats folded.  The 3rd row is powered so you can fold them from the 2nd row or for the back. 
Rear accommodation is plentiful and I found the 3rd row to be one of the best I've sat in, with plenty of leg and headroom, manual recline, generous cup holders, and a glass moonroof (which doesn't open) to view the stars.
The second row is even better with more comfortable captain's chairs plenty of USB power and a spacious cubby in the center armrest and there's more power by our feet in the center stack as well. Second-row passengers also get are also treated to another 10.3-inch touchscreen between the captain's chairs, so they can adjust the temperature.
VIDEO REVIEW
Verdict
The new Hurricane Inline six is a huge indication that the Hemi V8's days are numbered, which we were prepared for, however, Jeep has done a great job with this engine and apart from the fact that it simply doesn't make the same noise as the V8, it does a great job overall and for now, you can still opt for the V8 if you like a bit a soul with your size.   
2023 Grand Wagoneer Hurricane L Numbers
BASE PRICE: $98,090
AS TESTED PRICE: $108,580
ENGINE: 3.0L Twin-turbo direct-injected DOHC 24-valve I-6
POWER: 510 hp @ 5,700 rpm
TORQUE: 500 @ 3,500 rpm
TRANSMISSION: 8-speed automatic
CURB WEIGHT: 6,885 lb
CARGO SPACE: 3rd row up to 44 cu-ft, 2nd row up to 71 cu-ft, and all seats flat 113 cu-ft
ZERO TO 60 MPH: 4.7 sec
TOWING MAX: 9,450 lbs 
FUEL ECONOMY: 14 mpg city | 20 highway | 17 combined
OUR OBSERVED: 13.6 mpg
PROS: Beautiful interior,  quicker than the V8 
CONS: no real mpg gains, some turbo lag