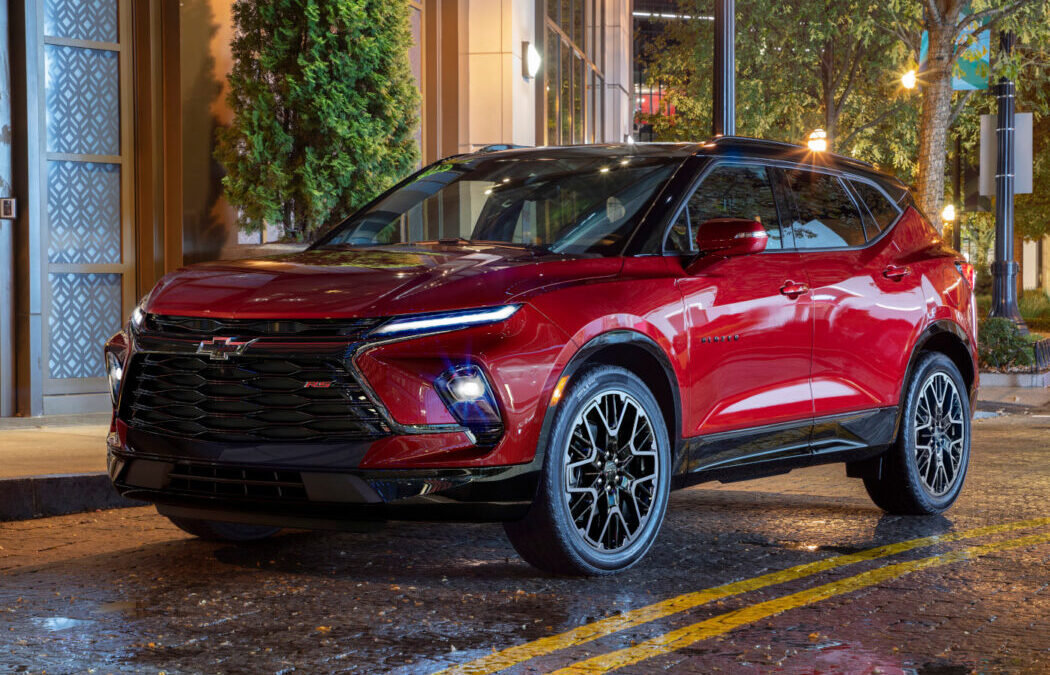 This is the 2023 Chevy Blazer RS, not, however, the much anticipated all-electric version due next year but it has received a mild facelift and this RS version is particularly good-looking.
Those that remember the old S-10 Blazers from the '80s and '90s will be sorely disappointed, this is nothing like those vehicles, instead, it appeals to folks looking for a more upscale crossover and in that respect, it checks that box.
Under the hood
You'll be glad to know GM has ditched the sluggish base 2.5-liter inline-four engine which had 193 horsepower and replaced it with the 230 hp and 258 lb-ft turbo four. The RS gets the V-6 as standard and it offers 308 horsepower and 270 lb-ft of torque from GM's latest 3.6-liter engine. It makes a pretty decent noise and is decently quick with 0-60 dispatched in 6.3 seconds, which is quicker than most of its competition.  The engine's power is driven through a smooth and quick shifting 9-speed automatic transmission.
What would be great is if they slotted in the 2.7-liter turbo from the Cadillac CT4 V which has 325 hp and 380 lb-ft of torque to appease ICE enthusiasts while we wait for the upcoming Blazer EV SS.
Still stylish
For 2023 GM has reworked the front-end styling with a new front fascia, new grille design, new LED headlamps, new LED daytime running lamps, and at the back new taillamps. Inside is a new 10-inch-diagonal center screen on all models and outside new colors including Sterling Gray Metallic, Copper Bronze Metallic, and my tester's Radiant Red Tintcoatwhich I think looks very stylish.
With all of its chiseled lines it's like the designers at Chevy were playing a game of "how many angles can we fit on one car?" and the result is a vehicle that's more aerodynamic than a torpedo.
Driving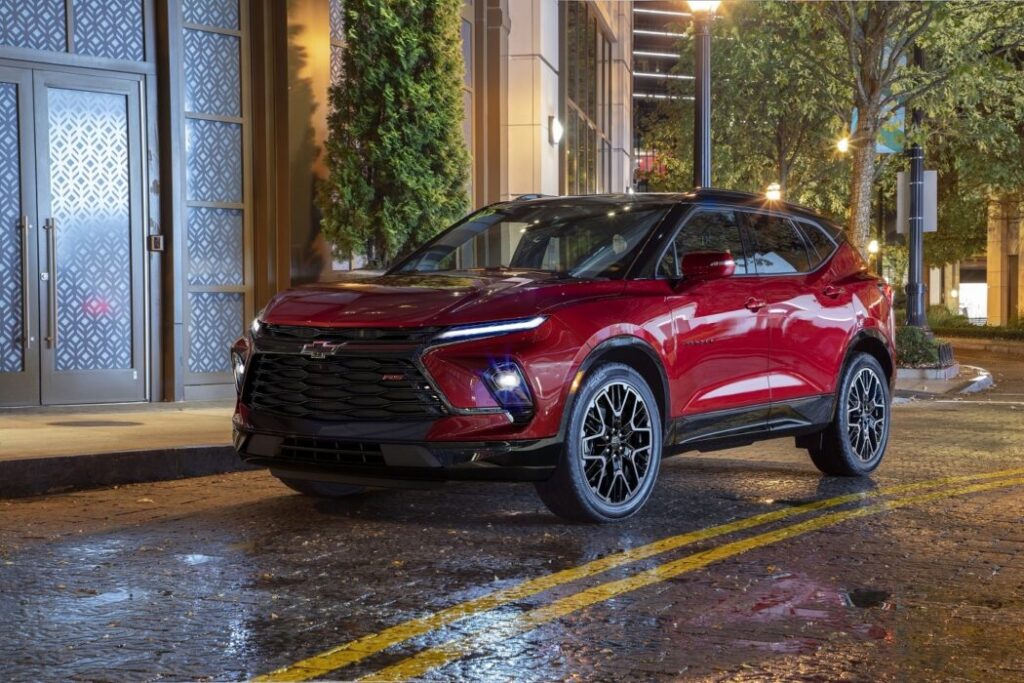 The nine-speed automatic operates mostly unobtrusively, and despite being a little reluctant to kick down at times is a good partner to the V6. The bad news is there aren't any paddle shifters instead if you want to make manual changes it's only possible via a clumsy +/- rocker switch on the shift lever.
The RS comes with standard AWD and you can select 5 different drive modes which include, 2WD, AWD, Sport, Off-Road, and Tow. The AWD system in the top RS and Premier models has the same torque-vectoring rear drive unit found in other GM products that provide torque side to side to each individual rear wheel, which makes it somewhat more sporty.
Having driven a 2.0 Turbo model a couple of years ago I definitely enjoyed driving the V-6–only Blazer RS, a lot more. The damping is stiffer and at the helm, it has a quicker steering ratio which is decent but offers no feel at all. Once you select Sport mode it just makes it a little heavier but it's precise enough to have some fun.
If you keep the engine in the higher rev range you can hustle the Blazer RS to a degree,  At the limit, it will understeer,  but it's all very controllable, and once you let off the nose tucks in. The brakes are good with no issues during hard stops and fitting Continentals is always a good choice, these cross contacts never made noise no matter how hard I drove.
The Blazer RS is quite a lot of fun to drive, the suspension is firm but not jarring and you'll feel like you're carving corners like a pro, even if you're just heading to the grocery store.
Don't consider this any type of off-roader though despite the AWD badges, it only has 7.1 inches of ground clearance and all-season tires. I accidentally drove into a muddy parking lot and the car had a little trouble getting going again so I would suggest sticking to the pavement.
Interior
The interior is impressive, with a driver-focused cockpit that's both stylish and functional and has inspiration that comes from the Chevrolet Camaro's cabin. The huge vents will be familiar, and turning the wheel is a nice touch to change the temperature. The Blazer's interior packaging is very good, and controls fall easily to hand. Forward visibility is good thanks to the side quarter-windows, and the chunky D-pillars don't impede the rear view too badly, however, the extra-high beltline does impart a slight sense of claustrophobia and because of this, you can't comfortably rest your arm on the sill.
Material quality is decent for this class, though, and all appear to be bolted together correctly, with no rattles or squeaks while I had the car. GM's latest infotainment system is full of connectivity features, responds quickly to inputs, and has very organized menus. The new 10-inch touchscreen has Apple Car Play, Android Auto, 4G LTE in-car Wi-Fi, and OnStar and there are four USB ports around the interior.
The front seats are comfortable and supportive but could do with a little more thigh and back bolster support. Driver and passenger get multi-way power and heating and cooling  The cabin's space is well utilized, although the roof line does impede cargo space 30.5 ft³, 64.2 ft³ with seat area) somewhat. Legroom and headroom in the front and rear are good and the multi-adjustable rear seats slide, recline, and fold flat to create a perfectly even cargo floor. This car includes the Stowage optimization package for $195 which is a box-like cargo area organizer.
Gets pricey
The base price for the RS is $45,400 and this car has a couple of options including 21-inch wheels ($1,000) wearing Continental Cross Contact all-season tires. Additionally, my tester had the driver confidence package for $1,375 which includes enhanced automatic emergency braking, Adaptive cruise control, and HD surround vision. For an additional $950 you can get heated and vented front seats as well as memory settings and a black two-tone roof for $550. Add all this up and that puts the Blazer RS price at $51,360 including destination.
VIDEO REVIEW
Verdict
It's certainly not the cheapest in this segment or the most spacious but the Chevy Blazer RS does stand out, and its performance is above average proving that you don't have to sacrifice speed and good looks for utility.
2023 Chevrolet Blazer RS AWD Numbers
BASE PRICE: $45,600
PRICE AS TESTED: $49,290
VEHICLE TYPE: Front-engine, AWD, 5-passenger, 4-door hatchback
ENGINE TYPE: 3.6 liter DOHC 24-valve V-6
POWER: 308 hp @ 6,700 rpm
TORQUE: 270 lb-ft @ 5,000 rpm
TRANSMISSION: 9-speed automatic with manual shifting mode
0-60 mph: 6.3 seconds
CARGO VOLUME: 30.5 ft³, 64.2 ft³ with seat area
CURB WEIGHT: 4,210 lbs
COMBINED/CITY/HWY: 21/18/25 mpg
OUR OBSERVED:  17.0 mpg
PROS: Zesty Performance, Great looking.
CONS: Thirsty and can get pricey with options