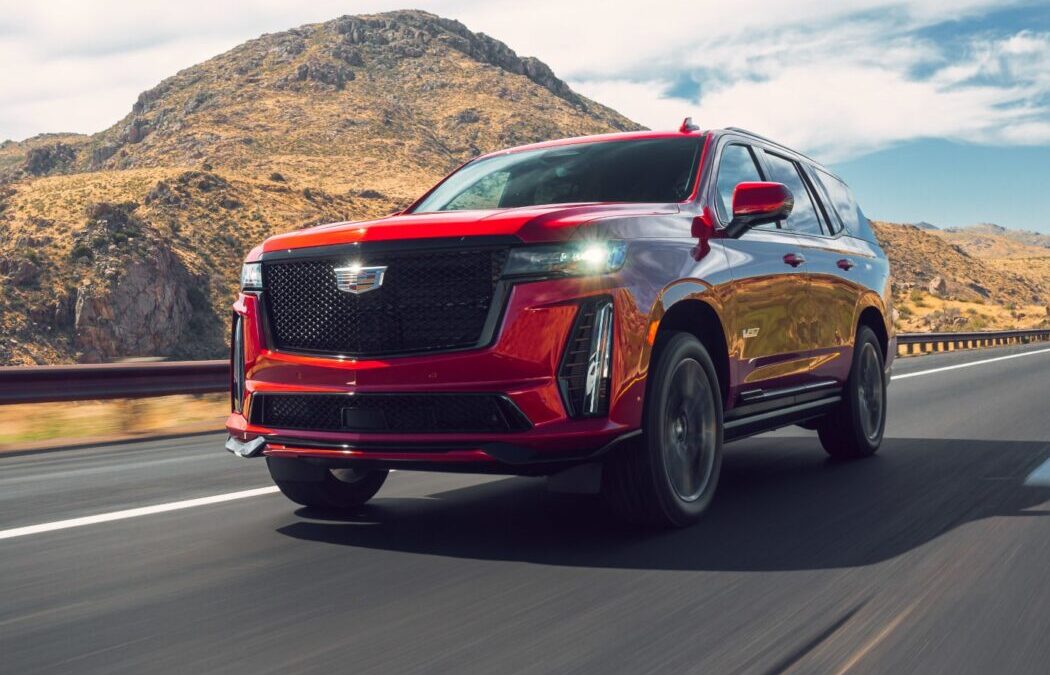 Lurking in the basement of Cadillac's headquarters is a team of people with an obvious dark sense of humor and a love of power and speed and their collective minds have come up with this, the ridiculously excessive 2023 Cadillac Escalade 4wd V-Series.    
It's nuts in every way possible, it's the most powerful full-size SUV on the planet, it's one of the heaviest at 6,217 lbs, and is swankier than a penthouse suite at the Bellagio. 
This may not be the best time to launch a 3-ton vehicle that struggles to achieve double-digit fuel economy when the price of gas is over $5.30 a gallon in California. It's also a somewhat scary proposition to think of a soccer mom hitting 60 mph in 4 seconds while taking the kids to school.
It's a sleeper
The 2023 Cadillac Escalade V doesn't differentiate itself from lesser models other than V badges on both front doors and one on the rear tailgate as well as some sinister exhaust pipes out the back. It really is a sleeper and I like the fact that they didn't give it flared wheel arches and a body kit.  It does get a fancy set of 22-inch aluminum wheels shod with All-Season 275/50 Bridgestone tires and all rows inside get super soft Semi-Aniline leather. The V also gets model-specific bumpers and of course those re-painted brake calipers.
Size Matters
SUVs don't get much bigger than the Cadillac Escalade and its even bigger sibling the ESV; in this world, interior size matters, and the Escalade, with all seats up offers 25.5 cubic feet  ft3 behind 3rd third row, drop the third row and that expands to 63 cubic feet, drop the second row and you get a massive 109.1 ft3. Honestly if you need more space get the ESV.  
AWD System
The Cadillac V has AWD and normally sends 50% of the power to each axle, however, under launch control conditions 70% of the available power shifts to the rear wheels. Expect somewhat of a Carolina squat when you mash the gas pedal.  
Weighing as much as it does it better have good brakes and it does, at the front, it has 16.1-inch Brembo rotors and six-piston calipers.  Keeping the 6,217 lbs under control is GM's Air Ride Adaptive Suspension and Magnetic Ride Control 4.0. 
Under the hood
The 2023Cadillac Escalade V utilizes GM's supercharged 6.2-liter V8 from the CT5-V Blackwing but with a few interesting changes. The Escalade V has a bigger 2.7-liter Eaton supercharger instead of the 1.7-liter setup in the CT5. The end result is 682 horsepower and 653 pound-feet of torque, all of it routed through the excellent 10-speed automatic transmission with a full manual mode.  That's 248 hp more than the non-V Escalade. 
There's more good news, 80% of that available torque arrives at just 2,000 RPM, and from a standstill, the Escalade-V will hit 60 miles per hour in 4.3 seconds with launch control and the quarter-mile of 12.74 seconds.  
It makes a great noise too, slightly more subdued than the CT5 Blackwing but noisy nonetheless, in fact, there's a Stealth mode just to prevent you from annoying the neighbors. Mash the go pedal and it blurts out a cacophony of sound, right up to the redline where it emits a crackle as it changes up. Back off the throttle and it releases a cackle of fast, sharp pops that go on for ages. The first time it happened I couldn't stop grinning.
Drive Modes
The V has six drive modes, Tour for everyday driving, Sport mode where steering response is tightened, suspension calibration is more responsive, and hydraulic dampers provide sporty performance ideal for dry roads. Next up is Snow/Ice for improved performance on slippery road surfaces. Tow/Haul for pulling a trailer or heavy load and My Mode where you can configure via the center display the suspension, steering, exhaust, engine sound, and brake feel. This is the mode where you can effectively stealth the exhaust noise.
Last up is V Mode which is essentially turning everything up to eleven, including customizing the tuning of the engine shift settings, suspension, steering, exhaust, engine sound, brake feel, and PTM.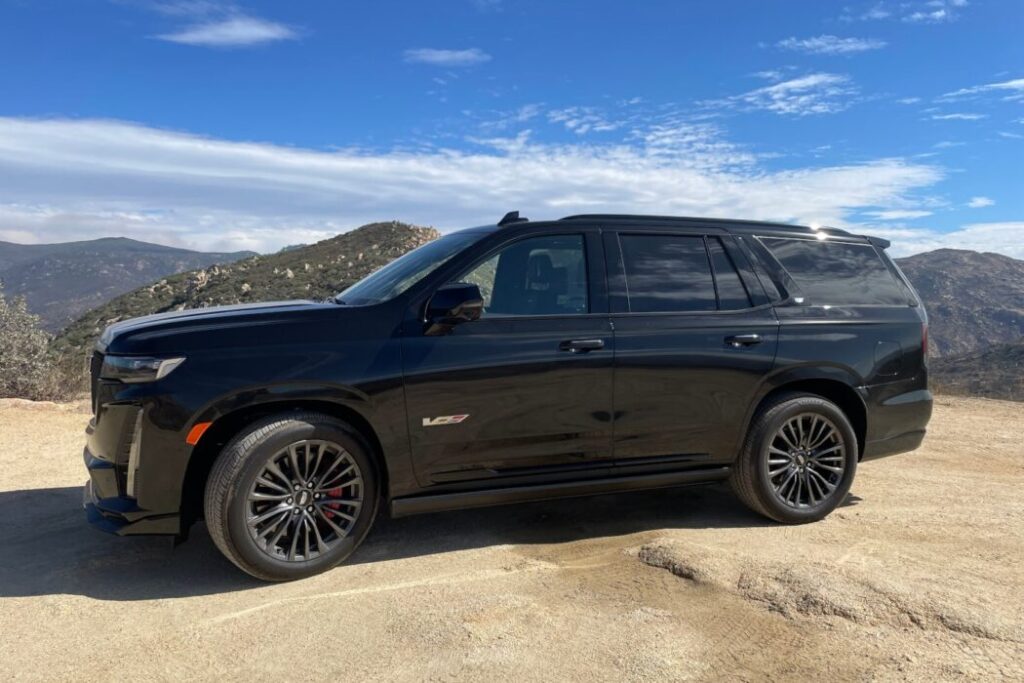 On The Road
Piloting a vehicle this size in tight spaces is no mean feat, but the all-new Escalade manages to defy its sheer mass by being quite light on its feet, rather like an elephant doing ballet. I was surprised at how well it goes, especially since I took it on my usual road course including twisty mountain roads.
This car feels properly quick, especially in V mode, the transmission is savage, the engine bellows, you can hear the supercharger, and most of all the very loud exhaust noise coming from those evil-looking tailpipes. It manages to belie its size by being nimble in the turns but push on too quickly and the electronic nannies kick in and it wants to safely understeer. The brakes are very good as they should be, although after several hard stops on back roads there was a smell emanating around the car when I stopped. they
You can't beat physics though, and there's body roll in tighter turns which Cadillac did on purpose, they weren't trying to beat the Germans by using an ultra-stiff suspension system. Even in V mode, it's very compliant the air suspension irons out all but the worst potholes and road irregularities.
The big supercharged V8 provides way more power than it probably should in a vehicle of this size, it pulls like a freight train, gaining speed but not feeling like you are going as fast as the speedo indicates. Once again thank goodness for those 6-piston Brembos.
It's a thirsty beast too, the EPA says it will get 16 mpg on the highway but that's definitely not in V mode since I averaged 10.7 mpg for the week.
Interior and Tech
I have to say that from the driver's seat the Escalade V is a very nice place to spend time in and there's a ton of great tech to enjoy. The curved OLED dashboard display offers 38 inches of digital screen and it's a masterpiece with great colors,  crisp graphics, and very easy to use. Android Auto and Apple CarPlay are on offer both of which connect wirelessly. The screen is actually three touch screens that look like two, one overlaid on the other to create a driver's instrument cluster and the larger panel behind.
The small touchscreen to the left of the instrument cluster gives you a trip computer, instrument cluster function selection, and head-up display controls as well as Night Vision controls. Cadillac also has its Augmented Reality Navigation control here which is an ingenious feature that places arrows directly on top of a video feed of where you're driving so you never miss a turn.
Materials are also of very high quality with semi-aniline leather on all seats, beautifully stitched dash sections, and a lacquered piano black finish with inlays.
Rear Seat and Entertainment
The luxury standard is carried through to the rear and it's not until you get to the third row that the plastics get a tad hard and scratchy. Since the Escalade's new platform has independent rear suspension there is way more space for third-row passengers and the seats are actually pretty comfortable including the middle seat since they get extra legroom thanks to the captain's chairs in the second row. It's much like getting the emergency exit seat on a plane.
Second-row passengers get a rear-seat DVD entertainment system which is standard on this Platinum trim while the third row gets USB power and cup holders.
Cargo space has grown and the standard car is almost as spacious as the outgoing model so the only reason to buy the longer Escalade ESV is for the additional cargo space with the third row in use.
How Much?
The base price is $148,195 and exclusive to the V-series is the aforementioned semi-aniline leather in all 3 rows. This has just one option, a console refrigerator/freezer for $700, so you can keep your hungry man dinner cold. Toptal price of my tester was $150,640. 
Verdict
The fact that this even exists is a miracle and since we know Cadillac is very busy making pretty much nothing but EVs I'm staggered that they have actually made this car. I'll be honest this isn't how I would spend $150k but I'm sure every one of these will find a good home. 
It may have almost bankrupted me in fuel costs this week, but it has put a great big smile on my face and owning one means you definitely have one of a kind.
VIDEO REVIEW
2023 Cadillac Escalade 4WD V Numbers
BASE PRICE: $148,195
PRICE AS TESTED: $150,640
VEHICLE LAYOUT: Front-engine, 4WD, 7-passenger, 4-door SUV
ENGINE: 6.2 Liter supercharged and inter-cooled 16-valve V-8
POWER: 682 hp @ 6,000 rpm
TORQUE: 653 lb-ft @ 4,400 rpm
TRANSMISSION: 10-speed automatic
CURB WEIGHT: 6,217 lb
0-60 MPH: 4.3 seconds
EPA CITY/HWY/COMB FUEL ECON: 11/16/13 mpg
OUR OBSERVED FUEL ECONOMY 10.7 mpg
CARGO SPACE: 25.5 ft3 behind 3rd third row, 63 ft3 behind 2nd row, 109.1 ft3 all seats folded flat
PROS: Stupid fast for its size, superb interior, exhaust noise
CONS: Very thirsty