We all complained when the ATS became the CT4 V and lost the amazing twin turbo 464 hp V6, replaced with a turbo 4 with 325 hp. Things changed when the CT4 V Blackwing was released and everyone calmed down. With that in mind, I wanted to revisit what Cadillac is now calling a CT4 V-Series and see if it still passes muster.
Stiff Competition
Cadillac is hoping potential shoppers will buy the brand's small four-cylinder sedan instead of the Audi S3, BMW M235i Gran Coupe, and the Mercedes-AMG A35. Against those competitors, the rear-drive CT4-V shines with supple ride compliance that is engaging and playful but not so harsh that you regret opting for the V two hours into a road trip.
Under the Hood
Technically it's a truck engine since it uses one borrowed from the Chevrolet, an inline-four with an aluminum block and head, and a trick "volute" turbo that works to minimize lag. In the CT4-V it makes 325 hp at 5,600 rpm and 380 lb-ft of torque from 2,000 to 4,000 rpm. (In the pickups and in the CT4's premium luxury trim grade, it makes 310 hp and 350 lb-ft).
The CT4-V weighs 3,780 so that means each hp is pulling around 11.6 pounds. Mash the throttle from a standstill and the Caddy gets from 0-60 in around 4.5 seconds. With a lighter right foot expect 29 mpg on the highway.
Volute Turbocharger
In the interests of minimizing turbo lag, the bane of most turbocharged engines, Cadillac is using a Volute turbo on the Cadillac CT4 models to improve response. A dual-volute uses two volutes instead of one to channel exhaust air into the turbine.  Both volutes are integrated into the exhaust manifold, which is attached directly to the engine's head.
Much like a twin-scroll design, the dual-volute turbocharger separates exhaust impulses from one another. Unlike a twin-scroll, the dual volutes ride on top of each other and exit into the turbine wheel 180 degrees apart. This staggered outlet design allows for a much more efficient pathway for the gasses to act on the turbine wheel, which in turn improves overall turbocharger performance. So now you know.
Magnetic Ride
Since my tester is a rear-drive 2023 Cadillac CT4-V it gets the latest Magnetic Ride Control 4.0 damping system, which now includes accelerometers on each damper. Unfortunately, if you opt for the AWD model there's no space to fit these so it makes do with passive variable damping instead. The AWD car also weighs more so there's that to consider as well and if you are lucky enough to live in sunnier climes rear-wheel drive is the best option.
V- Mode
The Cadillac CT4 features multiple driving modes that allow the driver to tailor the vehicle settings to certain driving situations. These include Tour Mode, which maximizes comfort for normal city and high driving, Sport Mode, which is ideal for more spirited driving with more immediate downshifts, sharper steering, and improved cornering, and Snow/Ice Mode, which softens throttle response for smoother low-traction control.
My Mode allows the driver to configure specific onboard systems to their liking for a more customized experience. Cadillac V-Series models also offer Track Mode, which puts the transmission, throttle response, and suspension in the most performance-oriented settings available.
Finally, Cadillac V-Mode has more of an emphasis on driving dynamics and performance. Adjustable settings include the engine sound, the steering response, the suspension, the braking response, and the traction management system, as well as the powertrain.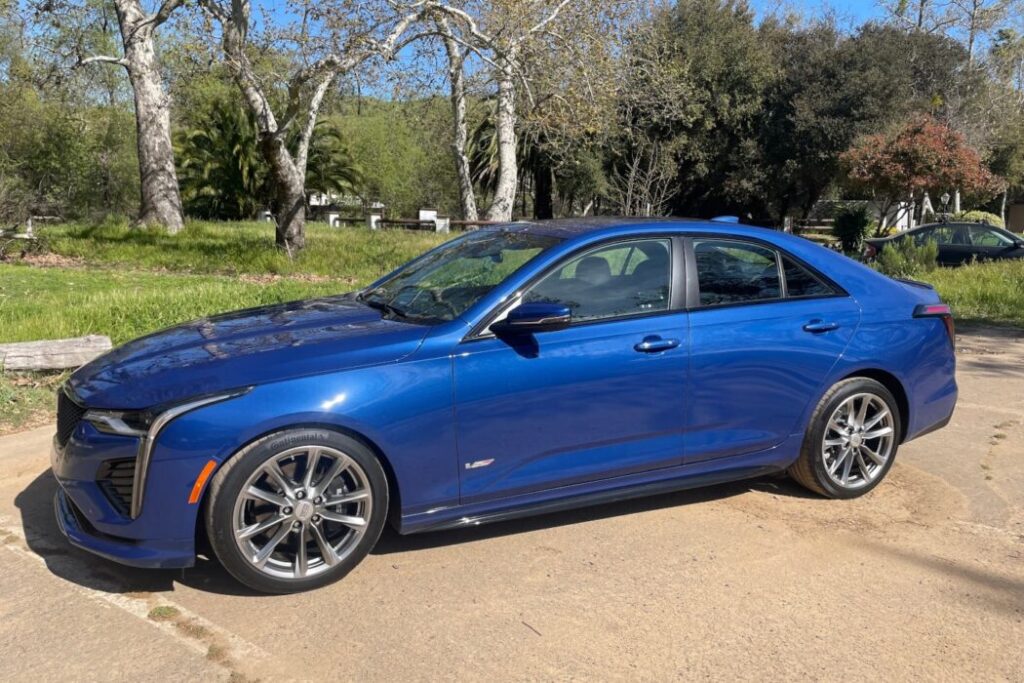 Driving
At idle and at higher speeds the turbo four is fairly quiet in Tour mode but at lower speeds the engine drones and gets a little agricultural in a very un-Cadillac way. I'm surprised the engineers didn't consider this more when transplanting the engine from a truck. Perhaps some better sound insulation would solve this.
The good news is it's not just the power that makes the 2023 Cadiallac CT4 V impressive – it's the handling. The all-wheel-drive system gives you plenty of control, even when the road is wet or slick. And the suspension is tuned just right, it's firm enough to give you confidence in the corners, but not so stiff that you'll feel every bump in the road.
With V-Mode dialed in to max attack (I quietened the exhaust)  the CT4 V is great, it steers great, takes the corners well, with little body roll, and stops great with an excellent pedal feel. Even in their most aggressive setting, the brakes are easy to modulate. The steering is quite odd in the most aggressive setting, it seemed fidgety and over-corrected on occasions but dialing it back seemed to solve the problem.
Handling is superb, especially in this rear-drive model, it gets its power down with no fuss, thanks in part to the excellent Continental Summer tires. Dive in a corner and the CT4 v is beautifully composed, with no understeer and it powers out with ease. Cadillac has really sorted this chassis.
Interior
The new interior is very nice and dare I say it is better than the Audi S3 which we recently tested, which had some cheap scratchy plastics in the center console. The design is a bit dated but it's functional and a pretty nice place to spend time in.
The front seats are extremely comfortable and supportive, and offer plenty of adjustment for both driver and passenger. The only negative is they offer adjustable side bolsters but not for your thighs which is needed in high-speed maneuvers.
The interior offers physical buttons to compliment the touch screen.  All CT4s have an 8.0-inch infotainment touchscreen, and it's easy to use, intuitive, and incredibly responsive. All other controls fall easily to hand, the HVAC is below the vents that sit below the infotainment screen and heated and cooled seat buttons sit below them, it's very well laid out.
Space is somewhat at a premium, I'm only 5 ft 8 and my knees felt constricted in the driver's seat, once I had found the perfect position. The same goes for the back, rear-seat space is average for this class, which is a mystery since the car is bigger than its competitors.
Apple CarPlay, Android Auto, and an onboard Wi-Fi hotspot are standard.
Pricing
Base prices start at $46,295 and this tester has the Super Cruise 1 option for $3,700wich includes HD surround sound, a 12-inch HD driver display, a leather-wrapped steering wheel, and a video recorder.
Jet Black Leather seating will cost you $1,500 and for another $1,200 you get the climate package, including Vented and heated front seats, massage function, Heated wheel, and lumbar massage. Finally, Wave Metallic paint is $625, taking the price to $54,715 including destination.
VIDEO REVIEW
Verdict
This is really a V-lite or VSport version, but it still delivers driving pleasure and handling and this rear-drive CT4-V shines with supple ride compliance that is engaging and playful but not harsh.   Against its Competiton, it's a pretty good option.  
2023 Cadillac CT4 V-Series Numbers
BASE PRICE: $46,295
AS TESTED PRICE: $54,715
VEHICLE TYPE: Front-engine, rear-wheel-drive, 5-passenger, 4-door sedan
ENGINE: 2.7L turbocharged and inter-cooled DOHC 16-valve inline-4 
POWER: 325 hp @ 5,500 rpm
TORQUE: 380 lb-ft @ 1500 rpm
TRANSMISSION: 10-speed automatic
CURB WEIGHT: 3,616 lbs
ZERO to 60 mph: 4.5 sec 
TOP SPEED: 164 mph
EPA combined/city/highway: 23/20/29mpg
OUR OBSERVED FUEL ECONOMY: 19.8 mpg
PROS: Masses of torque, fun to drive, pleasant interior, a relative bargain
CONS: Noisy in Sport Mode, cramped rear seat