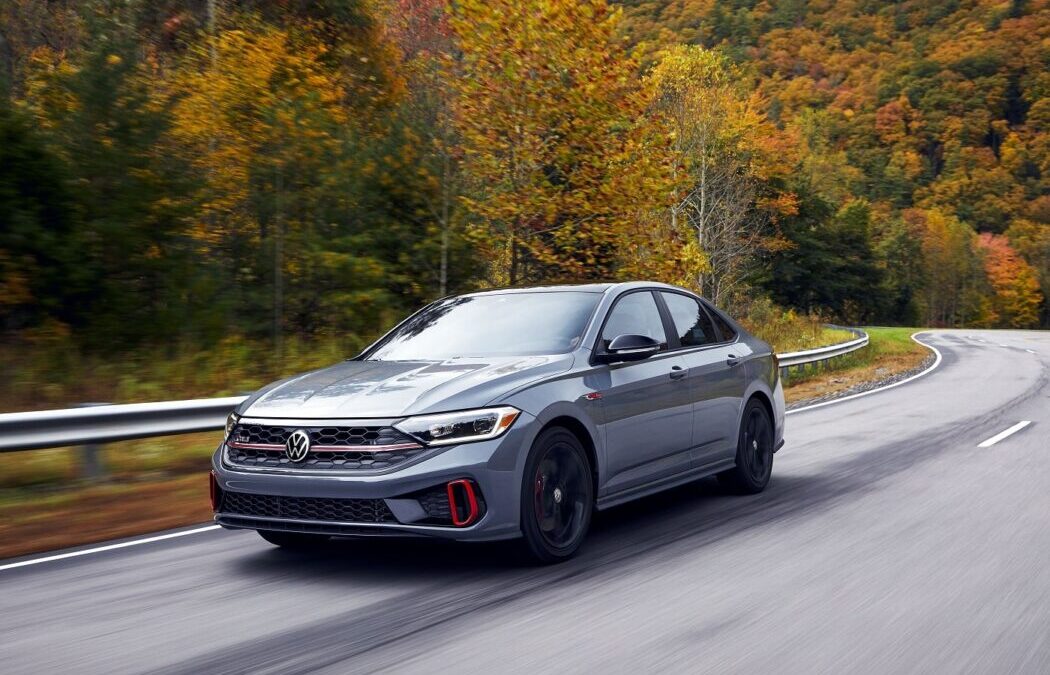 The American market has clearly different tastes when it comes to cars and there are idiosyncrasies that for me at least, don't make sense. Europeans love the Golf, hatchbacks are cool, the Americans apparently don't like hatchbacks and instead buy crossovers (which incidentally have hatchbacks) instead.  The Europeans didn't like the Jetta at all, so much so, VW discontinued them at the end of 2019.
The Jetta does live on though in a couple of markets namely Brazil and of course the biggest one, the USA. I've always preferred a hatchback myself but the Jetta sells very well over here and I like the fact that VW is still dedicating resources to producing a low-cost and fun compact sedan that still has the option of a manual transmission.
What's new for 2022
It's easier than ever to choose which GLI model you want these days since VW has dropped the base model and your choice of one is now the Autobahn. The exterior has been updated and at the front, there is a newly styled grille and bumper with honeycomb inserts and red piping, and at the rear a revised lower valance and some aggressively oval-shaped exhaust tips.
There's more good news GLI features an updated exhaust system that makes more noise when in Sport or Customized mode and actually sounds very good.
The big question is how the GLI stacks up against its best buddy the Golf GTI, well on paper the GTI wins but the numbers don't always tell the whole story – check out the numbers below.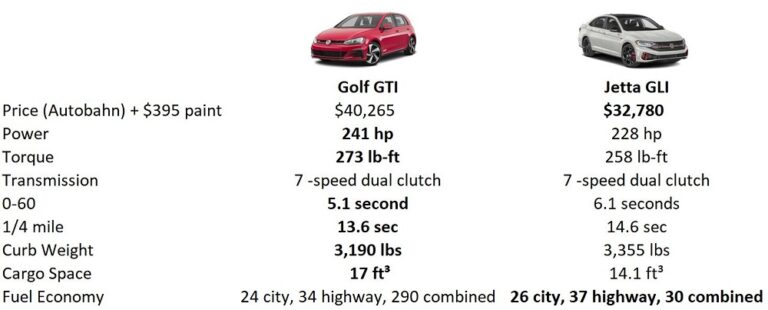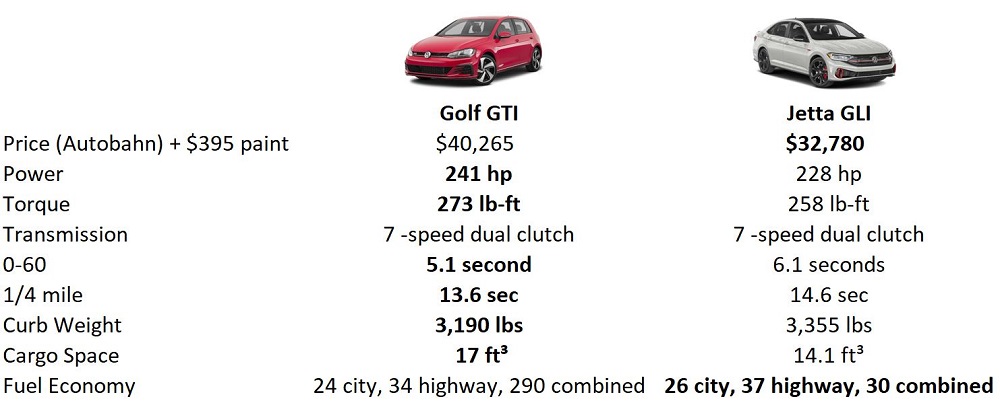 Junior GTI
Along with those sportier looks, revised suspension tuning, and brake components borrowed from the Golf R, the GLI has the familiar turbocharged, 2.0-liter four-cylinder engine which in my opinion is one of the best. . This engine has the same spec as the outgoing GTI,  228 hp and 258 lb-ft of torque, and in the case of my tester, mated to a 7-speed dual-clutch automatic with manual shifting mode.
The Autobahn has adaptive suspension (DCC) which allows the driver to select different drive options, Normal, Comfort, Sport, and Custom. Custom mode lets you go one step further and you can select the drive modes to your individual taste, including exhaust, steering, and throttle response. Playing around with this option does require you to be standing still since it won't let you adjust this when you're on the move.
It's not as quick as the new GTI with a 0-60 time of 6.1 seconds which is about a second slower than its Golf brother but once on the move, you don't really notice the deficiency as much as you would expect.
It is more fuel efficient though with EPA numbers of COMB/ CITY/HWY: 30/26/37 mpg and even with my hard driving for a week I still returned a very respectable 24.2 mpg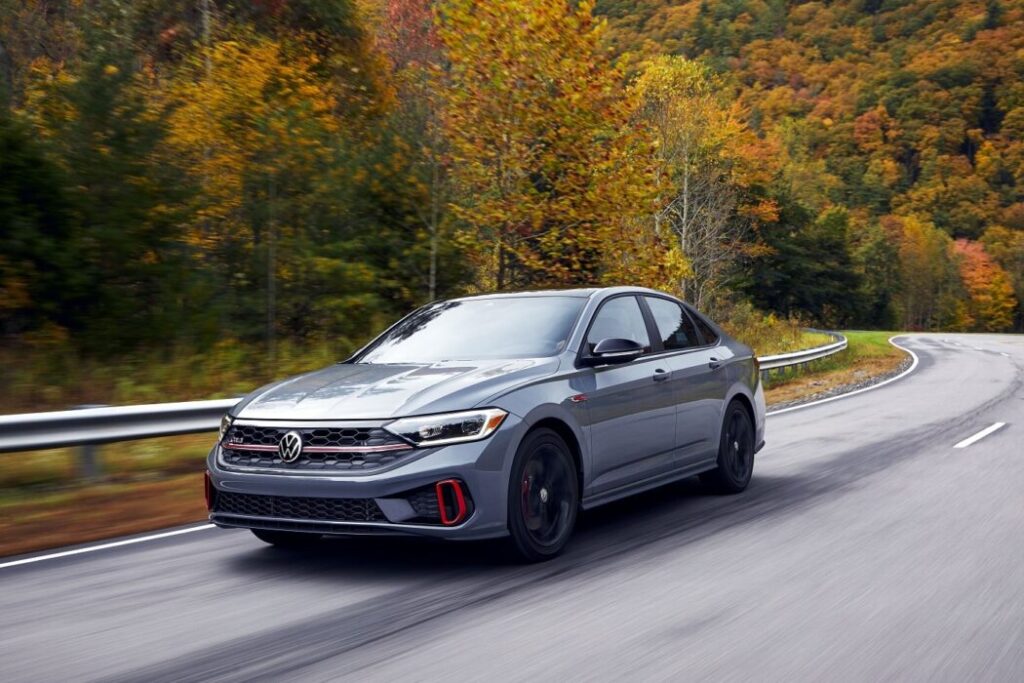 So how does it drive?
On my typical road course, which consisted of some deserted back-roads East of San Diego the GLI is incredibly impressive for a front-wheel-drive car, thanks to the front diff and setting it in Sport/Individual mode it resolutely held its line and refused to under-steer. Just as in its GTI sibling, torque steer has been virtually eliminated. It simply bites into the corner, gets its power down early, and powers out, ready for the next one.
The only gripe is the standard all-season tires which VW went with for this model year, with all that power going through the front wheels it does need more grip despite having a limited slip diff. I would switch to some Michelin summer rubber once these all seasons were worn out. The last GLI I tested came with excellent Dunlop Max Sports.
One difference that you notice immediately is the GLI has a softer suspension setup, even in the most aggressive modes, Sport or Custom. There's noticeably more body roll but it actually makes the car more fun to drive, you need a little skill here.
Point to point it simply can't keep up with the latest GTI but that doesn't really matter knowing that it's so much lighter on your wallet. What defines the GLI is its point-to-point pace and driver engagement, and composed balance and attitude.
Interior
The GLI's cabin has new red contrast stitching accenting the black leather and it succeeds in making the car less somber than most German cars. The interior will be familiar to previous GLI owners and now has slightly annoying touch-sensitive capacitive steering wheel controls but the rest is perfect with physical controls for HVAC, volume, etc.
The glossy black finish gives the car an upscale feel the only letdown being some hard scratchy plastics in the center console. The GLI has a 10.25-inch digital gauge cluster and the Volkswagen Digital Cockpit, which allows the driver to display the Classic profile or set options manually, including gear, speed, estimated fuel economy, distance, travel time, assistance systems, estimated range, compass, elevation, audio, and acceleration.
The cabin is spacious with lots of room for front and especially rear passengers, the only miss is a lack of HVAC vents and no power in the rear but the GLI's trunk is quite large offering a generous 14.1 cubic feet of trunk space.
Verdict
The GLI is the most rewarding GLI that VW has ever produced and don't forget it undercuts the GTI by $7,500 when optioned with the DSG transmission and it's almost as fun. You can tell the focus was to build an affordable and approachable sport sedan for young buyers who might want a GTI but find it just a little bit too much money.
I agree the hatchback GTI is more practical but the GLI offers heated and cooled leather seats, Apple Carplay and Android Auto, a seriously cool digital cockpit, and physical buttons. It feels more luxurious than anything else in this segment which makes it pretty compelling.
VIDEO REVIEW
2022 VW Jetta GLI Autobahn Numbers
BASE PRICE: $32,780
AS TESTED PRICE: $32,780
VEHICLE LAYOUT: Front-engine, front-wheel-drive, 5-passenger, 4-door sedan
ENGINE: Turbocharged and inter-cooled DOHC 16-valve inline-4,
POWER: 228 hp @ 5,000 rpm
TORQUE: 258 lb-ft @ 1,700 rpm
TRANSMISSION: 7-speed dual-clutch automatic with manual shifting mode
CURB WEIGHT: 3,355 lb
0-60 MPH: 6.1 sec
EPA COMB/ CITY/HWY: 30/26/37 mpg
OUR OBSERVED FUEL ECONOMY: 24.2 MPG
PROS: Gutsy and torquey engine, ride and handling, cheaper than the GTI
CONS: Some cheaper cabin materials, needs GTI seats