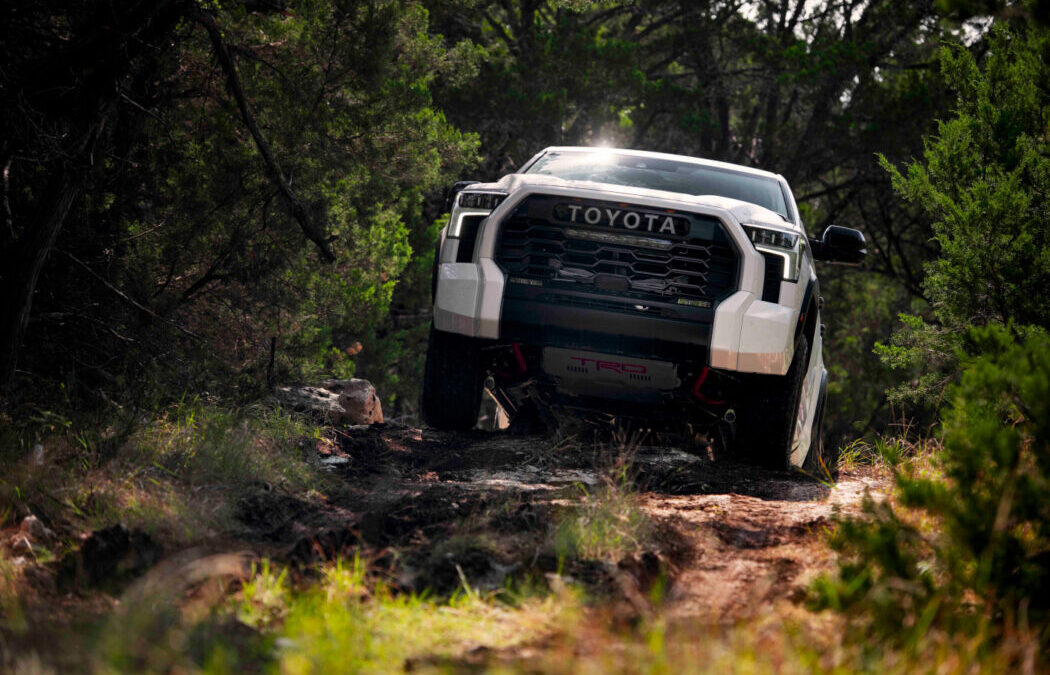 This is the 2022 Toyota Tundra TRD Pro and it's Toyota's most off-road-worthy version of the new Tundra, which we last tested a couple of months ago in Platinum trim and found it to be a huge improvement over the old model which had been around since the time of Moses.  
From the outside, the Tundra's design is fairly conservative although the grille is massive and there's no mistaking it's a Toyota with giant letters across the front. My tester was very orange, a color Toyota refers to as Solar Octane, it's very bright. There are also a ton of TRD badges everywhere, and the black wheel arches, front bumper, and rear bumper are covered in something called "technical camouflage" which was obviously just black camo. 
The rest of the truck is a pure pick-up, boxy with squared-off edges, and rugged just how a pick-up should be. The TRD Pro comes with a 5.5-foot short bed as the only option and it works, the truck looks ready for some serious off-road duty. 
What makes it a TRD Pro?
The 2022 Toyota Tundra comes in many trims SR, SR5, Limited, Platinum, 1794 (The Cowboy Edition), Capstone, and TRD trims.  The TRD Pro trim replaces the standard shocks with 2.5-inch Fox shocks to improve dampening on various surfaces, as well as give the front a 1.1-inch lift. It also gets a front stabilizer bar, red-painted suspension parts, TRD aluminum skid plates, and additional underbody protection just in case.
Powertrain and transmission
The i-Force Max engine has an aluminum block and a 3,445cc displacement which Toyota says is a 3.5 liter, but it's not. It features dual-overhead cams with 24-valves and a water-cooled intercooler.
Only two engine options are available and the good news is they are very good. The standard configuration is a 3.4 liter 3.5-liter twin-turbo V6 making 389 hp and 479 lb-ft, which is up in horsepower by a few and by 78 lb-ft in torque.
The TRD Pro is only available with the i-Force MAX powertrain which slots a 48-hp electric motor between the engine and the transmission with a battery mounted beneath the rear seat. The hybrid offers 437 horsepower and a massive 583 pound-feet of torque. The engine is mated to a very smooth shifting 10-speed automatic transmission.
Fuel Economy
This is not a Toyota Prius so don't expect that because it's a hybrid it's going to get good gas mileage because it just doesn't. City, Highway, and Combined are 18/20/19 mpg respectively, however, my heavy right foot meant I only averaged 12.5 mpg during the week I had it. Thank goodness for the free 38 gallons of gas from Toyota otherwise, I would have had to fill up a lot more.
Drive and off-road modes
Via a knob mounted in the center console you can select various drive modes starting with Eco, Normal, and Sport.  Selecting Sport modes does make the suspension slightly firmer but not overly so. Unfortunately, it doesn't offer permanent 4WD drive, in normal driving you are in 2WD mode, so expect some burnouts on your way to sixty in under 6 seconds.
For off-road use, however, the TRD comes into its own, keep the transmission in Drive you can select 2wd drive from a control on the center console, a light on the dash will blink for a second and you are ready. If you need to tackle something more serious, put the transmission in Neutral and select 2wd, this will then disable some safety and traction control systems.
Now using the Multi-Terrain Select-control you can choose from Deep Snow, Mud, Sand, Dirt, Rock, and Auto. Lastly, the TRD Pro has Crawl Control which offers 5 low-speed settings and modulates the throttle and brakes while you simply steer.
Will it tow stuff?
Yes, the maximum payload on this model is 1,600 pounds which is a full-size American bison, it will tow up to 11,175 lbs and weighs in at a shade over 6,000 lbs.  To the right of the Drive mode button is a Tow button which includes Tow/Haul and Tow/Haul+. The first one is optimized for lighter payloads and small trailers. The second one is for moving larger loads like boats, horses, etc.
Driving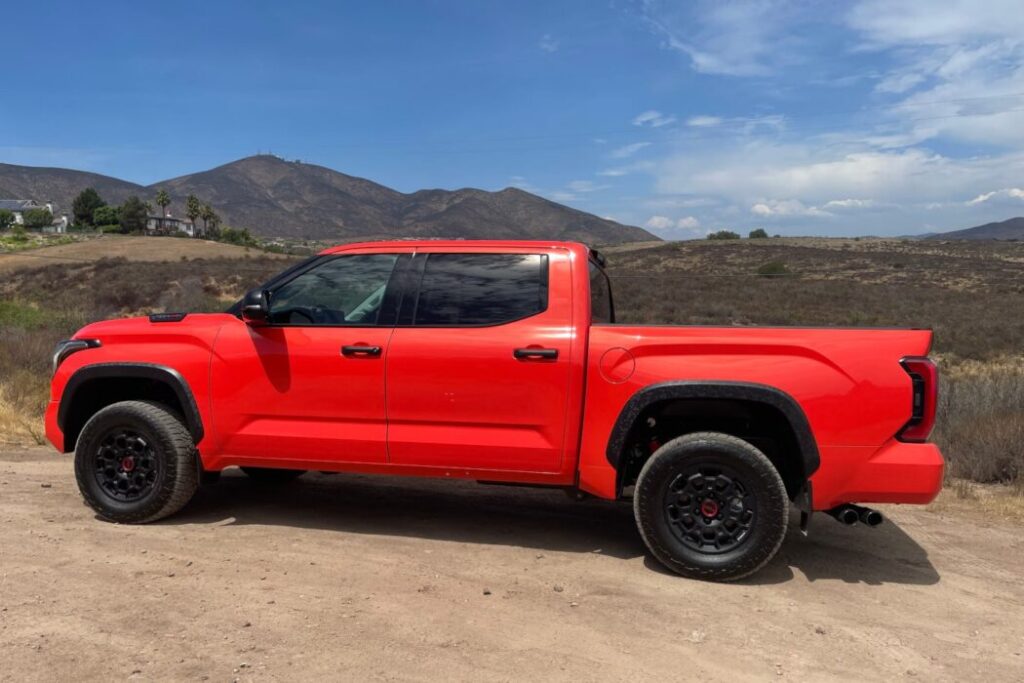 Once you get behind the wheel and get rolling you instantly notice the newfound smoothness of the suspension, it's night and day compared to the old model. Even with the 18-inch, 285/65 Falken WILDPEAK all-terrain tires it rides super smoothly with barely a complaint when you carve into a turn fast.  The 10-speed automatic transmission is about as good as it gets and the shifts are very fast and almost imperceptible. It's perfectly mated to the i-Force MAX, Toyota has excelled here.
The new turbo six is very good but when combined with the hybrid system delivers thumping amounts of torque with merely a light press on the gas. One thing I didn't like is the noise from the TRD Performance catback exhaust, it sounds good when accelerating but even with a light press on the gas it makes itself heard somewhat unnecessarily.
With its coil-spring rear suspension, the new Tundra excels when negotiating turns and with limited body roll. It may be large but it's light on its knobby feet.
Acceleration is brisk from a standstill as long as you feather in the throttle and it will launch to sixty in a little under 6 seconds, pretty quick and faster than the Chevy 5.3 and the Ram Hemi 5.7.  Only the Ford F-150 is quicker. Mid-range torque is where this truck really shines, you only need to apply partial throttle to feel the strong pull of this turbo six, it's very good.
Off-Road
If you think think the TRD Pro does well on the road it positively shines off-road, we headed out to the mountains and tested it on some of our favorite dirt trails. At no time did we need the rear locker, even though we occasionally scrabbled for grip, the TRD pulled us out. We tested Crawl Contol which worked very well and is now virtually silent, unlike the old system which sounded like the vehicle was falling apart.
Some high-speed runs produced tons of dust some of which found its way into the cab, but the TRD Pro remained super stable and smooth over the undulating terrain. The light steering helps here and despite its size, we were able to fit it through some narrow and technical sections. It's not going to do what a Jeep Wrangler will do but it's pretty damn good.
Delightful Interior
I love the newly designed cabin, you settle into the very comfortable seats and see that the dash is dominated by a 12.3-inch touchscreen display. Some of the styling is a bit overwrought, the huge TOYOTA letters on the passenger side are a bit in your face but the material quality throughout is good and built to last.
The all-new multimedia system has a 14-inch touchscreen in the TRD Pro offers excellent resolution is responsive to touch, pinch, and zoom and offers wireless Apple CarPlay and Android Auto as standard. It's not too big though and is oriented in landscape mode which I prefer. The layout is logical with menu icons closest to the driver which operate maps, music, phone, vehicle, and settings.
The new system can recognize natural speech commands, so all you need to say is, "Hey, Toyota, to wake it up and it asks you where you would like to go. Simply tell it a destination or a pre-programmed one, and off you go.
I do like the fact that Toyota has retained physical buttons, they are so much easier when on the move. A volume button is retained, however, tuning is now in the center touchscreen and is easily accessible via a Tune sub-menu under Music.
Storage
The big center stack offers plenty of useful space, a sliding tray and a small cubby with a lid, and then underneath a large storage space with power in the form of two USBs. The two front cupholders are decent sized but the one closer to the driver could be a little deeper.
Back seat passengers have plenty of rear legroom but the downside of the hybrid configuration is there's no storage under the rear split bench seat because that's where the battery is. Rear seat passengers do,  get two USB ports (one type A, one type C), air vents, and two cup holders.
Safety Systems
Toyota Safety Sense 2.5 is standard on every trim level of the 2022 Tundra and includes:
Pre-CollisionSystem with Pedestrian Detection (PCS with PD) and emergency steering assist
Dynamic Radar Cruise Control (DRCC)
Automatic High Beams
Lane Tracing Assist (LTA)
Rear Seat Reminder
Road Sign Assist (RSA)
Blind Spot Monitor (BSM)
Rear Cross Traffic Alert (RCTA)
Verdict
The 2022 Toyota Tundra Platinum was my new favorite truck, now the TRD Pro is, it's great on road it's great off-road, it hauls and comes with Toyota's bulletproof build quality. The only downside is, it can get expensive at nearly $70,000.
VIDEO REVIEW
2022 Toyota Tundra TRD PRO 4WD Numbers
BASE PRICE: $66,805
PRICE AS TESTED: $69,185
VEHICLE LAYOUT: Front-engine, front-motor, rear/4-wheel-drive, 5-passenger, 4-door pickup
ENGINE: Twin-turbocharged and inter-cooled DOHC 24-valve 3.4-liter V-6
ELECTRIC: 48 hp AC motor and nickel-metal hydride battery pack
COMBINED POWER: 437 hp 
COMBINED TORQUE: 583 lb-ft
TRANSMISSION: 10-speed automatic
CURB WEIGHT: 6,100 lb
0-60 MPH: 5.7 seconds
GROUND CLEARANCE: 9.0 Inches
EPA CITY/HWY/COMB: 18/20/19 mpg
OUR OBSERVED: 14.9 MPG
PROS: Turbocharged V6 hybrid is sensational, serious off-road chops, great tech
CONS: No full-time 4WD