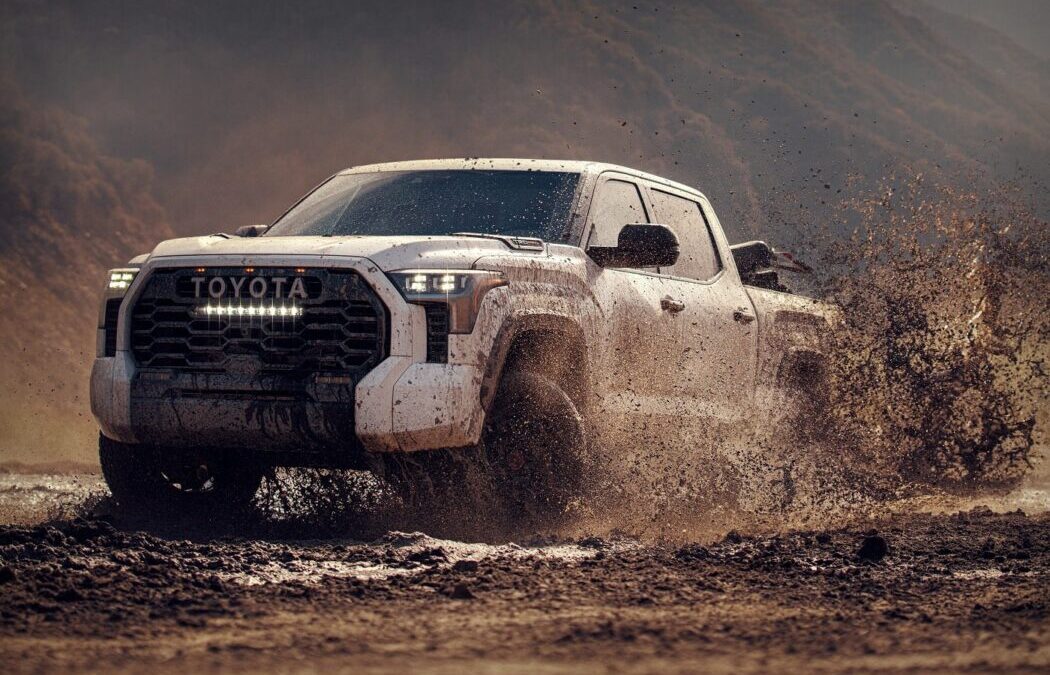 A huge improvement over its predecessor.
It's been a long time coming, 15 years to be precise since the last all-new Tundra was launched in 2007. Now we finally have a new Toyota Tundra pickup and after a week of driving around in a 2022 Toyota Tundra Platinum 4WD, I can say I am suitably impressed.
Bigger is better
The 2022 Toyota Tundra will be available in SR, SR5, Limited, Platinum, 1794 (The Cowboy Edition) and TRD trims.  If you opt for a Double Cab model you get to choose between either a 6.5 foot bed or an 8.1-foot bed. My Platinum tester was a Crew Max model with the optional 6.5-foot bed making it a shade over 21 feet long, or just a bit smaller than the Queen Mary II. The standard bed in the Crew Max is 5.5 feet long.
At the front the new Tundra has a huge in-your-face grille, however, each model gets unique design details which include slightly different badging and chrome versus paint. It looks good too with a hint of Silverado from the side, TUNDRA in big lettering on the tailgate and it's longer and wider than its predecessor.
Turbocharged V6 is sensational, great new interior, great tech
Powertrain and transmission
Only two engine options are available and the good news is they are very good. The standard configuration is a 3.4 liter 3.5-liter twin-turbo V6 making 389 hp and 479 lb-ft, which is up in horsepower by a few and by 78 lb-ft in torque.
There's a new Hybrid model, the i-Force MAX which adds a 48-hp electric motor between the engine and the transmission, and a battery is mounted beneath the rear seat. The hybrid offers 437 horsepower and 583 pound-feet of torque. Technically there is a third option is if you select the entry-level SR trim, then the V6 is tuned for 348 horsepower and 405 pound-feet.
Bye-bye to the slow 6-speed, hello to the excellent 10-speed automatic transmission, it's a huge improvement and pairs very well with the new turbo six.
With two-wheel drive, the 2022 Tundra is estimated to return 18 mpg city, 23 mpg highway and 20 mpg combined. If you opt for the four-wheel-drive version this drops by 1 mpg. For the week I had my 2022 Toyota Tundra Platinum 4WD, I managed only 14.9 mpg thanks to not so diligent use of the throttle.
Suspension Upgrade
The old rear leaf springs have been ditched for a fully independent coil-spring setup and in the case of my tester self-leveling rear air suspension with adaptive dampers. This only works on the rear for some reason so if you drop the rear you get to do your very own impression of the Carolina Squat.
The only limitation is that the Tundra's default on-pavement mode is rear-wheel drive, so there's no full-time 4WD system, which means if you stomp on the gas from a stop, burnouts ensue.
Many drive modes
Via a knob mounted in the center console you can select a multitude of drive modes starting with Eco, Comfort, Normal, Sport S, and Sport S+.  Selecting either of the Sport modes does make the suspension slightly firmer but it was my favorite as I found the vehicle tends to pitch somewhat over road undulations in the other modes.
To the right of the Drive mode button is a Tow button which includes Tow/Haul and Tow/Haul+. The first one is optimized for lighter payloads and small trailers. The second one is for moving larger loads like boats, horses, etc.
Driving
Once you get behind the wheel and get rolling you instantly notice the newfound smoothness of the suspension, it's night and day compared to the old model. The 10-speed automatic transmission is about as unobtrusive as you could want and even though it changes cogs a lot, gone is the feeling that you are on Mister Toad's Wild Ride with the old 6-speed.
The new turbo six is a revelation, it has plenty of power and tons of torque, it makes a good noise too, although that is piped in through the speakers. Having coil-spring rear suspension, the new Tundra excels when negotiating turns and with limited body roll. The size of the Quen mary II it may be but it's light on its feet.
Although the Adaptive Variable Suspension makes for a pillowy ride it's there for a more important reason and that's to keep things tidy when you are carrying cargo. It was standard on my tester but it's an option worth checking for an additional $1,045.
Acceleration is brisk from a standstill as long as you feather in the throttle and it will launch to sixty in a little over 6 seconds, pretty quick and faster than the Chevy 5.3 and the Ram Hemi 5.7.  Mid-range torque is where this truck really shines, you only need to apply partial throttle to feel the strong pull of this turbo six, it's very good.
The brakes are good but since my tester only had 500 miles on it there was still some of the resin on the pads and I can safely say that's gone now after some fairly hard stops during testing. The steering is decently precise for a truck and the nose dutifully follows wherever you point it.
Interior goodness
Big changes on the inside
After jumping into the newly designed cabin, you settle into the very comfortable seats and you'll see that the dash is dominated by a 14-inch central touchscreen infotainment system.  It's not too big though and is oriented in landscape mode which I prefer. The layout is immediately logical with menu icons closest to the driver which operate maps, music, phone, vehicle, and settings.
The new system can recognize natural speech commands, so all you need to say is, "Hey, Toyota, to wake it up and it asks you where you would like to go. Simply tell it a destination or a pre-programmed one, and off you go. The map is quick to respond and overall the touchscreen is simple to use and very responsive. YOu can connect several phones can via Bluetooth, wireless Apple CarPlay, and Android Auto and the wireless charger will accommodate all phone sizes.
Ahead of the driver is a 12.3-inch reconfigurable gauge cluster, which can be adjusted using steering wheel-mounted controls. Here you can access, safety systems, music navigation, etc.
I do like the fact that Toyota has retained physical buttons, they are so much easier when on the move. A volume button is retained, however, tuning is now in the center touchscreen and is easily accessible via a Tune sub-menu under Music,
The HVAC controls are laid out below the display and are super easy to use and have a premium feel to them. On the whole, it's not as posh as a Ram but the plastics are of good quality and the design is functional and tasteful
Storage
The big center stack offers plenty of useful space, a sliding tray and a small cubby with a lid and then underneath a large storage space with power in the form of two USBs. The two front cupholders are decent sized and have a touch lid to cover them when not in use.
Back seat passengers in the Crew Max don't get short-changed, there's limo-like room back there and those passengers get two USB ports (one type A, one type C), air vents, and two cup holders. Lift up those seats and you get a decent amount of storage space as well.
You won't find one of those new-fangled multifunction tailgates at the rear, just a conventional one with soft open and a small button on the driver's side taillight. This is great for when your hands are full and you can't reach the key fob. As the tailgate opens a small step comes out from below the bumper to easy access to the bed.
Should I buy one?
The 2022 Toyota Tundra offers a better, more up-to-date experience, and it does a lot of things well, in fact much better than its rivals. True it's not going to be king of the dragstrip like the Ford and the Chevy 6.2 but that's not the point of these vehicles. Drivability and how it feels in the real world are what counts as well as towing and hauling ability.
This one will pull 11,000 lbs and carry a 1600 lb payload, which is probably enough for most folks, and if not then you'll have to go domestic and heavy-duty.
The Tundra is my new favorite truck, it just feels so good to drive and of course, comes with Toyota's bulletproof build quality. The next one will probably have electric power so I would suggest you drive this one while you can.
VIDEO REVIEW
2022 Toyota Tundra Platinum 4WD Numbers
BASE PRICE: $57,320
PRICE AS TESTED: $65,664
VEHICLE LAYOUT: Front-engine, front-motor, rear/4-wheel-drive, 5-passenger, 4-door pickup
ENGINE: Twin-turbocharged and inter-cooled DOHC 24-valve 3.4-liter V-6
POWER: 389 hp 
TORQUE: 479 lb-ft
TRANSMISSION: 10-speed automatic
CURB WEIGHT: 6,100 lb
0-60 MPH: 6.1 seconds
EPA CITY/HWY/COMB FUEL ECON: 17/22/19 mpg
OUR OBSERVED: 14.9 MPG
PROS: Turbocharged V6 is sensational, great new interior, great tech
CONS: No full-time 4WD