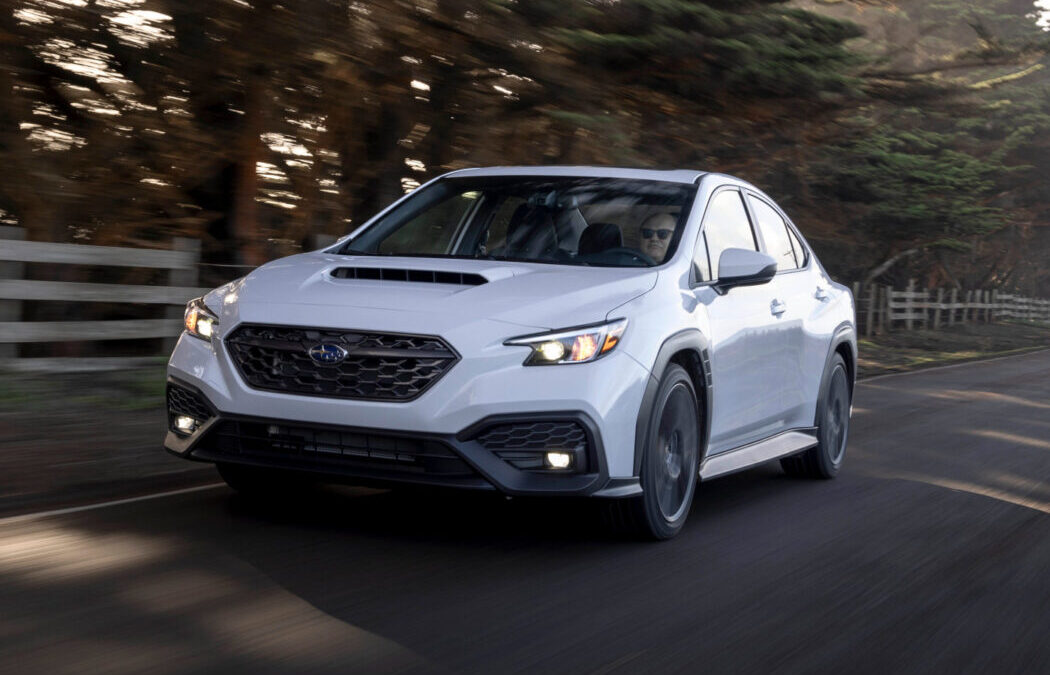 The WRX is a pretty big deal so when a new one comes around it's cause for celebration, especially now we know the STI in gas form, at least, is dead. For 2022, the WRX enters its fifth generation with a complete redesign and a new engine with a bit more power. It's been a sales success for Subaru too, since 2001, they've sold more than 400,000 WRXs.
The new WRX is a little bigger too, about 3 inches longer and 2 inches wider than its predecessor, and even though it's based on the standard Impreza, no body panels are shared between the two cars. The roof is now 0.3 inches lower, meaning rear-seat passengers get less headroom but who cares about that.
Subaru claims the chassis has been made stiffer by 14 percent, while torsional rigidity is up 28 percent, all while only gaining three pounds in weight.
Exterior
From the side, it's tough to tell the difference until you see the weird plastic cladding on the wheel arches, which is squared off and asymmetrical. Subaru says the strange texture on them actually assists with smoother airflow over the body panels. We'll take their word for it. 
At the back it's a different story, it looks great with newly designed sleek and stylish taillights, a larger bumper, and quad tailpipes which other drivers will probably see a lot of. At the front, the grille is larger with the trademark intercooler hood scoop and I love that every vent you see on the WRX is functional for either aerodynamics or cooling.
Under the hood
The 2022 Subaru WRX gets an upgraded engine borrowed from the Outback XT, which has been tuned specifically for this application. It displaces 2.4-liters, has four cylinders arranged as a boxer 4, and is turbocharged. It produces 271 horsepower and 258 pound-feet of torque, and power is sent to all four wheels through either a six-speed manual transmission or a continuously variable automatic.
The manual transmission models feature a 50/50 front-to-rear torque split, while the CVT-equipped cars have a variable torque split that's initially divided 45/55 front to rear.
The CVT, which Subaru calls SPT (Subaru Performance Transmission) has been delayed due to supply chain issues but we are told it's a very quick-shifting transmission, so we are eager to get hold of one for a drive.
The new engine doesn't have the same torque figures as it does in the Outback but it does have a new wastegate design to reduce turbo lag, so even though the torque numbers are the same, it's delivered at lower rpm.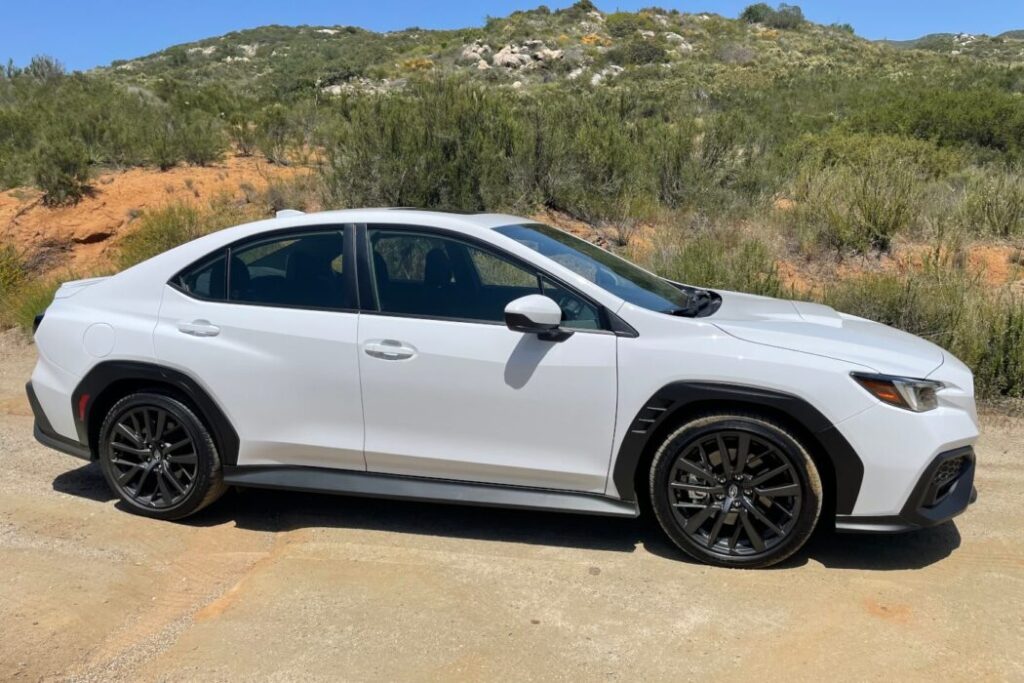 Driving
Even though the WRX isn't technically an offroad vehicle it's a pretty damn good car on gravel thanks to its asymmetrical all-wheel-drive system and despite wearing Dunlop Max summer rubber we headed for some slippery dirt roads for a bit of fun.
First, off this thing holds on like a tick on a dog, the power is always so well controlled you can throw it into any corner and it simply propels itself out like a slingshot. We had way too much fun pretending we were taking part in the Acropolis rally.
It rides quite firm so you are not going to make any friends with your passengers any time soon as they will get bounced around quite a lot. That firmness makes the WRX extremely composed no matter what you throw at it and the excellent and quite light steering does a great job of getting you in the direction you need to go with zero understeer.
The transition to the pavement is handled with no fuss at all as the Subie gets even more grip and your speed increases, it's so easy to drive fast on twisty roads. The manual is accurate but with longer throws than I would like, however, a short shifter is an available aftermarket option to fix that problem.
The brakes require a firm push but were remarkably good and fade-free throughout the week I had it and even if you added more power there would be no need to spend money to upgrade them.
Likes Fuel
Being all-wheel drive and if you have a heavy right foot as I do then you'll get worse fuel economy than almost all of the WRX's competition. I wasn't able to get near the EPA of 19 mpg city, 26 mpg highway, and 22 mpg combined, in fact, my average was only 18.9 mpg, but it's a small price to pay for a whole lot of fun.
If you want the SPT transmission then you can get the new WRX GT trim, which has adaptive dampers and an individual drive mode where you can adjust the steering and powertrain. The GT also comes with Recaro seats, which even though I like the standard seats I probably would want to option these on the 6-speed if they were available.
The manual also doesn't get the Subaru's EyeSight driver assistance suite, which includes lane-centering tech, automatic emergency steering, and adaptive cruise control but I've survived without these things before so I didn't miss it.
Interior
The seats on the base and Premium trim are comfortable and supportive, with manual adjustment, however, I'm not particularly keen on the scratchy fabric seat coverings which get quite hot as the outside temp climbs. I would much rather opt for the leather option or a vegan leather if one was available.
If you opt for the base WRX you get two 7-inch touchscreens running Subaru's Starlink infotainment system, but the Premium trim which is the goldilocks choice, in my opinion, gets a single, 11.6-inch, portrait-oriented display with split-screen capabilities. You'll probably recognize it from the Outback and it's not bad if a little slow and you have to dig through menus to get to certain features like heated seats.
Apple CarPlay and Android Auto are standard and you get physical controls for temperature and volume. There are plenty of charging options with two 2.1-amp USB-A ports for both front and rear passengers but sadly no wireless charging. There are also two 12-volt outlets in the WRX, as well as a 3.5 mm auxiliary port, which is very typical on Subarus and comes in handy if you have older equipment that needs to be plugged in.
Storage is good with 2 cupholders in the center console and one in each door, rear-seat passengers have to hold on to their cups or simply not ride back there at all. The trunk has about 12 cubic feet of space and the rear seats will fold 60/40.
Pricing
The 2022 Subaru WRX starts at $29,605, my tester was a Premium trim model which starts at $32,105 and had a couple of options, a Moonroof and a Premium Audio system ($1,875) taking the final price to $34,975 including destination.
Opting for the SPT transmission adds between $1,850 to $2,250 depending on trim, the Limited starts at $36,495 while the top GT goes for  $42,395 if you can find one.
Verdict
During my testing I never got the tires to squeal and the traction-control light never flickered, or at least I didn't notice it. No matter what surface we drove it on it gripped into oblivion, it just did what it needed to do and was incredibly fun while doing it.
The new WRX is even more than the old one, it's been honed to almost perfection, it could easily handle more power, and is an absolute bargain if you need a sporty and grin-inducing ride that won't break the bank. You should probably join the 400,000 others who have bought one.
VIDEO REVIEW
2022 Subaru WRX Numbers
BASE PRICE: $32,105
PRICE AS TESTED: $34,975
VEHICLE LAYOUT: Front-engine, AWD, 5-passenger, 4-door sedan
ENGINE: 2.4 liter turbocharged and inter-cooled DOHC 16-valve flat-4
POWER: 271 hp @ 5,600 rpm
TORQUE: 258 lb-ft @ 2,000 rpm
TRANSMISSION: 6 -speed manual
CURB WEIGHT: 3,347 lb
0-60 MPH: 5.2 seconds
EPA CITY/HWY/COMB FUEL ECON: 19/26/22 mpg
OUR OBSERVED FUEL ECONOMY  18.9 mpg
CARGO SPACE: 12 ft³
PROS: More refined, easier to drive faster, incredible grip
CONS: Fussy infotainment