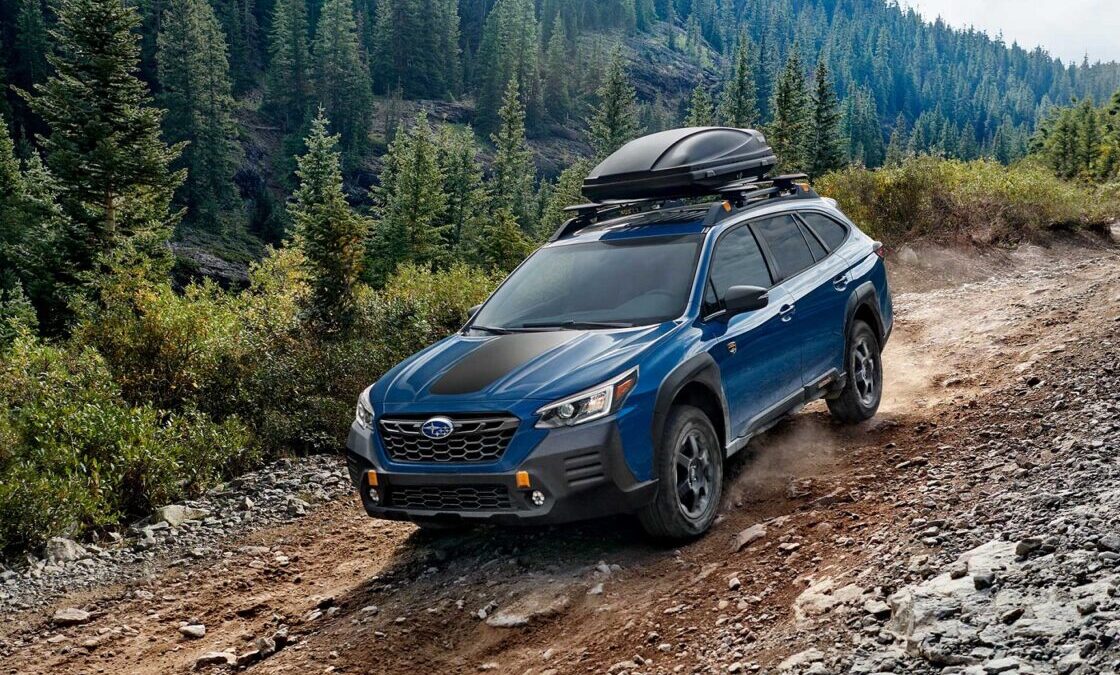 Many a Subaru fan has been waiting for a more rugged off-road version of the Outback. Hardcore enthusiasts have been fettling their cars for years but the average Subaru Outback buyer, one that ventures off-road more than most, would probably like something more off the shelf.
Enter the 2022 Subaru Outback Wilderness meant for those that want to adventure further. It's an odd name since the Outback in Australia is essentially a wilderness, it's a bit like calling a Ford Explorer, a Ford Explorer Adventurer.
I do like the quirkiness of the Outback Wilderness, it's not exciting to look at but it is interesting, and the off-road styling upgrades really work.
What is a Wilderness?
The most obvious changes are skin deep, it gets more plastic cladding that wraps around the car and includes the wheel arches, it's certainly dressed for battle. The front and rear bumpers are bigger, and it's got some weird gold bits of trim including the transmission shifter which is interesting, to say the least.
The roof rack is stronger and can hold up to 700-pounds when the car is stationary so you can pitch your tent without fear of being eaten by a bear.  Finally, all Wilderness spec cars get a set of black 17-inch wheels with Yokohama A/T tires and a skid plate to protect the underbody.
A few mechanical changes are included too, an 0.8-inch suspension lift thanks to new springs raises the Wilderness to 9.5 inches compared to 8.7 inches in regular Outback. This also improves the approach, break-over, and departure angles. The CVT has been recalibrated with slightly lower simulated gear ratios to give the Outback a bit more help when crawling over more technical terrain. As an added benefit it actually feels quicker from a stoplight with 0-60 coming up in six seconds.
Familiarity under the hood
Power comes from the turbocharged 2.4-liter boxer four-cylinder engine from the higher Outback XT model. It makes 260 horsepower at 5,600 rpm and 277 lb-ft of torque between 2,000 and 4,800 rpm and sends power to all four wheels via Subaru's symmetrical AWD, which can route 100 percent of available torque to any one of the car's wheels.
Fuel economy takes a 1mpg hit due to the suspension lift and re-programmed transmission, but you aren't really going to notice the difference.  For the week I averaged 19.8 mpg across all types of driving, both on and off road.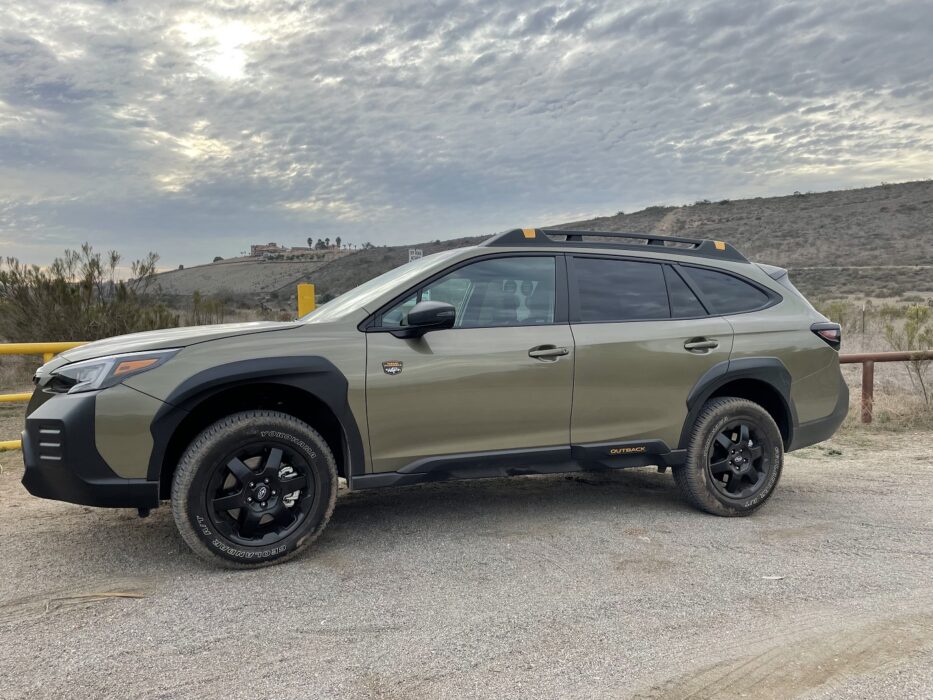 Driving
The Wilderness modifications have made this Outback ride even better than the standard car and even though it rolls a bit more, overall composure and ride quality are exemplary.  I can't really complain about the car's performance, yes there's a hint of turbo lag before it scoots off into the wilderness and it's pretty adept at corning as well. The extra torque pays dividends for passing slower drivers and except for a couple of gaps in the torque curve, forward progress is swift.
This new suspension is ideal for San Diego's pot-holed roads, it soaks them up with ease even when pushed on to two-lane back roads where the Wilderness can be hustled along at a fair pace, always remaining composed. It turns in sharply and the steering is responsive, quite light but some feedback is available. The same goes for the brakes, they have good pedal feel as well as providing reassuring stopping power.
Every Outback comes standard with a continuously variable transmission which I'll be honest I have never liked, however, this one is one of the better ones I have tried. Subaru has managed to solve that annoying high revving rubber band feel that plagues most CVTs and has programmed this one to act like an 8-speed regular transmission. It does work but it's not as good as a conventional auto. 
Off-Road
It says Wilderness on the label, so we headed out to our favorite off-road area to test the lifted Subaru. Let's not get too carried away this vehicle is not a substitute for a rock-crawling Wrangler the Subaru is very capable and unless you are looking to do some serious rock crawling it will suit most of your off-road needs. We took it on a fairly rough and rutted road where we did find some large pools of water to drive through and the Outback never skipped a beat.
Traction was almost never a problem until we encountered a steep grade with super soft sand and ruts. Going slowly caused the front wheel to lose traction and spin so we took a run at it and powered up the top.  Instead of locking differentials Subaru uses clutches at the axles and optimizes the stability and traction control to ensure the wheels that have the grip can take advantage of the engine power.
Even though X-mode has been optimized and Subaru says it will tackle a 40% grade, we found it struggled a bit on a 27 % grade but with more off-road biased tires I'm sure it would have done better.
The Wilderness comes with an advanced version of Subaru's X-Mode which offers 3 modes, Deep Snow/Mud, Normal, and Snow/Dirt Mode which is programmed to get you out of or through rough and tricky terrain. X–Mode uses lower gear ratios to generate extra power at the wheels that have grip. X–Mode deactivates the transmission's lock-up clutch to better direct power to slipping wheels.
Inside
The inside is very much the same as a standard Outback, the only seats you can get are vegan leather or StarTex in Subaru speak and I must say are very comfortable with multi-way power, and heating. Being vegan means the seats are easy to wipe clean, so mess from kids and animals need not be a worry.
My only gripe is they do get hot in warmer weather and there is no cooled seat option so it may make sense to opt for the leather seats if you want to stay cool.
Dominating the dash is the 11.6-inch portrait-style touchscreen infotainment system which looks great and has crisp graphics. The layout works and the Home screen has large easy to read tiles but the HVACV controls could use a little help, for example, to activate the heated seats having to touch more than one button is one step more than is needed.
Response time was good apart from on a couple of occasions when it was a bit laggy and the layout does take a while to get used to. One suggestion would be to use physical buttons for HVAC and the rest on-screen.
Spacious Inside
The Outback Wilderness has tons of space offering 32.5 cubic feet with the rear seats in place and 75.7 cubic feet ³ with them folded. The passenger room is limo-like in the rear and back seat passengers get two USB charging points and rear HVAC vents. The rear seats also recline for additional comfort on longer trips and fold flat for that additional cargo space.
Safety and Security
The Wilderness comes with the Subaru Eyesight Driver Assist Technology which includes, adaptive cruise control lane-keep assist, forward collision warning with automatic emergency braking, pre-collision braking, blind-spot monitoring, and rear cross-traffic alert, all come standard. My tester had a couple of options including a Moonroof, Navigation Package, and Reverse Automatic Braking for $1,845. Including destination, the Wilderness stickers at $39,965.
 Verdict
I loved the week with the Wilderness and if my trusty 2011 Subaru Outback ever fails, I would definitely look at switching it for one of these. It made perfect sense for Subaru to offer this version since the Outback is Subaru's best-selling model, and for very good reason it's a very good car, the Wilderness is just the icing on the cake.
VIDEO REVIEW
Subaru Outback Wilderness Numbers
BASE PRICE: $35,995
PRICE AS TESTED: $39,965 
VEHICLE LAYOUT: Front-engine, AWD, 5-passenger, 4-door Wagon
ENGINE: 2.4-liter turbocharged and inter-cooled DOHC 16-valve flat-4
POWER: 260 hp @ 5,600 rpm
TORQUE: 277 lb-ft @ 2,000 rpm
TRANSMISSION: Continuously variable automatic
CURB WEIGHT: 3,896 lb
0-60 MPH: 6.0 seconds
EPA CITY/HWY/COMB FUEL ECON: 22/26/24 mpg
OUR OBSERVED FUEL ECONOMY 19.8 mpg
CARGO SPACE: 32.5 ft³, 75.7 ft³ with seat area
PROS: Turbo 4 has good power, CVT is one of the best, solid and predictable 
CONS: Infotainment slow at times, fussy HVAC controls