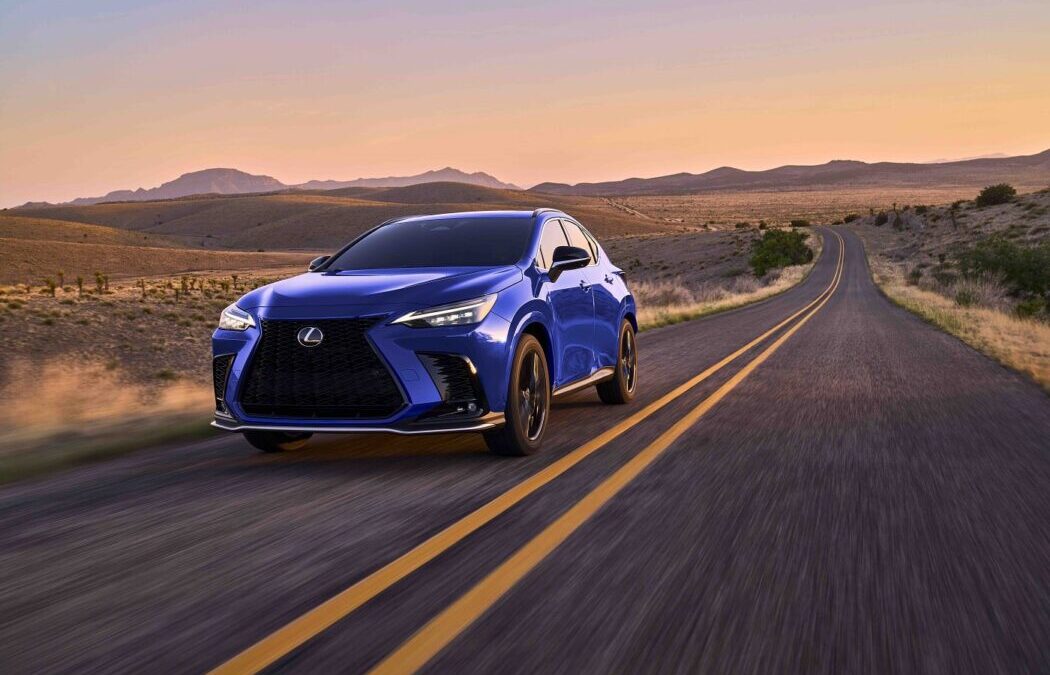 The punchy turbo engine and much-improved tech are the highlights here, but the transmission hampers the fun factor.
This is the 2022 Lexus NX 350 F Sport and I'd like to say it has a twin-turbo V6 with 550 hp and 500 ft-lbs of torque, but it doesn't. I'd like to say that it will go from a standstill to sixty in 3.8 seconds, but it won't, and I'd also like to say it will pull 1.0g in the turns, but it won't.  What I can say is it's a compact luxury crossover, which is the best seller in this category, and it won't leave you stranded on the highway, thanks to Lexus' reputation for quality and reliability.
We last tested the 2022 LEXUS NX450H+ and came away very impressed since it's essentially a RAV4 Prime in a posh suit. The NX350 sits in the middle of the lineup and starts at $42,625, my F Sport tester had a base price of $46,650, and with options included was $55,510.  The NX 350 is the only gas option available so I wanted to see if it can keep up with its German competition.
The NX is something of a tweener since it's bigger than the GLA, the X1, or the Q3 but it's smaller than the GLC, the X3, or the Q5. It's 0.8 inches longer than the old model, 0.8 inches wider, and has an additional 2.2 inches between the wheels, which adds more passenger room.
Good Looker
Lexus has smoothed the new car and it's less striking than before, gone are the angular creases of the outgoing model. The F Sport gets some sporty additions making it stand out from lesser models, with some very nice gloss-black 20-inch wheels, black F Sport accents, and an extra-large grille.  At the rear, there's a taillight bar with LED lighting and you'll also notice an all-new "LEXUS" emblem in the rear, a trend these days.
What makes it go?
The NX 350 has a 2.4-liter turbocharged inline-4 making 275 hp and 317 lb-ft driven through an 8-speed automatic transmission, which sends power to all four wheels. That's more horsepower than its rivals but it does suffer from turbo lag and a somewhat lazy transmission.
The good news is it's faster but not as fast as the NX 450H+. The NX 350 hits 60 mph in 6.6 seconds and will get to the quarter-mile some 8.4 seconds later at just under 100mph.
Being gas-powered don't expect hybrid levels of economy, it's rated at 25 Combined, 22 City, and 28 Highway but I only managed 22.9 probably because I kept my right foot buried in the carpet for most of the time.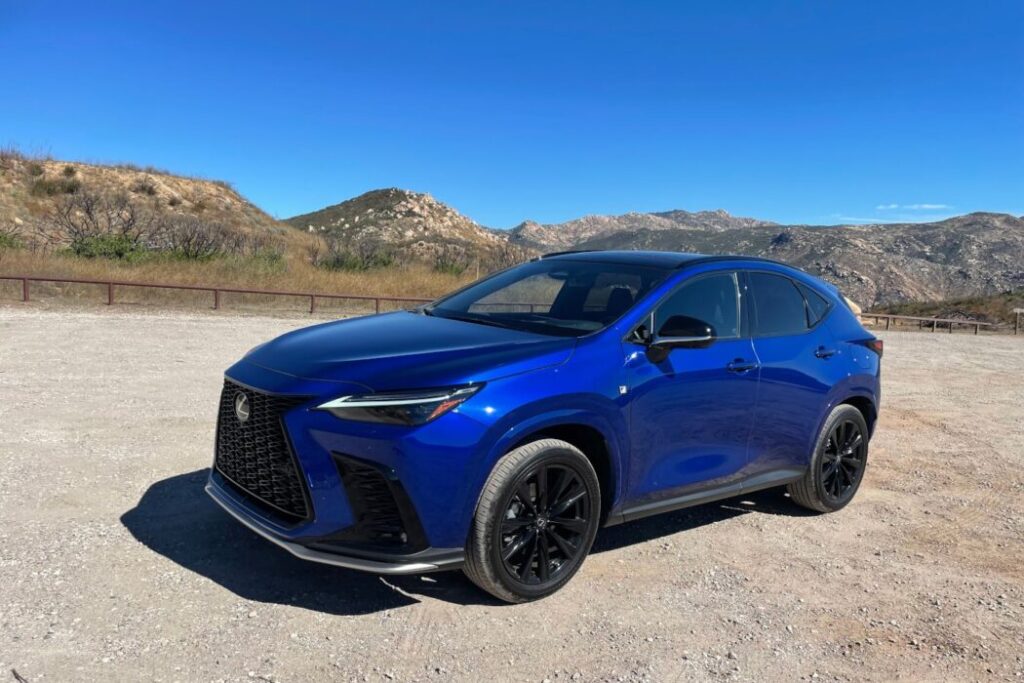 Driving
The F Sport handling model features Active Variable Suspension, which adjusts the ride based on the driving mode chosen. There are four drive modes, Eco, Normal, Sport S, and Sport S+, and choosing between them is very easy. The Goldilocks choice is Sport S since Sport S+, is the most aggressive mode, it makes the suspension too hard so it's preferable to go for the more compliant Sport S mode. Sure the car does roll a bit but for the most part, it's a very tidy handler.
Head into a corner too fast and it handles very well with no real sign of understeer, in fact, it feels reasonably agile but don't expect to win any autocross competitions with it. Overall it's quite adept on backroads and fun can had when you start to chuck it around.
Acceleration from the 2.4-liter turbocharged engine is pretty good but it does sound quite buzzy from a standstill, however, as speed increases, this is less of a nuisance. There is some turbo lag, push your foot down then wait, boost kicks in and you're off. It wouldn't matter too much except the transmission is somewhat lazy, the shifts are slow and I can't help thinking with different programming Lexus could shave half a second or so off the 0-60 time.
There's good news though the brakes are standout good with great pedal feel, perfect progression, and very good stopping ability with no signs of fade no matter how hard we drove. Thanks to a rigid, confidence-inspiring chassis, good steering, and compact size, the little Lexus does everything very well.
Interior
The F Sport gets some very comfortable fully powered seats with heating and cooling, and immediately ahead of the driver is a 7-inch multi-information display. The F Sport gets a 14-inch infotainment touchscreen in the center console and yes the tracker has been banished to a faraway place. The screen is nicely angled towards the driver, very responsive, and easy to use, and the menus are logically laid out.
All surfaces exude quality and are more attractive to the eye, especially the pattern on the excellent Mark Levinson Surround Sound speakers. There's no real home screen instead there's a permanent dock on the left-hand side that makes it easy to swap between various menus.
Taller passengers in the rear may have headroom issues thanks to the sloping roofline but the seats themselves are very comfortable, and supportive with ample legroom and available USB power.
Cargo space is okay for this class, as I mentioned most of the additional wheelbase length goes to the rear seat passengers, but the seats do fold flat giving you 46.9 cubic feet of space and22.7  cubic feet behind the 2nd row. 
My F Sport tester also included some options including a Panoramic Moonroof ($1,600), Premium Paint ($595) and a Panoramic View Monitor, Lane Change Assist, and Front Cross Traffic Alert ($1,070)
Lexus Safety Suite
The standard safety suite comes with Lane Tracing Assist, Pedestrian Detection, Dynamic Radar Cruise Control w/ Curve Speed Management, Lane Departure Alert w/ Steering Assist, Intelligent High Beam Headlights, and Blind Spot Monitor with Rear Cross Traffic Alert.
Verdict
The NX is a big seller for Lexus and an equally good money earner so this one has evolved to not upset its current customer base and it succeeds in that mission. The F Sport has some sportiness but it's not quite as good as its German competition but then again, it's not really supposed to be. Instead, it's beautifully made, super reliable and it's definitely more enjoyable to drive than before.
VIDEO REVIEW
2022 Lexus NX 350 F Sport
BASE PRICE: $46,650
PRICE AS TESTED: $55,510
VEHICLE LAYOUT: Front-engine, AWD, 5-passenger, 4-door crossover
ENGINE: Turbocharged and inter-cooled DOHC 16-valve inline-4
POWER: 275 hp @ 6,000 rpm
TORQUE: 317 lb-ft @ 1,700 rpm
TRANSMISSION: 8-speed automatic
0-60 MPH: 6.6 sec
CURB WEIGHT: 3,990lb
CARGO CAPACITY: 22.7 ft³, 46.9 ft³ with seat area
FUEL ECONOMY: 25 Combined, 22 City, 28 Highway
OUR OBSERVED: 22.9 mpg
PROS: Beautiful interior, sharp handling
CONS: Engine quite buzzy, slow transmission, turbo lag