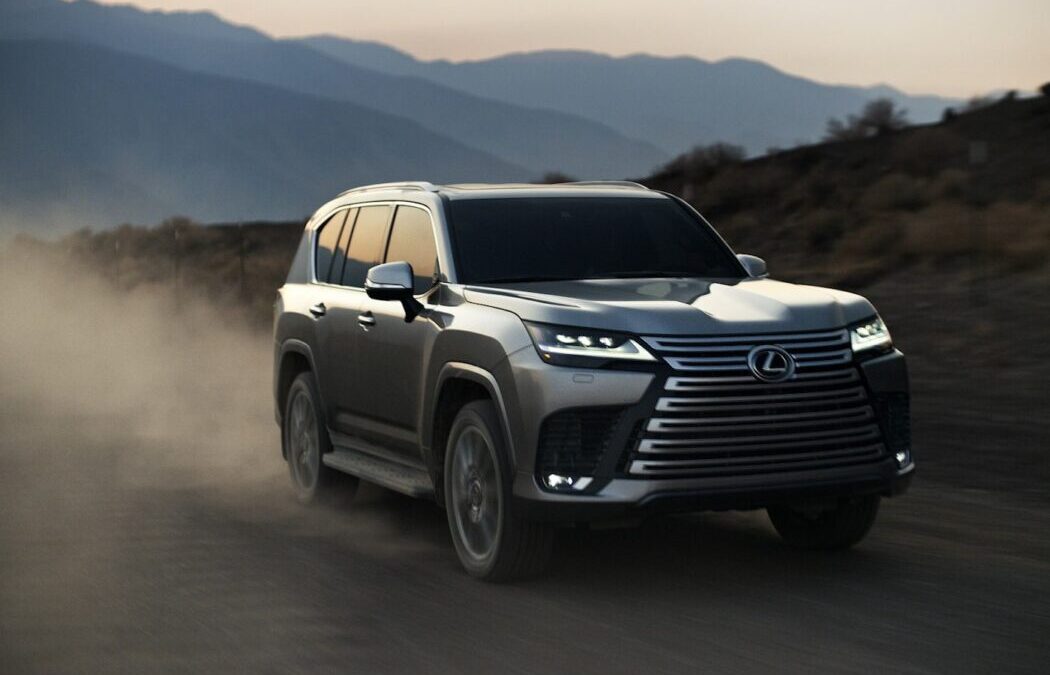 Driving the outgoing Lexus LX 570 was certainly an experience, one that was antiquated yet thoroughly enjoyable and that lasted 15 years until the thoroughly revamped 2022 model arrived. Sadly the US market won't get the excellent Toyota Land Cruiser on which the LX600 is based but fear not because this is a very good car indeed.
Everything is new
The 2022 Lexus LX600 has a brand-new powertrain, fresh exterior styling, a completely overhauled interior, and more features than ever before, especially in the Ultra Luxury trim. It's offered in five new trim levels,  a Base Trim starting at $88K, Premium starts at $96K, the new F-Sport starts at $102K, and the Luxury trim starts at $104K.
My tester arrived in the Ultra Luxury trim which stickers at an eyewatering $127K and for that, you only get four 4 seats! The other models have the choice of either five or seven seats and the third row now folds neatly into the rear floor instead of taking up space in the cargo area. 
Exterior Styling
From the outside, it's slab-sided and huge and you certainly won't miss the massive Lexus grille. At the back "Lexus" is spelled out in large letters, replacing the old logo in the center, with the model name in the right corner.  The LX 600 now sits on the Toyota New Global Architecture platform and thankfully they have replaced the old 5.7-liter V8 in favor of a much more efficient one.  It still employs a body-on-frame construction and the wheelbase remains the same at 112.2-inch but the front and rear tracks are now an inch wider. 
The electrically assisted power steering is new and replaces the old hydraulic system, it's definitely improved the steering feel. Since it is still based on a truck there's a live axle at the rear and control arms at the front.
If you opt for the F Sport it's the only one to get a rear anti-roll bar, which to me is the antithesis of this car, it's not really sporty and you can't F-Sport every vehicle in your lineup, but they have. All this saves a ton of weight, my loaded Ultra Luxury tester was a shade over 5,600 pounds, which is 275 pounds less than the LX 570.
Engine and Powertrain
I really like the new twin-turbo 3.4-liter V-6 which has 409 horsepower and 479 pound-feet of torque,  26 horsepower and 76 more pound-feet than the 5.7-liter V-8 it replaces. It's mated to an excellent 10-speed automatic which has been programmed to perfection.
We tested it from 0-60 mph and it took 6.4 seconds which is quicker than the LX570 but this is not really a good measure of the new engine's performance. Where it really shines is in the mid-range and on two-lane highways where it easily has enough to pass slower vehicles.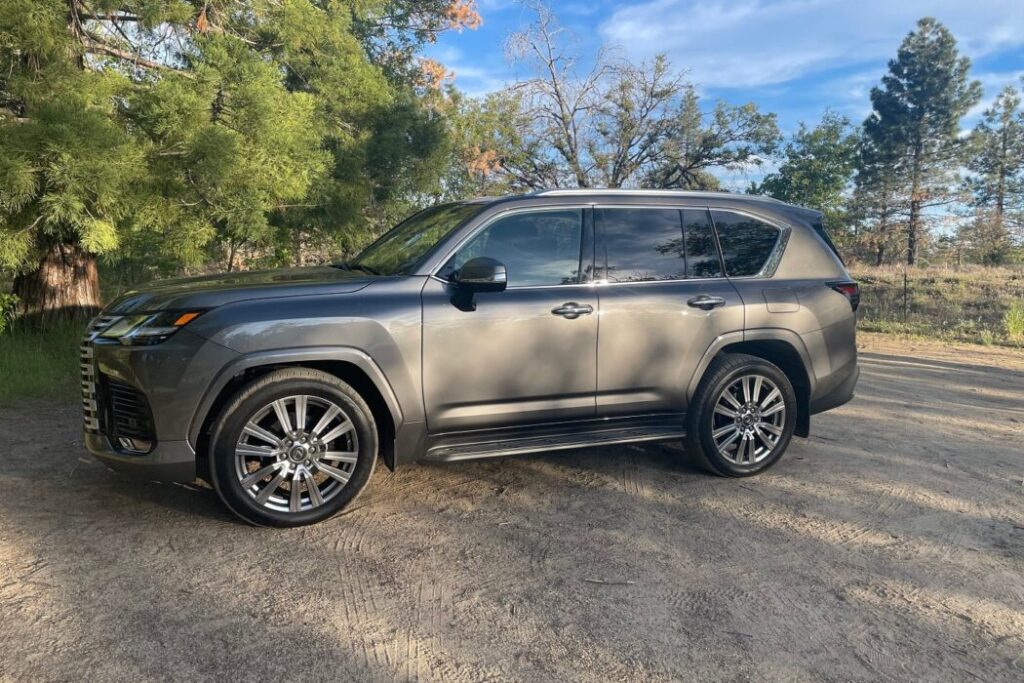 Driving
Lexus has put in some unbelievably comfortable seats in the LX 600 and it's super easy to find the best possible driving position with multi-way power.  Once you get going you notice that the whole car feels more planted, less trucklike. The stiffer chassis is what makes the difference here and you'll be pleasantly surprised as to how easy it is to hustle on backcountry roads, thanks to much-improved body control.
Push on too quickly into a turn and steering effort builds up and the body will roll but it communicates what it's doing so much better than its vague handling predecessor. Of course, come in too fast and it will understeer and you'll need to back off to guide it around.
The LX 600 has multiple drive modes, Eco, Normal, Comfort, Sport, and Sport+ which are selectable from a dial on the center console. Choosing either of the Sport modes provides noticeable changes to the steering effort, the profile of the adaptive dampers, and the shifting of the 10-speed transmission. I did select both Sport and Sport + but decided my favorite mode was Comfort since it can still be driven fast when you need it and it's just so supremely comfortable on all but the worst pavement.
It's not afraid to get dirty
Being a brother to the Land Cruiser means the big Lexus LX needs no convincing to go offroad and get dirty although I'm doubting how many owners of the $127K Ultra Luxury model actually will. Depending on which trim level suspension setting you choose, the chassis provides up to a 27.4-degree approach angle and a 26.3-degree departure angle. It can also climb hills at up to 45 degrees, tackle 44-degree inclines and drive through 28 inches of water, assuming you can find any in Southern California.
The 2022 Lexus LX600 has a full-time four-wheel-drive system with a low range option which requires you to select neutral to switch between 4 low and 4 high. The Torsen center differential can be locked to split the power 50-50 front and rear.
My tester had the hydraulic Active Height Control system as an option which meant we could select H2, the highest level, and boldly go without fear of scraping the expensive underneath. Fitted with Dunlop Grandtrek tires the LX 600 monstered our hill ascent section without having to use the center diff lock.
There was a bit of wheel slip over some deep ruts but it took it all in its stride. Coming back down was just as easy with or without the hill descent control, which is notably quieter than the old system Toyota used before.
Interior Upgrades
Inside has been vastly improved with Toyota's in-house infotainment system dominating the center console and it sits atop a second screen. To my mind, the two don't really quite match and it doesn't look integrated, however, it's still a huge improvement. That second screen houses HVAC controls and a graphic of the vehicle which turns its wheels when you turn the steering wheel, it's a nice touch.
Seats are covered in a diamond-stitch-pattern semi-aniline leather interior, with wood, chrome accents, and, a microsuede headliner. To top it off it also has the superb Mark Levinson audio system with 23 speakers.
Below that we have lots of physical buttons for the HVAC, drive modes, and off-road mode dials. The joystick is no more! The shifter is a real one and not a stubby switch which is becoming the fashionable thing to do these days and there are 2 cupholders and a cooled cargo bin for your Chardonnay.
The 12.3-inch upper screen works great, it's fast and easy to use, the lower screen is smaller l, and off-road controls, 7.0-inch, but has good quality crisp graphics. Wireless Apple CarPlay and Android Auto are standard but there isn't a wireless phone charger which is annoying because there is one available for the rear seat passengers. Lexus says a fix is in the works. 
That luxurious back seat
Second-row passengers will be extremely happy, especially the right-rear passenger who can recline the seat 48 degrees with a button on the screen in the center console. Another button glides the front passenger seat forward in one seamless to provide a footrest for your tired legs. Once comfortable you can choose between seven massage settings and five levels of intensity. A Thai massage it's not but it is ridiculously good.
The HVAC system has regular vents as well as an "air showerhead" above your head which releases a soothing airflow from above and sunshades to keep the riff-raff from peering in.
Another miss is that although the rear seat passengers have headphones, they are not Bluetooth, so you have to fumble around to plug them in.  Once reclined there's no remote to manage the entertainment, so you have to lean forward away from your luxurious massage to change a channel.
Verdict
The new LX600 is a huge improvement, it has the excellent twin-turbo six, more power than before, a better transmission, is excellent off-road, and is a genuinely comfortable drive. The Ultra Luxury reclining seat is ridiculous and I can't imagine how many motors there must be in this car, but it's a lot.
There are a few competitors out there including the Cadillac Escalade, the BMW X7, and the Mercedes-Benz GLS but I'm sure none of them will still be on the road as long as the LX 600 as it ages like a fine wine.
VIDEO REVIEW
2022 Lexus LX 600 Ultra Luxury Numbers
BASE PRICE:  $88,245
PRICE AS TESTED:  $127,940
VEHICLE LAYOUT: Front-engine, all-wheel-drive, 4-passenger, 4-door SUV
ENGINE: 3.5 liter twin-turbocharged DOHC 24-valve V-6
POWER: 409 hp @ 5,200 rpm
TORQUE: 479 lb-ft @ 2,000 rpm
TRANSMISSION:  10-speed automatic with manual shifting mode
0-60 MPH:  6.4 seconds
CURB WEIGHT: 5,600 lb
GROUND CLEARANCE: 8.9 inches, can increase height by 7 inches and lower it by 2.0 inches  
CARGO VOLUME: 41ft to 71 ft³ with seat area (except Ultra Luxury)
FUEL ECONOMY Combined/city/highway: 19/17/22 mpg
OUR OBSERVED: 14.8 mpg
PROS: Much more planted on-road, rules the off-road world, nicely upgraded interior
CONS: Thirst for fuel, expensive in Ultra Luxury trim