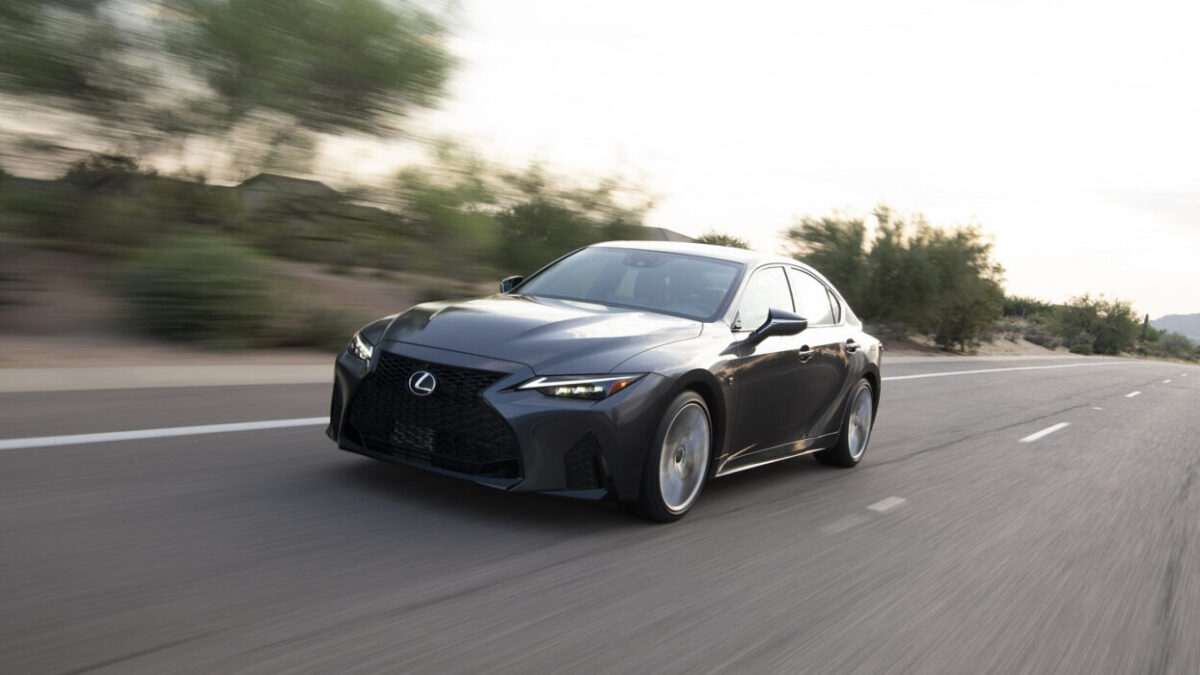 Since I tested the Lexus IS 350 F Sport  6 months ago I have been eagerly awaiting the arrival of the 2022 Lexus  IS 500 F Sport Performance, which is a lot to say versus the 2008 ISF but no matter it's here. It was a short 4-day loan, so I knew I had to make the most of it.
Does it replace the ISF?
Lexus says it's doesn't, instead it's a matter of shoehorning its 5.0-liter V8 under the hood of its compact IS sedan. It's an engine we've come to love since it appears in several Lexus models including the excellent RCF, the LC500, and the sadly no longer available GSF. Of course, it's the same V8 that was in the ISF but now makes 472 horsepower and 395 pound-feet of torque, instead of the original 416 hp. Power is routed through the rear wheels by an eight-speed automatic transmission.
If you've driven a car with this V8 it will be very familiar, it's a peaky unit that begs to be driven hard since peak horsepower and torque arrive at 7,100 rpm and 4,800 rpm, respectively. Mashing the throttle has a number of advantages since the V8 makes an absolute symphony of sound starting with a deep bellow followed by a high-pitched wail as the engine nears the rev limiter, it's intoxicating and soulful.
What else has changed?
Apart from some small mechanical changes that include larger 14.0-inch front and 12.7-inch rear brake rotors and a new Yamaha-sourced rear chassis damper, the car is very similar to the IS 350 F Sport. A very discreet badge at the rear that says IS 500 and a 2.0-inch bump in the hood are the only tells. Most people won't even notice.
Lexus did have to lengthen the front to accommodate a new radiator, but the performance-tuned adaptive suspension, eight-speed automatic transmission, limited-slip rear differential, and drive modes are all retained for the IS 500.
Interesting Fact
As far as we know IS 500 is the only naturally aspirated V8 sedan for sale in the US currently except for Dodge Charger R/T and ScatPack. Which one would you choose?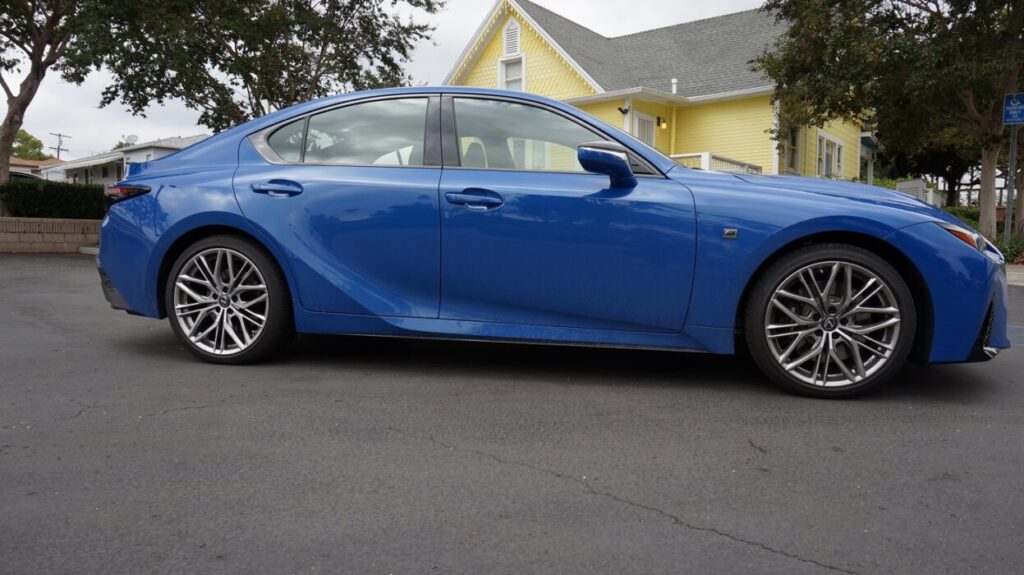 Driving
Around town in Eco or Normal mode, the IS 500's suspension is surprisingly compliant, and it wafts along just like any Lexus would, soaking up uneven pavement and potholes with aplomb. My first impressions were that it didn't have that hunkered down feel that the RCF has and I was concerned, had Lexus got this wrong?
The quick answer is no, the longer answer is you have to consider the IS 500 to be a three-quarter scale GSF and that's a very good thing.
From a stop, the IS 500 hooks up well with barely a chirp from the tires (traction control on of course) and pulls strongly up to very high speeds in a very composed manner. 0-60 takes 4.4 seconds and yes, I know that's certainly not M3 territory but that's really not where this car competes.
Get it out on a two-lane back road and the little Lexus comes alive after you select Sport +, which holds the revs to the red line and it learns you want to go fast, holding the right gear mid-corner for you to blast out of the exit.
It does lean a bit in the turns, you can definitely feel the suspension is softer even in Sport S, but I soon got used to it and I think it works better on American roads since we hardly ever repair them. The transmission did suffer a couple of hiccups and refused to change up immediately at the redline but this only happened on a couple of occasions. Aside from that the transmission provides fast and smooth shifts and keeps the engine on the boil for a very entertaining drive.
The suspension's adaptive dampers keep it very composed over bumps and the car is very well controlled even when you hit a piece of uneven pavement, and it never feels floaty or wayward. The limited-slip rear differential works great at moving power laterally between the back wheels, and the front-end grip is great, with almost no understeer despite the surprisingly soft suspension setup.
A couple of gripes
The brakes work very well and provided good stopping power with no fade, but the pedal itself is a little mushy and there's too much pedal travel, so until you get used to it's a tad unnerving. The steering is a bit of a miss also, it's direct but gives no feedback as to what the front wheels are doing.
Inside
The front chairs are very good, soft but supportive, and leather-wrapped with power for both, except no lumbar adjustment for the passenger. The IS 500 comes standard with driver-assistance tech, including lane-departure warning, full-speed adaptive cruise control, blind-spot monitoring, parking assist, and rear cross-traffic alert.
The terrible touchpad is still here but now the 10.3-inch infotainment is a touchscreen and can handle all infotainment duties much easier. The graphics are crisp and it's easy to use if a little slow at times.
Apple CarPlay and Android Auto integration are included (but not wirelessly), as is a Wi-Fi hotspot. The IS 500 Premium comes standard with Lexus' incredible 17-speaker Mark Levinson audio system, however, I spent most of the time listening to that fabulous exhaust.
There's limited legroom in the back as well as a lack of headroom especially for taller folks and there are no cup holders and no power, which seems a bit of a miss. Cargo space is decent with 10.8 cubic feet available with a fairly low loading height.
Competition
The 2022 Lexus Is 500 is up against some good competition in the BMW M340i and the Audi S4 both of which have turbo sixes but neither make a noise like the naturally aspirated V8 in the IS500.
Conclusion
My first impression of the IS500 was not that good, then I hit the back roads of San Diego and it simply came alive, I spent 3 glorious days on or near the rev limiter (averaging 9.9 mpg) while listening to that amazing V8. Yes, it can't match the performance of its key rivals and isn't a replacement for the ISF, but I still love it.
The big question is has Lexus left the door open for a proper, full-fat IS F in 2022. I'm sure we are all hoping that they have.
VIDEO REVIEW
2022 Lexus IS 500 F Sport Performance Numbers
PRICE AS TESTED: $62,075
VEHICLE LAYOUT: Front-engine, AWD,  5 passenger, 4-door sedan
ENGINE: 5.0L direct-injected DOHC 32-valve 90-degree V-8
POWER: 472 hp @ 7,100 rpm
TORQUE: 395 lb-ft @ 4,800 rpm
TRANSMISSION: 8-speed automatic
0-60 MPH: 4.4 seconds
CURB WEIGHT: 3,980 lbs
CARGO CAPACITY: 10.8 ft³ 
FUEL ECONOMY: 16 city/24 highway/19 combined.
OUR OBSERVED: 9.9 mpg
PROS: Magnificent V8, sonorous exhaust, great handling
CONS: Mushy brake feel
2022 VW Tiguan SEL Review
2022 Lexus IS 500 Performance