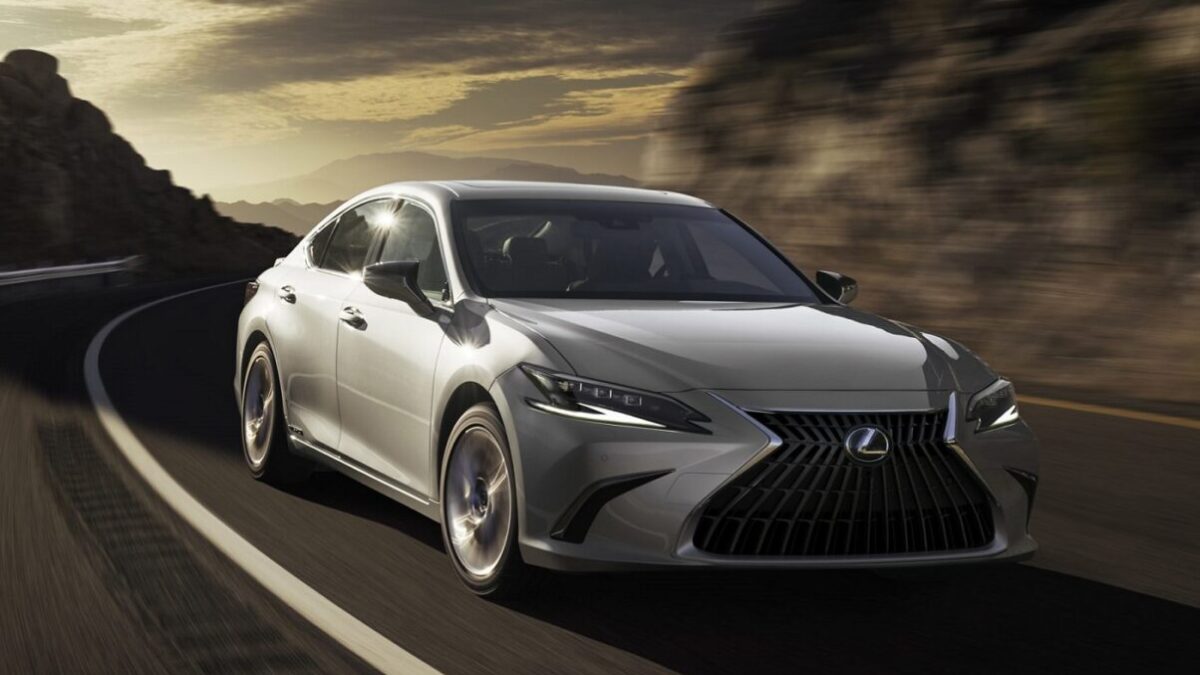 If you are not expecting a sports sedan then the 2022 Lexus ES 300H F Sport is an excellent car especially if fuel economy is close to your heart. Driving around for a week I could do no worse than 35.6 mpg which is simply staggering. Tread more carefully and you could see 45 miles per gallon highway and combined.
This is the first time Lexus has added F Sport to the ES Hybrid model and it tucks itself in the middle of the range between the 203 hp ES250 and the more powerful 302 hp ES350.
It's quite the looker, my tester had the striking Ultrasonic Blue paint and a black and cream interior, a bit over the top for my taste but stylish nonetheless. It also wears 19-inch split five-spoke alloy wheels with 235/40 Michelin all-season tires. From the outside, the ES has the signature black Lexus grille, Bi-LED headlights with cornering lamps as well as LED tail lamps and daytime running lights. To top off the additions is a brand new leather-wrapped steering wheel which doesn't have any fake plastic wood at the top and is one of the nicest  I've used for a while.
F Sport Goodness
Underneath the F Sport gets stiffer sportier dampers, a new brace for greater torsional rigidity, which Lexus claims enhances stability and ride, and upgraded brakes which provide good stopping power can be a bit grabby and difficult to modulate.
What Makes it go?
All ES300h hybrids, including the F Sport model, have a 2.5L direct-injected DOHC 16-valve Atkinson-cycle four-cylinder and 2 electric motors for a combined 215 hp. The gas engine has 169 ft-lbs of torque and the electric motors proved an additional 149 ft-lbs of shove. Power is routed to the front wheels via a continuously variable automatic transmission which in Sport mode does to try to simulate a standard auto.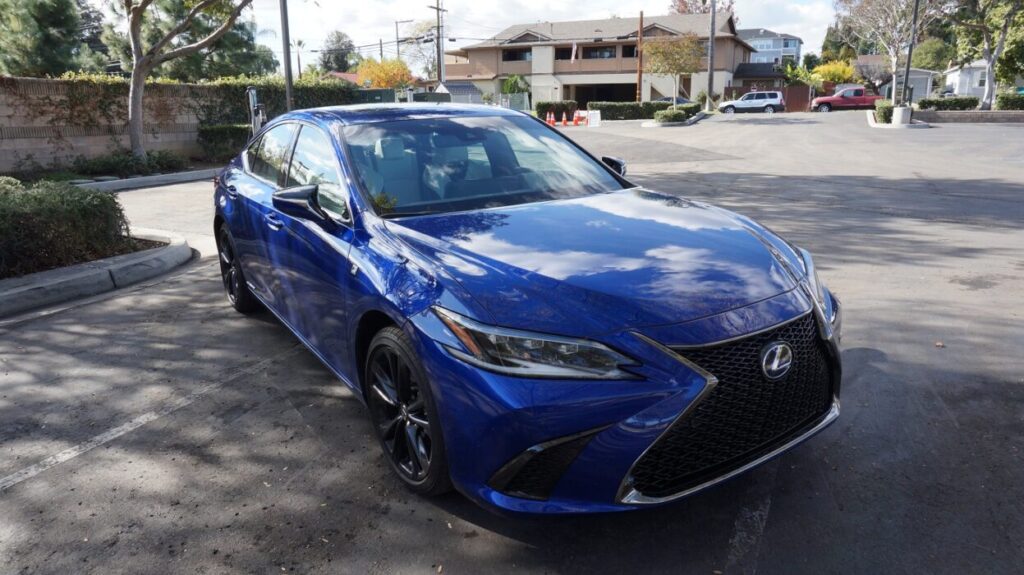 Smoothly does it
Nothing about this Lexus says mind-bending acceleration, it's more of a gently does it approach, a whisper, it simply moves along in hushed tones. Push the go pedal from a stop and it gets from zero to sixty in 7.3 seconds, not too bad but a BMW hybrid sedan will do the same in 6 seconds. What you do get in the Lexus is bulletproof reliability something that can't be said for its German competition.
The ES300h F Sport's hybrid-assisted acceleration provides a satisfying amount of shove off the line, but I can't help thinking that the powerplant from the RAV 4 Prime would be a much better fit here, and of course, it would be a lot quicker without sacrificing fuel economy.
Once on the move, the ES 300 hybrid is super smooth, the transition from electric to gas is seamless and the buzzy four seems much quieter than in a RAV Hybrid which is what you would expect.
For a midsize sedan, the ES300 h is easily maneuverable and the steering has some feel so together with very smooth acceleration, it's a very pleasant drive. The new suspension has removed the floatiness of the old car and the ride quality is impeccable despite wearing 19-inch rims.
Braking, however, is a bit of a mess, they work, and the car stops but at slower speeds, the pedal is difficult to modulate and the brakes grab when you don't need them to, especially when parking.
Interior
Once in the excellent and well-bolstered front seats, you'll notice a jet black headliner as well as aluminum trim and pedals.  Unfortunately, the horrible touchpad is still there but the good news is you will probably never have to use it thanks to numerous physical buttons and a 12.3-inch touchscreen. The screen itself is now more than 4 inches closer to the driver and much easier to reach.
The infotainment system itself is not the most up-to-date system but it's fairly easy to use and everything works but it does need updating and some of the icons are way too small.
Throughout the cabin Lexus uses soft plastics and leather, all are of high quality and in the right place, for example right by your right knee where most other manufacturers put a cheaper hard scratchy plastic. There's a clever volume/tuning knob where the volume is the outer wheel and the tuning is the inner one. It works and there's no need to fiddle with the screen or the touchpad.
There's a wireless charger in the center armrest and two USBs in the front and two in the back as well as a 12 volt and a 3.5 jack.
Rear seat passengers get the same level of quality, and the backseat offers a ton of legroom, though headroom might be a problem for taller folks. One negative is the rear backrest doesn't fold down, but it does have a poke-through hole for long items behind the center armrest.  Cargo capacity is  13.9 cubic feet and you do get a space saver style spare wheel.
How Much?
Base prices start at $45,450 and my tester had several options including Intuitive Park Assist ($565), Head-up Display ($500), Triple Beam Headlamps ($1,215), Power Rear Sunshade ($210), Navigation Package ($1,820), Power Trunk ($550), Hated F Sport Steering Wheel +Deicer ($180), and Ultrasonic Blue paint ($595) taking the total price including destination to $52,260.
Safety First
For 2022, the Lexus Safety System Plus 2.5 is standard across the ES range. This includes forward-collision warning and automatic emergency braking. A new feature Intersection Turning Assist function is now available which during turns can recognize oncoming traffic and when making right-hand turns it can detect pedestrians and avoid running them over. The brakes are automatically applied in either of these situations and thankfully we didn't need to test them.
Verdict
The 2022 Lexus ES300 H F Sport with its additional technology features, suspension enhancements, and incredible fuel miserliness make it a pretty compelling car in the luxury sedan segment. If you don't need outright speed then it's a great choice and with the touch screen infotainment system you hardly ever have to use that horrible touchpad, it's a win-win.
VIDEO REVIEW
2022 Lexus ES 300H F Sport Numbers
BASE PRICE: $45,450
PRICE AS TESTED: $52,260
VEHICLE LAYOUT: Front-engine, FWD, 5-passenger, 4-door sedan
ENGINE: 2.5L direct-injected DOHC 16-valve Atkinson-cycle I-4, plus 39-hp/149-lb-ft elec motor
COMBINED POWER: 215 hp
TRANSMISSION: Continuously variable automatic 
0-60 MPH: 7.3 seconds
CURB WEIGHT: 3,767 lb
CARGO SPACE: 13.9 ft³
EPA CITY/HWY/COMB FUEL ECON: 43/44/44 mpg
OUR OBSERVED: 35.6 mpg
PROS: Super smooth ride, beautifully crafted cabin, very economical
CONS: Could use more performance 
2022 CT5 V BLACKWING – TESTED
2022 Lexus NX 450h+ – First Drive
2022 Audi A4 45 TFSI Review