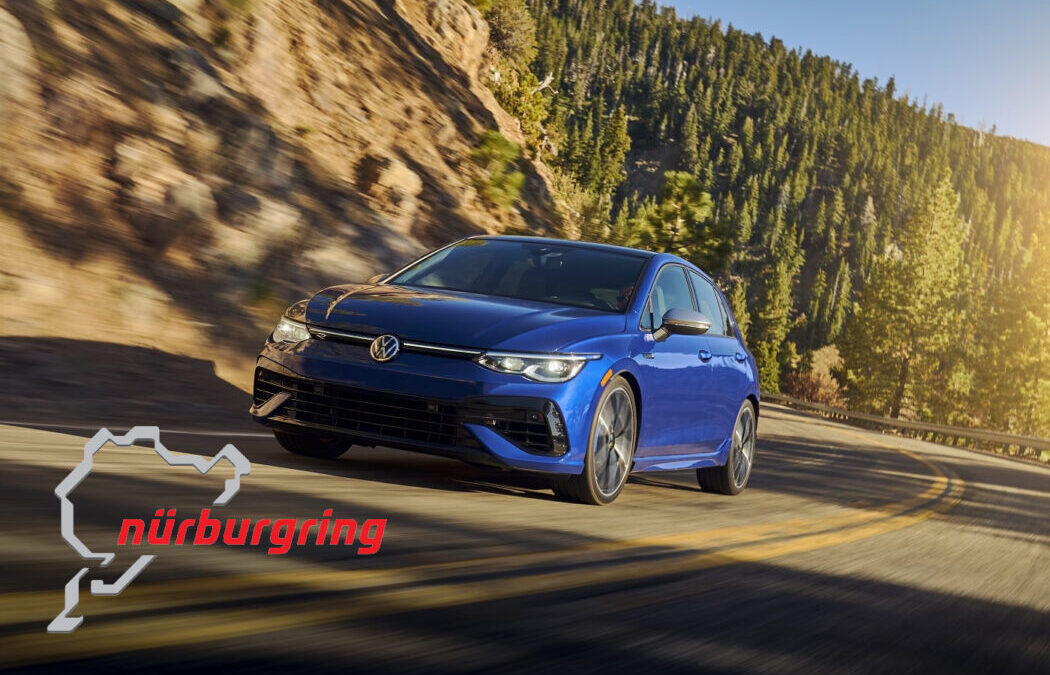 We have been waiting a while for the all-new 2022 Golf R, same for the GTI which we tested a few weeks ago and came away suitably impressed, so expectations are high. The previous R was good but it really felt like a faster GTI than something different which I'm glad to say has been rectified this time around.
What's new?
Exterior changes are quite subtle which has always been the VW way, so although you can tell it apart from the GTI you have to look closely. Firstly it has more aggressive bumpers, a nice set of 19-inch alloy wheels, a much larger rear wing, and a set of bigger tailpipes giving hint to what lurks under the hood. outback gives more than a subtle hint that there's something solid under the hood.
Under that said hood is a thoroughly reworked version of the 2.0 turbocharged I4 which now delivers 315 horsepower and 310 pound-feet of torque. That's 27 hp and 30 lb-ft higher than its predecessor.  Power is routed through all four wheels and riven through either a 6-speed manual or a 7-speed dual-clutch automatic.
All U.S. cars come standard with the R-Performance package which includes a much sharper throttle and transmission and 15-position electronically controlled dampers.  

VW has also revised its all-wheel-drive system so instead of the previous model's center coupling it uses two electronically controlled clutch packs, one on each axle.  Now the R can move power between the left and right wheels which greatly increases its ability to put the power down in the turns.  
Compared to the old Golf R, the ride height is now 20mm lower, the springs and anti-roll bars have been stiffened by up 10 percent, dampers, and bushings are upgraded, and the front subframe is now made from lightweight aluminum. Curb weight comes in at 3,380 lb.
Special and Drift Modes
The R Performance Package opens up two new drive modes in addition to Comfort, Sport, and Race, which are Drift and Special. Drift is a bit of a gimmick since the car can only route 50 percent of the engine's power to the rear axle, unlike the long-gone Focus RS which could send 70% of the power to the rears when needed.
Special Mode is probably the only mode you should ever need on the Golf R and once pressed a map of the Nürburgring shows up in the dash so you know it means business. Since the Nürburgring is more like a public road with dips, bumps, and various other obstacles, this setting puts the shock absorbers in Comfort for optimum road contact. It also makes the throttle hair-trigger reactive and weights up the steering making for a super enjoyable driving experience.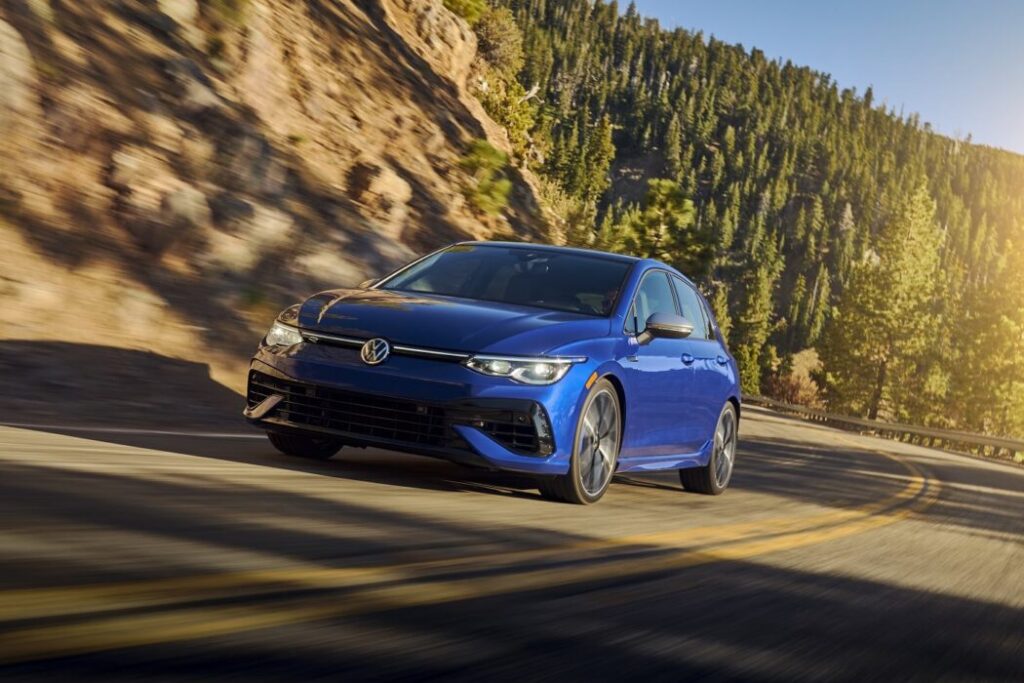 How does it drive?
In a word, 'amazing', it's hard to believe that this car comes from the humble Golf considering the breadth of the R's abilities. The steering is very direct at 2.1 turns from lock to lock, and there is some feedback through the wheels which is unusual these days.
Accelerate hard out of a turn and the progressive torque transfer loads up the rear wheels, but they stick like glue. The Bridgestone Potenza tires on my test car were good but I would swap them out for a set of Pilot Sport 4S tires once they wore down a bit. This car is so precise, so balanced, it's an absolute hoot to drive fast. Attacking a tighter turn at speed and you feel the car's balance going from near-understeer to near-oversteer.
The DSG's shifts are lightning quick in all modes and other worldly in Special mode, it seems to be able to read your mind and the road ahead.
The Golf R blasts off the line with vigor and no wheelspin thanks to the all-wheel-drive system and summer tires. The car forcibly shoves you into the seat back and it pulls like a train all the way to the redline seemingly never running out of steam.
Fancy some calmer driving then Comfort mode does a decent job in daily use, with plenty of available power underfoot thanks to a wave of low-end torque, and suspension that soaks up some of the road imperfections but not all. Don't go crazy and think this is a limo though.
Super efficient
EPA numbers are very good with 23 mpg city, 30 mpg highway, and a combined number of 26 mpg, which is remarkable for a car with this kind of performance. For the week I had it I was able to average 23.9 mpg and that included some fairly hard driving. In fact, I couldn't get worse than 19 mpg even when doing consistent acceleration runs, it's outstanding.
Interior
The interior has a few key differences, but it's very similar to the GTI. R-specific features include very comfortable Recaro-style seats with an R emblazoned on them, they offer good bolstering and comfort.
The rest of the cabin is just as friendly and functional as it is on the GTI. THere's a nice spot ahead of the shifter to charge your phone wirelessly: Apple car play and Android Auto are standard. Carpeted door pockets are a nice touch and there is ample storage space in the center armrest and some smaller cubbies near the shifter.
Of course, we know the R has adopted the ID.4's complicated user interface, it has a 10.3-inch digital instrument cluster and a 10.0-inch touchscreen, filled with maddening capacitive touch buttons and sliders. It feels a bit rough around the edges but VW needs to take stock of the feedback and improve it for the next models.
The steering-wheel buttons function as both touchpads and regular buttons, which can lead to accessing menus you didn't really want. I kept touching the R button with my left palm.
Utility is key in a hatchback and the R offers plenty of cargo space in the rear with 19.9 ft³ and 34.5 ft³ if you drop the rear seat backs.
Safety
VW's new IQ. Drive active safety equipment comes standard with the automatic transmission, (my tester) which includes adaptive cruise control for long-distance driving, automatic emergency braking, rear cross-traffic alert, and much more.
Verdict
The 2022 Golf R is quantifiably quicker, much more capable, sure-footed, extremely practical, and utterly grin-inducing on twisty back roads. The new Golf R is less demanding to drive than the GTI, is even more fun and that extra cost is now finally worth it, it's the most exciting Golf R yet.
VIDEO REVIEW
2022 Golf R Numbers
VEHICLE TYPE: Front-engine, 4-wheel-drive, 5-passenger, 4-door hatchback
BASE PRICE: $44,445
PRICE AS TESTED: $45,440
ENGINE: 2.0 turbocharged and inter-cooled DOHC 16-valve inline-4
POWER: 315 hp @ 5,900 rpm
TORQUE: 310 lb-ft @ 1,900 rpm
TRANSMISSION: 7-speed dual-clutch automatic
CURB WEIGHT 3,380 lb
ZERO to 60 mph: 4.2 seconds
TOP SPEED: : 168 mph
TIRES and WHEELS: 19-inch alloys w/summer performance tires
EPA city/highway/combined: 23/30/26 mpg
FUEL TANK CAPACITY: 14.5 gallons
OUR OBSERVED: 23.9 mpg
PROS: Sensational in the turns, blazingly quick, surprisingly fuel-efficient
CONS: That interior tech