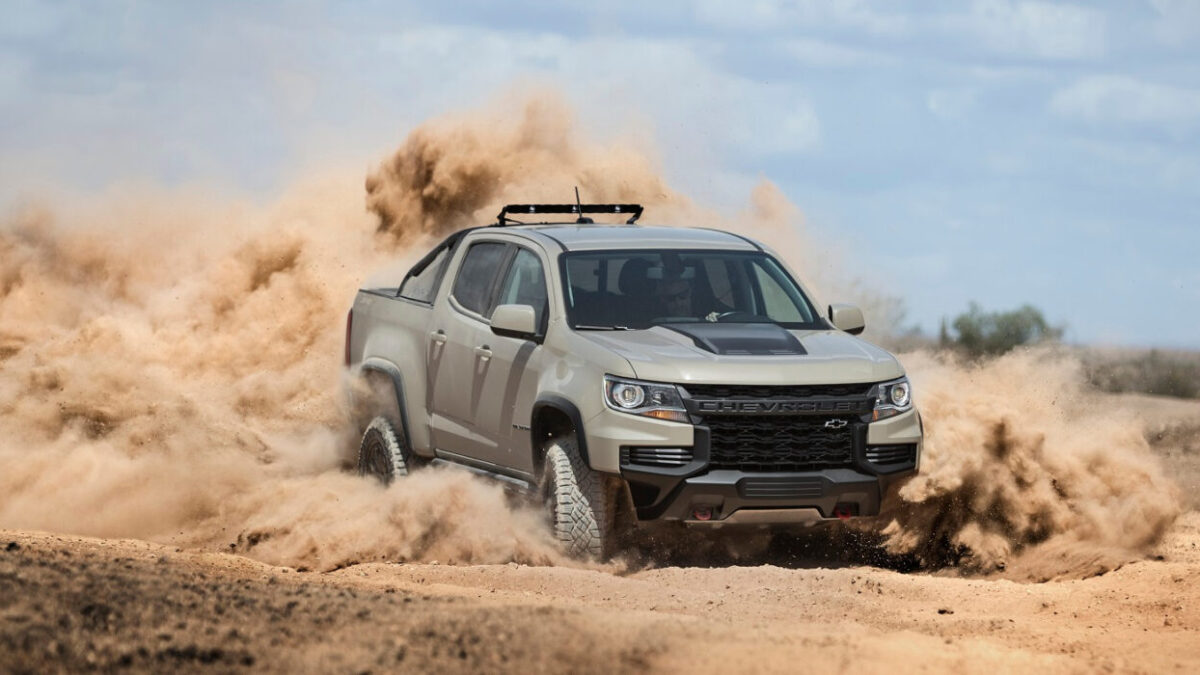 Purpose-built off-road vehicles are gaining in popularity these days and are specifically aimed at folks who don't want to sift through parts catalogs and do it themselves. We tested the ZR2 Bison back in 2019 and came away very impressed so we were very excited to try it again only this time with the Duramax turbo-diesel engine.
It faces some challenges in the form of the Jeep Gladiator Rubicon, Toyota Tacoma TRD Pro, and if you were to step up to full size there are other off-road performance trucks like the Ford F-150 Raptor and Ram Power Wagon. Of course, we'll discount the incredible RAM TRX here since it's way more expensive.
It's important to note that the standard ZR2 is already super capable off-road, but Chevrolet takes it a step further here and collaborates with American Expedition Vehicles (AEV) to create an ultra-rugged truck designed to tackle the toughest terrain possible.
The ZR2 Bison is the most rugged version of Chevy's Colorado, fully prepped for serious trail duty and it works, this vehicle shines off-road and goes places you wouldn't expect it to. The standard ZR2 is improved over lesser models by having locking front and rear differentials, a stronger rear axle, beefier front control arms, and Multimatic™ shocks as well as underbody protection.
Chevy then sends it to American Expedition Vehicles EV where they add five heavy-duty, hot-stamped, boron steel skid plates to shield the radiator, front and rear differentials, transfer case, and gas tank from damage when crawling over rocks. The front and rear bumper are new, creating less overhang, the front has mounting points for a winch and the rear gets integrated recovery points.
A mean-looking front grille replaces the original and the traditional Chevy bowtie is replaced with the word "CHEVROLET" instead. To finish off the package, standard fog lights, Bison-specific 17-inch aluminum wheels shod with 31-inch Goodyear Wrangler tires, and AEV badges.
There are 2 power options, 3.6-liter V6 making 308 horsepower and 275 pound-feet of torque mated to an eight-speed automatic transmission and in my tester a 2.8-liter Turbo-Diesel with 186 horsepower and 369 lb.-ft. of torque
There are rumors that this engine is being discontinued and the 3.0-liter Duramax from the Silverado will be used instead. If so, this is great news since the 2.8 is a bit sluggish (0-60 in 9.0 seconds) despite having a ton of torque. The 3.0 has 277 horsepower at 3,750 rpm and 460 pound-feet of torque at 1,500 rpm and if this is optioned will be superb.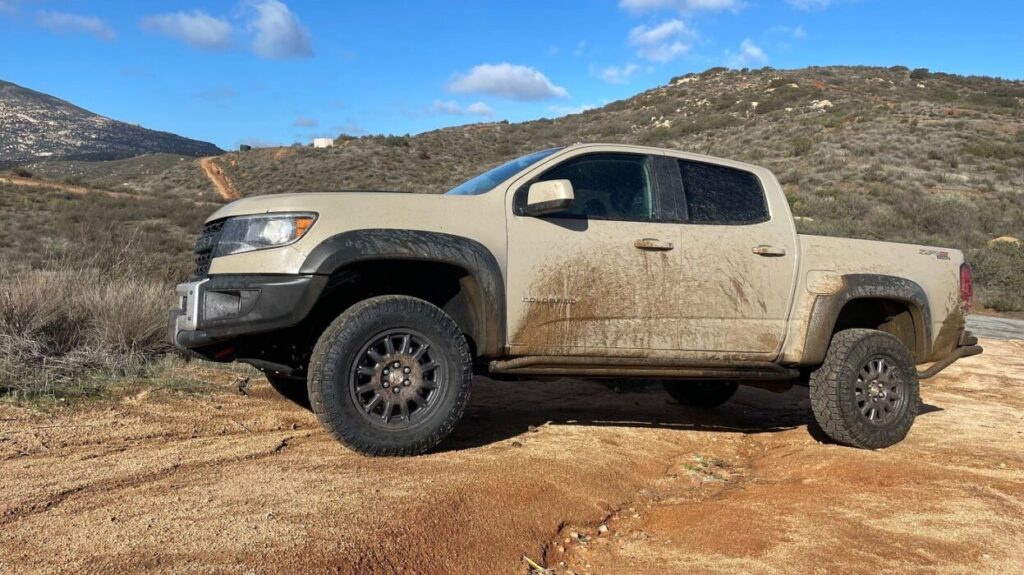 On-road
Despite the turbo-diesel-equipped model being 200lbs heavier than the V6, it handles very well on road, at speed, and does a good job in the twisty bits.  Quick it's not but it is more economical with EPA numbers for Combined/city/highway at 19/18/22 mpg. For the week we averaged a respectable 19.8 mpg and that included testing off-road.
On the highway the ride is really smooth, it's much better than the Gladiator and Tacoma, thanks to its Multimatic™ shocks, you barely feel it's wearing 31-inch Goodyear Wrangler tires.  The bison is very stable at speed and in the turns, there's no float or waywardness, it simply goes.
The dampers prove their worth by ironing out almost every bump, pothole, and expansion joint and it's all done so quietly you'd never guess it was such a capable off-roader. The chassis maintains excellent body control and it will of course eventually under-steer, but the body control is excellent as is the steering, which is as sharp and precise as I have ever tested on a truck. Brakes do require a firm shove, but the pedal feel is very good.
Off the beaten path
In order to give the Bison a proper workout, we ventured out East to Otay Mountain and Marron Valley where most of the trails are decomposed granite well maintained by the Border Patrol. Venture off the main trails and things get more technical with some steep, narrow, rock sections to enjoy. Getting up there requires selecting 4-wheel low and a slow and steady pace. On a couple of occasions over some bigger boulders, I locked the rear diff and with light throttle modulation the Bison easily made it up to the top. Once there you have several choices and of course, we opted for the most deeply rutted.
The best news is that while on this bumpy stuff the shocks react quickly to the changes in the terrain and your spine and teeth are much the better for it. Even washboard surfaces are no match for this suspension. The rocky portions of our drive helped to highlight the skid plates and while I was careful not to scrape the underside of the truck when rock crawling, we did get a few scraping noises on the downhill sections on the way back.
The Bison makes you feel like you can go anywhere and everywhere, and I spent most of the week looking for any dirt road I could find, and at no time did it feel like the limits of the ZR2 were approached. Of course, you can find more difficult routes that would be impassable but for the most part, you can scramble your way over most obstacles.
Interior
The interior is still an area that Chevy needs to improve on, and it wouldn't take much, including fewer brittle plastics, and a rethink on design. One problem is the wireless charge which is too small to fit my iPhone 12 even if I remove the case. There are plenty of power points, with a pair of USBs, a 12-volt outlet, up front. Rear passengers have easy access to another two USB ports of their own and a 12-volt outlet on the back of the center console.
The driving position is good and the ZR2 comes with leather seats that are supportive but a little too firm, luckily the suspension saves your rear. The infotainment screen is an 8-inch affair, which is somewhat small and provides providing navigation, a seven-speaker Bose audio setup, 4G LTE Wi-Fi hotspot, and Bluetooth. Apple CarPlay and Android Auto functions are also supported.
Lift up the rear seats and there is a storage cubby with ample space for all your gear and the seatbacks fold down to create a relatively flat platform.
Verdict
The ZR2 with extra protein (Bison) is an absolute Billy goat when it comes to off-road ability, but it will cost you an additional $5,750 and another $3,720 if you opt for the turbo diesel. With those two checked the MSRP including destination rises to $54,940 from a base of $44,200.
I love this truck, the Bison is an incredibly capable off-road midsize pickup, with few competitors save for the Toyota Tacoma TRD and the new Jeep Gladiator Rubicon. The Jeep has a better turbo diesel for now but the ZR2 is much better on-road and nearly as capable as the Jeep off it. The Tacoma is a solid truck with great reliability on its side but its antiquated feel on the road makes it uncomfortable for longer trips.
I'll take the ZR2 Bison thanks. 
VIDEO REVIEW
2022 Chevrolet Colorado ZR2 Bison Numbers
BASE PRICE: $44,900
AS TESTED PRICE: $54,940
VEHICLE TYPE: Front-engine, rear/all-wheel-drive, 5-passenger, 4-door pickup
ENGINE: 2.8 Liter turbocharged and inter-cooled DOHC 16-valve diesel inline-4
POWER: 181 hp @ 3,400 rpm
TORQUE: 369 lb-ft @ 2000 rpm
TRANSMISSION: 8-speed automatic with manual shifting mode
CURB WEIGHT: 4,975 lbs
ZERO to 60 mph: 9.0 sec
EPA Combined/city/highway: 19/18/22 mpg
OUR OBSERVED FUEL ECONOMY: 19.8 mpg
PROS: Great fun on and off-road, goes anywhere
CONS: Can get pricey, the interior could feel a bit more special, Duramax is a bit slow