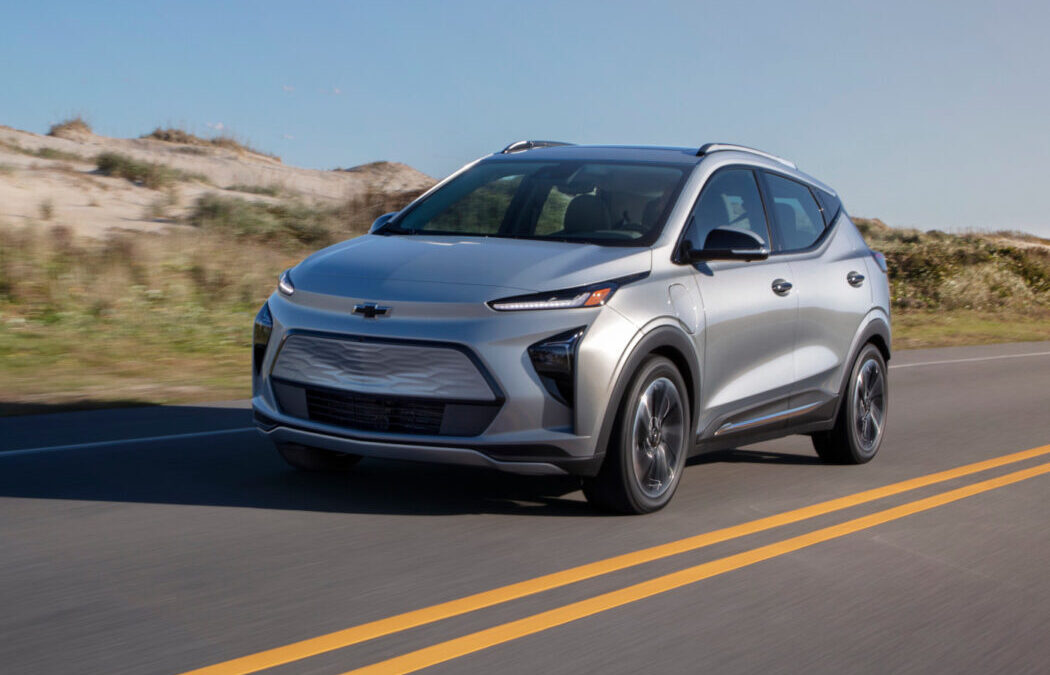 This is the 2022 Chevy Bolt EUV and it's been a bit of a wait since the battery recall that halted production due to certain batteries catching fire while charging. GM says it's all fixed now and has restarted production. I did drive the Bolt EV hatchback a few years ago and came away suitably impressed. The Bolt EUV uses the same mechanicals but with larger dimensions and slightly bolder styling.  
I have owned a Chevy EV before since I was an early adopter of the original Spark EV which was an absolute hoot to drive with its 140 hp and believe it or not 400 lb-feet of torque, wheelspin was a part of daily life. The downside was a range of only 80 miles with a light right foot, 60 if you were me. 
Styling
The 2022 Chevrolet Bolt EUV looks very similar to the Bolt EV the most obvious change between the two being the EUV is 6.3 inches longer with 3.9 inches of additional wheelbase between its 17-inch alloy wheels. You might expect this to give you more cargo space but it doesn't, instead, you get an identical 16.3 and 56.9 cubic feet. The extra wheelbase length does provide 3.1 inches of rear legroom but not extra headroom which is at a premium. Still, it's not a bad place to spend on shorter trips.
Viewed from the front the Bolt EUV looks very futuristic with its thin running lights, and a blocked-out body-color grille, it's a big contrast to the back of the EUV where the bumper is partially colored in a black coating and the load height is somewhat high. There's a cool-looking rear spoiler but a lot of the rear hatch is covered in shiny piano black a material that is unfortunately overused these days.
Super Cruise
My tester had Super Cruise technology which works with the Adaptive Cruise Control system, controlling acceleration and braking when enabled and the driver can choose between 3 levels of distance. I suggest using the shortest one or cars that pull into your lane a long way off will force the car to slow down. Super Cruise functions with Chevrolet Connected Services and uses real-time precise positioning cameras, sensors, and LiDAR map data to help detect curves, etc.
Super Cruise does allow you to drive hands free but a sensor on the steering wheel monitors your head position, so if you don't look forward the system warns you up to and including bringing the vehicle to a complete stop.
Charging
This is where the Bolt EUV is let down, using a 350-kW DC fast-charger, the Bolt's charging rate maxed couldn't manage much more than 50 kW so charging from 10 to 80 percent took an age and many cups of coffee. A comparable Volkswagen ID.4 charges at 125 kW so your caffeine intake is going to be greatly reduced.  As far as range goes the EPA rates the EUV's range at 247 miles, which based on several trips seems very doable.  
Under the hood
It has the same single permanent magnet motor from the Bolt EV, it's good for 200 hp and 260 lb-ft of torque and is mated to a single-speed transmission. 0-60 takes 6.8 seconds and it does spin its wheels if you are not careful on take-off, so I sort of wish it had a rear-wheel drive platform.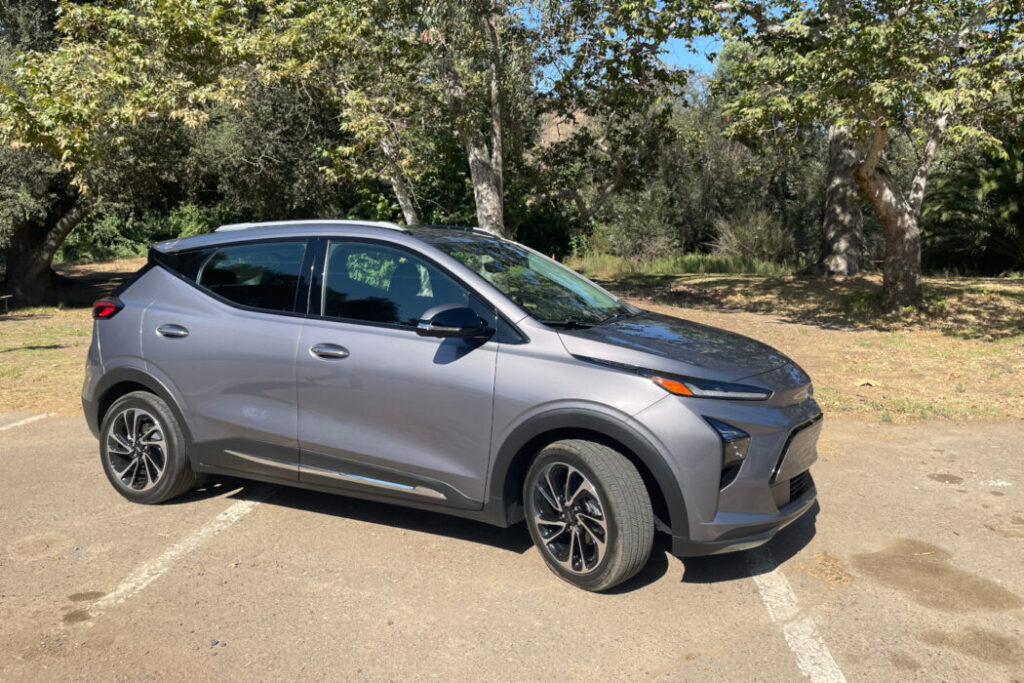 Driving
The EUV's small size means it gets going in a hurry and will serve up plenty of wheelspin if you mash the go pedal with any kind of vigor. All those 260 ft-lbs come on at 0 rpm which is why EVs are such fun and the lower center of gravity thanks to the battery being under the car makes it handle fairly well, albeit with some body roll.
I wish it had been designed on a rear-drive platform though, like the ID.4; it would help it steer better and avoid that wheelspin issue as well. Back off the accelerator and it's very easy to drive in town, a quick prod and 30-50mph is done in a couple of seconds, and passing is a doddle. At highway speeds, things are not so good, and the range starts to take a hit if you encounter any steep hills.
Regen is minimal in the default mode, but there's a one-pedal mode that provides hefty regeneration, great for around town since it helps to extend range. A paddle behind the steering wheel also dials in regen on demand and can even bring the Bolt to a complete stop.
Interior
Seats are generally comfortable with the driver getting power adjustment including lumbar, the passenger gets manual controls even on the Premier trim. It's understandable since an EVs worst enemy is additional weight.
All  EUVs get a 10.2-inch touchscreen on the dashboard running the Chevrolet Infotainment 3 Plus system, which is responsive and has crisp graphics with large buttons that are easy to operate on the move, it's one of my favorite systems.
Wireless Apple CarPlay and Android Auto are included, with a wireless device charger that charged my phone in its case, and a couple of USB ports (one USB-A, one USB-C) for both front and back riders. Ahead of the driver is an 8-inch display for a gauge cluster, and it's easy to operate via steering wheel-mounted buttons.
You can see some savings in the quality of some materials, the center console and below the knee areas are hard plastic but it all seems screwed together well and I didn't notice any creaks or rattles while I had the car.
Safety
All EUV trims come with automatic emergency braking, lane-keeping assist, lane-departure warning, bumping up to the Premier trim gets you rear parking sensors, a rearview camera mirror, an excellent surround-view camera system, blind-spot monitoring, and adaptive cruise control.
Pricing
This Premier model starts at $37,500 and has a couple of options, the Sun and Sound Package for $2,495 which includes a Bose sound system, a sunroof, navigation, and a power sunshade. Also on this model is Super Cruise which includes enhanced Automatic emergency braking for $2,200. 
The total price of my tester is $43,190 including destination and the good news for 2023 is Chevy is discounting the car by $6,300. Don't check too many options boxes and you can get this car for a little over $30k making it one of the cheapest EVs you can buy with a range of over 200 miles.   
VIDEO REVIEW
Verdict
Due to its slow charging rate, the Bolt EUV is very good as a commuter car, however, a 90-minute fast charge on a road trip is somewhat of a pain especially when the competition charge so much faster. Having said that though it's really as much EV as most people need, a bit boring but ultimately the smart choice.  
On the plus side, it's fun to drive, decently well-built, and very competitively priced, especially for the upcoming 2023 model which will be discounted by $6,300.
2022 Chevrolet Bolt EUV Numbers
BASE PRICE: $37,500
AS TESTED PRICE: $43,190
VEHICLE LAYOUT: Front Motor, FWD, 4-passenger, 5-door crossover
ENGINE: Permanent magnet electric motor
BATTERY: 65.0 kWh lithium-ion
POWER: 200 hp @5,500 rpm
TORQUE: 266 lb.ft @ 0 rpm
TRANSMISSION: Direct-drive
CURB WEIGHT: 3,800 lb
0-60 MPH: 6.7 seconds
EPA CITY/HWY: 125/104 MPGe
DRIVING RANGE: 247 miles
CARGO SPACE: 16.3 and 56.9 cubic feet with rear seats folded
PROS: Quick, Impressive regenerative braking, roomier
CONS: Some cheaper plastics inside, needs faster charging