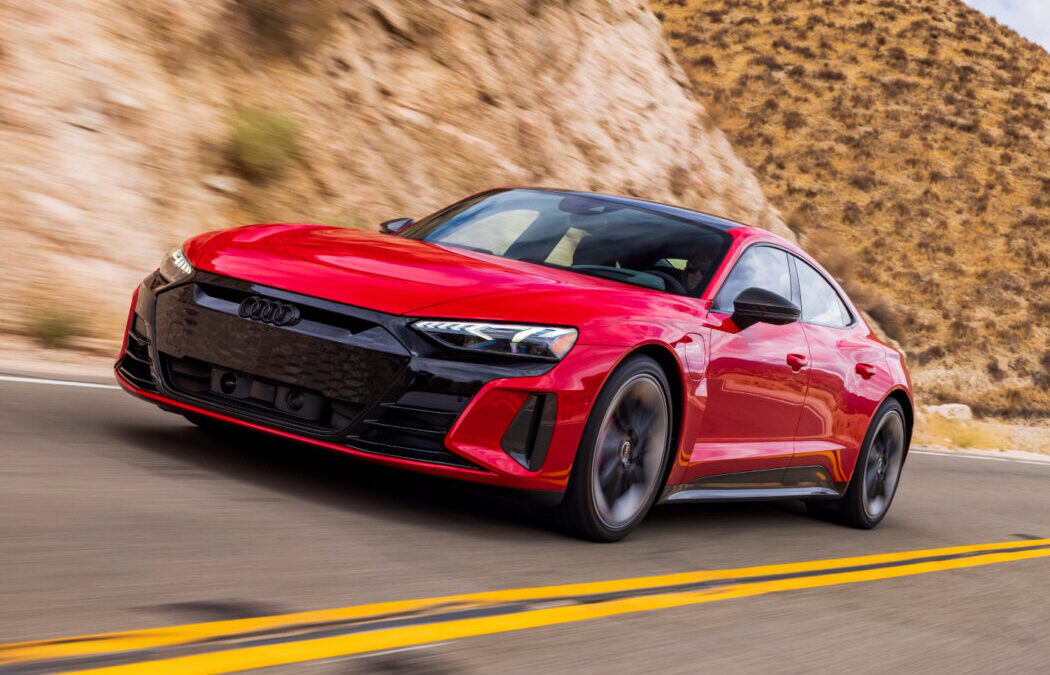 If you're going to charge an extra $39,000 on top of the price of the Audi e-tron GT then it better be spectacular because that car really was. So now I have its big brother the 2022 Audi RS e-tron GT and it's essentially a Porsche Taycan only better mainly because it looks fantastic and is a lot cheaper, but is it worth the extra money?
Year One package
Of course, the RS e-tron needs to stand out a bit more and my tester had the Year One package which includes laser lights at the front, carbon fiber doors sills, carbon fiber exterior mirror housings, and power steering plus with rear-wheel steering.  You also get 21-inch 5-spoke wheels wearing Goodyear Eagle Asymmetric 5 summer tires and carbon ceramic brakes with 6-piston red painted calipers.
On the inside you get Fine napa leather, a leather-covered dash, motorized side and leg bolsters for the front seats, massage functions, and red seatbelts with red stitched floor mats.
So, what does all this cost, well the base price is $139,900 plus the Year One package brings you to a total price of $161,890 including destination
What makes it go?
You get two permanent-magnet synchronous AC motors one for each axle which together provide a combined 637 hp and 612 lb-ft of torque which is only available for about 2.5 seconds when using launch otherwise you get 590 hp for everyday use. All this power is driven through a direct-drive, 2-speed automatic transmission which helps it pile on the speed even in the upper reaches. At a traffic light, it whirrs to sixty in 2.9 seconds easily beating any other car unless it happens to be a Tesla Plaid of course.
The battery pack is a liquid-cooled lithium-ion, with 85.0 kWh of usable capacity and it has an 11.0 kW Onboard Charger so charging from 0-80% takes around 20 mins. Per the EPA, the RS is rated at 232 miles on a single charge but we found even in hard driving the regen is excellent and we went 240+ on several occasions.
Driving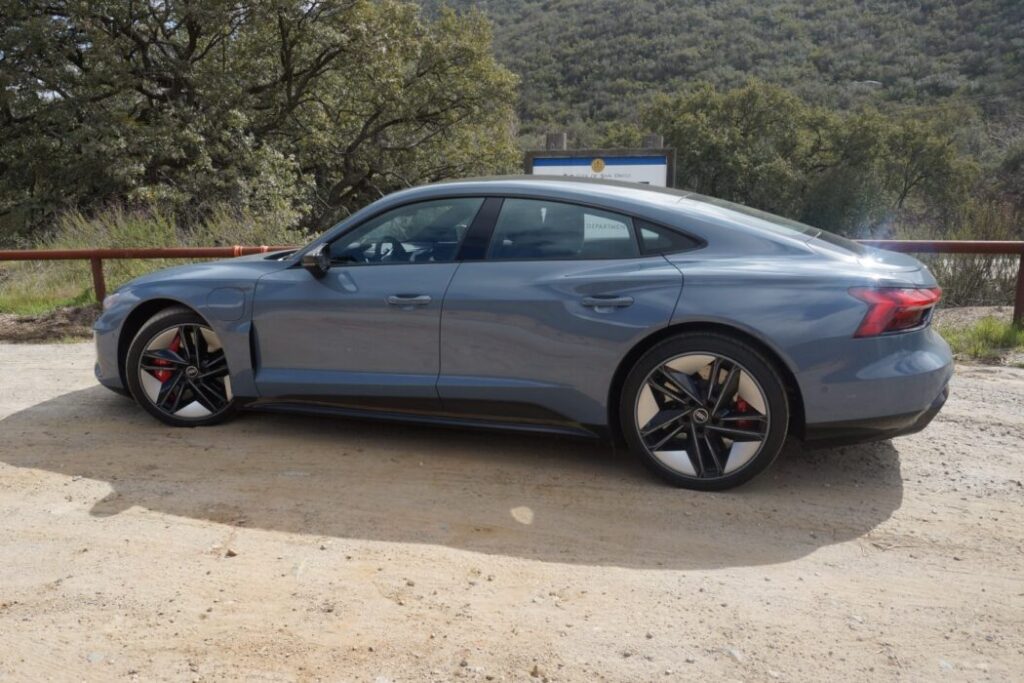 On the road, the RS GT is absolutely sublime, in Comfort mode, you waft along, the suspension is compliant and passengers would be none the wiser that a push on the go pedal will unleash hell. Despite weighing a little over 5,000 lbs forward thrust is never lacking and you have the ability on two-lane roads to pass anyone regardless of how short the broken lines are.
Audi uses steering-wheel paddles to control regenerative braking and you can change the settings on the fly, particularly if you are going down a steep hill or coasting. The max setting doesn't quite offer enough regen for one-pedal driving since Audi wants to make its EVs more of a normal driving experience.
To control all that power Audi has fitted 21-inch Goodyear Eagle Asymmetric 5 summer tires, which are smaller on the front, 265/35s, and 305/30s on the rear which is a foot's width of rubber. I can tell you there's no shortage of grip.
From a stop and without exercising any restraint the Audi Rs e-tron darts forward with a slight chirp from the front tires and whooshes towards the horizon while your eyeballs and internal organs get pushed backward alarmingly. After a while, you stop these shenanigans and settle down to driving this absolutely magical car.
This RS is not some stoplight drag racer, it's properly good in the turns, and once you realize you are approaching turns too fast it becomes a very fast GT car. The rear-axle steering helps it turn in with incredible crispness and it holds its line through the corner and then you can mash that accelerator again, it's so effortless.
There are a few modes to choose from, Efficiency, Comfort, Dynamic, and Individual, the latter I prefer the most since you can put everything in the most aggressive mode by dialing back the suspension to comfort, great for San Diego's awful roads.
Interior
Inside the e-tron GT loses the dual-screen infotainment setup found in the E-Tron SUV in favor of a single 10.1-inch screen and adds physical climate controls on the dashboard below. It's a slick system, fast and easy to use with nice haptic feedback and crisp graphics. Audi's 12.3-inch Virtual Cockpit ahead of the driver is still light years ahead of the competition and is the best on the market.
The interior is beautifully made, with super supportive front seats, and carbon fiber everywhere including the roof which replaces the glass panel in the regular GT, which I  prefer. There's not a lot of storage space, however, you can fit two larger cups in the center console.  The small area to the left of the shifter is too small for most phones and the center console bin is tiny but that's not going to make me not love this car.
If I magically had the money to buy one I certainly wouldn't be letting someone else drive and be sitting in the back but if you have to go back there it's alright, with limited head and legroom it's ok for short distances. The two cupholders are a good size and will easily hold a couple of Martinis.
Cargo Space
The trunk offers up to 9.2 cubic feet of space and the rear seats do fold flat if you need more room and as an added bonus you can poke through longer items by folding the rear armrest. Up front, there's a frunk with 1.8 cubic feet of space.
Will it fit in my garage?
The RS e-tron is approximately the same length as an A7, but it's much lower and wider and from the back, especially with those very wide tires, it looks dramatically muscular. It fits in my garage which is a standard size so you shouldn't have any problems keeping it away from prying eyes.
Video Review
Verdict
This Audi RS e-tron GT is hands down one of the best electric cars I've ever driven. It's gorgeous, sophisticated, and incredibly powerful, but it is also very, very expensive. Is it worth the $39,000 over the GT version, probably not but in this realm most people with this kind of money are looking for bragging rights.
2022 Audi RS e-tron GT quattro numbers
BASE PRICE: $139,900
AS TESTED PRICE: $161,890
VEHICLE LAYOUT: Dual motor, all-wheel-drive, 5-passenger, 4-door sedan
ENGINE: 2 permanent-magnet synchronous AC motors
BATTERY:  Lithium-ion, 85 kWh
COMBINED POWER: 637 hp
TORQUE: 612 lb-ft
TRANSMISSION: direct-drive, 2-speed automatic
0-60 MPH: 2.9 sec
CURB WEIGHT: 5,100 lb
CARGO VOLUME: 9.2 cubic feet
EPA COMB/CITY/HWY: 81/79/82 MPGe
RANGE: 232 Miles
PROS: Beautifully made, seriously fast, the best Audi yet
CONS: Could use more range