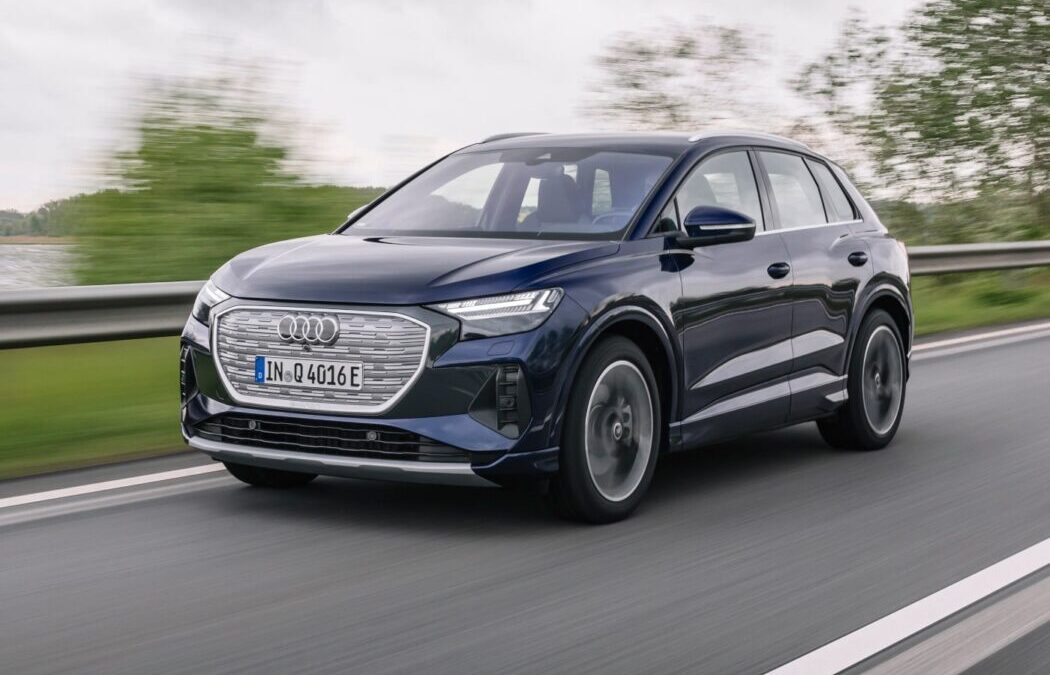 If you're looking for a first-time mid-size electric crossover, then Audi thinks it has just the car for you, in the shape of the 2022 Audi Q4 e-tron quattro.
Let's cut to the chase though since this car is essentially a VW ID.4 underneath but that's not a bad thing, I particularly liked that car. It's 15 feet long and rides on a 108.7-inch wheelbase, it's bigger than the Q3 but smaller than the Q5, its gas counterparts. 
So how does it look well very modern but conventional, there isn't any weirdness about it, it's just normal.  At the front, you get matrix LED headlights and you can choose between four different light signatures for the daytime running lights. Very posh indeed.  At the rear, you get modern looks, a narrow light cluster then runs along the width of the car, and "e-tron' stamped into the bumper. 
Pricing
This is a Prestige model but base prices start at $49,900. The prestige package costs $6,300 and for that you get animated headlights and taillights, dual pane acoustic glass, a Virtual cockpit plus, a heated steering wheel a power tailgate, LED lighting, and a whole lot more.  
My tester also had the S Line package for $2,200 which includes these 20-inch 10-spoke alloy wheels with all-season tires, black exterior trim, front sports seats, a top and bottom flattened steering wheel, and an S-Line exterior.  All that takes the as-tested price to $60,000.  
Under the hood 
The Q4 shares its platform with ID.4, so the mechanicals are very similar. For the dual-motor, all-wheel-drive version you get 295 horsepower and 339 pound-feet of torque. As in the VW, a usable 77.0-kWh battery provides power to the motors. Ona full it should be able to go 241 miles on a full charge although the onboard range guessometer never seemed to show more than 210 available miles even when charged to 100%.
Audi says the Q4 E-Tron will hit 60 mph in 5.8 seconds, and we have no reason to doubt that but as speed increases so does the forward thrust. 
Driving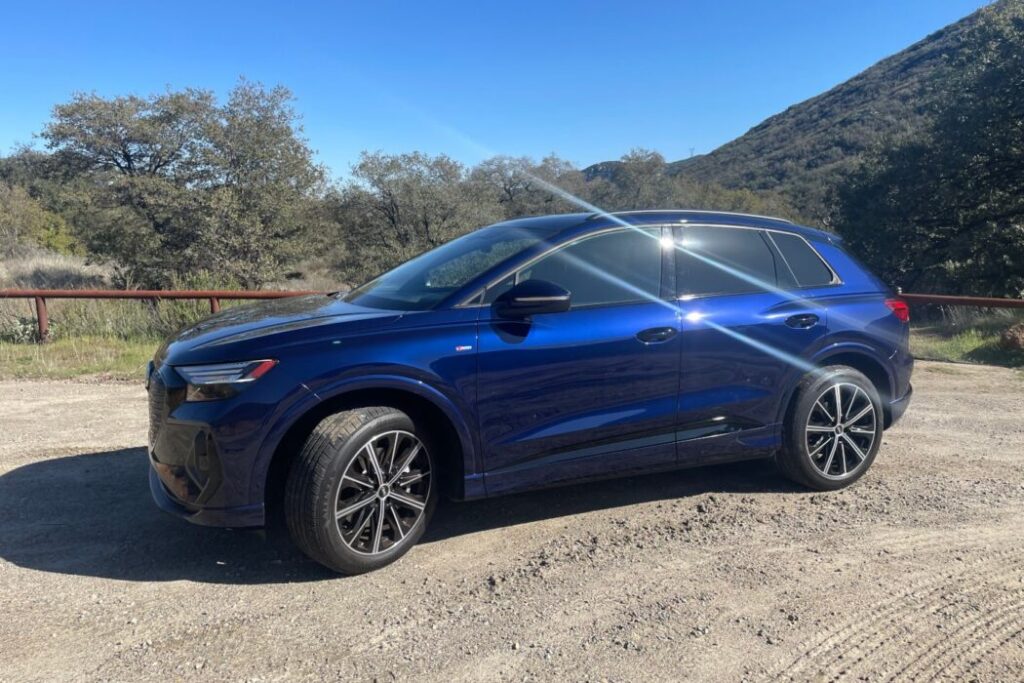 If you've driven almost any other electric vehicle then you'll be familiar with regenerative braking if not then this is what it is in a nutshell:
Regenerative brakes work by reversing electric motors that propel a car. It works like a generator and feeds energy back into the hybrid or electric system to help replenish a little bit of range.
The Audi Q4 e-tron can recoup some energy through regenerative braking, and pushing the brake will have it kick in first before the actual mechanical brakes are needed. In the Q4 this translates into a squishy brake pedal which although unnerving at first is quite normal, it just takes a little getting used to.
The shifter on the center console allows you to choose between D or B, B is regen and D is a like normal drive, however, you can use the paddles on the steering wheel to adjust the level of regen if you wish. It won't bring the car to a complete stop but once at a stop, the parking brake is automatically set so you can take your foot off the brake.
On the road, the Q4 e-tron feels taut and precise thanks to a multilink rear setup that uses passive dampers making the ride comfortable and not too firm even in Dynamic mode. Set to this mode and the Q4 hustles quite nicely, the motor barely audible, and wind noise is kept to a minimum thanks to my tester's acoustic front glass. Charge into a turn and the car keeps a solid line with minimal body roll and the faster I went the better regen I got in D mode. "Officer I had to go fast to charge my battery" may be the new excuse EV drivers can use.
Interior
Inside every Q4 gets a 10.1-inch touchscreen running Audi's latest MMI infotainment software, and includes wireless Apple CarPlay and Android Auto. A 10.3-inch digital instrument cluster comes standard, too, but my Prestige trim tester gets an upgrade to Audi's Virtual Cockpit Plus setup with Google Earth maps, which in my opinion is the best one available.
Upgrading to the sports seats that come with the S-Line package ($2,200) is a good choice since I find Audi's standard chairs to be a little flat and uncomfortable for longer journeys. They also lack the side and leg bolsters.
The new sawn-off top and bottom steering wheel reminds me of the Corvette, it's unusual but it works. I also like the new floating center console that houses the shifter, the start button, and the circular track and volume control slider. It sets this one apart from all other models and also allows for some useful space underneath for the wireless charger and storage.
All Q4s come with heated leather seats, but to my surprise, my tester didn't have cooled seats, it may have been an option that wasn't checked but it's a miss nonetheless. Rear seats are decent but headroom is limited, however, cargo space is pretty generous with 24.8 cubic feet behind the rear seats and 53.1 cubic feet if you fold then flat.
Safety
Standard driver-assistance tech includes blind-spot monitoring, lane-departure warning, parking sensors, and rear cross-traffic alert. If you want You have to step up to the Premium Plus trim in order to get adaptive cruise control with lane-keeping assist, and cool technologies like matrix LED headlights and an augmented reality head-up display are reserved for the top-end Prestige. You can even change the daytime running light signature for the matrix lights. Pretty cool.
Video Review
Verdict
The Audi Q4 E-Tron doesn't look weird, has normal controls, is comfortable, decently quick, and carries a luxury badge. For those looking to dip their toes into stylish EV ownership then this one has your name all over it. It's not perfect, it could use more range and for me more performance but I expect Audi to follow this up with an SQ4 and even an RSQ4, we can but dream.
2022 Audi e-tron quattro numbers
BASE PRICE: $49,900
AS TESTED PRICE: $60,090
VEHICLE LAYOUT: Front-engine, all-wheel-drive, 5-passenger, 4-door crossover
ENGINE: 2 induction permanent magnet AC motors
BATTERY: Liquid-cooled lithium-ion, 77 kWh
ONBOARD CHARGER: 11 kW
PEAK DC FAST CHARGE RATE: 125 kW
COMBINED POWER: 295 hp 
TORQUE: 339 lb-ft 
TRANSMISSION: 1-speed automatic transmission
0-60 MPH: 5.8 sec
CURB WEIGHT: 4,800 lb (est)
CARGO VOLUME: 24.8 ft³, 53.1 ft³ with seat area
RANGE: 241 miles
EPA FUEL ECONOMY: 89 MPGe
PROS: Very quiet inside, solid cabin, conventional looks 
CONS: Needs more range, midpack performance