It's been a while since I've driven an Audi sedan, in fact, it's been a while since I've driven any sedan save for the excellent Cadillac CT4 V Blackwing a few weeks ago. It made me pine for more, so I was suitably happy to receive a 2022 Audi A4 S-Line 45 quattro model in a very fetching Tango Red metallic.
You'll no doubt remember that a few years ago Audi introduced its new model numbering system with a 2-digit number to denote the horsepower range. Since the new A4 models have more power than those ranges indicate, my tester simply had the words A4 and quattro on the back. Keep it simple. 
This does, however, make it tricky to discern if someone has the base model 40 which has 201 horsepower, or the 45 which has 261 horsepower and 273 pound-feet of torque both of which are mated to the excellent 7-speed DSG transmission. On top of that this 2.0 liter turbocharged four is fitted with Audi's 12v mild hybrid system which does away with the alternator/starter combo and sandwiches a small electric motor between the engine and transmission. A battery completes the system which allows the car to coast when you take your foot off the gas and makes it zippier too, providing improved off-the-line thrust.
My tester was a Prestige model which adds $8,900 to the base model's $42,000 price tag, as well as several options checked such as the Black Optic Package $1,200 which includes Black exterior trim including the Audi rinds front and rear. Red brake calipers and a matte black grille complete the look and for an additional $800 my car was fitted with five-spoke 19-inch wheels and summer tires. Audi beam rings ($275) will display on the ground with the door open and the front seats have ventilation ($800) in addition to the standard heated chairs.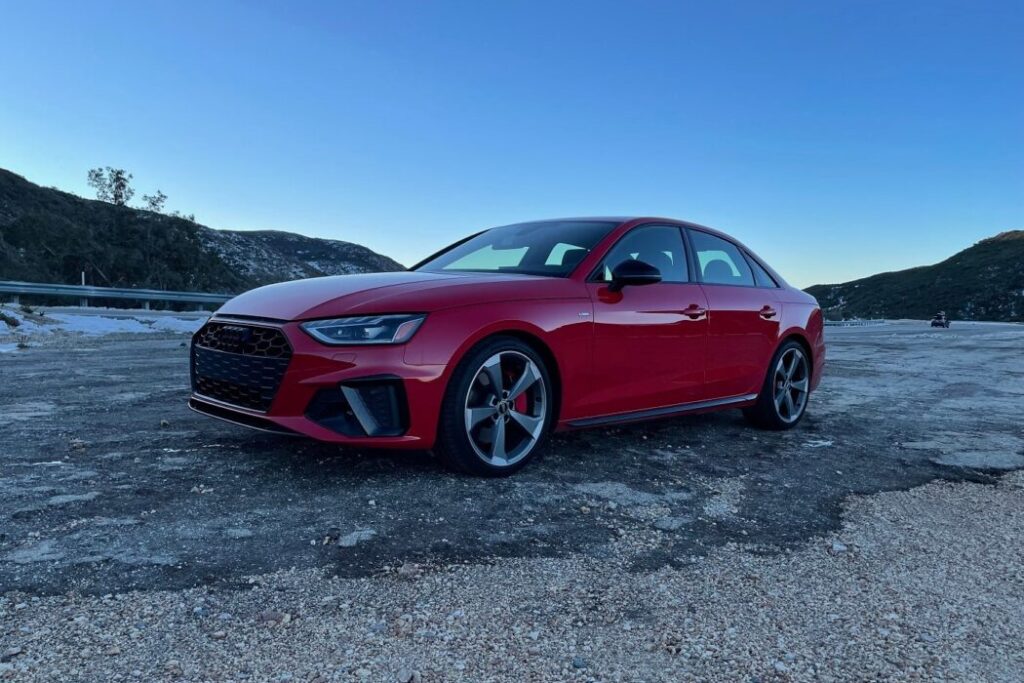 Bye-bye turbo lag
The A4 45 may not have an S or RS badge to its name but I am impressed with how quick it is, not only does it scoot off the line with no lag, but its midrange grunt is stellar. Passing slower vehicles on a 2-lane road is a doddle since the transmission in Dynamic mode is eager to change down and there are simply vats of torque available. Audi claims a 0-60 time of just over 5 seconds, but some independent testers have measured it in 4.8 seconds which is not far off an S3.
Comfort mode softens throttle response and provides silky-smooth driving, not that the Dynamic setting is jarring the same way as it is in a BMW 3 series, which could easily audition for a Flintstones movie. The mild-hybrid system does a great job in the background, and it's virtually imperceptible unless you are outside the car as it slows down.
Stick in Dynamic mode or Individual to customize the steering and suspension in Individual mode and you can have a lot of fun in this car, it reaches high speeds quite quickly and doesn't let you know such is the smoothness of it all. A glance at the speedo will determine quickly if your next stop might be the county jail.
Even with the optional summer tires, the A4 is quieter than a church mouse inside thanks to the extra thick dual pane windows in the Prestige model. Only on rougher pavement do you hear the tires and even then, it's quieter than both the Mercedes-Benz C300 4Matic and the BMW 330i.
The steering is perfect in Dynamic mode, it doesn't feel artificial and provides enough feedback for serious enjoyment in the twisty bits. The brake pedal requires a bit of practice since they bite almost immediately but do provide tremendous stopping power when needed.
My tester was shod with Hankook Ventus S1 evo2 tires (245/34) which provided phenomenal grip at all times. Apply the throttle mid-corner and the A4's nose just tucks in tighter and rotated around its center, no understeer and no complaints from the tires either, …. impressive.
Fitted with the Matrix LED headlights the Audi could act as a temporary lighthouse if needed, the automatic high beams were impressive, and even on low beams, they were incredibly bright. I turned off the automatic system though as they are still not fast enough or as intuitive as a human.
Standout Interior
Restrained excellence is the best way to describe the interior, it's simply brilliant, everything is where it should be, the detail and quality are superb, and it feels about as nice a place to be as I can imagine.
The steering wheel is round since there is no S moniker but drivers who feel the need can opt for the $500 S-Line interior package as it adds the three-spoke, flat-bottom sport steering wheel, leather, and Alcantara upholstery, brushed aluminum inlays, and stainless-steel caps for the two pedals.
Ahead of the driver, the very sharp-looking head-up display provides that all-important speed limit and of course how much over it you are, without having to take your eyes off the road. In the center console, the 10.1-inch infotainment screen is a masterpiece, each touch is accompanied by a clicking sound that tells you your selection has been successful, it's so tactile.
Audi's Virtual Cockpit, which replaces the gauge cluster with a 12.3-inch screen, is a technological marvel and offers up navigation, audio, and other information directly ahead of the driver. It's configurable in a multitude of ways and the graphics are super crisp.
Wireless Apple CarPlay and Android Auto. are standard and I like the fact that even large ones fit in the space provided.  You also get 12-volt power and one USB up front and two USB ports and another 12-volt outlet for the rear seat passenger.
Storage space is, however, at a premium, there are a couple of cups holders, but large cups should be avoided, or you'll obscure the HVAC controls, which are beautifully engineered. The adjustable center armrest which slides and has height adjustment covers the wireless charger and a small amount of storage space but not much.
Cargo Space
If there's one negative it's here, the trunk has only 12 cubic feet of space versus the BMW 3 series which has up to 17 cubic feet, however, there is one plus in that you can fold down the back seat and fill up the rear passenger compartment if you need the extra space.
Safety
Standard safety equipment includes forward-collision warning and automatic emergency braking, the  Prestige adds adaptive cruise control, lane-keeping assist, a bird's-eye camera, which is my personal favorite, and parking sensors.
Final thoughts
The 2022 Audi A4 is a triumph with only a couple of negatives that would be easy to fix. The BMW 3 Series was recently refreshed, and it strikes a good balance between soft and sporty, but nothing beats the Audi interior and the mild-hybrid powertrain is perfectly engineered.
I would think long and hard about getting an S3, which I love because this A4 strikes the perfect compromise, it's supremely comfortable yet sporty enough to frighten off proper sports sedans and if you needed more space then get an Audi A4 allroad.
VIDEO REVIEW
2022 Audi A4 S-Line 45 quattro numbers
BASE PRICE: $42,000
AS TESTED PRICE: $55,615 (Prestige Trim)
VEHICLE LAYOUT: Front-engine, all-wheel-drive, 5-passenger, 4-door sedan
ENGINE: 2.0 liter turbocharged and inter-cooled DOHC 16-valve inline-4
POWER: 261 hp @ 6,500 rpm
TORQUE: 273 lb-ft @ 1,600 rpm
TRANSMISSION: 7-speed dual-clutch automatic
0-60 MPH: 4.8 sec
CURB WEIGHT: 3,700 lb
CARGO VOLUME: 12 cubic feet
TIRES: Continental SportContact 6, 245/35R-19
EPA COMB/ CITY/HWY:  27/24/31 mpg
OUR OBSERVED FUEL ECONOMY:  mpg
PROS: Seamless acceleration, beautiful cabin, superb handling
CONS: Limited trunk space