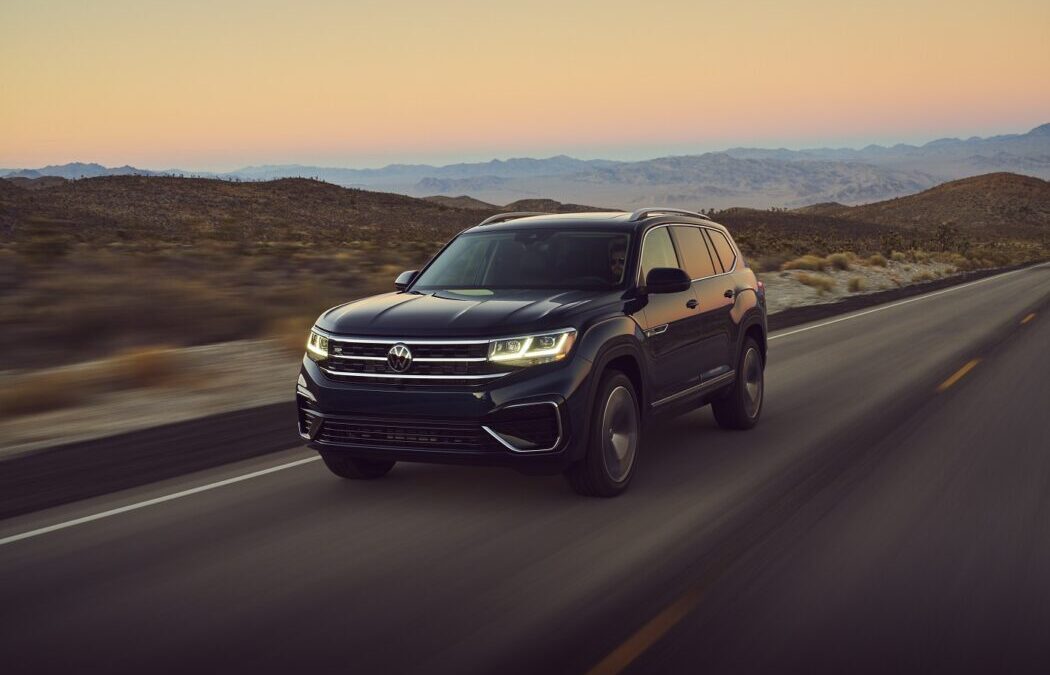 If you are looking for a practical three-row SUV then you can't really go wrong with the 2021 VW Atlas V6 SEL R Line, except there happens to be an awful lot of competition in this segment, and you are somewhat spoiled for choice.
The Atlas has had a light refresh for 2021 with a new front grille and the new MIB3 infotainment system which is really very good indeed, now including gesture control and wireless CarPlay and Android Auto connection.
It's still the largest vehicle that VW has ever built, it's big and blocky and most importantly has a 3rd row of seats, which actual humans will fit into. My tester had the optional captain's chairs for the 2nd row ($695) which I prefer but if you have dogs they can feel free to move around the cabin due to the gap between the seats.
My tester was a fully equipped SEL Premium R Line with a sticker price of $52,410 with every option except the aforementioned captain's chairs. Front seats have eight-way power with memory settings, a Digital Cockpit gauge cluster, a heated steering wheel, and a panoramic sunroof. Bear in mind that the R-Line models like my tester are available to order only, meaning you won't find them on a dealer lot.
More Agressive Exterior
The 2021 Atlas looks good, with a hint of Jeep in the rear fenders and a satisfyingly aggressive grille. It certainly has a presence on the road especially with the R-Line package, which includes a set of badges indicating such, a nice set of 20-inch alloys, R-Line bumpers, and stainless steel pedals.
Two engines are available for the Atlas. The base engine is a turbocharged 2.0-liter 4-cylinder engine with 235-hp and 258-lb-ft, our tester had the optional 3.6-liter V6 engine which makes 276 hp at 6,200 rpm and 266 lb.-ft. of torque at 2,750 rpm. An 8-speed automatic transmission powers the front or all four wheels, you can order 4-Motion as my tester had, which transfers power to the rear wheels if needed.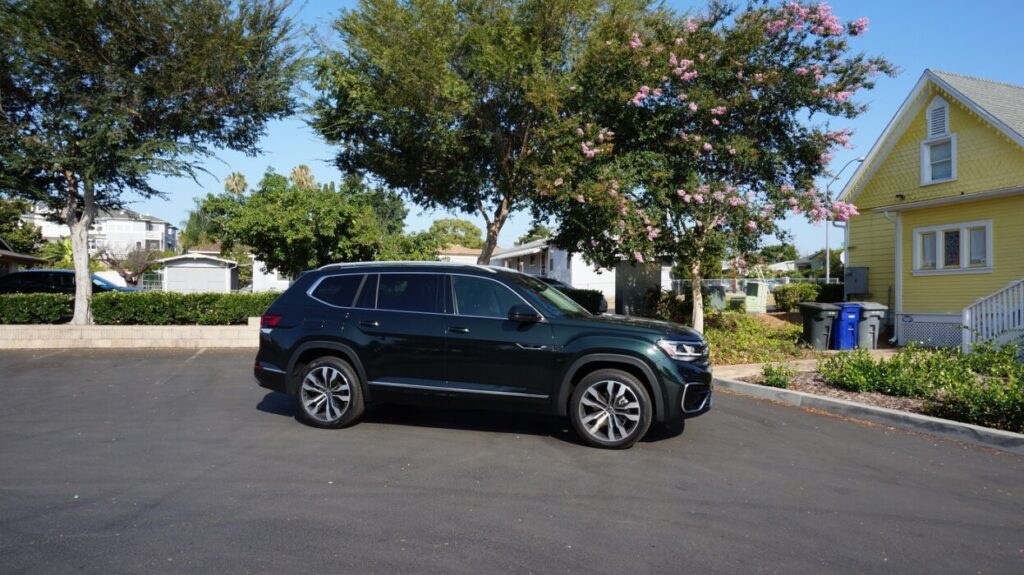 Driving
I stayed in Sport mode mostly, I found it firms up response and avoids the transmission's occasional hunting in normal mode.  We strapped on our test gear and with traction control off, and some wheel-spin, we got to sixty in 7.9 seconds, a perfectly adequate result given the type of buyer it is aimed at and we all know pure numbers don't always tell the real story.
The R-Line's exclusive 21-inch rims are mounted with wide 265/45R-21 Pirelli Scorpion Zero All Season tires, and they definitely contribute to the big VW's excellent stability. The suspension – struts up front, multi-link in the rear, offers a soft and supple ride but doesn't feel nervous or twitchy at speed. The only negative is when navigating broken pavement, the suspension can misbehave and cause the ride to become somewhat flinty.
Throw it into a tight corner and it will get upset but in most turns the big VW stays the course, staying pretty flat even when pressed hard. Steering is light and reasonably communicative (In Sport mode) and overall there's a very tight and sold feel to the Atlas. Cruising on the highway, the engine is quiet and unobtrusive and will happily rev to its redline. Brakes are strong and progressive and were fade-free after multiple stops from 70 mph during testing.
The SEL Premium trim offers a very impressive suite of safety applications including forward collision warning, pedestrian warning, autonomous emergency braking, lane departure warning, and blind-spot monitoring.
Economy
The EPA says the 2021 Atlas 3.6 liter V6 AWD should do 16 mpg in the city, 22 mpg on the highway, and 18 mpg combined, however, the best I could muster was 15.3 mpg, for which I blame a heavy right foot.
Inside
Inside the 2021 VW Atlas it's all is very Germanic, but the plastics and overall quality are good if not better than what is on offer elsewhere. My SEL Premium tester has had the leather seat option with a Shetland and Quartzite color.
It's an uncomplicated design inside,  all controls are within easy reach, the 8-inch touchscreen infotainment system is easy to operate, and the driving position is easy to adjust with the optional power seats. Seat comfort is good if a little hard, however, they do provide impressive thigh support and side bolstering. It would be
New tech
Being a 2021.5 model, my tester benefitted from the new MIB3 infotainment system which now includes gesture control, wireless App-Connect, multi-phone pairing, and enhanced voice recognition. MIB3 features an illuminated USB-C input connecter that makes plugging in your smartphone's charging cord easier than ever. The MIB3 system is also equipped with a redesigned navigation system, which features simplified map designs, quick access to frequented locations, more advanced route management, and more.
Access to the rear
There's plenty of room for second and third-row passengers and entry and exit is relatively simple. The 60/40-split folding second-row seats simply slide forward and back on tracks.  If you leave all seats up there is 20.6 cu.-ft. of usable space, if you fold the third row this grows to a very generous 55.5 cu.-ft. and all seats down add up to an enormous 96.8 cu ft of space.
Lots of cargo space
It's huge and with all rows up, you're looking at a very respectable  20.6 cu-ft. Drop the third row, and that expands to 55.5 cu-ft and if you drop them all, and you're looking at a huge 96.8 cu-ft. That's pretty good in this segment.
Verdict
The VW Atlas offers a lot of space especially for the money, base prices start at $31,555 for a front-wheel-drive model with the 2.0 turbo-four engine. It's a good drive, feels well built and the VR6 engine offers some sporty exhaust tunes when pressed. There are a host of vehicles that compete including the Ford Explorer, Honda Pilot, Kia Telluride, etc. so you'll need to do your homework, but the big VW is certainly one to consider.
VIDEO REVIEW
2021 VW Atlas V6 SEL R Line
BASE PRICE: $40,890
PRICE AS TESTED: $43,775
VEHICLE LAYOUT: Front-engine, FWD, 7-pass, 4-door SUV
ENGINE: 3.6L DOHC 24-valve V-6
POWER: 276-hp @ 6,200 rpm
TORQUE: 266-lb-ft @ 2,750 rpm
TRANSMISSION: 8-speed automatic
0-60 MPH: 7.9 sec
CURB WEIGHT: (F/R DIST) 4,800 lb
CARGO CAPACITY: Seats up: 20.6 cu ft, 1st row down: 55.5 cu ft, 2nd row down: 96.8 cu ft
EPA CITY/HWY/COMBINED: 16/22/18 mpg
OUR OBSERVED FUEL ECONOMY: 15.3 mpg
PROS: Huge inside, competent handling
CONS: Needs a tad more power, thirsty