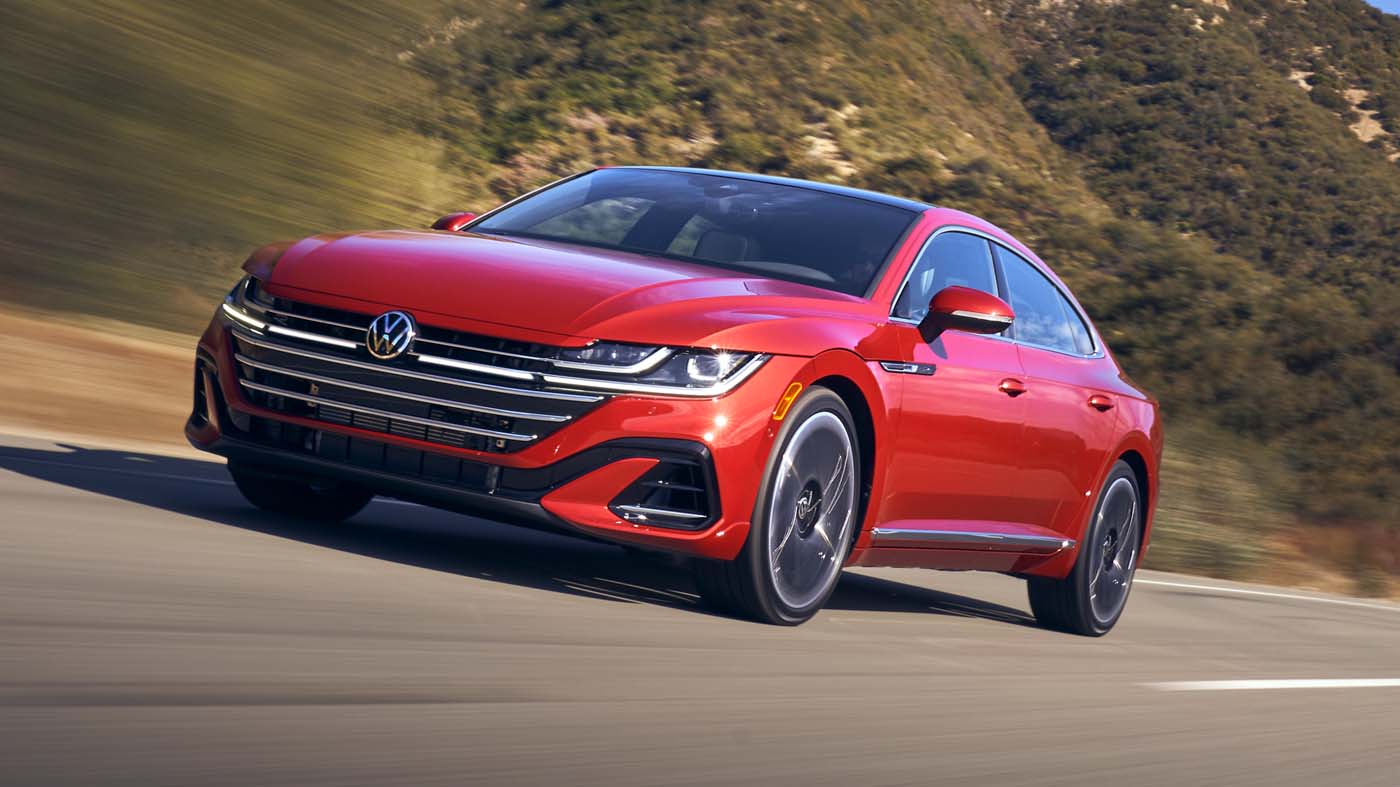 The Volkswagen Arteon has some pretty big aspirations by aiming itself at premium-badged rivals from its own brand Audi and also BMW, cars like the A5 Sportback and 4 Series Gran Coupe come to mind. From a size perspective, it's got both of them beat and it is somewhat of a head-turner…… it's a very pretty car indeed, is a rakish and in my opinion, the best-looking car in its segment.
Prices start at $36,995, my 2021 Arteon SEL Premium was $48,585 including destination, which is a lot, but it did have a lot of equipment including a very nice set of 20-inch alloy wheels and an Onyx White Pearl exterior.
For 2021 VW has made several styling upgrades, including new headlights a wider grille, and greater levels of refinement. The interior has been redesigned for this mid-cycle refresh which in case you are wondering is based on the timelines for the European version which was launched before the US version. That's good for us since it has only been around since April 2019.
Under the sculptured hood
Under the hood is a de-tuned version of the Golf R engine, a turbocharged 2.0-liter four-cylinder engine with 268 horsepower and 258 pound-feet of torque @ 1,950 rpm mated to a smooth-shifting eight-speed automatic transmission. It's a perfect combination especially since it comes with standard DCC adaptive chassis control that allows the driver to configure the vehicle's running gear for "normal," "comfort," or "sport" driving. The comfort mode helps even out bumpy roads, while Sport mode helps stiffen damping to create a more direct connection between the driver and the road.
There's a full fat R version available in Europe, that has 315 horsepower and a very sexy looking shooting brake that looks fantastic, sadly we will get neither.
The Arteon rides on Volkswagen's now ubiquitous MQB platform, which also underpins the Golf and now offers 4Motion, an option standard on my top-spec model tester. The 2021 Arteon gets slightly better fuel economy, EPA Combined/city/highway of 24/20/31 mpg. With a heavy right foot, I averaged 22 mpg for the week.
Having a standard 8-speed auto makes progress smoother than the 7 speed DSG offered on Euro models but it doesn't help the Arteon's acceleration, the best we could do with Sport mode selected and traction control off was 0-60 in 6 seconds.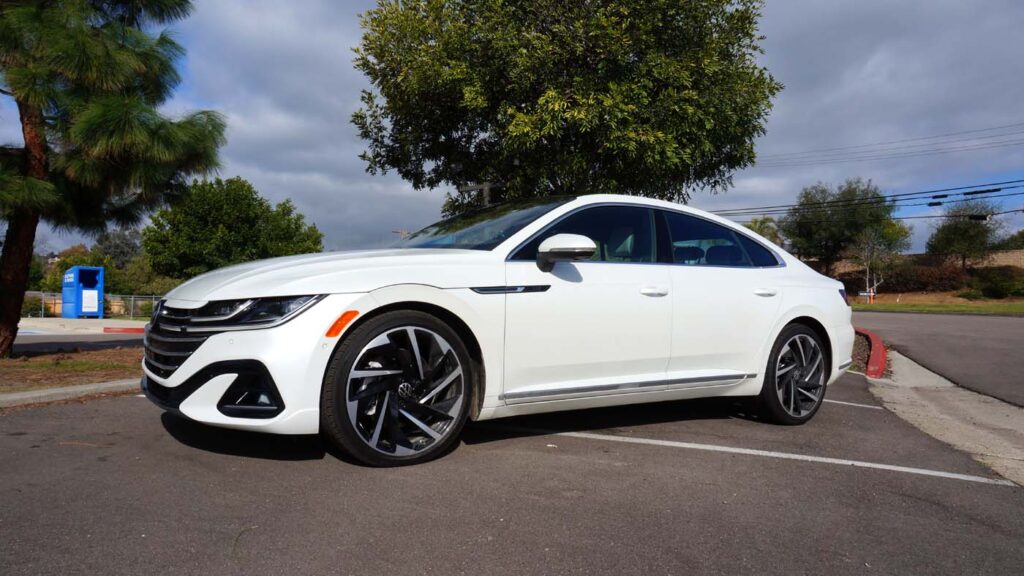 On the move
The Arteon isn't particularly quick or at least it doesn't feel quick, especially when you compare it with a Golf GTI which has less power. The turbo four's punch is enough to get this four-door up and out of its own way. The transmission does tend to hold gears resulting in a bit of drone during acceleration
The engine provides ample power especially in the mid-range and the eight-speed transmission provides smooth and precise shifts, especially in Normal Drive mode. Stomp on the go pedal though and there is a somewhat annoying lag before you surge forward, lessened it seems in Normal mode versus Sport. It's not super thrilling, it's no Golf R, but in Sport mode, the Arteon will hustle through the bends and it moves down the road with satisfying poise and confidence.
The Arteon's steering is well-weighted and precise and even though the car rolls a little, it also grips with tenacity thanks to the 4Motion system and it has the chassis balance to get to the center of a tight bend even if you're a tad ambitious with your entry speed.
There's genuine sophistication in the way it drives, VW stating its chassis folks people developed the Arteon from the start to ride well on huge 20-inch alloy wheels, and since my tester had those, it seems they've done a good job of it.
Brake-based torque vectoring keeps the handling in check and body roll is well sorted in Sport mode, in the other modes the body leans a bit more, but the suspension is more forgiving. I did find I spent more time in Comfort mode with no decrease in driving pleasure during the week.
Brakes provide very good stopping power although did get quite hot on a downhill run from up in the mountains back to San Diego. Overall this engine pairs well with this car and provides enough power for almost every driving situation, and the engine stop/start system is less intrusive than other systems I have used.
Inside
The biggest updates are found inside the Arteon, where the cabin gets a thorough luxury make-over. The dash design is much more upscale and there's a redesigned steering wheel with haptic touch controls, which are somewhat fiddly to use. In fact, holding the wheel at the correct quarter to three position you tend to turn on the heated steering wheel with your palm.
There are new air vents that line the top of the dash, and 30 ambient lighting colors span the width of the cabin, which you can choose under Car Settings, I finally chose purple after much messing around. Climate controls are now touch-sensitive, and you swipe to alter cabin temperature and fan speeds, it takes a bit of getting used to over the previous controls.
Materials throughout are top-notch and my tester had the leather seat option with 12-way power, heated and cooled, and massage for the driver, as well as a black headliner and aluminum sill plates.  The front chairs are comfortable and provide good side bolstering when you're exercising your right foot and the rear seat occupants get more room than most of the competition and plenty of headroom, but alas no power for your phone.
In addition to the standard digital gauges, every Arteon comes with Volkswagen's MIB3 infotainment system, housed on an 8-inch touchscreen. MIB3 has embedded navigation, as well as wireless Apple CarPlay, Android Auto and VW's App Connect smartphone integration. The MIB3 system is relatively easy to use, with menu buttons that automatically present themselves when the system detects your grubby fingers approaching. The bad news is the small space in the center console which perfectly fits your phone, doesn't wirelessly charge it.
Standard driver aids on my top-spec SEL Premium del include autonomous emergency braking, forward collision warning, and rear cross-traffic alert. Adaptive cruise control is standard on the SEL Premium and adds lane-keep assist, automatic high beams, a surround-view camera system, Parking Steering Assistant, a heated rear seat, and of course the VW Digital Cockpit.
Cargo space is impressive with 27 ft³ available and a massive 55 ft³ if you lay the rear seats flat, giving you as much or more space than most SUVs.
Verdict
The 2021 VW Arteon is a very convincing long-distance cruiser, with some mild sporting pretensions. It's nice to see VW producing a sedan in our crossover-filled world, it's very pleasant to drive, and thanks to the hatchback trunk opening, surprisingly practical. I was impressed again, this is a great sedan if you sit back and drive it for what it is but stick in Comfort mode because it's best enjoyed at a relaxed pace.
BASE PRICE: $46,995
AS TESTED PRICE: $48,585
VEHICLE LAYOUT: Front-engine, all-wheel-drive, 5-passenger, 4-door hatchback
ENGINE: 2.0 liter turbocharged and inter-cooled DOHC 16-valve inline-4
POWER: 268 hp @ 5,500 rpm
TORQUE: 258 lb-ft @ 1,950 rpm
TRANSMISSION: 8-speed automatic with manual shifting mode
0-60 MPH: 6.0 sec
TOP SPEED: 127 mph
CURB WEIGHT: 3,854 lbs
CARGO VOLUME: 27.19 ft³, 54.98 ft³ with seat area
EPA COMB/ CITY/HWY:  24/20/31
OUR OBSERVED FUEL ECONOMY: 22.0 MPG
PROS: Now more luxury, very spacious, hatchback versatility, fun to drive
CONS: A tad slow off the line, irritating new controls