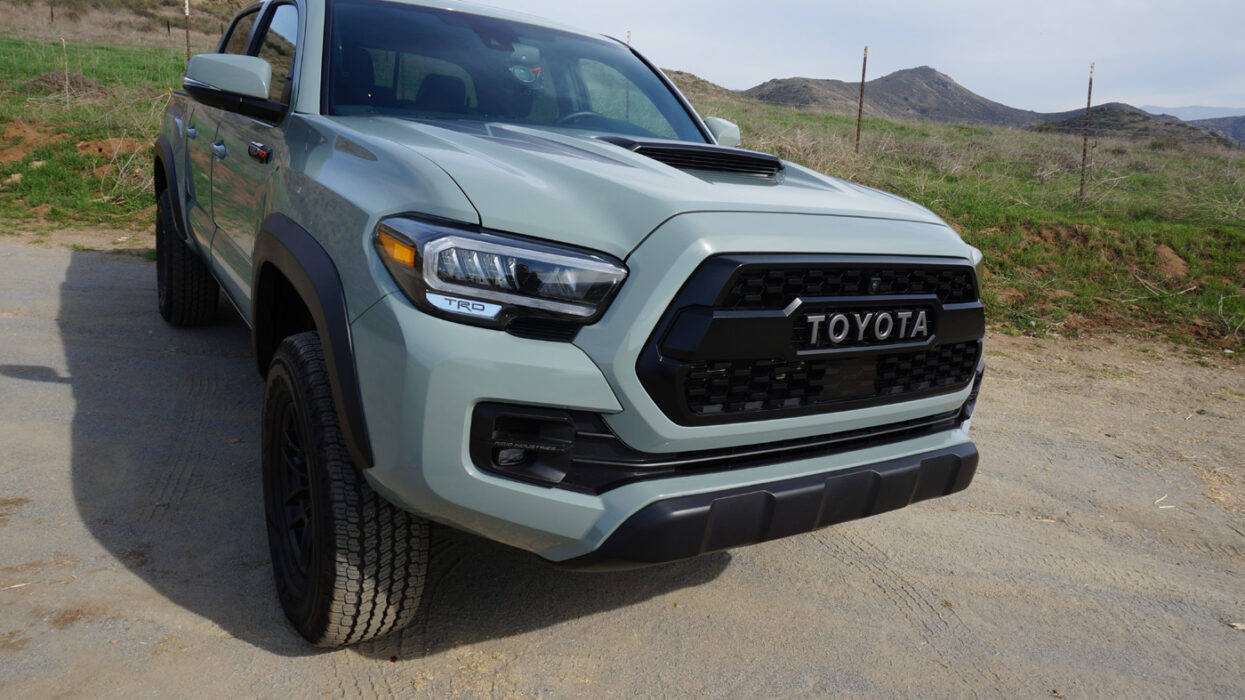 The current Tacoma (Taco) is aging gracefully since it has been around since 2005, although it did receive a refresh for 2016. It has somewhat of a cult following among off-road aficionados and competes in the same space as the Jeep Gladiator and the Chevy Colorado which are the most capable factory off-road pickup trucks ever developed.
My 2021 Toyota Tacoma TRD PRO crew cab tester is the Tacoma to get since it comes standard with an electronic locking rear differential, Fox 2.5-inch-diameter internal bypass shocks, and chunky 16-inch wheels and tires. The front suspension has been lifted an inch and it has progressive-rate leaf springs in the back as well Rigid Industries branded fog lights, a TRD exhaust system, LED headlights and taillights, and an aluminum front skid plate that has "TRD" emblazoned on it in red letters. There are also several nifty TRD PRO decals, which we ended up getting covered in mud after our off-road tests.
There are two engine options but avoid the four-cylinder which is underpowered and go for the V6 instead which is used across several other models. It uses both port and direct injection to produce 278 horsepower and 265 lb-ft of torque mated to a six-speed manual transmission. Amazingly you can still get a six-speed manual.  For those that like numbers the TRD PRO will get to sixty in around 7.7 seconds, but it's not worth trying more than once.
It looks the part too; my tester came with Lunar Rock paint (plus an optional paint protection film for $269) and a black interior with leather seats. The exterior has the rugged looks that buyers want especially the front view with that gaping air intake and skid plate.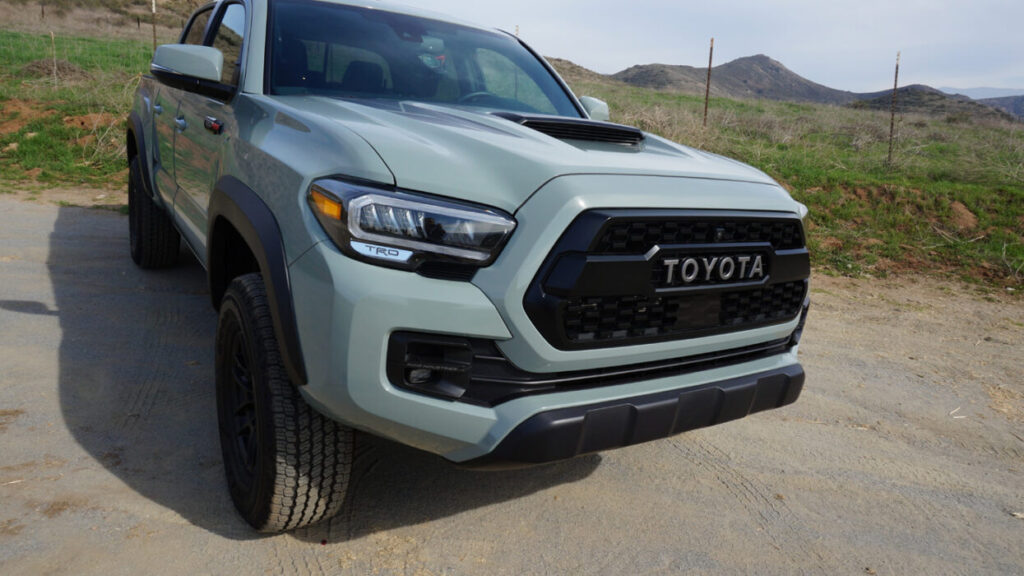 Off-Road
We headed out for hills in search of some mud, dust, and hills to climb to check out the Taco's off-road prowess. The Tacoma has an undeniable cachet among the off-roader community, so we didn't want to make fools of ourselves. Two systems help the driver negotiate tougher terrain in the Tacoma, firstly the Multi-Terrain Monitor (MTM) and Panoramic View Monitor (PVM), both of which are standard on the top-trim. These features show a view of the front and side cameras through the new 8.0-inch infotainment screen, which was quite helpful when the going got tricky.
All Tacoma TRD PROs are almost 12 inches off the ground, and four-wheel-drive is operated via a knob in the center stack. There is no full-time system for use on dry pavement you have to switch back to two-wheel drive. My TRD PRO model had a push-button locking rear differential, a crawl control system, hill-descent control, and five unique off-road traction control settings.
Not wanting to damage the Tacoma or get it stuck we didn't get too crazy and it coped very well with all that we threw at it including testing Hill Descent and negotiating some fairly deep ruts. It powered through with barely a misstep and only occasionally brushing the front skid plate.
On-Road
This is where you have to make some compromises if you want to use it as a daily commuter vehicle, the 6-speed auto needs more ratios, it hunts around and is not particularly smooth. More ratios would help its fuel economy, we averaged 15.4 mpg for the week we had it. Also, the TRD cat-back exhaust moans and groans and sounds like an outboard motor, the sound gets tiring after a while. At higher speeds, the Taco tracks straight, the steering is light but relatively precise and more direct than the Gladiator.
The brakes, while great off-road are somewhat grabby at lower speeds on-road, and modulating them is tricky at times, at one point one of my one sarcastic passengers asked me if they were on Mr. Toad's Wild Ride.
Inside
The 10-way driver's power-adjustable seat, which now includes lumbar support and seat height adjustment is great and makes the driving position almost perfect, and I say that because the telescoping wheel doesn't quite telescope enough leaving you a tad too far away from the wheel, especially when using it off-road. My tester had leather-covered chairs and weirdly a sunroof, which I find odd on a pickup, especially a mid-size one.
The interior includes the full Toyota's Safety Sense Portfolio, dynamic cruise, forward braking assist, lane departure warning, automatic high beams — plus keyless access and ignition as well as blind-spot detection and rear cross-traffic alerts. A wireless phone charging pad and a larger 8-inch multimedia screen with Apple/Android functionality are also welcome additions.
All controls fall within easy reach of the driver and they have rugged, rubberized grips that feel good to the touch. The crawl control and drive modes are above the driver's head next to the sunroof controls as is the rear differential lock.  All other off-road controls are situated in the center stack near the HVAC dials. The TRD PRO has heated seats that work well, which means they actually get hot and they stay on and save their setting after you turn off the car.
The Double cab has enough room in the back for adults and the seats fold down (after removing the headrests) and provide a level platform for storage, as well as a couple of cubbies behind the seatbacks.
The TRD Pro has a 5-foot bed with a 5-foot composite box has a grounded power outlet, many retainer hooks, and a power sliding rear window. The TRD PRO has a 6,400-pound tow rating. TRD
Verdict
If you are a lover of the great outdoors and are looking for a truck to get you to the middle of nowhere and back while enjoying boil in the bag food, then the Taco TRD PRO is the one for you. It would be my choice over its Jeep and Chevy counterparts simply because it's absolutely bombproof, it's the one that won't leave you stuck in the proverbial mud.
2021 Toyota Tacoma TRD PRO Numbers
BASE PRICE: $46,780
PRICE AS TESTED: $50,545
VEHICLE LAYOUT: Front-engine, rear-/4-wheel-drive, 5-passenger, 4-door pickup
ENGINE: 3.5 liter DOHC 24-valve Atkinson-capable V-6
POWER: 278 hp @ 6,000 rpm
TORQUE: 265 lb-ft @ 4,600 rpm
TRANSMISSION: 6-speed automatic with manual shifting mode
0-60 MPH: 7.7 sec
CURB WEIGHT: 4,425 lbs
TOWING CAPACITY: 6,400 lbs
EPA CITY/HWY/COMB FUEL ECON: 18/22/20 mpg
OUR OBSERVED: 15.9
PROS: Very capable off-road, Rock solid build quality and reliability
CONS: Not so good on-road, old school interior