We need more hatchbacks here in the US, why should the rest of the world have all the fun, well the reality of it is everyone buys crossovers, end of story. Except maybe it isn't, Toyota has a cool little hot hatch, the Yaris GR available in Europe that has a 3 cylinder engine with 257 hp. Rumors are that this may find its way into the Toyota Corolla hatch here and I for one really hope it does.
Meanwhile, the hottest version is not that that hot, more of a warm hatch if I'm honest, it's the 2021 Toyota Corolla Hatchback XSE, and it's available with a manual transmission!
The Toyota Corolla has been around since 1966 and has always been seen as a standout for reliability but not for driving dynamics. That all changes with this new one, Toyota has added a sophisticated multi-link suspension in the rear, created a sporty look complete with a rear hatch spoiler, and offers an engine that makes this little hatch a lot more fun than I expected.
PROS: Uprated engine gets you along nicely, slick manual transmission, zippy handling
What makes it go?
There are 2 engine choices, the base engine (sedan only) is a 1.8-liter four-cylinder with 139 hp and 126 lb-ft and is best given a wide berth, the other option on the hatchback and sedan is a 2.0 liter with 169 hp @ 6,600 rpm and 151 lb-ft @ 4,800 rpm. You can choose between a CVT transmission or a 6 -speed manual, the latter being the only choice you should go with.
Despite thrashing it within an inch of its life I simply couldn't get the little XSE to use much fuel averaging 24.6 mpg over the week I had it..with a lighter right foot it should be easy to achieve the EPA Combined number of 31 mpg.
Equipment level
My XSE tester is the top trim and comes with a nice set of 18-inch alloy wheels with 225/40 Yokohama all-season tires, Toyotas standard safety suite, Apple Carplay and Android Auto, a power-adjustable driver's seat with leather-faced upholstery.  The only options were Adaptive Front Headlights ($415) and a Black Roof, Rear Spoiler, and Side Mirrors ($500).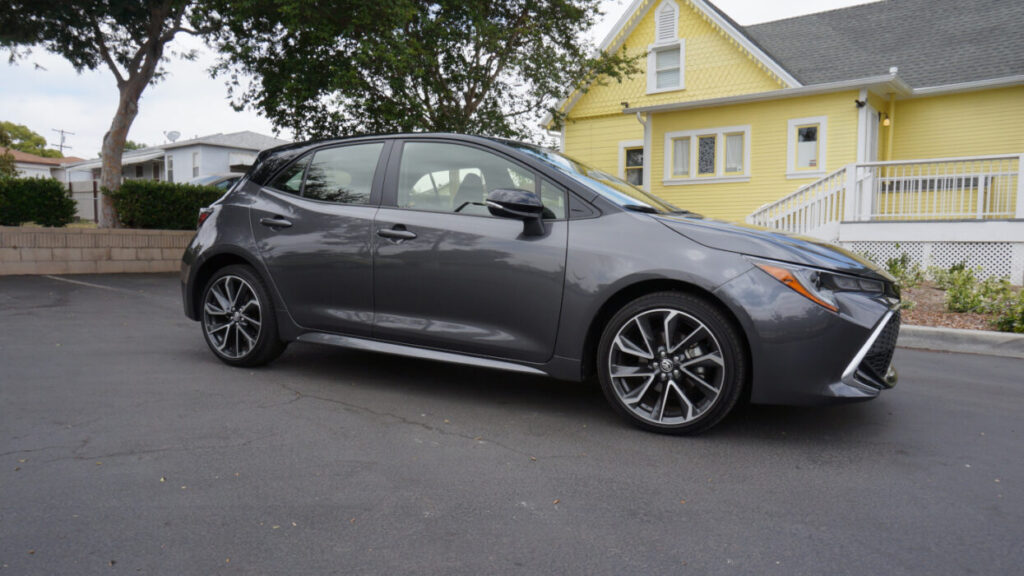 How does it go?
The best we could manage, which included a lot of initial wheelspin was 0-60 in 7.7 seconds, no doubt had we tried more times we may have knocked a couple of tenths off but we had too much sympathy for the clutch.  Once moving the Corolla hatch is a tidy handler and actually feels quite zippy, especially above 4,000 rpm when peak torque kicks in.
It helps that the gear lever is close at hand and has a very smooth shift action making it fun to shift and not a chore. The clutch is very light and did take some getting used to since the biting point was quite high, but it works and is better than some recent manuals I have driven.
CONS: Could use more power, the clutch is a tad tricky
Handling is quite sporty; the car is well balanced and exhibited almost no understeer when pressing hard into a turn which certainly bodes well for a possible hotter version on our shores. My favorite part is that Toyota offers an auto rev-matching feature by pressing a button just inform of the gear stick. You don't really need it since the pedals are perfectly spaced for heel and toe changes, but I love that this feature is available on such an inexpensive car.
Hit some mountain roads and the Corolla is genuinely fun, the engine has sufficient power, and its handling balance is joyous, all the while never really being in danger of getting into trouble.
Inside
The interior is above average with nice feeling plastics and a nice well-padded center armrest and in the XSE you get comfortable, supportive, and fancier seats, the driver's having power adjustment, which really helps to get an ideal seat position for a stick shift.  The seats are two tone as well making the interior nice and bright and not dark and gloomy like many German cars.
The 8-inch touchscreen runs the latest Toyota software, Entune 3.0, it's decently quick but not as good as others I have used although the 8-inch display works well and you still have physical volume and tuning controls.
Room in the back is a bit tight but you can squeeze three adults on the rear bench albeit with limited headroom and sadly no rear vents. Finally, cargo space is pretty good offering 17.8 cubic feet (no spare wheel) and the rear bench folds fairly flat to provide a much larger space.
What to choose?
The 2021 Corolla Hatchback is offered in three trim levels, SE Nightshade Edition, SE, and XSE. Pricing starts at $21,560 for the SE with the six-speed manual, while the CVT-equipped version starts at $22,660, including the destination charge.
Verdict
I love a pleasant surprise and the 2021 Toyota Corolla Hatch certainly delivered that. I was expecting a somewhat boring rental car type experience and instead got an enthusiastic back road canyon carver in a practical package and an entry-level economy car that's hard to beat. Now I am patiently waiting for the GR version, come on Toyota we would really like that.
VIDEO REVIEW:
2021 Toyota Corolla Hatchback Manual Numbers 
BASE PRICE: $23,415
PRICE AS TESTED: $25,285 
VEHICLE LAYOUT: Front-engine, front-wheel drive, 5-passenger, 4-door hatchback
ENGINE: 2.0-liter DOHC 16-valve I-4
POWER: 169 hp @ 6,600 rpm
TORQUE: 151 lb-ft @ 4,800 rpm
TRANSMISSION: 6-speed manual
CURB WEIGHT: 3,060 lb
0-60 MPH: 7.7 seconds
EPA CITY/HWY/COMB FUEL ECON: 28/37/31 mpg
OUR OBSERVED FUEL ECONOMY 24.6 mpg
CARGO SPACE: 17.8 ft³
PROS: Uprated engine gets you along nicely, Slick manual transmission, zippy handling, cool styling  
CONS: Could use more power, the clutch is a tad tricky
2022 CT5 V BLACKWING – TESTED
2022 Lexus NX 450h+ – First Drive
2022 Audi A4 45 TFSI Review