The little 2021 Subaru Crosstrek is now my favorite Subaru. It's my first time driving one, and my expectations were quite low knowing it had a naturally aspirated four-cylinder engine and was not known for being very quick. I like to have my expectations exceeded and the Crosstrek, which can be found lurking around REI and various other outdoorsy type stores, is a very well executed car indeed.
The Subaru Crosstrek is classified as a lifted wagon (8.7 inches of ground clearance) with rugged body cladding, cool looks, and the excellent EyeSight active safety system, all for a very reasonable price. The 2021 Crosstrek features a redesigned front bumper with new-design fog light insert covers (Base trim) or fog light covers (all other trims), plus a newly designed front grille.
More power
For the 2021 model, the Crosstrek offers a 182-hp 2.5-liter flat-four with 176 ft-lbs. of torque and comes standard on the top two trim levels, the new Sport and the Limited. This engine has a well-needed 30-hp advantage over the base 2.0-liter and when we hooked it up to our timing equipment hit 60 mph in 7.5 seconds, which is 1.6 seconds quicker than before.
The engine is paired to a continuously variable automatic, not my favorite, however, this one tries to mimic an 8-speed auto but ends up being somewhat buzzy at higher revs and can get annoying.
The only bad news on the transmission front is you can't option the 6-speed manual with the bigger 2.5-liter which is a bit of a miss. Oddly though the larger engine gets better highway mileage than the smaller 2.0 liter by 1 mpg. Despite driving hard for a week, I couldn't get worse than 22.8 mpg, which included highway, city, and off-road driving.
My tester was a Limited model with Horizon Blue paint and a two-tone black cream leather interior which stickered for $31,440 which included a Power Moonroof and Multimedia Plus with Navigation.
In addition to the engine upgrade, my tester had Subaru's X-Mode which offers 3 modes, Deep Snow/Mud, Normal, and Snow/Dirt Mode which is programmed to get you out of or through rough and tricky terrain. X–Mode uses lower gear ratios to generate extra power at the wheels that have grip. X–Mode deactivates the transmission's lock-up clutch to better direct power to slipping wheels and included Hill Descent Control.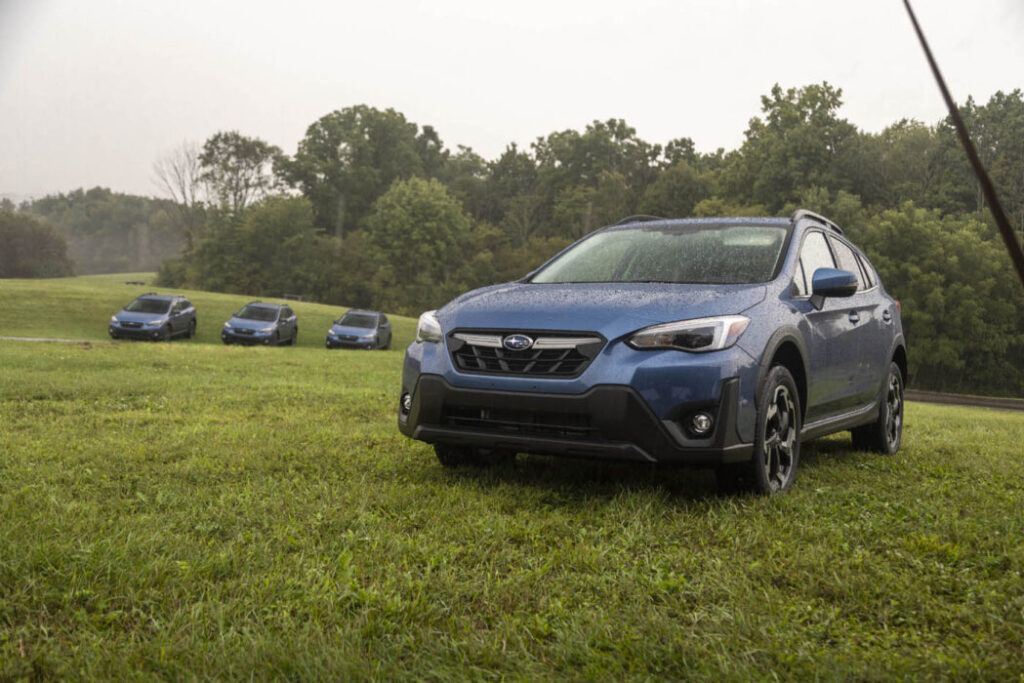 Driving
It would be nice if Subaru granted my wish for a turbocharged Crosstrek but that is unlikely to happen any time soon, if at all. With only 3,298 pounds to haul around though the 2.5 liter provides decent power, it pulls with confidence, and at freeway speeds has plenty of grunt to go from 70 mph to 80 mph to pass traffic without even a thought.
The CVT is somewhat of a letdown, it doesn't seem to be as carefully programmed as the Subaru Outback I recently tested in that it doesn't mimic an 8-speed quite as well. It doesn't seem as responsive and exhibits the typical engine droning during acceleration that plagues some CVTs. If you switch to the paddle shifters it allows you to switch through eight simulated gears, which is way more enjoyable.
The Crosstrek is quite chuckable on backcountry roads and even though the suspension is set softer for better off-road use, it holds the road well, has little to no understeer, and some body roll.  Steering is light and the brakes are solid, and the overall feel of the car makes you feel like you could go anywhere, which when I went off-road, proved to be true.
Off-Road
Our goal was to test it in some dirt, dry dirt of course since we are in Southern California. I especially wanted to test its mettle on a steep incline then come back down using Hill Descent. Of course, let's not forget this tester was on street tires so grip may have been an issue, except it wasn't. The surface was super fine almost like powered sand but the Crosstrek powered up like a champ lifting a rear wheel over larger obstacles but remaining as expected, sure-footed and confident.
On the way down Hill Descent was activated since we had already selected Xmode and we carefully nudged our way to the bottom with a little wheel slip, but it was all very calm and controlled. I have no doubt with all-terrain tires this Crosstrek could tackle almost anything.
Inside
The front seats are supportive and comfortable if a little hard for longer trips. The rear seats have plenty of room and even the unluckily middle seat passenger can find a comfortable spot, although when summer kicks in they may get hot since even on my Limited trim there are no rear vents.
There's adequate interior storage space inside including four cup holders, two in the center console, and one in each door. Cargo space is good for the size of the car, with 20 cubic feet of space with the rear seats up and 55 cubic feet once they are folded flat, and it even has a spare tire!
The rest of this Subaru's interior is well put together and the Limited seats are leather-faced as is the steering wheel and plastic for the rear bench. Fit and finish are solid, which is expected, this car should last half a lifetime if cared for well.
There are plenty of physical switches and knobs as well as two screens, one main screen for infotainment the other higher on top of the dash providing information on weather, angle of incline, safety systems, etc. It all feels sturdy and well put together,
Subaru's Eyesight System comes standard on the Sport and Limited and offers a suite of systems including Adaptive Cruise Control, Lane Keep Assist, Pre-Collision Braking Pre-Collision Throttle Management, and Reverse Automatic Braking.
Conclusion
I didn't expect to like the Crosstek as much as I did so I am definitely pleasantly surprised. The fact that Subaru added the extra 30 hp makes this a very enjoyable car indeed and there's no trade-off in fuel economy. It's the best of both worlds for this great little all-rounder.
2021 Subaru Crosstrek Limited Numbers
BASE PRICE: $27,995
PRICE AS TESTED: $31,440 
VEHICLE LAYOUT: Front-engine, all-wheel-drive, 5-passenger, 4-door wagon
ENGINE: 2.5-liter DOHC 16-valve flat-4
POWER: 182 hp @ 5,800 rpm
TORQUE: 176 lb-ft @ 4,400 rpm
TRANSMISSION: Continuously variable automatic
CURB WEIGHT: 3,298 lb
0-60 MPH: 7.5 seconds
EPA CITY/HWY/COMB FUEL ECON: 29/27/34 mpg
OUR OBSERVED FUEL ECONOMY 22.6 mpg
CARGO SPACE: 21 ft³, 52 ft³ with seat area
PROS: 2.5-liter engine makes for zippy progress, tidy handling, good on and off-road
CONS: CVT makes the engine sound buzzy

VIDEO REVIEW