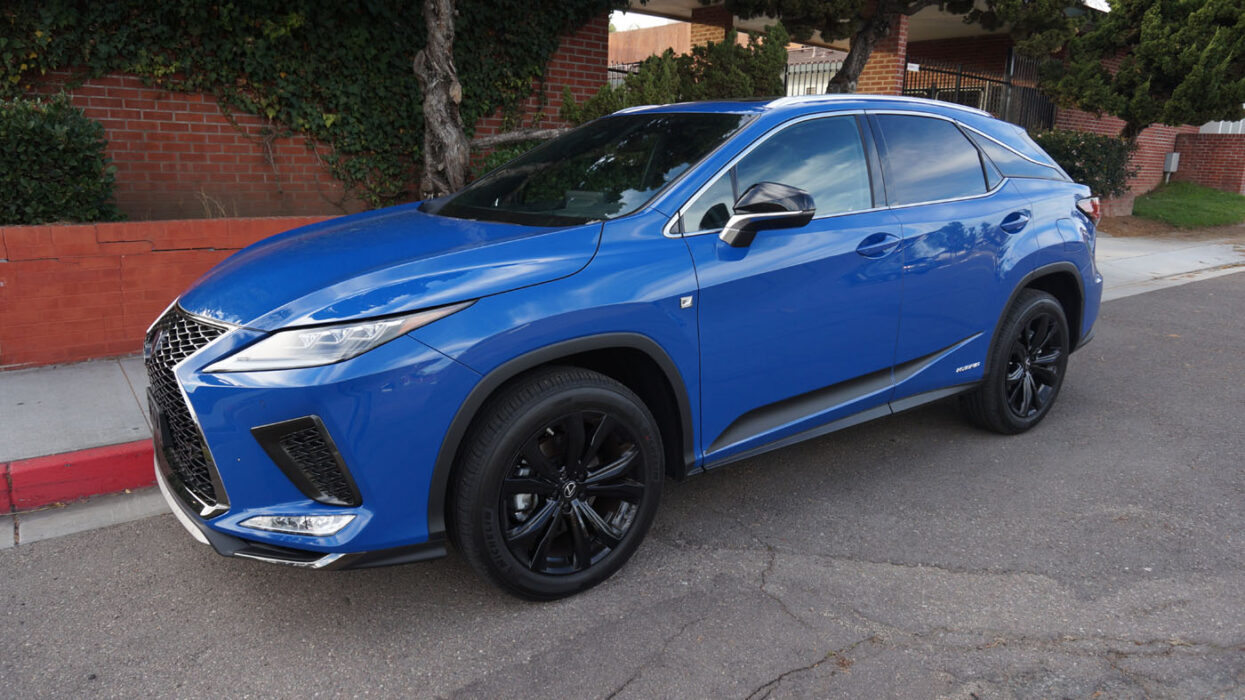 Lexus knows its audience very well because even though the RX was introduced 20 years ago it still hits the sweet spot for most buyers. It's a big seller too, with 100,00 units sold in 2020, during a pandemic, which is impressive. It competes in the highly competitive mid-size luxury SUV sector alongside vehicles like the BMW X5, The Acura MDX, and the Cadillac XT5, to name a few.
My 2021 Lexus RX 450H F Sport sported the Grecian Water paint option and a black interior with white highlights and vegan seat coverings. First impressions are it's definitely a Lexus, that grille is a dead giveaway and along with the sculptured body design, it gives the RX a very distinctive look.
The F Sport comes with some very tasty looking 20-inch black wheels which look great and help enhance with the optional Black Line Package ($685) which includes black grille surround, body side graphics, 20 -inch wheels, blue interior stitching, and a set of Zero Halliburton Edge Lightweight 2-piece luggage set.
What's New For 2021
A couple of features are now standard on the 2021 Lexus RX 450H, Blind Spot Monitor with Rear Cross-Traffic Alert, and Power folding auto-dim mirrors. New optional features include a wireless charger option and the Performance Package has been renamed to Handling Package. As far as the interior goes the Glazed Caramel color replaces Noble Brown on Luxury Grade and Glazed Caramel has been added as a new color on Premium-grade models.
Engine and Fuel Economy
The hybrid power-train is interesting, Lexus uses the 3.5-liter V6 engine from the RX 350 and adds three electric motors, two on the front axle and one at the rear. The front one has 165-hp the rear has 67-hp making the combined total 308 horsepower, 13 more than the V6 engine in the RX 350. Lexus doesn't publish combined torque numbers, but the engine alone puts out 247 lb-ft @ 4,800. A CVT provides the connection to the wheels and is one of the better examples I have driven.
The RX 450h is EPA-rated for 31/28 mpg city/highway, which are much better numbers than the AWD RX 350 (19/26 mpg) and during the week we had it we were able to average 27.4 mpg.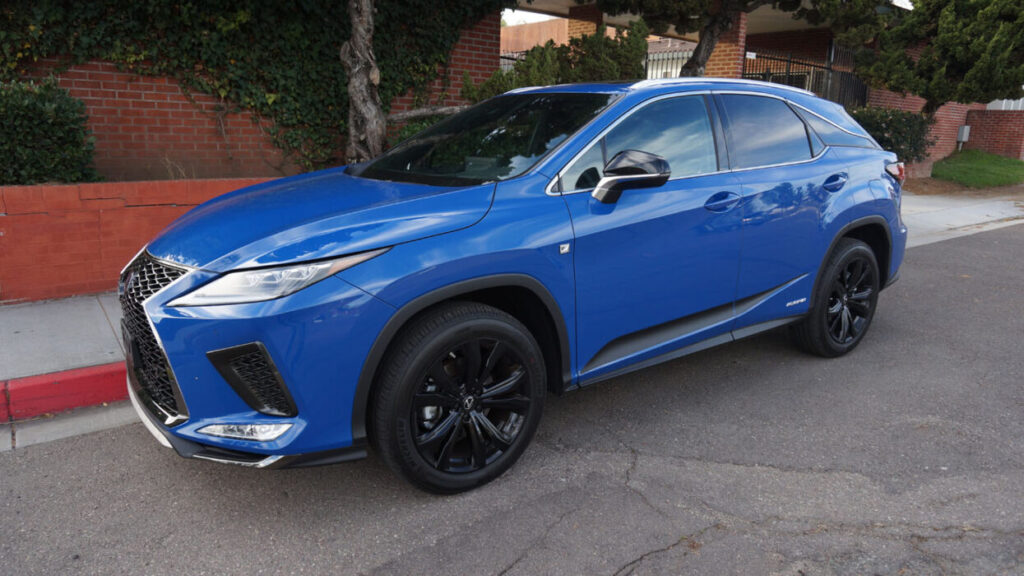 Smooth Progress
I have never been a fan of CVT transmissions, I find them lacking character and so far, have not been impressed by any of them, that is until I drove this one. I'm not fawning over it and I'll take a standard auto or dual-clutch any day, but this one works well in the hybrid application.
The CVT coupled with the RX's excellent suspension setup makes for a supremely comfortable ride and San Diego's numerous potholes are handled with aplomb. From a standstill, in Normal mode, the RX moves away using its electric motors, stomp on the go pedal, and the gas engine kicks in seamlessly and you only notice the hum of the engine. It doesn't provide much aural stimulation but that is to be expected, this is a luxury vehicle after all.
Mash the accelerator and we launched it from 0-60 in 7.5 seconds dead and once at a cruise feels quiet, extremely comfortable and if more speed is required for a passing maneuver, this Lexus will oblige. Wafting along though is most enjoyable and my commutes during the week I had it were serene.
There are 3 drive modes including Sport and a set of paddle shifters which seem somewhat incongruous to the RX450h's luxury and nonsporting status. True my tester was an F Sport, but it isn't exactly a sports car. Keep it in that mode and the engine kicks in more and sounds very buzzy, which can be annoying. Stick to Normal or as I did Eco mode and the RX provides plenty of go around town and has surprisingly good pick up at speed.
The brakes provide regenerative braking which feeds power to the battery and is some of the best I have tried in a hybrid configuration, in fact, they put most standard braking systems to shame. It's also fun to watch the power flow meter in the infotainment display showing when electric assist is providing more shove and when it is being charged. Steering is precise, quite light at low-speeds but adding weight when speeds increase.
It's built to understeer on the limit and that's exactly what it does, drive a few fast turns and the Lexus holds its own, up to a point when it doesn't, and things get a little ragged. Hustle along a back road at 7 tenths and it behaves well, with a bit of body roll and it does dive under harsh braking, but it's a tall-riding vehicle weighing in at 4,700+ lbs and not a sports car.
Interior
Inside the RX 450h there exudes an air of luxury with soft-touch high-quality materials and great build quality. The heated and ventilated front seats provide fantastic support (if somewhat hard) and even the rear bench, normally a half-baked effort is very nice to spend time in. Passenger space is generous front and rear; however, cargo space is somewhat limited due to the rear hatch design, which eats into the available height and offers only 18.0 cubic feet with all seats in place.
The Lexus Multimedia System touchscreen was moved nearly 5.5 inches closer in 2020, however, it's still not close enough to the driver unless you are six feet ten, anyone smaller has to lean forward to reach the controls. I must say though this is infinitely better than the fiddly trackpad that still lurks in the center console. The good news is you really don't have to use it since there are plenty of redundant controls available.
The 450h gets a larger 12.3-inch multimedia display with Navigation ($1,165) which displays the additional power flow meter and includes the excellent Mark Levinson sound system. Options that were also checked: Wireless Charger ($200), Head-Up Display ($600), Triple Beam LED Headlamps ($1,675) Touch-Free Power Rear Door ($150), Intuitive Park Assist, and Rear Cross-Traffic Braking ($565), and a Power Tilt/Slide sunroof with Aluminum Roof Rails taking the sticker price including destination to $61,455.
Verdict
It's hard to find fault except for the fiddly and frustrating mouse-like controller. It's by far the best value in its segment, betters them for fuel economy, and is wonderfully serene and nice to drive. You won't find a better RX than this one.
2021 Lexus RX 450h F Sport Numbers
BASE PRICE: $51,200
PRICE AS TESTED: $61,455
VEHICLE LAYOUT: Front-engine, AWD, 5-passenger, 4-door SUV
ENGINE: Gas/Electric, 3.5 liter v6 + 2 electric motors
POWER: 308 total hp
TORQUE: 247 lb-ft @ 4,800
TRANSMISSION: Continuously variable-speed automatic
0-60 MPH: 7.5 sec
CURB WEIGHT: 4,740 lbs
CARGO SPACE: 18.4 ft³ to 56.3 ft³ with seat area
EPA CITY/HWY/COMB FUEL ECON: 30/31/28 mpg
OUR OBSERVED: 27.4 mpg
PROS: Super smooth ride, beautifully crafted cabin, economical
CONS: Fiddly infotainment system, hard front seats