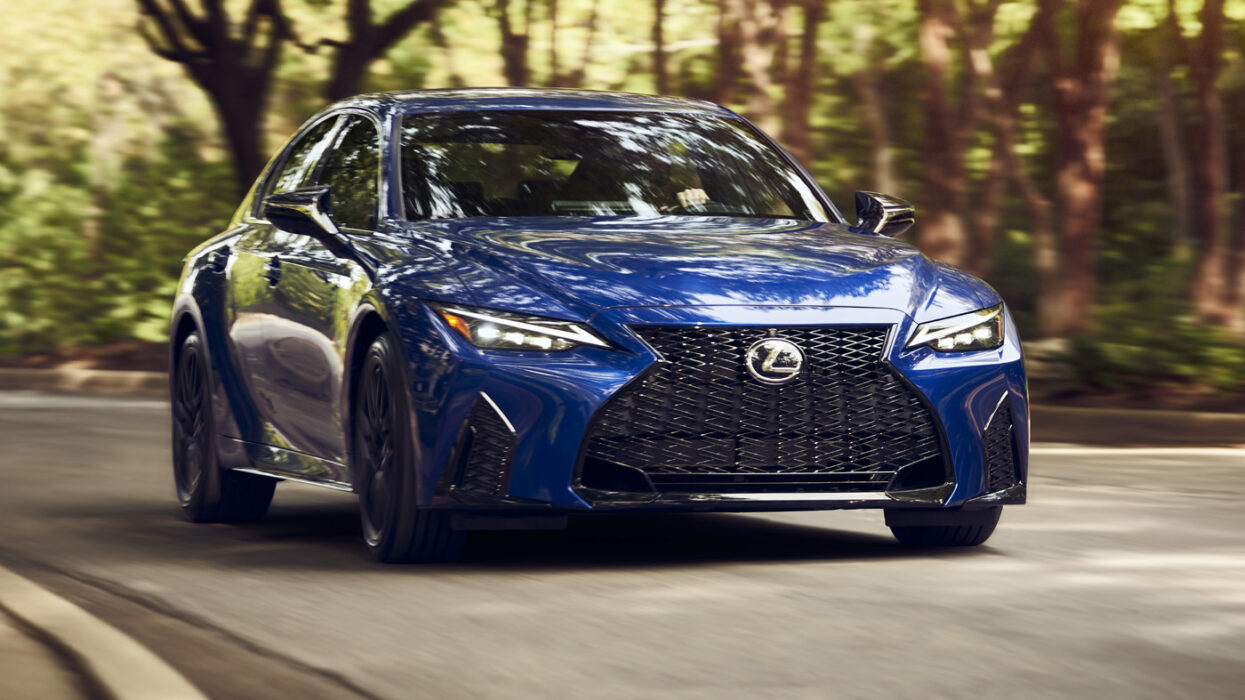 It was a sad day when Lexus announced they would be ceasing production of the GS model after the 2020 model year….another sedan bites the dust, and especially sad that the fantastic GS F would also be going the way of the dodo. The good news is that the IS will continue, at least for the foreseeable future.
First impressions are what count and the 2021 Lexus IS certainly looks brand new, in fact, it looks amazing. The styling is much cleaner and the proportions are better, it's a very pretty car indeed. The new styling includes a new front fascia, with slimmer triple-beam headlight fixtures with embedded LEDs, a larger grille, and thinner side vents. The question now is, it going to be enough to help the compact sports sedan catch up to its competition?
Under the skin, things haven't changed as much, the engines, transmissions, and drivetrains are carried over unchanged from last year's model. New for 2021 is all IS 350 models will be F Sports and carry the 311 hp V6 and will have the option of RWD or AWD. The base IS 300 RWD comes with the 241 hp 2.0 inline 4, while the IS 300 AWD gets the 3.5 l V6 with 260 hp and a six-speed transmission while all others get the 8-speed.
My 2021 Lexus IS 300 AWD came in a rather interestingly named blue paint, Lexus call it Grecian Water but the last time I was there it was more of a murky, algae ridden green. The Caramel color interior though was very impressive and as with all Lexus's a very nice place to be.
The 260 hp V6 is a detuned version of the naturally aspirated 3.5 liter that sits in the higher specced car and it does a good job and has ample performance with 0-60 mph coming up in 6.1 seconds but is it good enough to beat the Germans?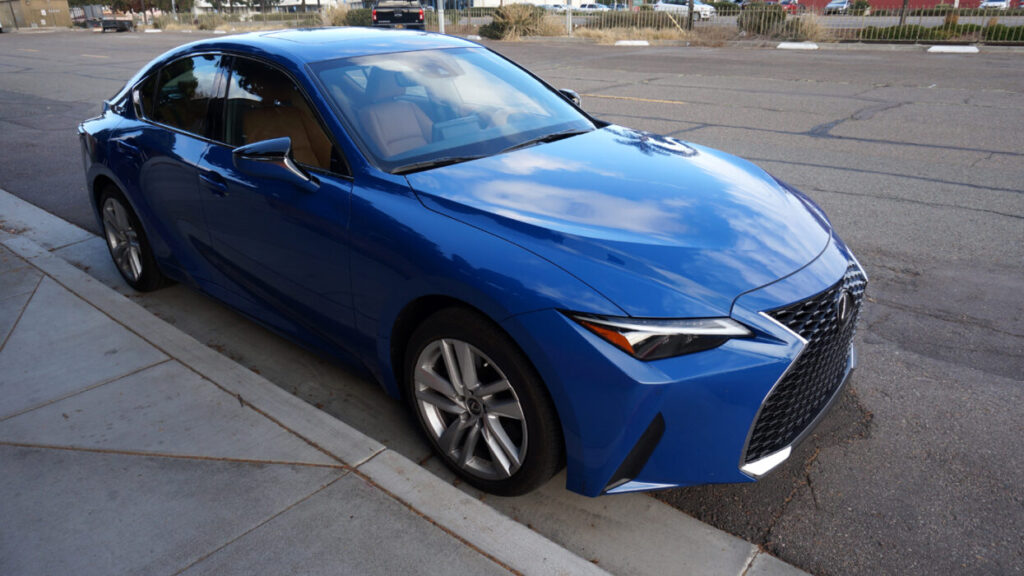 Needs More Grunt
My mid-level tester did feel underpowered under certain circumstances, mostly at lower revs despite Lexus making some throttle improvements and giving the V6 better low-end torque. On the plus side, the overall fuel economy improves to 22 miles per gallon combined. If you keep the engine in the sweet spot the IS can be hustled along at an entertaining pace and the uprated chassis makes cornering smooth and easy.
If it were my choice I wouldn't option AWD for any of the IS models, simply because I live in Southern California where it's almost always dry. While power going to all four wheels adds more grip, it also adds more weight but I can appreciate those that live in more wintery climates would appreciate AWD.
The Lexus IS is a competent cruiser and is remarkably comfortable, the suspension irons out all but the worst pavements and it should provide for a very comfortable road trip. Inside the cabin, the IS is extremely quiet, the sound deadening has been well thought out and is very good even at higher speeds.
VIDEO Review
The six-speed automatic is quick but doesn't pair well with this engine and occasionally fumbles the ratios, especially when you need it to drop a couple of ratios. It's fine at cruising speeds but in slow maneuvers, it becomes just a tad jerky. For whatever reason, this AWD doesn't get the 8-speed transmission that I think it needs.
Inside
The main upgrade inside is an 8-inch touch screen that's nearly 5.5 inches closer to the driver than the outgoing model's and a 10.3-inch touch screen that is available as an upgrade, which I had on my tester. Also it's great to hear that the IS is finally available with Apple CarPlay and Android Auto integration suites. Most of the rest of the interior is much the same except the aforementioned infotainment screen sits on top of the dash rather than embedded in. The screen graphics are very clear and the menus are intuitive, however, the irritating touchpad controller carries over but the good news is you can ignore it now.
The quality of the materials are top notch and the controls are angled around the driver, which complements the excellent front seats covered in Nuluxe which is the closest thing to leather that isn't leather that I have seen. On the F Sport you get upgraded sports seats but I can't find an issue with the ones on my tester save for a lack of lumbar support control, which they didn't need but is nice to have.
There's plenty of legroom in the back but headroom for taller folks is limited and there are no cup holders and no power, which seems to be a miss. Cargo space is decent with 10.8 cubic feet available with a fairly low loading height.
Equipment
The Base price on this 2021 Lexus IS 300 AWD was $41,000 with the addition of Triple Beam LED Headlights ($1,250), Navigation w/Mark Levinson ($2,750) and the Comfort Package ($1,950) which included Heated and ventilated front seats, Leather heated steering wheel and a moon roof.
Standard Safety and Security is very generous and includes the Standard Lexus Safety System+ 2.5, Pre-Collision System with Pedestrian Detection,  Frontal Collision Warning (FCW), Automatic Emergency Braking,? Pedestrian Detection and Bicyclist Detection, Emergency Steering Assist, Lane Departure Alert with Steering Assist, Lane Tracing Assist, All-Speed Dynamic Radar Cruiser Control, Road Sign Assist, Intelligent High Beam, Location specific Tire Pressure Monitor System, and Blind Spot Monitor with Rear Cross Traffic Alert.
Conclusion
Many will buy this car on looks alone and Lexus will probably sell many of these, but which one would I choose is the question. I would probably step up the RWD F Sport IS 350 simply because it has more power and the 8-speed transmission. This is a good car that's crying out for a better engine, more specifically a turbo 6 and in the case of a new IS F, a twin turbo one.
2021 Lexus IS 300 AWD Numbers
BASE PRICE: $41,000
PRICE AS TESTED: $47,975
VEHICLE LAYOUT: Front-engine, AWD,  5 passenger, 4-door sedan
ENGINE: 3.5 DOHC 24 valve V6
POWER: 260 hp @ 6,600 rpm
TORQUE: 236 lb.-ft. @ 2,000-4,800 rpm
TRANSMISSION: 6-speed automatic
0-60 MPH: 6.1 seconds
CURB WEIGHT: 3,847 lbs
CARGO CAPACITY: 10.8 ft³ 
FUEL TANK CAPACITY: 17.6 gallons
FUEL ECONOMY: 19 city/26 highway/22 combined (Lexus Estimated)
OUR OBSERVED: 18 mpg
PROS: Eye-catching looks, solid build quality, relaxed cruising
CONS: Needs more power, 6-speed is not as good a the 8-speed

2021 Lexus IS 300 AWD – First Drive – Eye-catching but needs more grunt