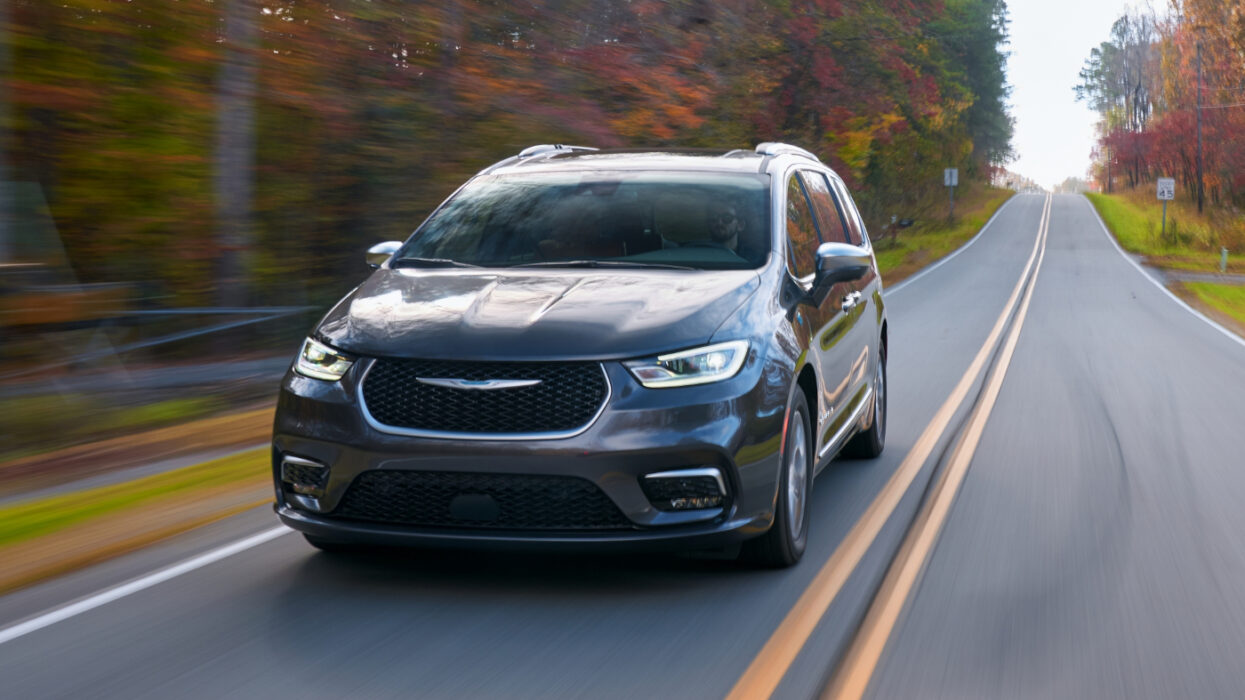 Most people seem to frown upon minivans and that sort of includes me as well since I always thought they were bought by people who had given up on any excitement in their lives. That thought now appears to be quite a lot wrong after I spent a week in the 2021 Chrysler Pacifica Pinnacle Hybrid and I discovered how good it is. Take a step back and the Pacifica Hybrid is a very cleanly styled, very efficient vehicle, which with a light foot will take you up to 510-miles on one tank/battery.
What's new for 2021?
The Chrysler Pacifica minivan gets several updates for 2021, including a new top-spec Pinnacle trim, upgraded technology, including the excellent Uconnect 5 system, and some styling tweaks to the front and rear, giving it a more aggressive look and wrap-around rear lights similar to its Dodge siblings. All the other stuff it has in spades, a spacious interior, sliding doors, folding seats, lots of cupholders and now lots of power, USBs, 12 volts, you name it it has it.
What's under the hood?
Well first off it's a plug-in hybrid so it has 2 electric motors that will carry you 32 miles in total, the downside being there's no EV mode, so the car decides when you get electric and when you get a mixture of both gas and electric. The 16-kilowatt-hour battery starts using all its electrons right away and when it runs out it reverts to being a normal hybrid, adding small amounts of electric assist to the 3.6-liter V6. It's slightly weird then considering it's a Plug-In, but after driving around for a while I didn't miss having an EV-only mode.
Old school power is provided by Chrysler's trusty 3.6 liter V6 which when combined with the electric motors has 260 hp and plenty of torque pushed to the front wheels via a CVT transmission. Yes, you read correctly the space for the all-wheel-drive components is taken up by the battery so you have to have a front driver hybrid. You also lose out on the excellent Stow-n-Go seating, which means the cargo floor is a bit lumpy but you can still carry loads of stuff.
If you do decide to charge the battery at home on a normal 110-volt outlet, it takes about 14 hours to fill up, while a level two 220-volt outlet takes just two hours.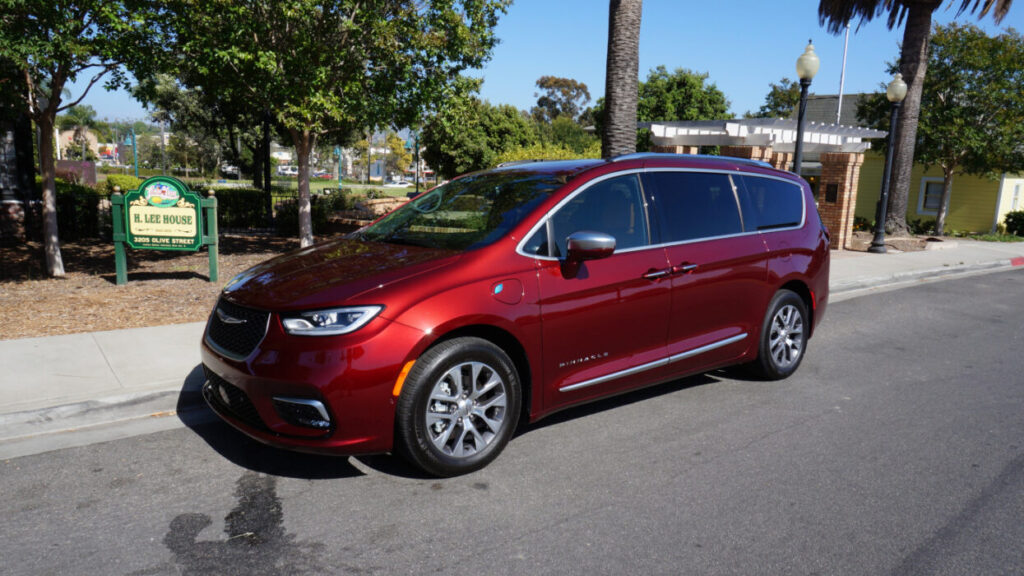 Zippy as well as practical
It launches quicker and smoother than I expected and the transition to gas power is so smooth you almost don't notice it save for the noise of the V6, which isn't buzzy and annoying like some 4 cylinder hybrids I have tested. The CVT is good too and doesn't make the engine sound strained, I can't fault it at all.
Against all expectations, the Pacifica Hybrid is fun to drive, the suspension is very composed, comfortable, and not too firm giving it a surprising amount of confidence in the turns. Turn-in is crisp and even under hard cornering it felt safe and planted and with zero noise from the tires. High-speed cruising o the freeway is effortless and the interior is very hushed, so much so you do hear more wind noise than in most cars.
Passing traffic is a doddle, stomp on the go pedal and the electric assist in combo with the V6 helps you gain acceleration faster than you would have thought while the very good steering is very precise through the twisty bits. Brakes provide regen to the battery, especially so on the downhill section descending from Mount Laguna where you could see the battery percentage increasing with every mile.
Palacial Inside
Since you will be spending more time inside the Pacifica it makes sense that Chrysler would offer the Pinnacle trim for the more discerning folks who may purchase one. I was suitably impressed when I opened the electrically powered sliding door and sat in the beautifully upholstered captain's chair, I felt like I was in a Bentley. The seats are covered in super-soft caramel semi-aniline leather which feels great and looks like a million dollars. I've sat in cars twice this price that are not as good as these.
To add to the luxury feel the second passengers get a throw cushion for some additional lumbar support. The front chairs are very comfortable, offer multi-way power, including heating and cooling and it was very easy to find a comfortable position as a driver.
One annoyance is the rotary-shifter knob, it feels weird and on several occasions, I selected park after backing out of a parking space.
One thing I did like and found quite amusing is the new "FamCam," which is a ceiling-mounted camera that allows you to see what the folks and your weird Uncle Bob might be doing in the second and third rows. You can access this from the touchscreen by selecting Vehicle then FamCam.
Technology and connectivity
As I mentioned earlier the Pacifica gets the new UConnect 5 infotainment system, which is a big upgrade over the previous UConnect 4, which wasn't too shabby at all. Uconnect 5 shows everyone else just how it's done and I wish other carmakers could get it this right.
Now with a 10.1-inch touchscreen as standard (previously an 8.4-inch screen), it a super clean layout, brilliant graphics and it's fast, just as fast as a mobile phone, which is how it should be. The navigation system is much improved, too, with a more focused layout and intuitive controls. And now wireless Apple CarPlay, Android Auto, and 4G LTE Wi-Fi hotspot are available options on lower-trim levels but are standard on the Limited and above.
My tester was equipped with the Uconnect Theater Family group (in fact there are no options to check on the Pinnacle ). This system gives second-row passengers seatback video screens, with loaded games and a DVD player with wireless headphones.
I almost lost count of the charging options on my Pinnacle tester but here goes…..at the front here are two USB-A and two USB-C ports, as well as wireless charging. In the redesigned center console cubby there are USB-A and USB-C outlets and a 12-volt outlet. Second-row passengers each get a USB-A, HDMI and a headphone jack, and a 115-volt, 150-watt outlet. Third-row folks are not left out and each gets a USB-A and USB-C port.
Safety Features
For 2021, the Pacifica comes standard with automatic emergency braking (for both cars and pedestrians), blind-spot monitoring, adaptive cruise control with stop-and-go, lane-keep assist, forward-collision mitigation, and rain-sensing wipers. Also included on the Pinnacle trim is the Premium And Safety Sphere package. That option adds advanced features like a 360-degree overhead camera, parallel and perpendicular park assist, as well as front and rear park assist with automatic braking.
How Much?
The as-tested price on my Pinnacle Hybrid tester was $52, 340 and before you say that's a lot remember, that's the starting price of a decent full-size SUV which is likely to have less space and not handle nearly as well.
Verdict
Turns out I will miss this car, I was thoroughly wowed by it after a week and as luck would have it due to the Memorial Day holiday I got an extra day with it. Not only was it super easy to drive but it was also fun in a way no minivan has ever been. Every time I drove it, it was an event, cossetted by super soft supple hide and wafting along on a mixture of electrons and gas. In my opinion, it's the perfect van.
VIDEO REVIEW
2021 Chrysler Pacifica Pinnacle Numbers 
BASE PRICE: $50,845
PRICE AS TESTED: $52,340 
VEHICLE LAYOUT: Front-engine, front-wheel-drive, 7-passenger, 4-door minivan
ENGINE: DOHC 24-valve Atkinson-cycle 3.6-liter V-6, 2 permanent-magnet synchronous AC electric motors
COMBINED OUTPUT: 260 HP 
TRANSMISSION: Continuously variable automatic
CURB WEIGHT: 5,060 lb
0-60 MPH: 7.8 seconds
EPA CITY/HWY/COMB FUEL ECON: 35 mpg combined gasoline only | 82 mpge combined electricity + gasoline
OUR OBSERVED FUEL ECONOMY: 28.4 MPGe
CARGO SPACE: 32.3 ft³, 140.5 ft³ with seat area
PROS: Great handling, brisk performance, super-luxury inside, hugely practical  
CONS: No Stow-n-Go, fiddly gear shifter, No EV only mode