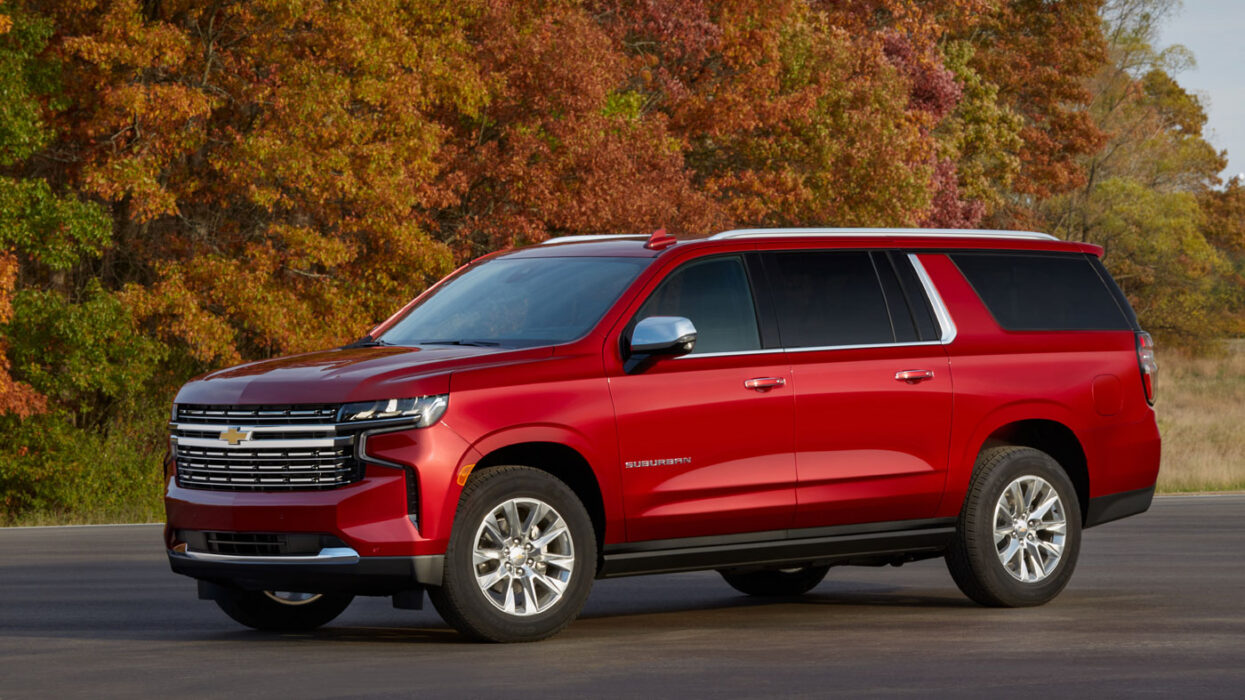 Instead of us going to Los Angeles during this 2nd Covid-19 lockdown, Chevy sent us the all-new 2021 Chevrolet Suburban with the Duramax turbo-diesel for a one-day loan. My 4wd tester in LT trim had $9,840 worth of options on top of its base price of $59,800. You do the math…..quite pricey.
For those that love to tick boxes here's what I got, The Luxury Package which includes HD Surround Vision, Heated Steering Wheel, Second Row Heated Seat, Rear Pedestrian Alert, Rear Cross Traffic Alert, Park Assist, Lane Change Assist, Power Folding Mirrors, Power Tilt and Telescopic Wheel and Seat Memory settings for $2,820. Add the Rear Seat Entertainment + Nav Package ($2,490) and the Sunroof (1,500) and it's easy to get to the $70,635 sticker price.
The Suburban's new independent rear suspension provides a host of benefits, including much better ride quality and increased passenger comfort. It also helps with an increase in interior space, it's cavernous.
You have 3 choices of suspension, coil springs with regular shock absorbers are standard, coil springs with magnetic dampers, and air suspension with magnetic dampers, which is only offered on Z71 and High-Country models. My tester was fitted with the middle choice and it was very good.
There are 3 engine choices, the standard, 5.3-liter V8 with 355 horsepower and 383 pound-feet of torque is definitely underpowered for me, and the 420-hp, 6.2-liter V8 which, is only offered in the High-Country model, will spend a lot of time at the pump.
The Goldilocks choice is the excellent 3.0-liter DOHC I-6 Turbo-Diesel, which although down on power to the V8s with 277 hp, offers up a stonking 460 lb-ft @ 1500 rpm. Add to that excellent fuel economy of 20 city, 26 highway, and 22 combined. During my day-long loan, my heavy right foot was able to average 20.1 mpg. Get it on a long run on the highway and the turbo-diesel is good for a possible 728 miles between fill-ups.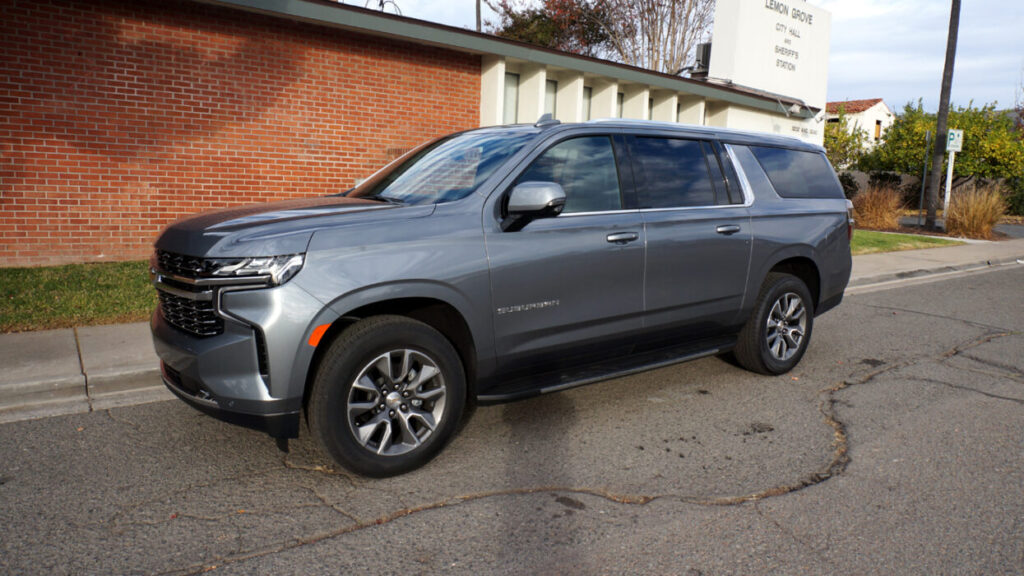 Exceeding expectations on the road
Piloting a vehicle this size in tight spaces is no mean feat, but the all-new Suburban manages to defy its sheer mass by being quite light on its feet, rather like an elephant doing ballet. I was surprised how well it goes, especially since I took it on my usual road course including twisty mountain roads.
The suspension is well sorted and a vast improvement over the outgoing model, it turns with relatively little body roll and feels composed and precise.
The steering is light and direct, and the brakes are reassuringly solid, stopping the beast with no complaints. Bumps and road irregularities are well absorbed isolating both driver and passenger from Southern California's worst-kept roads.
The 10-speed transmission is a gem, perfectly programmed with seamlessly smooth shifts, there's no hunting for ratios and it stays precisely in the turbo-diesel's torque band.
Improved Interior
The front seats are very comfortable and adjust in all the right ways. From the driver's seat, you get a commanding view of the road ahead and you'll notice that everything is tightly assembled and very intuitively laid out. The new toggle-switch electronic shifter is easy to reach and once you get used to it you don't miss the more traditional column shifter of old.
The Suburban's center-console bin is huge and there's a bunch of other pockets and nooks and a small little cubby with a sliding door right on the dashboard. I stuck my hand in it and it's quite deep.
In the middle of the center stack is a 10.2-inch display, which is standard on every model. The infotainment system is superb, it's always been quick and intuitive to use and big enough to not fat finger the menu buttons, which are usefully large. As you would expect these days Apple CarPlay and Android Auto are both standard across the range.
Cargo Space
The Suburban is intimidatingly large inside but in a good way in that, it can seat up to 9 people, however, my tester had 2nd-row captain's chairs making entry into the 3rd row more accessible.
The second row is very spacious, it's easy to adjust the seats, they simply fold down and tip forward in one fluid motion.  The 3rd row is good for adults now and they still leave room for 41.5 cubic feet of space up from 39.3 in the previous model. The 3rd row even has a power fold button accessible from behind to make life easier.
With both rows of rear seats folded, you get more than 144 cubic feet of cargo space more than I could ever use and the load area is completely flat, which reminds me it's time for a trip to Home Depot.
Final Thoughts
It was a short loan but enough time to know you should head for the open road since the Suburban is at its happiest, cruising on a wave of torque. This is a great engine, one of the very best, and would be my first choice if I were to buy this car. GM does need to work on moving the interior a bit more upscale, especially in the higher trim models. That said they have worked wonders on getting this behemoth to handle as well as it does. It certainly surprised me.
2021 Chevrolet Suburban 4WD LT Turbo-Diesel Numbers
BASE PRICE: $59,500
PRICE AS TESTED: $70,635
VEHICLE LAYOUT: Front-engine, RWD or AWD, 7, 8, or 9 passenger, 4-door SUV
ENGINE: 3.0L DOHC I-6 Turbo-Diesel
POWER: 277 hp @ 3,750 rpm (GM EST)
TORQUE: 460 lb-ft @ 1500 rpm (GM EST)
TRANSMISSION: 10-speed automatic
0-60 MPH: N/A
CURB WEIGHT: TBD
CARGO CAPACITY: 41.5 ft³, 144.7 ft³ with seat area (93.8 ft³behind second row)
FUEL TANK CAPACITY: 28 gallons
EPA FUEL ECONOMY: 20 city/26 highway/22 combined
OUR OBSERVED: 20.1 mpg
PROS: Drives way smaller than it is, very refined, turbo diesel is the only way to go
CONS: Can get pricey with options, the cabin could be more luxurious in higher trims

2021 Chevrolet Suburban 4WD LT Turbo-Diesel Review – Smooth and powerful