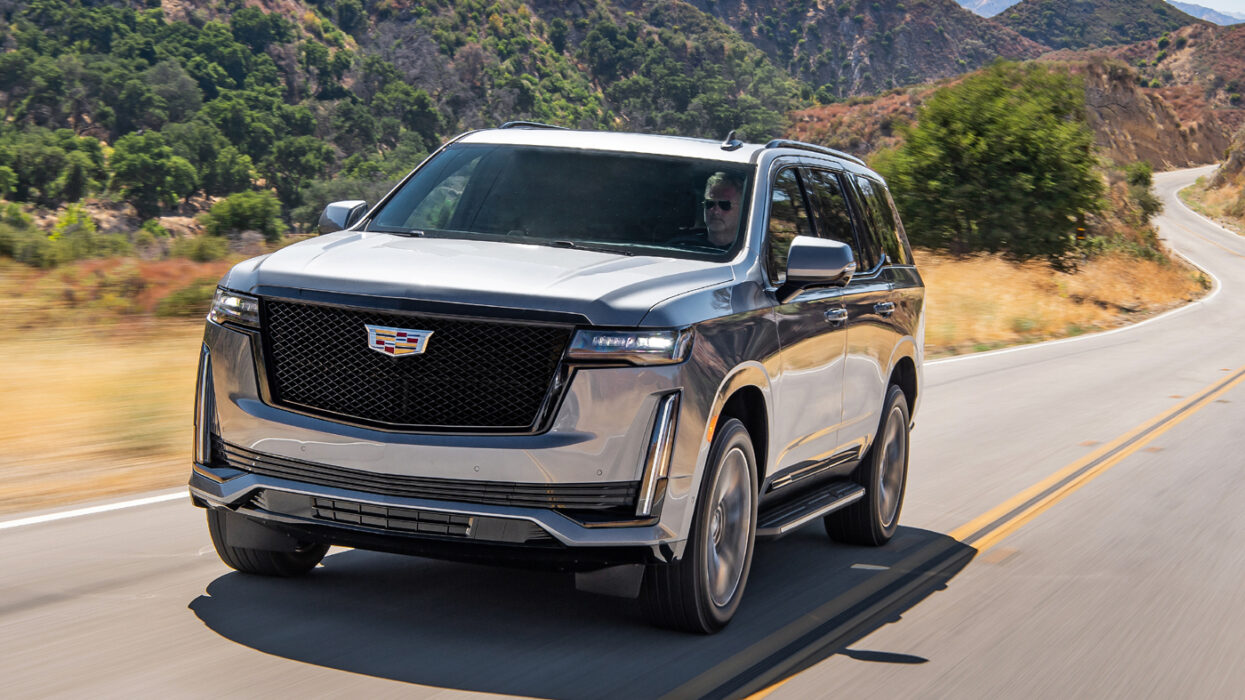 SUVs don't get much bigger than the Cadillac Escalade and its even bigger sibling the ESV, and they have always provided excellent performance and handling but always fallen short on providing a true luxury experience. All that has now changed with the all-new 2021 Cadillac Escalade, it finally has an interior that truly wows. Add to that fully independent suspension and two great engine options and you may see Ford and Lincoln running to the hills.
Bear in mind the Escalade is not a car-based crossover, which is fast becoming the norm these days, instead, the Escalade is built on the Chevy Silverado pickup truck platform, albeit with significant refinements. The new exterior is a refresh on the boxy shape we are familiar with while remaining the Cadillac we love. From the side, things look the same but from the front and rear, it looks taller and more contemporary. New thinner LED headlights complement the large Cadillac grille and thin daytime running lights that serve as turn signals as well.
My 2021 Cadillac Escalade 4 D Platinum came with a Shadow Metallic exterior, Whisper Beige interior, and 4WD giving it Auto, Snow/Ice, and 2WD settings as well as a couple of checked options, Night Vision ($2,000), Assist Steps ($1,750), and a Center Console Cooler ($700).
There are two engines available the 6.2-liter V8 which provides enough grunt to tow up to 8,100 lbs. or 8,300 without four-wheel drive. Power is a healthy 420-hp @5,600 rpm and 460-lb-ft @ 4,100 rpm mated to the 10-speed transmission, which provides smooth and almost imperceptible shifts.
The other option and the one I would choose is the 3.0 diesel with 277 hp @ 3,750 rpm and 460 lb-ft @ 1500 rpm. Opting for the diesel gives you 22 mpg combined versus 16 mpg with the V8 which is still way off the 13.9 mpg I achieved during the week.
Keep in mind the V8 does require 91 octane fuel, which will hit your wallet so if fuel economy is a major concern, you should definitely consider the Escalade Diesel.
Weighing in at a little under 6,000 lbs. we were able to launch the Caddy from zero to sixty in 6.1 seconds, a tad slower than the last model we tested in 2018 but still quick for a vehicle of this size.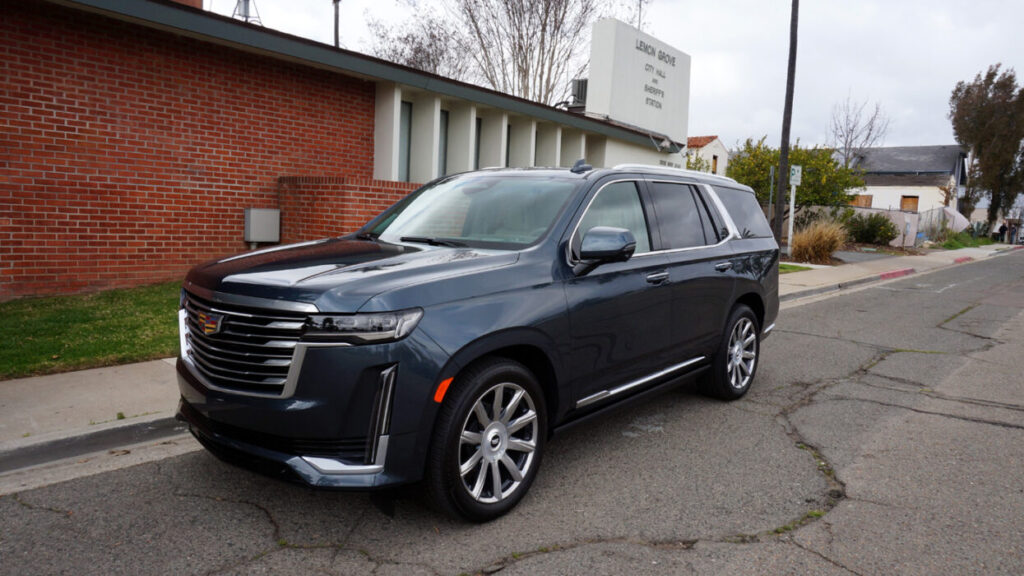 On The Road
Piloting a vehicle this size in tight spaces is no mean feat, but the all-new Escalade manages to defy its sheer mass by being quite light on its feet, rather like an elephant doing ballet. I was surprised how well it goes, especially since I took it on my usual road course including twisty mountain roads.
The combination of the Air Suspension and magnetic ride control do a great job of ironing out rough pavement and maintain excellent body control even when pushing on at higher speeds in the turns. Don't expect to be scything through twisty back roads in the Escalade, the steering is not set up for that and the sheer heft makes it prefer to waft along highways with long straights. There is a Sport setting that firms up the suspension over the Tour setting, but the comfort level is maintained.
The steering is light and direct, and the brakes are reassuringly solid, stopping the beast with no complaints. Bumps and road irregularities are well absorbed isolating both driver and passenger from Southern California's worst-kept roads.
The big V8 provides ample power, the car gains speed faster than you would imagine on freeway on-ramps until suddenly you're doing 90mph. This and my need to power away from stoplights was certainly the cause of my fuel economy numbers. Cruising along at 80mph on the freeway, however, the big V8 drops 4 cylinders, giving you some much better numbers, which may make the EPA numbers achievable. Let's face it though most owners are not going to be concerned about fuel economy in a vehicle that costs North of $100K.
Interior and Tech
The only place to start is the absolute showstopper of 38-inches of OLED screens arching across the dash and swooping down to the right-hand side. It's as impressive a dash as I've seen in a long time and it not only looks great it's totally functional as well. There are technically three touch screens that look like two one overlaid on the other to create a driver's instrument cluster and the larger panel behind.
The graphics are super high resolution too and the black background gives it a thoroughly modern feel. The small touchscreen to the left of the instrument cluster gives you a trip computer, instrument cluster function selection, and head-up display controls as well as Night Vision controls. Cadillac also has its Augmented Reality Navigation control here which is an ingenious feature that places arrows directly on top of a video feed of where you're driving so you never miss a turn.
Materials are also of very high quality with semi-aniline leather on all seats, beautifully stitched dash sections, and a linen-like cloth on the doors, which is a brave move considering how dirty this could get from sticky hands. The wood marquetry across the dash, doors, steering wheel, and consoles looks fantastic and head and shoulders above anything I have seen at this price point.
The Platinum-trim Escalade here comes with a whopping 36-speaker AKG sound system and so I tried to count them and got to 26 before I got bored, but it does produce an incredible sound.
Loaded is an understatement in Platinum trim, my tester had luxury features such as a cooled center-console cubby, illuminated Platinum sill plates, 22-inch wheels, and a suede microfiber headliner. The front seats offer 16-way power, 4-way power lumbar, and massaging with a special butt massage setting to keep the driver alert.
Rear Seat and Entertainment
The luxury standard is carried through to the rear and it's not until you get to the third row that the plastics get a tad hard and scratchy. Since the Escalade's new platform has independent rear suspension there is way more space for third-row passengers and the seats are actually pretty comfortable including the middle seat since they get extra legroom thanks to the captain's chairs in the second row. It's much like getting the emergency exit seat on a plane.
Second-row passengers get a rear-seat DVD entertainment system which is standard on this Platinum trim while the third row get USB power and cup holders.
Cargo space has grown and the standard car is almost as spacious as the outgoing model so the only reason to buy the longer Escalade ESV is for the additional cargo space with the third row in use.
Verdict
I have to say I was staggered when I saw the interior for the first time, sometimes things get overhyped but not this time, Cadillac has done a remarkable job with the new Escalade. Sure, it's big and brash and it's hard to deny the Escalade's sheer presence and combined with the additional space and two great engine options, it's hard not to love this car.
2021 Cadillac Escalade 4WD Platinum Numbers
BASE PRICE: $102,995
PRICE AS TESTED: $109,500
VEHICLE LAYOUT: Front-engine, 4WD, 7-passenger, 4-door SUV
ENGINE: 6.2 Liter OHV 16-valve V-8 with dynamic fuel management 
POWER: 420-hp @ 5,600 rpm
TORQUE: 460-lb-ft @ 1,500 rpm
TRANSMISSION: 10-speed automatic
CURB WEIGHT: 5,822 lb (mfr)
0-60 MPH: 6.1 seconds
EPA CITY/HWY/COMB FUEL ECON: 14/19/16 mpg
OUR OBSERVED FUEL ECONOMY 13.9 mpg
CARGO SPACE: 25.5 ft3 behind 3rd third row, 63 ft3 behind 2nd row, 109.1 ft3 all seats folded flat
PROS: Stunning interior, fantastic tech, smooth 10 speed
CONS: V8 is very thirsty

2022 CT5 V BLACKWING – TESTED
2022 Lexus NX 450h+ – First Drive
2022 Audi A4 45 TFSI Review