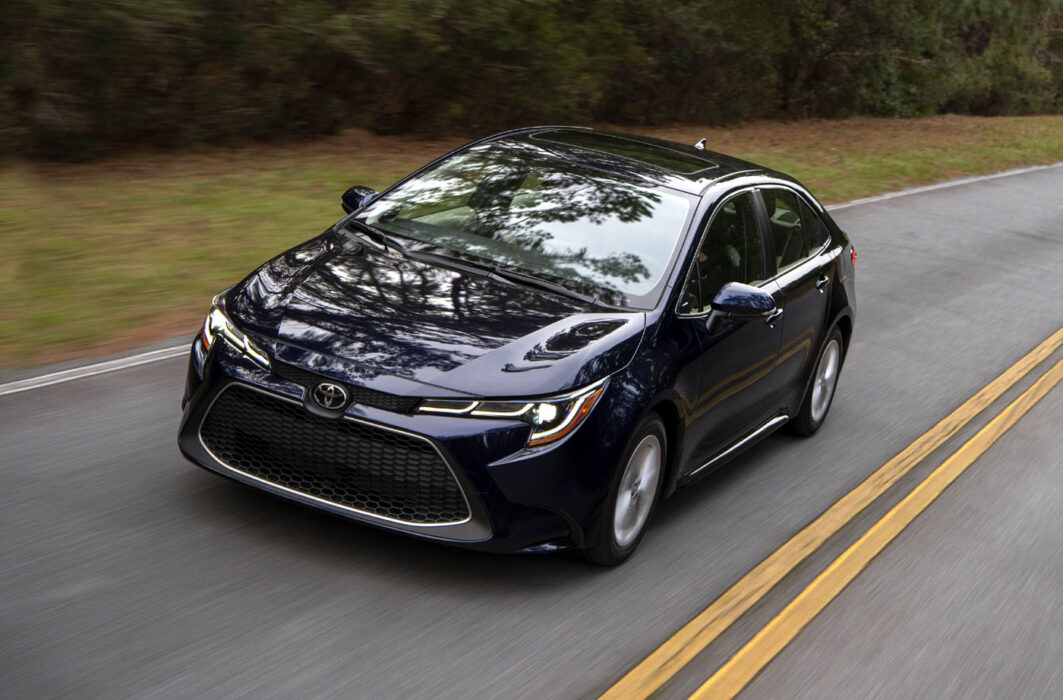 The 2020 Toyota Corolla is the 12th generation of the Corolla, the economical entry-level sedan from a brand that is famed for reliability. It's such a predictable mode of transportation for so many that it's become the best-selling car in the world, in fact, it has sold 44.1 million since 1966 beating out the F-150 (40 Million) and VW Golf (33 Million).
Toyota is confident that sedans will remain popular, and that the new Toyota Corolla, completely redesigned for 2020, will pull in buyers from the departure of both the Chevrolet Cruze and Ford Focus.
The 2020 Toyota Corolla is quite possibly the best-looking version of this car so far, it's based on a brand-new platform, where decent handling has been prioritized.  Toyota is aiming to take the "boring" out of the Corolla with quicker steering, a more advanced multi-link rear suspension, and a lower center-of-gravity. My tester looked pretty cool in Barcelona Red metallic paint, nice rims, and Yokohama low profile tires.
The new lineup is split into sporty and mainstream trim levels, with the SE and XSE covering the sporty aspect and L, LE, and XLE making up the more mainstream offerings. To top it off there is an LE hybrid available which offers up to 53 mpg int he city.
My 2020 Toyota Corolla XSE tester came fully loaded and included the optional Dynamic Navigation Package ($1,715) with JBL speakers and a subwoofer as well as Adaptive Front Lighting ($450), that take this car to $28,845, including destination. I would probably uncheck these options and stick with the base price of $25,725.
Under The Hood
Three engines are available, the L, LE, and XLE are powered by a 1.8-liter inline four-cylinder engine, upgraded by 7 horsepower to 139 and 126 lb-ft of torque. The SE and XSE use the bigger 2.0-liter four with 169-hp and 151-lb-ft. The hybrid combines a 1.8-liter with an electric motor for a total of 121 total horsepower and 105 lb-ft.
All powertrains come with a continuously variable transmission, tuned to be sportier and with a physical first gear in the SE and XSE, which improves off the line performance.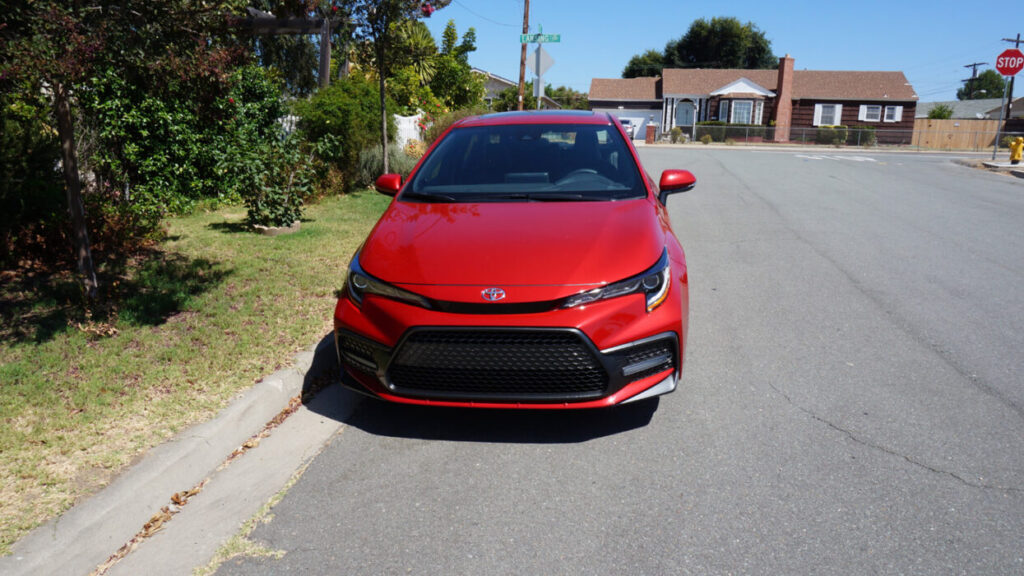 What's it like on the road?
Let's be honest here this is no hot hatch in disguise, Toyota has that outside the US in the form of the excellent Yaris GR and here's hoping it might make its way over here in the form of a Corolla GR hatch. So, expectations set, how does this car go…….very well indeed.
The XSE's chassis feels tight and it can be hustled through turns at a fair pace with minimal understeer. The steering is excellent, the wheels transmit road feel, and the experience is well, much better than I expected. The Yokohama Avid 225/40R-18s grip well, make little noise and the brakes are progressive and fade-free. What a great little car.
The only let down here is it could use more power especially given its sporty pretensions. The Civic, its main rival has a turbo 4, Toyota should have that in this car.
During our testing, I averaged 28 mpg which is pretty good, and I would expect the average owner to get much close to the 38 mpg EPA numbers.
On the inside
You may not notice when you climb in, but the Corolla now has a 25mm-lower seating position to create a sportier feel. I had to look it up. The faux-leather sport seats look great and are very supportive in all the right places, at least for the driver, Toyota insists on not letting the passenger raise or lower their seat.
Toyota provides all the interior goodies you would expect, there is Apple Car Play and Amazon Alexa capability, but weirdly no Android Auto. Toyota's Safety Sense 2.0 includes a pre-collision system with pedestrian detection, bicycle detection in daylight, full-speed range dynamic radar, and lane-departure alert with steering assist.
The XSE has an 8in central touchscreen which is easy to operate and reacts to inputs quickly and yes there are physical buttons too in case you are touchscreen challenged.
Overall the interior is very well made and contains soft-touch materials you wouldn't expect in an entry-level small car, the interior is vastly improved over last year's version.
Final Take
The 2020 Toyota Corolla is a huge improvement over the previous version, it's great looking and given Toyota's reputation should give you years of solid service.
2020 Toyota Corolla Numbers
BASE PRICE: $25,725
PRICE AS TESTED: $28,845
VEHICLE LAYOUT: Front-engine, front-wheel-drive, 5-passenger, 4-door sedan
ENGINE: DOHC 16-valve 2.0-liter inline-4
POWER: 169 hp
TORQUE: 151-lb-ft @4,800 rpm
TRANSMISSION: Continuously variable automatic
0-60 MPH: 8.0 sec
CURB WEIGHT: 3,150 lb
CARGO CAPACITY: 13.1 ft³
FUEL TANK CAPACITY: 13.2 gallons
EPA CITY/HWY/COMB FUEL ECON: 34/31/38 mpg 
OUR OBSERVED: 28 mpg
PROS: Much improved interior, spirited handling, nice styling
CONS: Buzzy 4 cylinder engine, could use more power
2020 Toyota Corolla XSE Review