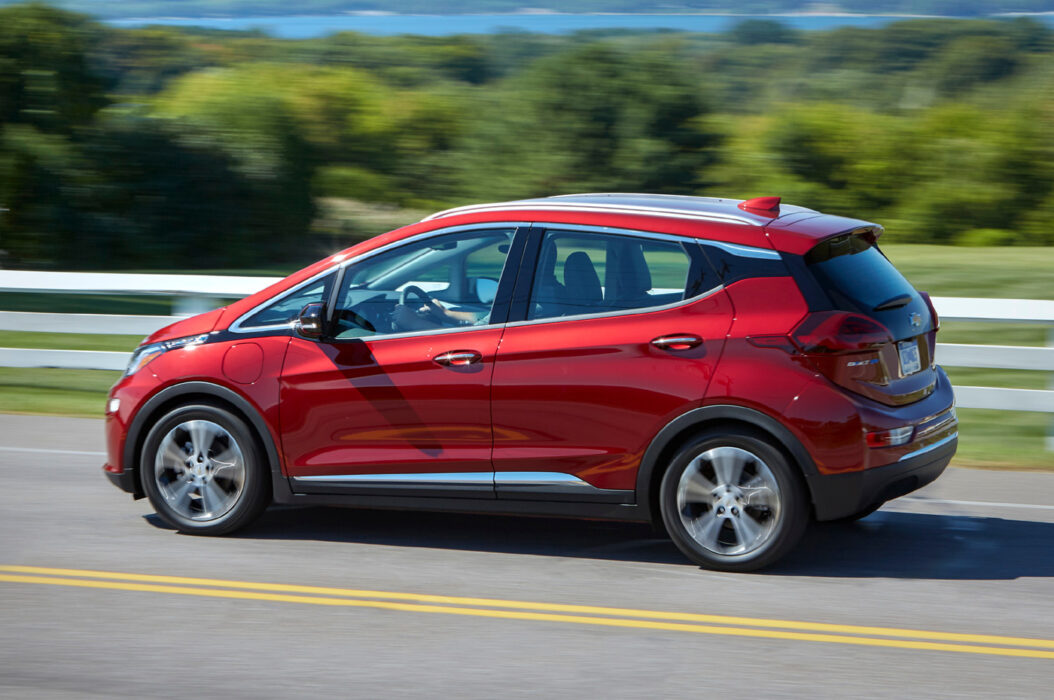 All torque all the time, is always a good thing and that's what you get with the 2020 Chevrolet Bolt EV, GM's very good, compact, non-fuel guzzling hatchback. Since it launched, however, the competition has caught up and Chevy had to up the ante for the 2020 model year. Battery capacity and range have both increased. The car has a new 66-kilowatt-hour pack (up from 60 kWh) which provides an EPA-estimated 259 miles of driving on a single charge. Where would you go with an extra 21 miles?
The competition in the shape of Hyundai's Kona EV and Kia's Niro EV offer 258 miles and 239 miles of range respectively, while the 2020 Nissan leaf lags with 226 and I'll leave the Model 3 out here since it doesn't really compete here.
My tester for the week was a Cajun Red Premier model, fully loaded and with some additional options checked, including a DC fast charging port ($750), the infotainment package including a Bose sound system ($595) and the driver confidence package including forward collision alert, automatic emergency braking and lane keep assist ($495).
Under the hood lies a permanent-magnet electric motor which receives its power from a 66-kilowatt lithium-ion battery, which sits below the floor. The motor delivers 200 horsepower and 266 pound-feet of torque making this car an absolute hoot to drive. Hooked up to our VBox the Bolt bolted from 0-60 in 6.4 seconds, despite some squealing from the not too grippy 17-inch Michelin Eco tires.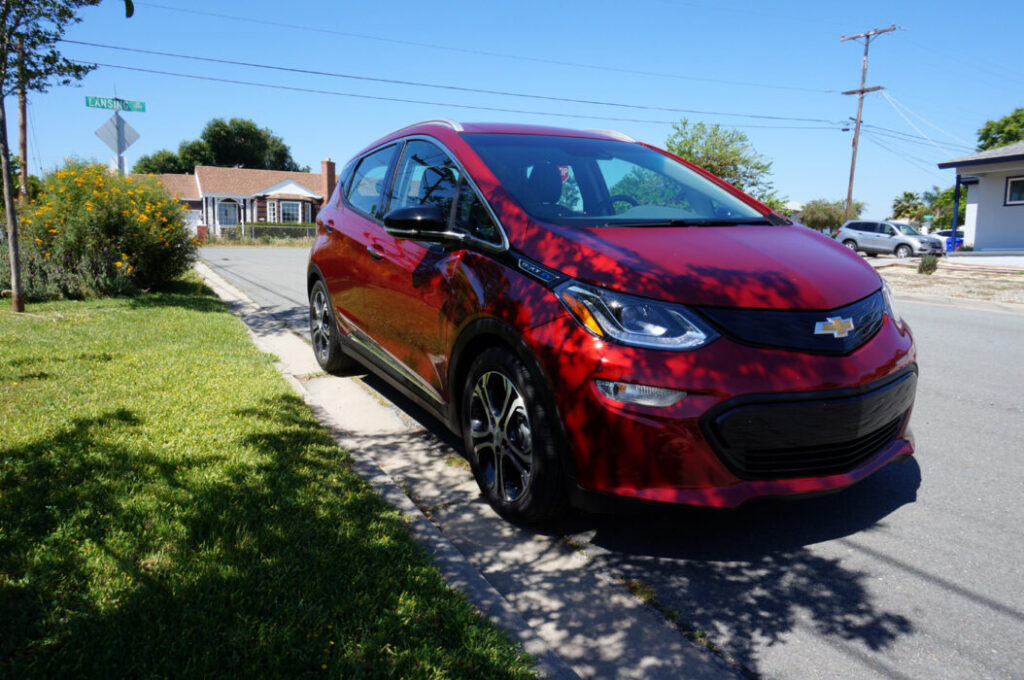 Driving Impressions
Once on the move the Bolt is ridiculously easy to drive, the steering is light, albeit with little feedback and the suspension is well dampened, ironing out the worst of San Diego roads. Acceleration is so much fun, it's always available and even if you mash the go pedal there is only a modest complaint from the Eco tires. That said I would change them for a set of sportier summer rubber immediately, these are just too mushy in the sidewalls.
At freeway speeds you still have plenty of acceleration, but it loses steam past 80 and won't do more than 91 mph due to the limiter, although downhill I did see 93 mph for a fleeting moment.  Darting through rush hour traffic is its skill and there aren't too many gas-powered cars than can keep up. It's small and nimble enough to squirt through gaps without thinking twice and there's always enough for a highway passing maneuver.
Many hatchbacks of this size are so slow they can't even pull the skin off a rice pudding!
Adding more grin inducing fun is the unique regenerative braking setup General Motors uses. Instead of tying the system to the regular disc brakes, GM's engineers came up with two options, a special drive mode that enables one pedal driving by activating the regenerative braking as soon as you lift off the throttle, which will virtually bring you to a stop.
Additionally, there is a steering wheel paddle that gives you that power on demand, like a hand operated brake, which will completely stop the car. It is so much fun to see how long you can drive for without using the brakes. It truly is a one pedal car.
Inside
Cabin space is pretty good, there is plenty of room for both front and rear seat occupants. It's not luxurious as such, having more of a clean and modern feel. The Bolt doesn't offer a sunroof which I prefer, especially here in sunny Southern California. The dash is dominated by technology particularly a 10 in touchscreen which gives you charge status, driving style, plus menu options that let you customize overnight charging times to maximize efficiency.
The Bolt comes with both Apple CarPlay and Android Auto, which can be combined with a seven-speaker Bose system to optimize sound quality. Our tester had the leather seats option and it's a wise choice as the cloth ones are basic. I would prefer to see a synthetic leather a la MB-Tex from Mercedes.
Fit and finish is only average GM deciding to spend money on tech over substance. It's not bad but hard scratchy plastics abound, which looks good but feels cheap. The trunk has a parcel shelf that's less of a shelf and more of a shower curtain, but these are small issues and we understand that GM needed to keep the weight down due to the large and heavy battery pack.
Can my dog travel in it?
Yes except for when you put the seats down and the rear compartment teeter totters when the dog steps on it causing widespread panic. It was clearly designed by someone who doesn't have dogs and the fix is easy, use a hinge.
Verdict
It's a great driving car, fast and fun and very cheap to run, more so if like me, you have solar. You will need a 240v, 30-amp charger or it will take 19 hours to charge on ordinary 110v.
2020 Chevrolet Bolt EV Numbers
BASE PRICE: – $41,202
AS TESTED PRICE: – $44,130
VEHICLE LAYOUT: – Electric Drive Unit, FWD, 4-passenger, 5-door wagon
ENGINE:  – Permanent magnet electric motor
BATTERY:  – 60.0 kWh lithium-ion
CHARGE TIME: – 9.3 hrs (240v) – DC Fast Charge: Up to 90 miles in 30 minutes
POWER: – 200 hp
TORQUE: – 266 lb.ft @ 0 rpm
TRANSMISSION: – Electronic Precision Shift
CURB WEIGHT: – 3,563 lb
0-60 MPH: – 6.36 seconds
EPA CITY/HWY: – 128/110 MPGe
DRIVING RANGE: – 238 miles
CARGO SPACE: – 16.9 ft³
PROS: – Fast, Impressive regenerative braking, nimble handling
CONS: – Rear compartment lid design, needs non eco tires

2020 Chevy Bolt EV Review