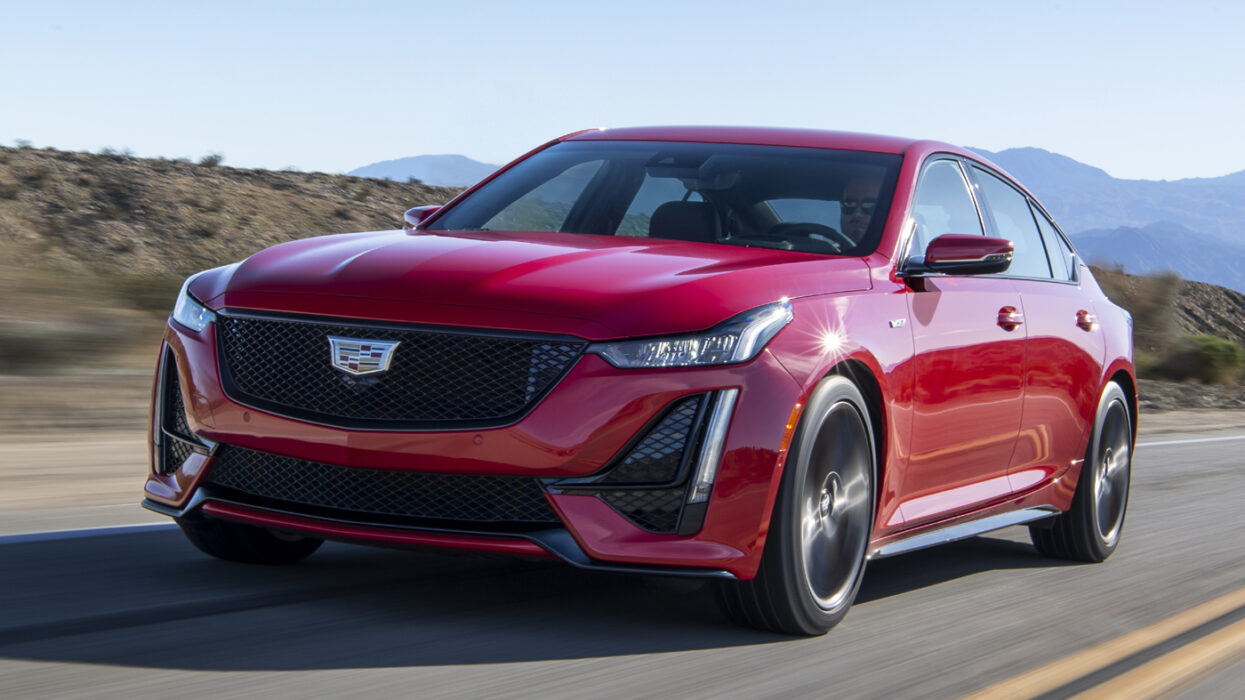 I tested the Premium Luxury CT5 a few months ago and I came away feeling that its performance was very good, but the suspension was a little too softly sprung for my tastes. Luckily Cadillac has a fix for that and Cadillac arranged for some seat time in the CT5-V and my 2020 CT5-V tester arrived in Summit White with all-wheel drive. Perfect.
Just to set expectations this car is not replacing the CTS-V which had a supercharged V-8 and 640 hp to help it along, instead, the CT5-V replaces the CTS V-Sport, albeit with less power but a much cheaper price starting at $47,695 a whole lot cheaper than the $61,695 CTS V-Sport with very similar performance.
You have to give Cadillac credit for sticking to its guns and staying in the premium-sedan game (despite decreasing sales) when many others have given up and concentrated on Crossovers and SUVs. I'm glad they have because the new 2020 Cadillac CT5-V is excellent.
PROS: A relative bargain, masses of torque, fun to drive
The only engine option in the CT5-V is a 360 hp twin-turbo 3.0-liter V-6, with 405 ft-lbs mated to an excellent and quick-shifting 10-speed automatic transmission.  Best estimates are that it will reach sixty from a standstill in a brisk 4.6 seconds.
It's a handsome looker too, I like the fastback design, I just wish it had a rear hatch instead of a standard trunk lid, that would provide much easier access to the rear cargo area. Other than the strange c-pillar design the CT5 looks the part.
The CT5 is aimed squarely at the Audi S4, BMW M340i, and Mercedes-AMG C43 buyers, and even though it is a tad slower, it's larger, more spacious, and cheaper.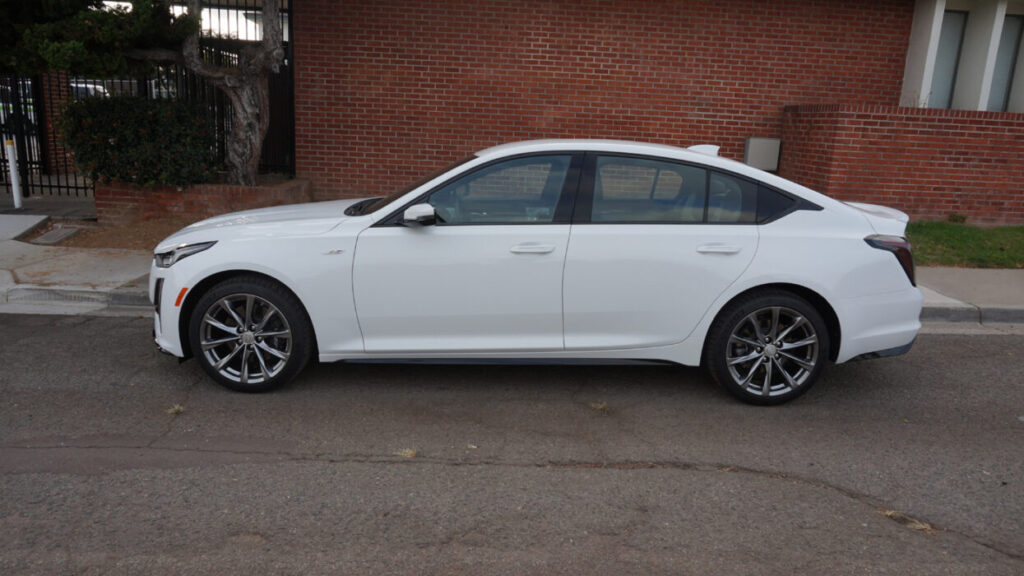 Driving Impressions
Having already tested the Premium Luxury CT5 I came away feeling that its performance was very good, but the suspension was a little too softly sprung for my tastes. What I needed was some seat time in the CT5-V and Cadillac obliged by sending a 2020 CT5-V in Summit White with all-wheel drive. Perfect.
The 3.0-liter 6 cylinder is a gem, it rips through its 10 speeds like a machine gun and the torque is always available no matter where or when you need it. It's positively grin-inducing.  It sounds great in Sport mode too, snarling and popping as it goes, and doesn't ever sound strained even at full chat. A lot of the noise is piped into the cabin and it's especially good at max rpm when you get a pleasant cracking sound as it changes up. It hangs on really tight in the corners and only at the limit do you feel a hint of understeer. It's very well sorted.
Drive in a more modest manner and the Sports Performance Shift system turns off (a small green cog in the dash tells you when it's on) and it becomes quite content to warble along in a very serene manner. There's no turbo lag either, I'm not sure how GM does it, but Audi could learn a thing or two here, this engine pulls like a train. Can you imagine this car with the 6.2-liter supercharged V8 under the hood?
CONS: Heavy steering at low speeds
It rides on a rear-wheel-drive platform, but you can get all-wheel drive for an extra $2,000. My tester had AWD and it puts its power down immediately from a stoplight, with no spinning wheels or shenanigans. The AWD system does add weight though and does affect fuel economy, I averaged under 15 mpg for the week.
The driver can customize drive settings in the center screen that includes new V-Mode personalization. There you can set up Engine Sound, Steering, Suspension, Powertrain, and Brake Response in Tour, Sport, or Track. Even with the most aggressive settings, the suspension doesn't beat you up, in fact, it's remarkably composed.
I found the steering to be heavy around town but the set up pays dividends when you reach higher speeds, the CT5 goes were you point it and it all feels well under control from the helm. The Brembo brakes are excellent and a great compliment for the Michelin Pilot 4S Summer tires which are now equal-sized as a bonus.
Inside View
You are welcomed into the CT5 with heated, cooled, and (optional) massage sport seats, leather-appointed, of course. My tester had the adjustable side bolsters which make for a very comfortable seating arrangement. The driver is greeted with two analog gauges, a tachometer and speedometer, and a central digital display for audio info and driver aid monitoring. That central piece needs an update, it looks somewhat clunky, but the rest is pretty good.
Cadillac's Cue infotainment system has been updated, it responds quickly, and menus are clearly marked and easily scrolled through. Apple CarPlay and Android Auto are standard the Caddy's infotainment is much easier to use now that physical buttons and knobs are available for the touch screen challenged.
Most of the interior, which is a mixture of wood, aluminum, and/or carbon fiber gives it a sense of luxury, however, it's not quite up to Audi levels yet, some harder plastics reside below knee level. My tester had the optional whisper beige with jet black accent seats ($1,500) to complement the Summit White exterior.
It also had the Bose Premium Audio which sounds excellent and is bundled with the V Premium Package ($4,190) and includes a Climate Package and Lightening Package. I would not spec the Driver Awareness Package ($1,300), save that for gassing it up and heading to the mountains for some fun!
In Conclusion
Whether you're in the corners or on the freeway, the CT5-V is a fun car to drive and it brings the sportiness that I missed in the regular CT5. It's also extremely well priced for what you get.  This car bodes well for the upcoming hot V version, which according to all the swirling rumors, may have the 640 hp V8, and if it does that will be magnificent. In the meantime, this one is a very good car.
2020 Cadillac CT5-V Numbers
BASE PRICE: $47,695
AS TESTED PRICE: $57,680
VEHICLE TYPE: Front-engine, all-wheel-drive, 5-passenger, 4-door sedan
ENGINE: 3.0 liter twin-turbocharged DOHC 24-valve V-6
POWER 360 hp @ 5,600 rpm
TORQUE 405 lb-ft @ 2,400 rpm
TRANSMISSION: 10-speed automatic
CURB WEIGHT: 4,144 lbs
Zero to 60 mph: 4.6 sec
Top speed (governor limited): 150 mph
EPA combined/city/highway: 20/17/25 mpg
OUR OBSERVED FUEL ECONOMY: 15.7 mpg
PROS: A relative bargain, masses of torque, fun to drive, much-improved infotainment system
CONS: Heavy steering at low speeds
2020 Cadillac CT5-V Review