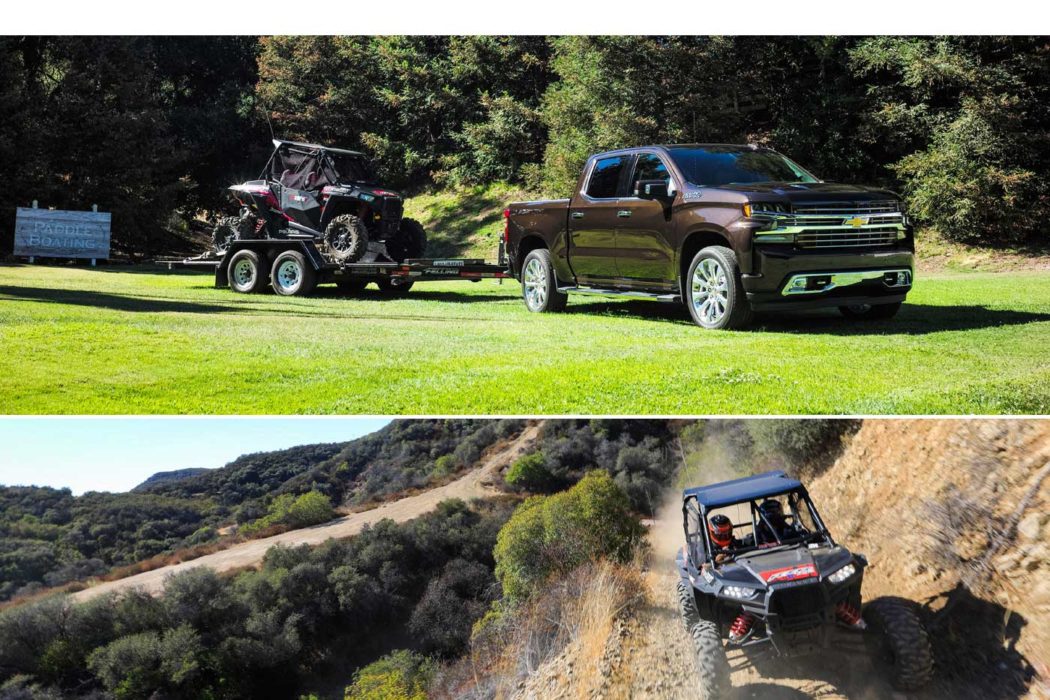 The folks at Chevy were kind enough to invite me to a 2019 Chevrolet Silverado towing event in Santa Monica, CA the other week, which on first thoughts sounded great but then once the invite arrived I realized I had to be at Barker Hangar at 8:30 am, that's early considering I'm in San Diego, 136 miles away. Since the Los Angeles region has once again topped the list of areas with the worst traffic congestion for the sixth year in a row, I needed a plan.
A quick Expedia search revealed that hotels in Santa Monica aren't cheap but I didn't care, getting up at 4 am for a 4 + hour drive in traffic was the alternative. So Travelodge was booked at an exorbitant rate but did include a free continental breakfast (read stale croissant and poor coffee), which I skipped. The good news my tester that week was so new it didn't have license plates so there was no way I would be able to pay the toll on the 78 in Orange County.…shame. Add to that the Travelodge was 1.9 miles from Barker hanger so I didn't have to get up at the crack of dawn.
On arrival at Barker Hangar, seven 2019 Silverado's were lined up hooked to trailers with Polaris ATVs on the back, which sort of reminded me of a 'Real People, Not Actors' commercial. Just in front of the vehicles was a large area decorated with cool leather sofas and of course breakfast, which is why I skipped the Travelodge fare.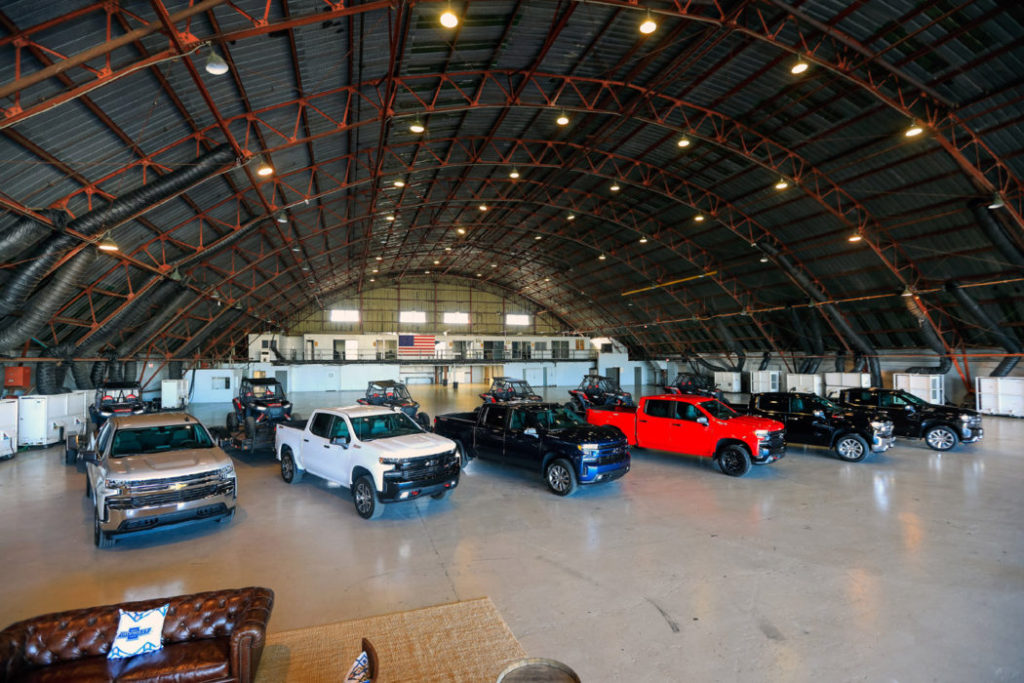 What's New for 2019?
The 2019 Chevrolet Silverado doesn't look particularly different from the company's previous offering except for a new grille and some subtle panel changes. Instead Chevrolet has spent huge sums of money developing new technology and creating virtually unlimited choices in how you spec it out. Now it offers best in class cargo volume in every bed length, with the short box offering 63 cubic feet, 20% more than the competition. The tailgate comes in four flavors,  a standard manual gate, a standard gate with lift assist, a power lock/release gate which includes lift assist and automatic release and finally a power up/power down gate, an industry exclusive.
The 2019 Silverado will be available in eight trims, with crew-cab V-8 models available in dealer lots first. The engine lineup is impressive (details below) and will include a 2.7 L Turbo and the highly anticipated 3.0 L I6 Turbo Diesel, which the onsite Chevy engineer was not giving away any pertinent details about, so we'll have to wait till 2019. Top of the range will be the 6.2L V-8 with 420 hp and 460 lb-ft driven through a 10 speed auto. This one has Dynamic Fuel Management the first cylinder deactivation technology that enables the engines to operate in 17 different cylinder patterns to optimize power delivery and efficiency. AFM is only able to offer a switch from 8 cylinders to 4, so this new DFM system will increase efficiency and save fuel.
Inside Look
The new Silverado offers tons of interior stowage space including the usual center-console cubbies as well as compartments below the rear-seat bottoms and hollowed out of the rear seat backs. Tall people now get 3 additional inches of rear seat room in crew cab models and 44.5 inches up front. Front seats are very comfortable, our LT model had cloth, that looked durable enough to survive a nuclear winter, and have built-in premium antimicrobial soil repellent…………..leather is available if this is too confusing.
Packed with tech
On offer in the tech department are a host of features to help both frequent and infrequent haulers. An optional tow package uses cameras to show close-up views of the trailer hitch and the trailer itself. This means there's no need for a buddy to watch as you back towards the hitch, instead you are perfectly lined up, most of the time. We were demoed the system and it worked very well. Once attached the driver can then test the trailer lights, once again without a buddy. The system tests all the various lights, brakes, reverse etc. and displays any faults on the screen in the cabin. Easy.
As well as the usual 4G LTE Wi-Fi connectivity, Apple Car Play, Android Auto and wireless phone charging the Silverado will be available with a Head-Up display, Rear Camera Mirror, Surround Vision (makes for easy trailer hitching). Driver aids like Lane Keep Assist and Lane Departure Warning will gently turn the wheel and bring you back into your lane if you forget to use your turn signals. The system will also store your trailer information so if it doesn't have reverse lights you can tell it not to check them and avoid the system alerting an error. The system can also store information for  up to 5 trailers, allowing owners to track mileage on each one and set service reminders at appropriate intervals. The Silverado's new infotainment system overall combines crisper, and much more modern graphics with faster processing times than before.
How does it tow?
I'll admit to never having towed anything before despite coming from a nation (UK) that will tow a horse trailer with a Mini Cooper without a second thought, so I was pretty impressed with my first effort. Our hour long drive from Santa Monica to Calamigos Ranch involves some narrow Santa Monica surface streets before you make a right turn onto the PCH for the drive North to Malibu. The first thing I noticed is that LA drivers will cut in front of you despite knowing you have a trailer. Luckily the brakes were well able to stop our truck and payload on numerous occasions.
After some time we turned east into the hills heading towards Calamigos Ranch where our ATV and lunch awaited. The 5.3 liter V8 pulls strongly and I had no doubt it would pull its 11,600 lb tow max. The only gripe I have is with transmission which would change up and down on occasion and couldn't get settled. When I needed more pace it would seem initially reluctant to change down a gear.
Ride quality is great though, the suspension smoothes out the worst that a California street can throw at it and the cabin is quieter than a church mouse inside. In fact, you almost forget you are driving a truck, I could barely hear any noise from the tires at all. There is a reason for that though, firstly, the frame and the suspension have been updated for a smoother ride, plus the engine mounts are hydraulic and new cab mounts help decrease the overall NVH levels. Well done.
ATV Fun
On arrival at Calamigos Ranch we got set up for some ATV fun now that we had proved our towing skills, by donning a dust scarf, head sock and a very stuffy helmet. We were told it would be very dusty and indeed it was, in fact I hadn't seen that much dust since I watched the sandstorm in the original Mummy movie. Strapped in and given a quick safety briefing, which included having to stay in low ratio all the time, we set off up the dusty trail, ignoring the advice not to drive too close to the ATV in front. Even in low ratio it was a hoot to drive these things and it felt faster than the 15 mph we were actually going. Of course someone had to get a little careless and the driver in front of me overcooked it on a sharp bend and ran off the road into a tree, which incidentally saved her and her passenger from rolling all the way down the hill. A couple of bruises to show for it and some injured pride, it was time for lunch, which was excellent.
Verdict
I need to spend some time in the Silverado without a trailer to test its chops, but having pulled a trailer with a payload of 4,000 lbs, up a pretty steep incline, I'm betting it's going pretty nice to drive when I get my hands on one, since it weighs some 450 lbs less than the outgoing model. Ultimately what you want in a truck is a commuter vehicle for weekdays, a nice car to drive around in during the weekends and the ability to buy some toys and have fun. The truck market is huge for Chevy, it's their bread and butter, but they have done a really good job with the new Silverado and  they might just give the engineers from Ford and Ram some sleepless nights.
4.3L V-6
 w/AFM
(6-spd)
5.3L V-6
 w/AFM
(6-spd)
2.7L Turbo
 w/AFM
(8-spd)
5.3L V-8
 w/DFM
(8-spd)
6.2L V-8
 w/DFM
(10-spd)
3.0L I-6
 Turbo Diesel
(10-spd)
Work Truck
Std.
Avail.
–
–
–
–
Custom
Std.
Avail.
–
–
–
–
Custom Trail Boss
Std.
Avail.
–
–
–
–
LT
–
–
Std.
Avail.
–
Avail.
RST
–
–
Std.
Avail.
–
Avail.
LT Trail Boss
–
–
–
Std.
–
–
LTZ
–
–
–
Std.
Avail.
Avail.
High Country
–
–
–
Std.
Avail.
Avail.
2019 Chevrolet Silverado Capabilities
4.3L V-6
 w/AFM
(6-spd)
5.3L V-6
 w/AFM
(6-spd)
2.7L Turbo
 w/AFM
(8-spd)
5.3L V-8
 w/DFM
(8-spd)
6.2L V-8
 w/DFM
(10-spd)
3.0L I-6
 Turbo Diesel
(10-spd)
Horsepower
305
355
310
355
420
TBA
Torque
285
383
348
383
460
TBA
Max Towing 
8,000
11,000
7,200
11,600
12,200
TBA
Max Payload
2,500
2,430
2,280
2,190
2,100
TBA
EPA Estimates
N/A
N/A
N/A
17/23/19
16/20/17
N/A

DFM: Dynamic Fuel Management
AFM: Active Fuel Management