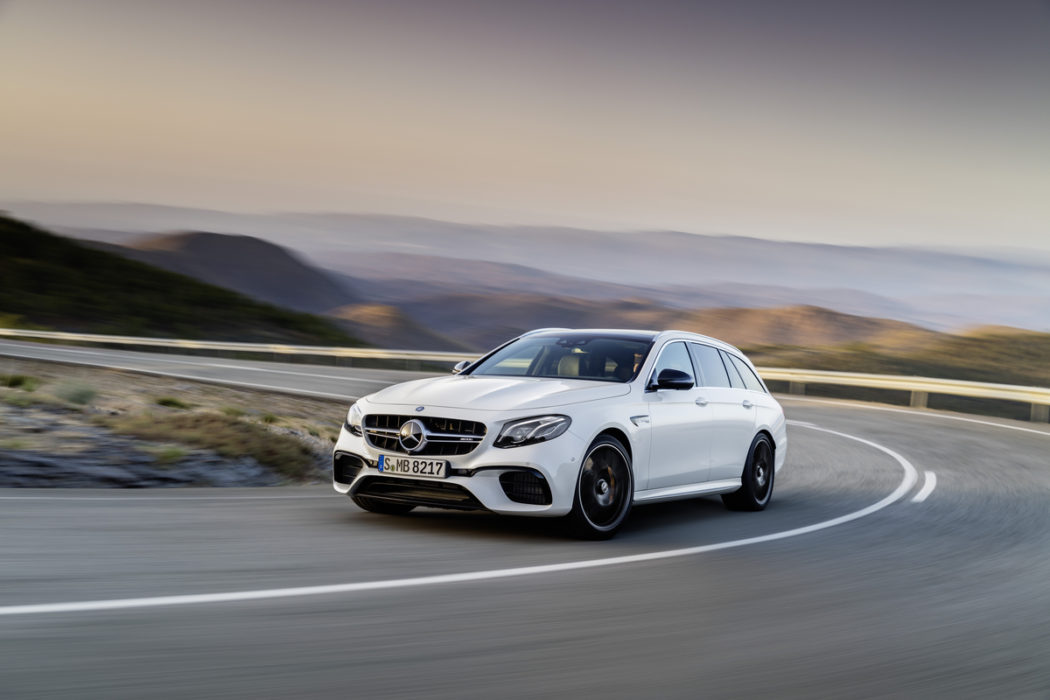 A Thunderous Proposition
Stateside wagons are not popular at all in the US, with the majority opting for a high riding SUV. Not so in Europe where one-in-three E-Class models sold is a wagon, and in Germany it's 50%. So we are honored to get the 2018 Mercedes-AMG E63 S Wagon which is simply the fastest way to transport your granny's antiques from A to B. With it's 64.3 cu ft of cargo space and a 4.0-liter, bi-turbo V8 that puts out a staggering 603 horsepower and 627 pound-feet of torque, you"ll have no problem taking 4 adults and their luggage on a road trip. The delightful power-plant is mated to a nine-speed automatic and all-wheel drive, meaning it'll blast sprint to 60 mph in 3.4 seconds. Torque distribution on the front and rear axles, which is fully variable for the first time, ensures optimum traction in all road conditions. Like the E63 S Sedan, the E63 S Wagon offers innovative drive technology and outstanding performance coupled with a unique design, exclusive appointments and the latest infotainment features for a wide range of connected multimedia applications.
Five driving modes are offered— Comfort, Sport, Sport+, Race, and Individual — meaning you can go from quiet limo to savage beast in seconds. Wagons are becoming rarer then the white rhino these days, so we're glad Mercedes is one of the few manufacturers committed to bringing them here.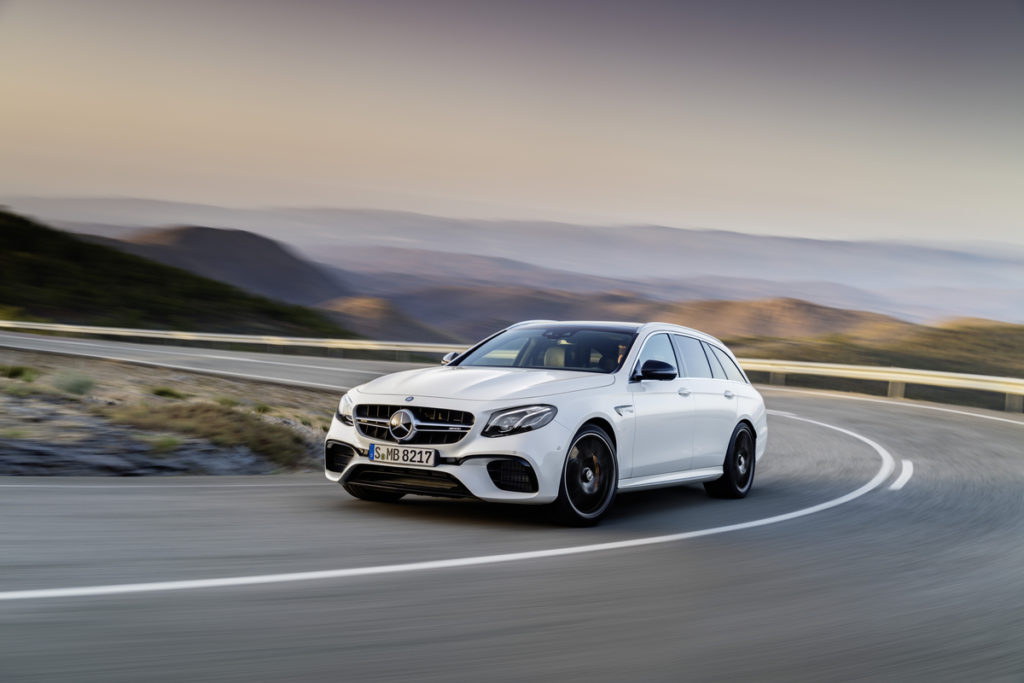 Technical data at a glance
| | |
| --- | --- |
| | E63 S Wagon |
| Engine | Hand-crafted AMG 4.0L V8 biturbo |
| Displacement | 3,982 cc |
| Output | 603 hp at 5,750–6,500 rpm |
| Max. torque | 627 lb-ft at 2,500–4,500 rpm |
| Drive system | AMG Performance 4MATIC+ permanent all-wheel drive with variable torque distribution and drift mode |
| Transmission | AMG SPEEDSHIFT MCT 9-speed sports transmission |
|  0-60 mph | 3.4 s |
| Top speed | 180 mph (electronically limited) |
Exterior design
The 2018 Mercedes-AMG E63 S Wagon looks more menacing and is 1.1-inches wider, the wheel arches accommodate the greater track width and the larger wheels on the front axle. Mercedes is also showcasing its sophisticated cooling technology – a typical feature from motorsport and another visual reference to the powerful engine.
Interior design
The interior of the E63 S Wagon carries over from the sedan with an AMG Performance Steering Wheel in black nappa leather is ideal for a sporty driving style. The driver and front passenger enjoy sport seats, with improved lateral support. AMG Performance Seats with integral head restraints can be ordered as an option. Additional interior touches include nappa leather trim for the dashboard and beltlines, seat belts available in crystal grey and a steering wheel with a grey '12-o'clock' marking.
All important speed, safety and performance information appears within the driver's field of vision on the standard-fitment dual-12.3″screen digital instrument cluster. Gauges in a carbon-fiber look and distinctive typography lend the displays an especially sporty touch. The widescreen display also allows the driver can choose from three display designs unique to AMG: "Classic," "Sport" and "Progressive."
The world premiere of the E63 S wagon will take place at the Geneva Motor Show in March, 2017.
The E63 S Wagon is scheduled to be on-sale in the US by fall of this year. Expect to have to drop 6 figures if you want one.