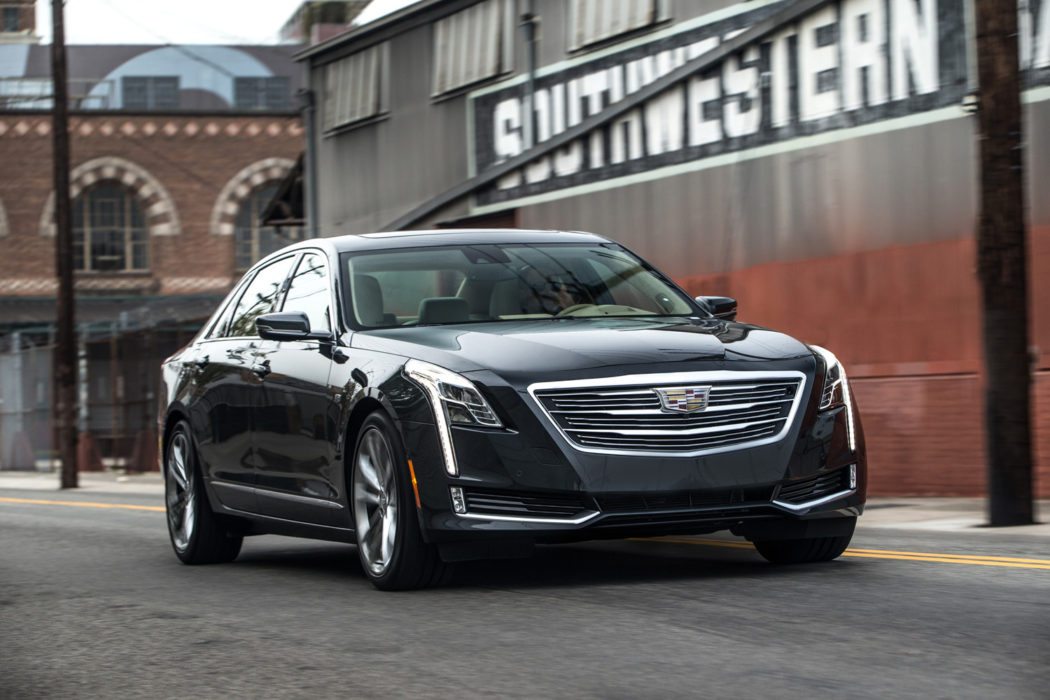 Size Matters
The elegant CT6 replaced the XTS as Cadillac's full-size flagship in 2016 model year with an attempt to provide competition to the S-Class, 7-Series, and A8. It very nearly succeeds and shows that Cadillac is having success in building big sedans that younger folks may be willing to buy. That's a tall order though considering everyone and their aunt wants an SUV these days, with offerings across all sizes. However, if getting a massage in the back seat of a car while keeping your bum warm, cruising at 100 mph and having 'Zero Dark Thirty' night vision is your thing, then the very large and plush 2018 Cadillac CT6 Twin Turbo AWD is for you. We loved it.
Cadillac offers 3 engine choices, all with 8-speed automatic transmissions. The base turbocharged 2.0-liter inline-4 makes 265 horsepower and comes with rear-wheel drive next up is a 3.6-liter V-6 with 335 hp, and finally a 3.0-liter twin-turbo V-6 that produces 404 hp @ 5,700 rpm and 400 lb-ft @ 2,500 rpm, both with all-wheel drive. Our tester was a twin turbo Platinum model with a Stellar Black Metallic exterior and a whole load of goodies inside.  Cadillac's twin turbo V6 is a masterpiece, it's one of the most linear turbocharged engines I have ever driven, however, unlike in the ATS-V, which has 465 hp, the CT6 weighs 400 lbs more and has a 60 hp deficit. Don't get me wrong the twin-turbo V6 is smooth and powerful but it never pins you to the seat like a twin turbo V8 would...hint hint. Rumors are that Cadillac is thinking of offering such a power plant in upcoming models and that would make this one a tour de force.
On take off the car just goes, no wheel spin and no turbo lag either, just fast and smooth progress and when stopping is required we were impressed with how they brought us down to safe speeds in a very short space of time.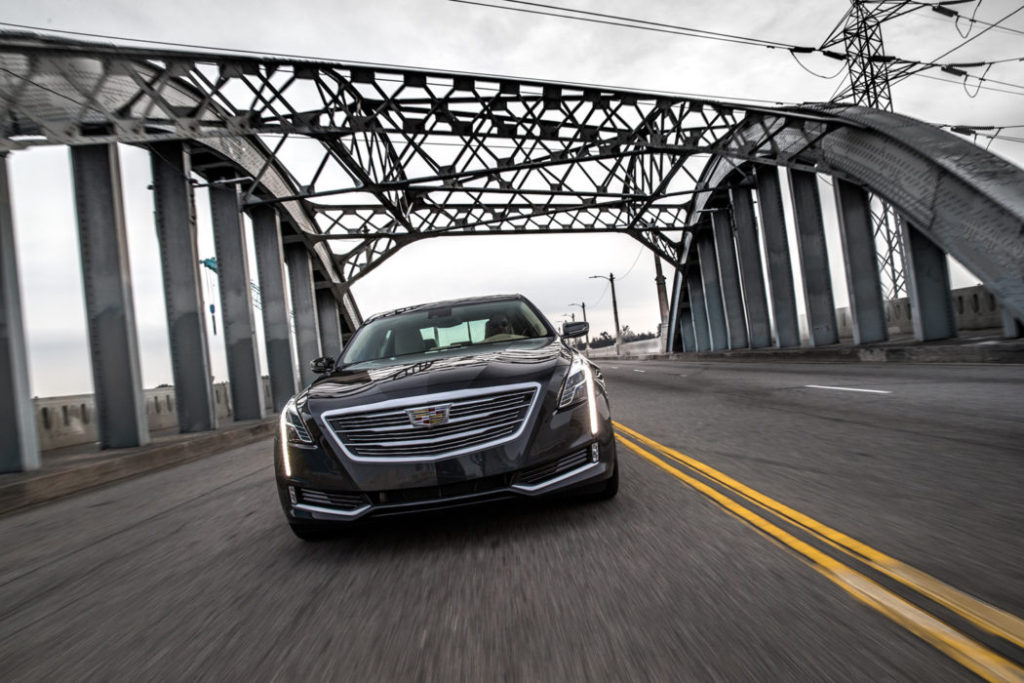 Driving Impressions
The most surprising thing about the CT6 is not how big it is, because it is quite big, but how small it seems when hustled along a mountain road. As is usual we took it up into the mountains East of San Diego to test it's mettle. The CT6 is very composed in the turns and you have to enter a corner pretty fast to have a small amount of under steer become apparent, but it's small thanks to the Active Rear Steering system which works by turning the rear wheels in the same direction as the front wheels, mitigating the under steer. The system works well, the car turns in neatly and safely, foot down and onto the next corner.
The CT6 rides pretty stiff, more so in Sport Mode, which we used for 50% of the time. Tour Mode is preferable around town where it will soak up all but the worst of San Diego's potholes. Our tester came with Cadillac's Magnetic dampers which help keep the car remarkably flat at all times.
Steering is very good as we found on the ATS-V , and provides good feedback and not too much assistance. In fact we reckon it's one of the best systems available. Brakes as we mentioned earlier provide excellent stoppage from high speeds, have good pedal feel and were fade free throughout or testing. It's remarkably surefooted, and planted for such a big car with such a long wheelbase. Add to that it's cool looking, we got more than one long stare from passers by.
Strapping on our test gear we launched from 0-60 in a very respectable 4.7 seconds and to 100mph in under 12 seconds.
Inside
Sitting in the driver's seat, which has more options than a Denny's menu, you get an adjustable head-up display that shows your speed, helpfully the speed limit and other information in the dash. Also you notice, if the sun is up a message saying "Night Vision works only when headlights are on", and it goes without saying works after sunset. Once it is on though, the dash view goes all "Zero Dark Thirty" on you highlighting pedestrians in a cool orange outline. It's great and aside from the cool factor is a great safety feature.
Both front seats have heat, cool and massage, which I found to be slightly better than what Audi offers, the Caddy has a bit more strength although still some way short of a Full Thai. Back seat occupants get heat and massage and a movie screen, which one of our less techy friends spent 20 minutes fiddling with trying to get the screen down, until he discovered the remote.
Our tester's dash was fairly subdued, mostly black and pleasantly free of bling. For the most part quality is very good but some pieces seem like they came from the GM parts bin, particularly the stalks. I tested Bluetooth set up, Apple CarPlay and navigation and all are simple to use. The CUE system works well but touch control sometimes required a second stab to access a menu item. Once annoyance is the positioning of the the 12-volt power source, it's in the back seat on the armrest, which meant I coudn't use my radar detector seeing as the cord was stretched so tight it pulled the unit off the wind shield. Surely there has to be a place for one in the front.
Verdict
Loved this car for the week we had it. Our tester came with huge 20-inch wheels, which was of no detriment to ride quality. If you don't want to spend $92K though the base CT6 comes with a turbocharged 2.0-liter engine rated at 265 horsepower and 295 pound-feet of torque, paired with an eight-speed automatic transmission and rear-wheel-drive for $55,090 out the door.
$92K is a lot when you are up against the big three Germans, but Cadillac has proved they can match them and better them in some cases on performance and handling. If GM can get to grips with a couple of annoying faults and quality issues, then this car would be superb. That said, as is we would have it back for a week with no problem. If you're in the market for a personal jet for the road then you should add this to your list, it's a damned good drive.
2018 CADILLAC CT6 TWIN TURBO NUMBERS
| | |
| --- | --- |
| VEHICLE TYPE: |  Front-engine, rear- or all-wheel-drive, 5-passenger, 4-door sedan |
| BASE PRICE:  | $88,295 |
| AS TESTED PRICE: | $91,685 |
| ENGINE: | Twin-turbocharged and intercooled 3.0-liter V-6 |
| POWER | 404 hp @ 5,700 rpm |
| TORQUE | 400 lb-ft @ 2,500 rpm |
| TRANSMISSION:  | 8-speed automatic with manual shifting mode |
| CURB WEIGHT:  | 4,165 lbs |
| Zero to 60 mph:  | 4.7 sec |
| Zero to 100 mph:  | 11.8 sec |
| Braking, 70-0 mph:  | 157 ft |
| Top speed (governor limited):  | 150 mph |
| EPA combined/city/highway:  | 21/18/26 mpg |
| OUR OBSERVED FUEL ECONOMY: | 17.4 mpg  |
| PROS: |  Handles like a much smaller car, night vision, packed with goodies |
| CONS: |  Needs a twin turbo V8, 12 volt power source |