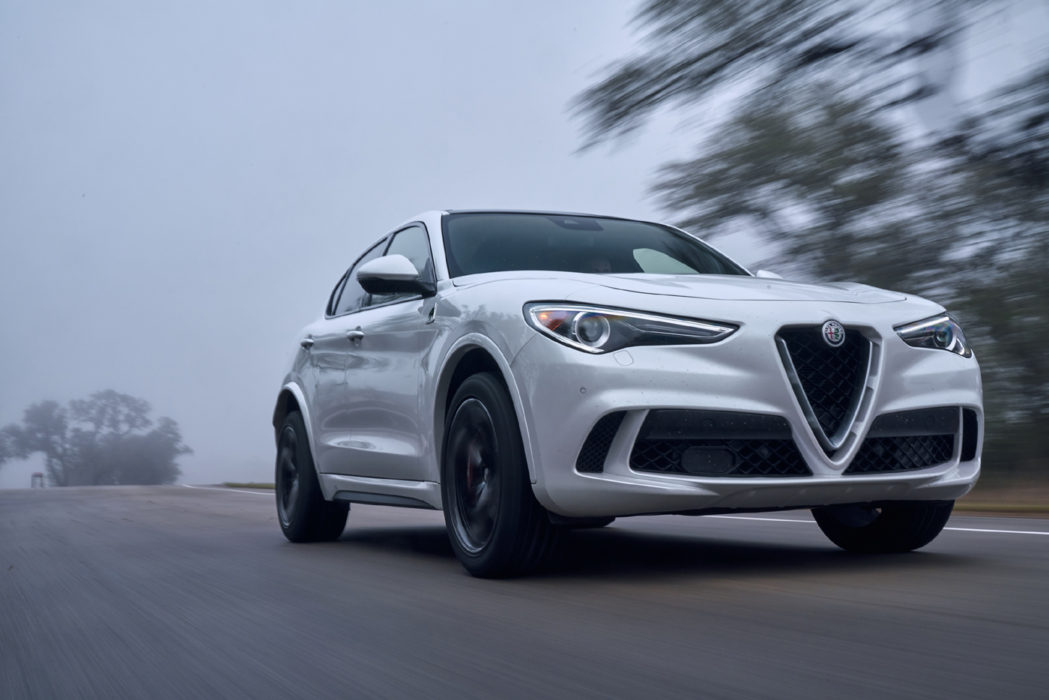 The 2018 Alfa Romeo Stelvio Quadrifolgio shouldn't exist, but it does and I for one am really glad it does, since it's an SUV that will go from 0-60 faster than an Aston Martin DB11, a Chevrolet Corvette Grand Sport and a Dodge Challenger SRT Hellcat. It also ties the Grand Cherokee Trackhawk to 60 and will easily lose it in the turns….yes, it's that good.
All this is possible thanks in part to a Ferrari sourced engine, the V8 from the California but with 2 cylinders lopped off and a RACE mode, yes it has a RACE mode. Pair that with a quick shifting 8 speed transmission which helped it to lap the Nürburgring in a time of just 7 minutes and 32 seconds beating the Porsche Cayenne Turbo S by 8 seconds!
So, what's under the carbon fiber hood then?……..The Stelvio Quadrifoglio runs a 2.9-liter twin turbo V6 that pumps out 505 hp @ 6,500 rpm and 443-lb-ft @ 2,500 rpm, which are very good numbers indeed. Mated to an 8-speed automatic transmission and with huge column mounted paddle shifters, this SUV means business.
We attached our Racelogic equipment and selected RACE mode of course, this turns off ESC and holds the car at around 2,500 rpm with a left foot firmly on the brake pedal. We did a couple of launches and got it to 60 mph in 3.5 seconds dead, impressive.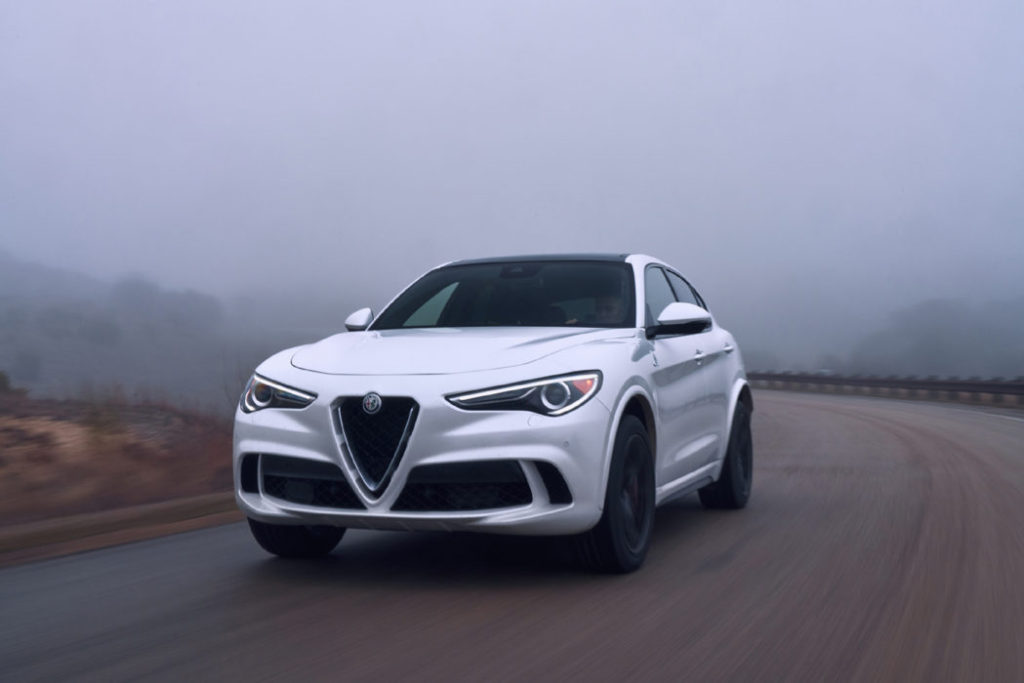 How does it go?
The Stelvio QF doesn't realize it's an SUV and its driver will only realize because they are sitting up high. Let's be honest it's a lifted Giulia QF and being taller makes for a sense that you are not going as fast as your really are, which caught me out on a couple of occasions. A dab on the terrific brakes was all that was needed to bring be back to legal speeds.
In order to give maximum driver satisfaction Alfa gives this car a DNA selector but unlike the cooking version they have added an extra mode, RACE. Simply hold the knob for a couple of seconds and the damper button in the middle turns red, which you can press to make them slightly softer, I didn't.  This gives the Alfa a rear bias and the front wheels only play a part if the rears give up traction. In RACE mode the Stelvio QF is savage, the car simply doesn't want to drive slowly, it's constantly on edge. This means that when you bury your foot into the carpet it just goes berserk, tearing into corners carrying speed you just wouldn't expect. Turn in is crisp and powering out is pure joy before you hit the excellent brakes for the next turn.
When you first start driving in RACE mode a quick turn of the wheel is all that's required to realize that you're sitting in something very very special. The steering communicates everything to the driver, is razor sharp and is unlike any other electrically assisted steering I have ever experienced. Why don't all cars have steering like this?
Thanks to the offset Pirelli P Zero PZ4s, cornering grip is phenomenal, and not a squeal was heard in the week I spent tackling tight and twisty mountain roads. They will let go though, so caution is needed in RACE mode, power out of a corner and the tail will slide but a quick flick of the wheel sets you back on course.
Dial back the selector and the rasping, farting, brap brap exhaust note is subdued somewhat (your neighbors will thank you), and the suspension softens, but you wouldn't describe it as such. It's still fast whichever mode you choose, but RACE is ridiculous especially when you use the excellent paddle shifters, which make the exhaust sound even better. There is a price to pay though, I averaged 14.7 mpg for the week and at times it went below 12 when driving at full chat, but it really is worth it.
But how does it sound?
Inside View
The Stelvio QF is all about the driving and this is highlighted in the excellent and supportive front chairs, leather covered of course. The rest of the interior is attractive, it's a pleasing design, fuss and clutter free. The dashboard design is also taken from the Giulia, only the steering angle is different due to the vehicle's higher stance. The interior is a very minimalist in its design which I like, and although the infotainment screen is small most of the controls are at hand in the center console, the DNA mode selector, the infotainment volume and the rotary menu controller.
If I have a quibble it's the low rent gear selector. The steering wheel is however, superb, thinner at the top, covered with a mix of leather and grippy Alcantara and with those tremendous paddle shifters mounted on the column.
The quality of materials is pretty good except for that gear selector I mentioned, which should be an easy fix, so I won't dwell. It's not a match for an Audi interior but it feels robust and durable, but it has what most cars don't, it has soul, it's been built with a passion for driving, to get you from A to B with a grin on your face.
Unanimous decision
Let's face it if you're driving anything less than a supercar don't even think about trying to beat this off the line if one pulls alongside you at the lights…. you will lose. Test yourself against it with another SUV and you'll need an AMG GLC 63 S or a Jeep Grand Cherokee Trackhawk to keep up. If you just bought a Macan Turbo or an F- Pace you'll literally be off the pace and you should probably return it and get this Alfa……..YES, it's that good and I still haven't stopped grinning.
2018 Alfa Romeo Stelvio Quadrifolgio by the numbers
BASE PRICE: – $79,795
PRICE AS TESTED: – $85,890
VEHICLE LAYOUT: – Front-engine, all-wheel-drive, 5-passenger, 4-door hatchback
ENGINE: – Twin-turbocharged DOHC 24-valve V-6
POWER: – 505 hp @ 6,500 rpm
TORQUE:- 443-lb-ft @ 2,500 rpm
TRANSMISSION:- 8-speed automatic with manual shifting mode
CURB WEIGHT: – 4,360 lb
0-60 MPH: – 3.5 seconds
TOP SPEED: 176 mph
EPA CITY/HWY/COMBINED: – 19/17/23 mpg
OUR OBSERVED: – 14.7 mpg
CARGO SPACE: – 18.5 ft³, 56.5 ft³ with seat area
PROS: – Grin inducing acceleration, incredible handling, fantastic exhaust noise
CONS: – Slightly sub par interior quality

https://www.roadtestreviews.com/2018-alfa-romeo-stelvio-quadrifolgio-scorched-earth/